Artmarket.com: must-know results in 2022, according to Artprice
[24 Jan 2023]

In 2022 the Art Market may have given the impression once again of having broken all records, but the total global volume of transactions and art auction turnover actually stabilized," says Thierry Ehrmann, CEO of Artmarket.com and Founder of Artprice. 

The companies Artprice.com and Artron.net are currently compiling their 2022 Art Market Report, the world's most comprehensive report on the global art market based on auction results from all over the planet. This report will be published free online in English, French, and Mandarin at the beginning of March 2023 and just before the TEFAF in Maastricht.

Ahead of the report's publication, Artprice has compiled a list of the 25 most spectacular results of the year 2022: 

 
ARTWORKS
– The second most expensive painting in auction history (after Leonardo da Vinci's Salvator Mundi), by Andy Warhol: $195.040.000 for Shot sage blue Marilyn.
– The two most expensive photographs of all time: by Man Ray ($12.412.500) and Edward Steichen ($3.000.000).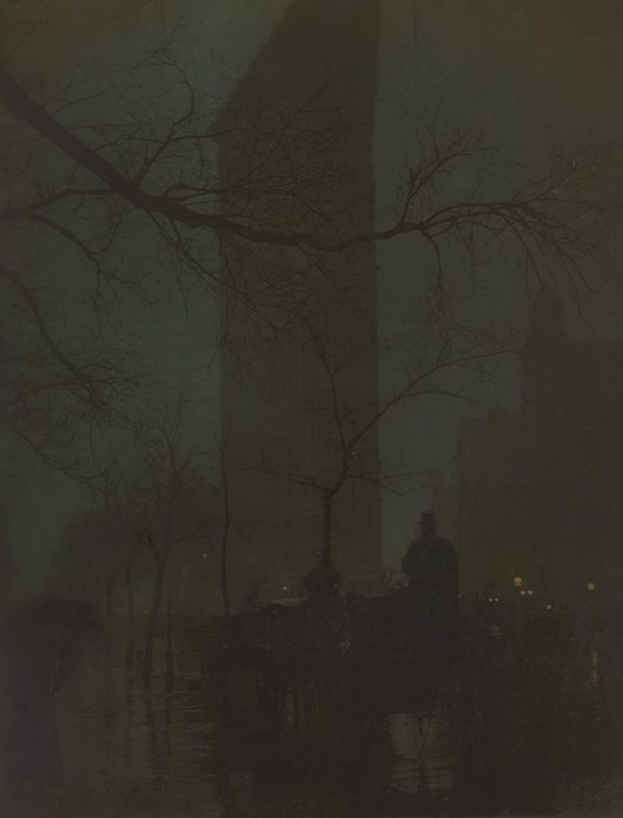 Edward Steichen, The Flatiron (1904). Christie's NY, The Paul G. Allen Collection Part I ,  09/11/2022
– The second most expensive print ever sold (after David Hockney's Piscine De Medianoche) by Pablo Picasso, for Le repas frugal sold for $8m.
– The second most expensive video installation (after Bruce Nauman's No, No, New Museum) by David Hockney :  $1.231.929.
– The three most expensive tapestries ever sold: three works by Alighiero Boetti, whose prices varied between $5.5 and $8.8 million.
COUNTRIES & AUCTION HOUSES
– A record year for US auctions: over $7 billion in Fine Art turnover.
– A record year for paintings at auction: more than $10 billion worth worldwide.
– A record total for an art collection (Paul G. Allen's) with five results above $100 million.
– Record annual global total for an Auction House: $5.8 billion in Fine Art for Christie's.
– Record year in EUR (but not in USD) for Fine Art auctions in France and Germany.
– Record price for a artwork at auction in Germany, signed Max Beckmann with Selbstbildnis gelb-rosa.

– A record price for an artwork at auction in Japan, signed Andy Warhol: Silver Liz(Ferus Type).
– A Record price for an artwork at auction in the Netherlands, signed Willem Gerard Hofker: Balische zusjes op 't tempelfeest.

– A record price for an artwork at auction in Italy, signed Giorgio Morandi.
Annual evolution of Fine Art auction turnover in France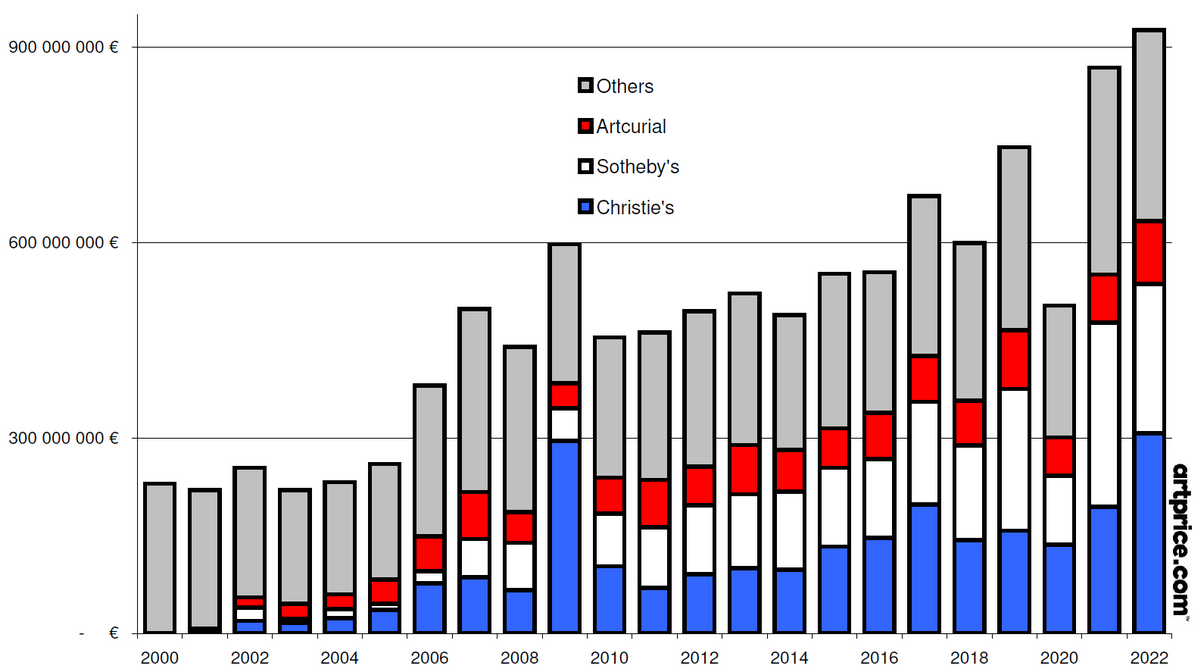 Annual evolution of Fine Art auction turnover in Germany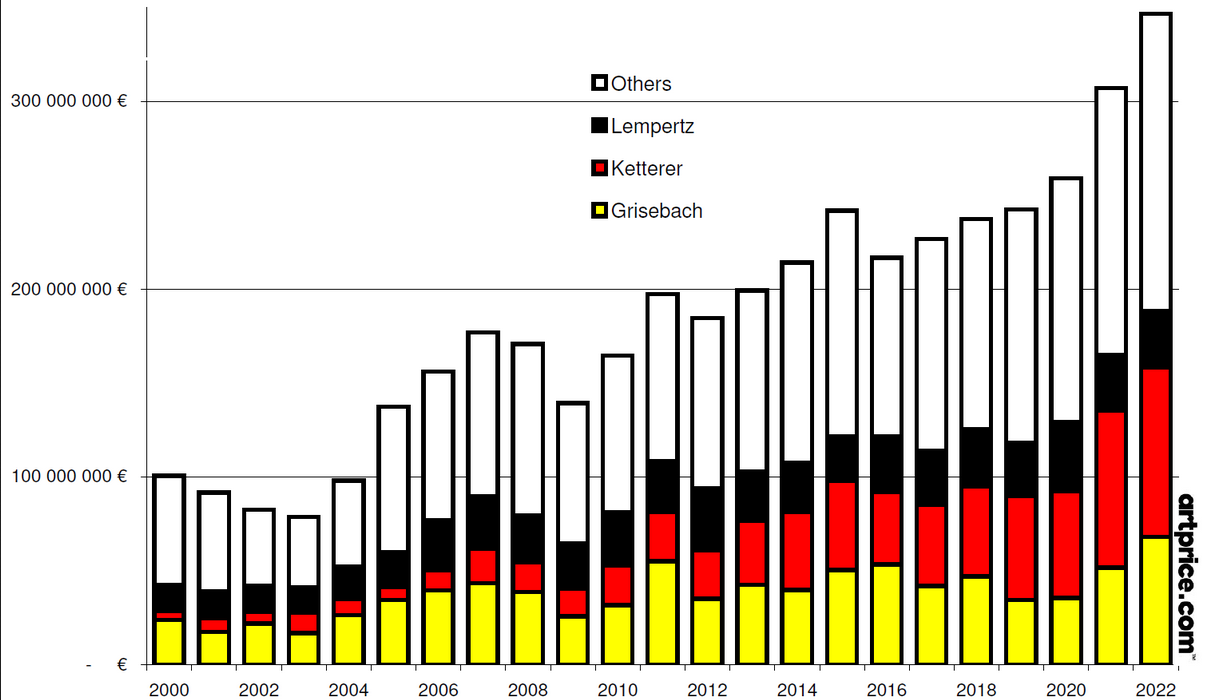 RECORDS BY NATIONALITY
– Historic record auction price for a German artist: Lucian FREUD (1922-2011)

– for an Austrian artist: Gustav KLIMT (1862-1918)

– for a Belgian artist: René MAGRITTE (1898-1967)

– for an American artist: Andy WARHOL (1928-1987)

– for a French artist: Georges SEURAT (1859-1891) (if we consider Pablo Picasso to have been Spanish)
– for an Indian artist: Vasudeo S. GAITONDE (1924-2001)

– for a Luxembourgish artist: Edward STEICHEN (1879-1973)

– for a Nigerian artist: Njideka Akunyili CROSBY (1983)

– for a Dutch artist: Vincent VAN GOGH

– for a Sudanese artist: Ibrahim EL SALAHI (1930)