Artprice by Artmarket's Contemporary & Ultra-contemporary Art Market Report
Artprice by Artmarket's Contemporary & Ultra-contemporary Art Market Report
[17 Oct 2023]

Artprice by Artmarket.com publishes its 27th annual report dedicated to the art market. It is downloadable free of charge.

Coming out of the restrictions and constraints linked to the Covid health crisis, the Contemporary art market experienced two years of phenomenal growth and posted unprecedented results. The exceptional performances achieved in 2021 and 2022 owed as much to the return of stimulating works to the market as to the fervor of old and new collectors wishing to (re)connect with the auction game. Following the most opulent year in its history (2021/22) the Contemporary art market posted much more sober results in 2022/23, although the total auction turnover of $2.29 billion was still very respectable and the fourth best total in its history.

For thierry Ehrmann, CEO and founder of Artprice by Artmarket.com, "the Contemporary Art Market has demonstrated remarkable resilience in the face of the multiple political, economic and ecological shocks that are marking our time. Not only have the pillars of this market remained unshakeable – like Jean-Michel Basquiat and Takashi Murakami for example – but the transaction volume is higher than ever and the Ultra-Contemporary Art Market (artists under 40 years old) is showing an unprecedented global dynamic with buyers from New York, London, Hong Kong, but also from Paris, Cape Town, Seoul, Singapore and many other places".

Indeed, the intensity and enthusiasm of global demand, as seen in the historic record of Contemporary artworks sold throughout the world, demonstrates how the passion for the art is an essential breath of fresh air, including – and perhaps above all – against the backdrop of the geopolitical, economic, climatic and health challenges that our world is facing.

This Annual Report provides a precise and objective inventory of the auction market for Contemporary and Ultra-contemporary Art, revealing its key figures, the major powers driving the auction game around the planet, the price developments of its most popular artists and the strategies deployed by auction houses to build an increasingly dynamic and attractive market. The report is supplemented by the TOP 100 Ultra-contemporary artists by auction turnover in the first half of 2023 and by the TOP 500 Contemporary artists by auction turnover between 1 July 2022 and 30 June 2023.

 

ARTPRICE CONTEMPORARY ART INDEX VS ARTPRICE GLOBAL INDEX (BASE 100 IN JANUARY 1998)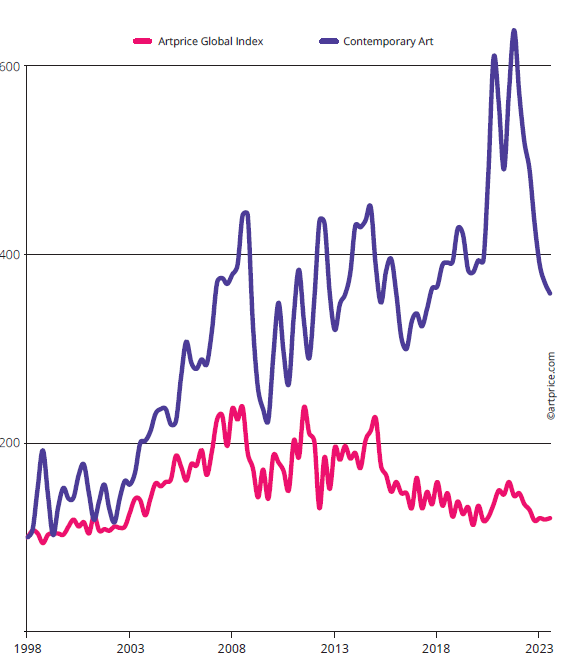 Key figures from the Contemporary art market
A global turnover of $2.3 billion over 12 months (July 2022 – June 2023)

The 4th best performance in the history of the Contemporary art market

Down 17% compared with the previous year ($2.7 billion) following a slowdown in million-plus results (in USD)

The segment's auction turnover has increased 22-fold since 2000/01 ($103 million)

Contemporary art represented 16% of total global Fine Art and NFT auction turnover ($14.1 billion)

The segment posted a new record volume of transactions, with yet another increase.

The volume of transactions has multiplied by 10 since 2000/01 (when only 12,500 Contemporary lots were sold)

Transactions above the million-dollar threshold fell by -22% (290 vs 372 in 21/22)

The segment's unsold rate remained stable at 34% (vs. 33% the previous year)

The top price paid for a Contemporary work was $67.1 million (Jean-Michel Basquiat)
Key figures from the Ultra-contemporary art market
The Ultra-contemporary segment generated $127 million in H1 2023

Global turnover down 38% vs. H1 2022 ($206 million)

The third best semester in the history of the Ultra-contemporary art segment

In 23 years, the segment's turnover has grown 8.5 times (vs. $14.9 million in H1 2000)

Ultra-contemporary art represented 12% of the total Contemporary art auction market

A total of 4,520 Ultra-contemporary artworks sold during H1 2023

2,646 artists under 40 have at least one auction in H1 2023

2,646 artists under 40 had at least one auction result in H1 2023

5 women were in the Top 10 Ultra-contemporary artists by turnover

A new record was hammered for Matthew Wong (1984-2019) at $6.6 million

.
.
2023 Contemporary Art Market Report
Click HERE to find out more !
The PDF can be downloaded free of charge
..