Contemporary African Art: establishing a secondary market
[18 Nov 2022]

Within just a decade, the number of works by Contemporary African and African-born artists in fine art auctions has tripled, as has the turnover they generate. Today, with a long period of emergence behind them, it is more a question of anchoring on the global market.

Creations by Contemporary African and African-born artists are no longer exchanged within a small circle of connoisseurs and collectors with long commitments to the cause. Shown at major international events (exhibitions, fairs, biennials, etc.) more and more frequently in recent years, they have been increasingly visible to museums, institutions and art enthusiasts who have diversified their collections by integrating African and African-born artists. "Openness", "diversification", and "inclusion" have also become key strategic policies for the major auction companies – the most powerful of which have turned out to be keen observers of the young "African" scene – and they have also fully participated in its promotion. In purely economic terms, their interest makes good sense: the growth rates observed are impressive, and the prospect of African and African-born artists catching up with the price levels of their Contemporaries from other continents is an added incentive.

Works by African and African-born artists have been the subject of 'specialized' auctions for the past ten years at Bonhams and for five years at Sotheby's, with both houses promoting their works and building their price levels on the international market. These 'specialized' sales still exist, but practices are changing significantly with the recent and repeated introduction of African lots in the generalist sales of Christie's, Sotheby's and Phillips. This is a strong signal: after a long period of emergence, Contemporary "African" art no longer necessarily needs 'separate' treatment, it is now well and truly integrated into the global art market.

 

Toyin Ojih Odutola: geographical breakdown at auction since 2020 (copyright Artprice.com)

A market outside Africa
The expansion of demand is being driven by auction houses who have enthusiastically circulated works by African and and African-born artists in the three most receptive market places: New York, London and Hong Kong. In Hong Kong, Christie's, Sotheby's and Phillips obtain exceptional results, including five of the ten best results recorded in 2021 for Contemporary works by African-born artists (Amoako Boafo and Njideka Akunyili Crosby). By competing with the top Western marketplaces in this segment, Asia plays a key role as a price booster and is therefore establishing itself as one of the major destinations in the market for 'African' Contemporary art.
In general, it is rare for a young artist in high demand to remain confined to a single marketplace. Works circulate from one collection to another, from one country to another, including works by major Contemporary African-born artists, whose canvases can today be sold in Vienna after temporary ownership in Fontainebleau in France, or in Cologne after ownership in London, or in Shanghai or Hong Kong after time in a New York collection. This internationalization of the market echoes the circulation of the artists themselves: Amoako BOAFO lives in Vienna, Njideka Akunyili Crosby in Los Angeles, Toyin Ojih Odutola and Awol Erizku live in New York.
Wherever the sales occurs, the most impactful transactions are almost all handled by Christie's, Sotheby's or Phillips. These three companies share the 50 best auction results obtained in 2021 for artists from Africa, with just two exceptions: the $463,100 recorded by Seoul Auction for Amoako Boafo's painting Black Jacket (2020) in September 2021, and the $217,500 hammered in Canton by Holly International for a painting by Aboudia Abdoulaye DIARRASSOUBA in December: two results which confirm how much Asia is contributing to the establishment of this market.
Today all the indicators are green on the global market: the number of Contemporary works by African-born artists sold at auction has tripled in ten years, as has their global auction turnover. In 2021 the volume of business on this segment exceeded $47 million; in 2022, the figure will likely grow again with nearly $34 million hammered in H1, and a number of major bidding opportunities still to come…
Turnover at auction for contemporary African artists since 2000 (copyright Artprice.com)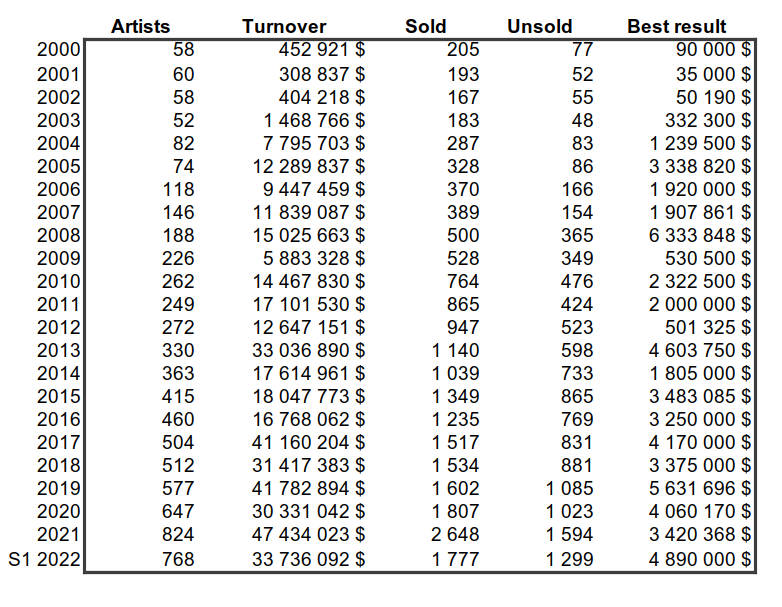 International galleries getting involved
Several galleries have been promoting the Contemporary African scene for years (Galerie Mariane Ibrahim, Galerie Afikaris, and Magnin-A, among others). Major international galleries have, for their part, signed American and British artists from African diasporas in recent years. But they also engage more and more frequently with African artists: the Perrotin gallery supported Cinga SAMSON with an exhibition in New York (2020); Almine Rech hosted a solo show of works by Otis Kwame Kye QUAICOE in its Brussels branch a few months ago, and another in Paris this summer of works by Ronald MUCHATUTA (shown in the Zimbabwe pavilion at the Venice Biennale). David Zwirner is supporting Njideka Akunyili CROSBY and the Gagosian focused on works by Meleko MOKGOSI during Art Basel Unlimited 2021, with the complicity of the Jack Shainman gallery…
The number of African artists is still slim compared with the number of American, British, European and Asian artists these international heavyweights already work with, but the trend is likely to accelerate. These galleries have clearly stated their ambitions to promote Contemporary artists from around the world, and to consciously move towards more inclusive choices. They are therefore participating in the opening of major collections, both public and private, to new horizons.