Egon Schiele tokenized
[31 May 2022]

A rare painting by Egon Schiele was recently rediscovered in a private home in Vienna. Painted in 1907, the Austrian master's oil-on-canvas depicts his uncle Leopold Czihaczek playing the piano, his eyes focused on the score in a rare and intimate scene created when Egon Schiele was sixteen. It was the same year Gustav Klimt noticed Schiele's talent and made him his protegé.

This rediscovery is therefore historically significant at several levels, and Vienna's Leopold Museum – which holds the largest collection of works by Egon Schiele in the world (42 paintings and 184 watercolors) – is very keen to acquire this portrait of Leopold Czihaczek playing the piano, and to restore it so that it can be displayed in its best light.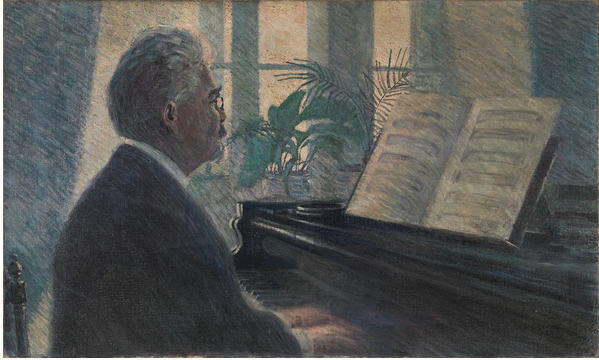 Egon Schiele's Leopold Czihaczek at the Piano (1907)
.
Egon SCHIELE's canvases are of course highly valued. The best ones fetch between 20 and 40 million dollars and even his early works can exceed $1 million. Last spring, a small Crucifixion, also created when Schiele was sixteen, sold for $1.2 million at Sotheby's in London (Crucifixion with Darkened Sun (1907), 2 March 2022).
In order to finance the acquisition and restoration of this canvas, the Leopold Museum decided to duplicate 24 works by the artist (that it owns) in the form of NFTs, and it then offered these NFTs in an auction sale lasting ten days (16 – 26 May), for amounts between 500 and 100,000 euros.
LaCollection.io
For this first digital adventure, the Leopold Museum chose to work with the French company LaCollection.io, which has already worked successfully with the British Museum.
Founded by Jean-Sébastien Beaucamps, his platform was launched at the end of September 2021 in order to allow museums, galleries and, in the future, artists themselves the opportunity to sell their physical works in the form of digitalized tokens. A first partnership was concluded in 2021 with the British Museum for a series of NFTs of works by HOKUSAI (1760-1849), including his famous Great Wave. The collaboration between LaCollection.io and the British Museum continued with a collection of NFTs based on works by Giovanni Battista PIRANESI (1720-1778) and Joseph Mallord William TURNER.
"Acquiring an NFT issued by the British Museum means both supporting this great institution, living a new experience as a collector and owning a piece of Art History at the very beginning of the new Metaverse era". Jean-Sébastien Beaucamps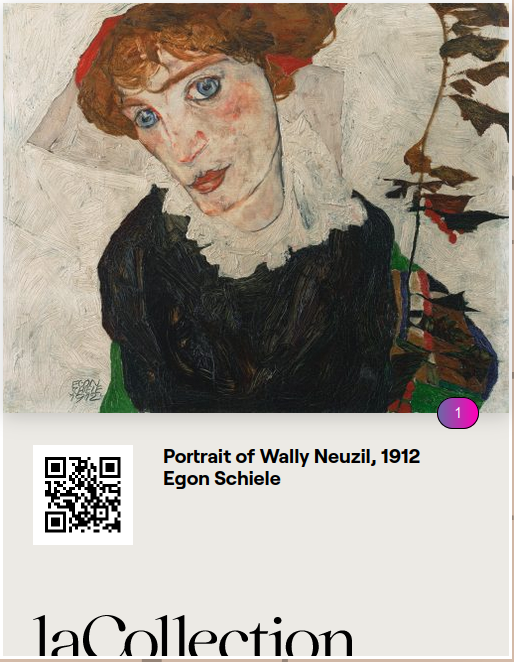 Acquiring NFTs based on works we know and that will never leave museums is also a unique opportunity to build a digital collection of works officially recognized and valued by major institutions, and of course at much more reasonable prices than the values associated with the physical works.
This is one of the most original uses of the Blockchain: being able to acquire digital ownership of works that exist in our very real world but which are inaccessible. Indeed, while Schiele's works will never leave the collections of the prestigious Leopold Museum, the 24 NFTs associated with these works will, on the contrary, be able to move freely and instantly from one continent to another. Undeniably, the production of NFTs by the British Museum, the Hermitage, the Uffizi and now the Leopold Museum in Vienna brings real legitimacy to the NFT market, while promising welcome cash inflows to these institutions. Depending on their future value curves, these first museum NFTs could become a significant source of revenue because the contracts provide for commissions in the event of their resale on the secondary market. For example, the resale of a Hokusai NFT will generate 10% for the British museum and 3% for LaCollection.io.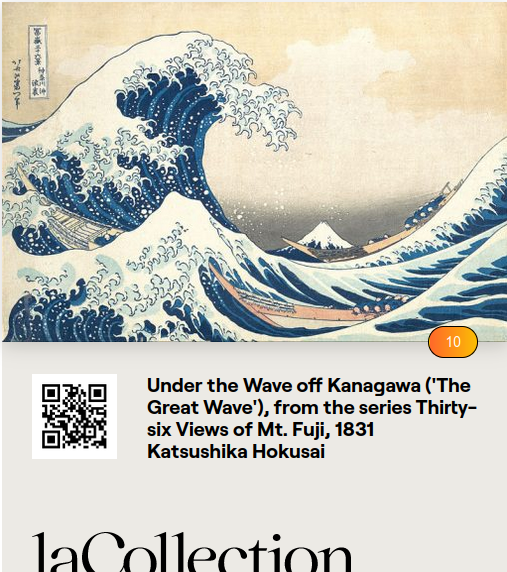 A marketplace has also been set up to put purchased NFTs back on sale. This allows all those who didn't manage to acquire a particular work in time to access it via the secondary market; and of course it allows the happy owners of these tokens to dream of profit. The buyer of Hokusai's NFT O-iwa-san, poisoned by her unfaithful husband […] #1/2, subsequently offered his(her) NFT for €148,000 at the beginning of 2022, after paying just €5,905 on 14 October 2021. Since the second edition of this NFT is held by the British Museum, the collector was free to set the price of the only available digital version of this work as high as he/she wanted.