Etel Adnan… and the success of Lebanese Artists
[18 Nov 2021]

At the time of writing the following lines Etel Adnan was still among us. Unfortunately she died in Paris at the age of 96 on 14 November. We pay our respects to this master of color and light.

 

Born in Beirut in 1925 to a Greek mother and a Syrian father, with multiple cultural influences Etel Adnan grew up speaking French, Arabic and Greek and lived in Lebanon, the United States and France. She is today a renowned poet, an eminent journalist / author and a fascinating visual artist who has works with paint and woven materials for many years. She began "painting in Arabic" – as she says – in order to protest against France's colonial domination in Algeria. Over time, her work has spread to the borders of abstraction, with simple geometries and bright colors applied with a spatula or a knife. In the words of Simone Fattal, Etel's works play "the role that ancient icons played for people who believed. They emanate and communicate energy. They protect you like talismans."

Etel ADNAN's work is currently being shown at New York's Guggenheim alongside works by the illustrious Wassily Kandinsky. The exhibition clearly illustrates a desire to project Adnan – a politically committed woman who was born in 1925 and has devoted 70 years of her life to a variety of creative formats – into the ranks of 'historically important' artists. Indeed, signs of international institutional recognition have accelerated over the past ten years. Since a couple of her paintings were widely noticed at the Documenta in Kassel in 2012, the artist has enjoyed exhibitions at the Whitney Museum Biennial in New York, at the Institut du Monde Arabe in Paris in 2017, at the Zentrum Paul Klee in Zurich in 2018 (among other venues). These shows have shed light on a work that had hitherto been absent from the market, and the result is collectors are now taking a significant interest in her work at auctions.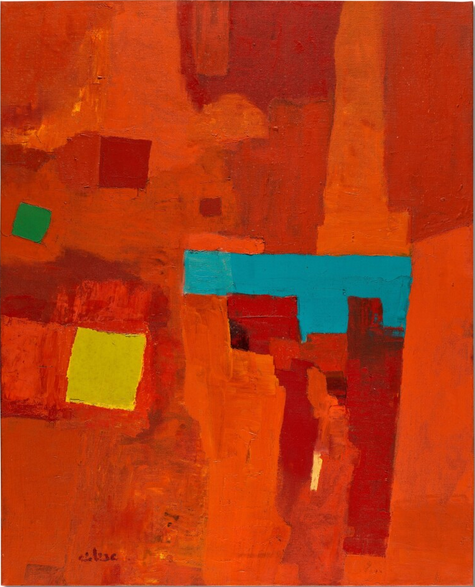 "It's a miracle that I am on the same walls as Kandinsky." Etel Adnan is quoted as saying in the Lebanese newspaper L'Orient Le Jour regarding her exhibition at the Guggenheim Museum.
The week following the opening of her exhibition at the Guggenheim Museum titled "Etel Adnan: Light's New Measure" , the market responded boldly to one of her works at Sotheby's in London. On 14 October 2021 one of canvases, measuring 81 x 65 cm, fetched four times its high estimate to reach a new personal auction record of $483,000 (Untitled, our picture).
That's a substantial rise compared with her previous record of $171,000 hammered on 30 April 2019 for her Untitled (1960) at Sotheby's London. The untitled work that sold last October for nearly half a million is now the fifth best-ever auction result for a Lebanese artist.
A revitalized market
Could Etel Adnan be the spearhead of a recovery of interest in Lebanese artists whose footprint in the art market has remained weak for such a long time? Judging by the results of recent sales, in particular those of 2021, this may well be the case. The great Etel Adnan is not the only Lebanese artist to have set a new personal record at auction this year. Artists Saliba DOUAIHY and Yvette ACHKAR also reached new auction peaks in 2021 and, like Adnan, joined the 10 best results ever hammered for Lebanese artists.
TOP 10 results for Lebanese artists
$605,000: La Lutte de l'Existence – Paul GUIRAGOSSIAN _ Christie's Dubai, 29 October 2013
$485,000: Babel – Ayman BAALBAKI _ Christie's Dubai, 18 March 2015
$488,690: Chambre Verticale 1 / 2 / 4 – Chafik ABBOUD _ Christie's London, 25 October 2017
$470,500: Silence – Mona HATOUM _ Christie's New York, 8 November 2011
$482,748: Untitled – Etel ADNAN _ Sotheby's London, 14 October 2021
$426,000: Untitled – Yvette ACHKAR _ Arcache Auction Beirut, 6 June 2021
$425,500: Blue Abstract – Saliba DOUAIHY _ AT Auction Beirut, 12 April 2021
$430,292: A Portrait of Emir Faisal Ibn Al-Hussain – Youssef HOWAYEK _ Sotheby's London, 4 October 2011
$400,450: Ouroboros – Ranya SARAKBI _ Christie's London, 24 November 2020
$391,500: Les Années de l'oiseau – Chafik ABBOUD _ Christie's Dubai, 18 October 2016
A third of the Top 10 auction results for Lebanese artists were hammered in 2021!
Although much of the Near and Middle East's international art changes hands in London and New York, we note that Paris is increasingly participating in the promotion of artists from this area of the world, including Lebanese artists. On 27 October, Cornette de Saint Cyr held its first sale devoted to Modern and Contemporary art from the Middle East and North Africa ("Regards d'Orient: Art Moderne et Art Contemporain du ME.NA"). The works were selected by Laure d'Hauteville, Director of the Paris MENART Fair that was hosted in the Parisian premises of Cornette de Saint Cyr last May.
The final total from this first sale was a little weak as only a third of the lots found buyers; however a superb abstract work by the Lebanese artist Huguette CALAND fetched $121,000. This is the tenth best-ever auction for this artist who died in 2019 and whose best works now fetch over $200,000 in London sales.
Cornette de Saint Cyr has effectively joined a movement initiated in France by Piasa in 2020 with their sale "From Beirut Art + Design scene". These specialized sessions have given collectors the chance to discover or rediscover creators like Samir Sayegh, Aram Jughian, Hiba Kallache, Daniel Génadry and Simone FATTAL (1942), Etel Adnan's companion and who's international recognition has been gaining momentum since 2019 when her work was shown in a retrospective at MoMA PS1 in New York. That same year, one of FATTAL's sculptures was installed in front of the Qatar National Museum in Doha and her work was included in the Luogo e Segni exhibition at the Pinault Collection in Venice. So far, the auction market has not yet responded… but it probably won't be long.
All the market lights are green and demand is continuing to grow: in the space of five years, sales of works by Lebanese artists have tripled. The same goes for their collective annual auction turnover which, according to Artprice data, has reached $19.6 million: a record!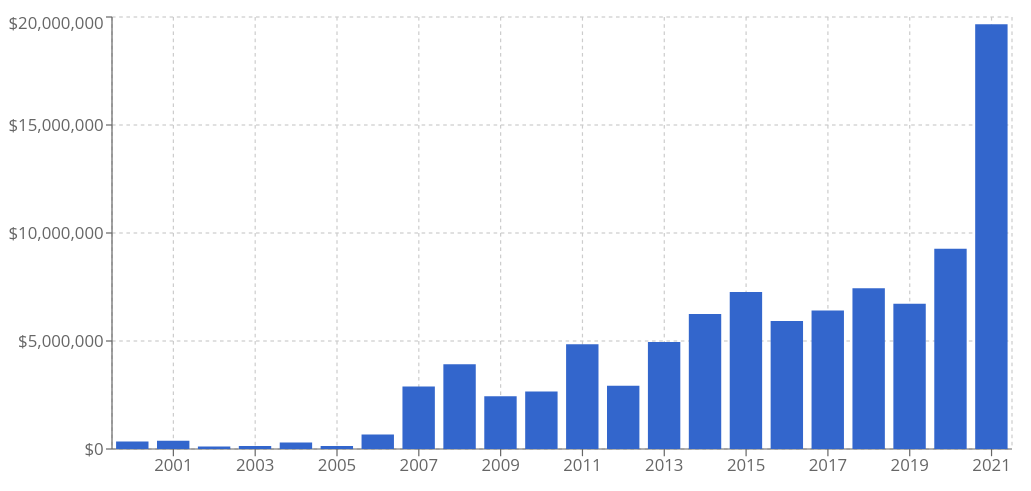 Annual auction turnover for Lebanese artists (copyright Artprice.com)


Annual auction turnover for Etel Adnan (copyright Artprice.com)