Flash News: Paris + by Art Basel; Hauser and Wirth in Paris; a Rembrandt painting gains an additional three zeros
Flash News: Paris + by Art Basel; Hauser and Wirth in Paris; a Rembrandt painting gains an additional three zeros
[13 Oct 2023]
Imminent opening of Paris + by Art Basel
Paris + by Art Basel: this somewhat cumbersome title refers to Paris's new Modern and Contemporary art fair that replaces the former Fiac and is now by far the most anticipated event in the Parisian art calendar. The second edition of Paris + by Art/Basel will again be hosted in the "Grand Palais éphémère" – an impressive temporary structure that has been erected to host events while the real Grand Palais undergoes refurbishment – and will run from October 19 to 22. A total of 154 galleries from 34 countries will be present and they include regulars at major fairs like Hauser & Wirth, David Zwirner, Gagosian, Continua, Almine Rech, Pace, Lelong & Co. and Blum & Poe. Some of these major international galleries have recently opened new branches in Paris.
Since Brexit, David Zwirner, Gagosian, White Cube and Hauser & Wirth have all opened branches in the French capital, thereby enhancing its attractiveness as a global art hub, particularly vis-à-vis London, and revitalizing the French Contemporary art market which was struggling to gather momentum before the UK left the EU.
After the Swiss group MCH Group (owner of Art Basel) organized the first edition of Paris+ last year, several of the large participating galleries reported bigger transactions than under the Fiac organization. Gallery owner David Zwirner sold a painting by Joan Mitchell valued at €4.5 million, Kamel Mennour sold a Giacometti for €2.7 million, Hauser & Wirth sold a George Condo for €2.6 million and Luring Augustine sold a Christopher Wool for €1.5 million. Indeed, 7-digit results clearly illustrate the power of Art Basel and its ability to mobilize the most important collectors in the world to make their new acquisitions in Paris.
While MCH Group attracts around 70,000 visitors to its long-established event in the city of Basel, last year's first edition of Paris + by Art Basel attracted some 40,000 people at the Grand Palais éphémère. However, in view of the fair's prohibitive entry prices for the average art enthusiast, it seems clear that the management of Paris + by Art Basel is focusing more on the comfort of the wealthiest buyers than on the quantity of visitors.
The Hauser & Wirth gallery opens its doors in Paris with Henry Taylor
The Swiss gallery Hauser & Wirth already had 20 branches, including four in New York (including that of the Village of Southampton) and three in Zurich, but none in Paris. Tomorrow, October 14, this geographical gap will be filled as Hauser & Wirth will officially inaugurate its first Parisian space in a neo-classical mansion near the Champs-Élysées with a solo exhibition of work by American artist Henry TAYLOR (1958), currently being honored with an exhibition at the Whitney Museum of American Art in New York.
To prepare for his Parisian exhibition, Taylor moved to the French capital this summer to take the pulse of the city and draw inspiration from the city's art museums. In particular, he found works by the French Impressionists, Expressionists and Fauvists at the Musée d'Orsay, all of whom have inspired him since he was very young. Henry Taylor's work clearly acknowledges his debt to Art history and the influence of past masters is a key factor in the creation of his own 'art history'. In certain paintings, the artist has already revisited important works by Marcel Duchamp, Philip Guston, Gerhard Richter, Glenn Ligon and the essential Pablo Picasso. Indeed, his version of Picasso's Demoiselles d'Avignon – titled From Congo to the Capital, and black again (2007) – fetched $2.48 million last May at Sotheby's in New York (vs. a high estimate of $1.5 million), Taylor's auction record to date.
A master of Afro-American portraits, like his compatriot Kerry James Marshall, Taylor's work has been attracting strong bidding since he won the Robert De Niro Prize in 2018 for his contributions to the field of painting. Until then, it was mainly celebrated by collectors on the American West Coast where it was promoted by his official gallery, Blum & Poe. Over the past three years his work has also been supported by Hauser & Wirth and his popularity has been growing steadily. With the artist's current dual news (Paris and New York), his work will no doubt attract additional collectors.
Auction turnover from Henry Taylor auctions (in $ millions). copyright artprice.com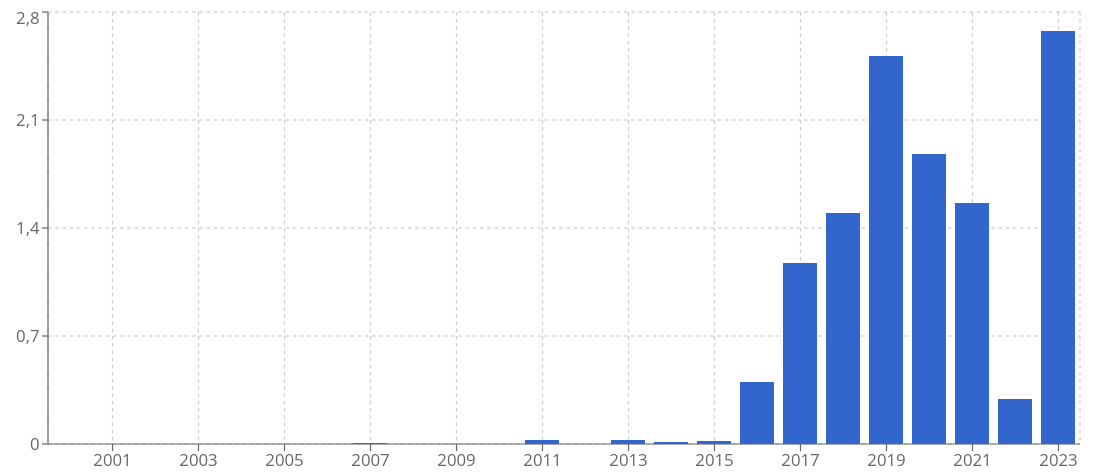 The estimate of a Rembrandt painting gains an additional three zeros in just two years!
At the beginning of December, Sotheby's will be offering a painting by REMBRANDT VAN RIJN (1606-1669) as the highlight of its London Old Masters sale. But while the sale contains a particularly rare work by the Dutch master, what has most attracted the media's attention is its exceptional revaluation: estimated at $11,000 in 2021, the work is now expected to fetch between $11 and $18 million.
The Adoration of the Kings, a small gray toned painting (24.5 x 18.5 cm) representing the visit of the Three Wise Men to the Nativity (c. 1628), will be auctioned at Sotheby's on December 6 and, according to the estimate, could reach 18 million dollars. However, in 2021, this same painting was estimated at only $11,500 – $17,300 at Christie's in Amsterdam, being considered a work of the Rembrandt "circle". A few enlightened art enthusiasts at the 2021 sale, perceiving the unique quality of the work, believed it could very well be by the hand of Rembrandt himself and they bid the work up to nearly a million dollars ($992,700), a high price for a "circle of", but not for an original Rembrandt the origins of which remained to be traced with certainty.
The considerable price difference for this painting in just two years is the result of very lengthy and meticulous cleaning work and examinations conducted notably via infra-red imaging and X-rays. There has also been a great deal of archival research and several high-level expert assessments. This small format work is now recognized as a work by Rembrandt's hand, a conclusion that is supported by Wolker Manuth, co-author of the artist's catalogue raisonné.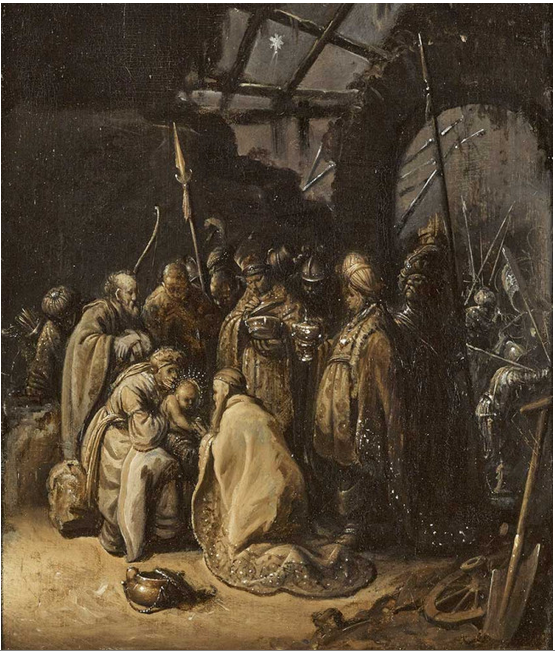 Rembrandt's The Adoration of the Kings (c. 1628), estimated at £10 million – £15 million.