Focus on Toyin Ojih Odutola
[26 Oct 2021]

At 36, this artist from Nigeria is already among the most successful artists at auction, all periods of creation combined.

Born in Ile-Ife, Nigeria in 1985 to a Yoruba father and an Igbo mother, Toyin Ojih Odutola was five years old when her family moved to Berkeley, California, where her father, Dr. J. Ade Odutola, taught chemistry at the university. Four years later, in 1994, the family moved to Huntsville, Alabama. The young woman now lives in Brooklyn and her work is circulating all over the planet.
An immense early-career success
Her appetite for art was already well established when Toyin Ojih ODUTOLA participated as a student in the Norfolk Art Residency at Yale University in Connecticut. Shortly after, in 2008, she obtained her BA in Art and Communication in Huntsville and then, in 2012, her MA at the California College of the Arts in San Francisco. But before she had even completed her course there she was spotted by gallerist Jack Shainman and in 2011 was offered her first solo exhibition (MAPS) in a New York gallery. The New York art world immediately considered that Odutola's work was highly original and that she had even managed to add a new dimension to the portrait genre.
The exhibition at Shainman's gallery consisted of a series of ballpoint pen drawings of black figures decontextualized with white backgrounds. The faces of these enigmatic characters displayed a strange texture suggesting geographical traces. This unique technique opened up a whole new way of depicting dark-skinned people. Odutola's emphasis on skin is a way of questioning identity which she sees as far more complex and multiple than meets the eye. It focuses on the socio-political construct of skin color and deconstructs the way dark skin is seen (especially in the United States) is a key signifier of who you are. Today she works mainly in ink, charcoal, pencil and ballpoint pen (still) creating drawings that examine the materiality of 'blackness'.
Jack Shainman was her first official art gallery but her work rapidly attracted interest from a number of institutions: in 2015 the Contemporary Art Museum St. Louis gave her a solo show (Untold Stories); in 2016, she was invited to the African Diaspora Museum in San Francisco (A Matter of Fact); in 2017, her work was hosted at the Whitney Museum. For this first solo exhibition in a New York museum (To Wanderetermined), Odutola presented a series of fictitious portraits relating the lives of two Nigerian aristocratic families. Today, the Whitney's permanent collection contains four of her drawings. Indeed, other American museums have also acquired her work, including the MoMA and the Art Institute of Chicago, and some twenty other museums around the world have done likewise! It is therefore no surprise that her auction prices have rocketed to the point of crossing – twice already – the $500,000 threshold.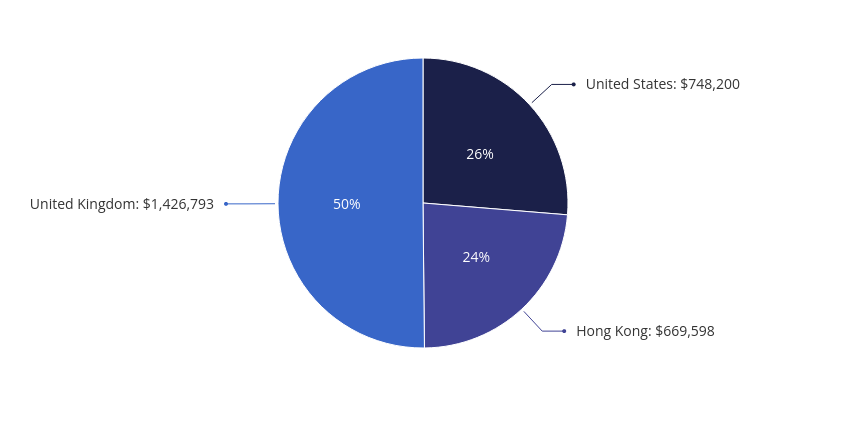 Toyin Ojih Odutola: Turnover at auction by country (Copyright Artprice.com)

.
One of the most popular Contemporary drawers in the world
Charcoal, pastel, pencil, ink… Toyin Ojih Odutola is a drawer because for her drawing is the most immediate language. Collectors appear to appreciate this and the bidding for her works reflects a disregard for the traditional price hierarchy whereby drawings are cheaper than paintings. In short, the auction turnover generated by the young prodigy has already placed her among the 550 most successful artists on the planet, all creative periods combined, without having to work with oil-paints or acrylics. In 2020, the year she won the Jean Prat Prize, she caused a sensation at Christie's New York when a tiny untitled portrait (Untitled, 12.7 x 17.8 cm) fetched $77,500 against an estimate of $15,000 – $20,000. That drawing could be described as a 'historic' jewel in Odutola's career as it was part of the artist's first solo exhibition at the Jack Shainman gallery in 2011.
Introduced into the auction sphere only three years ago, her personal best already stands at $833,000 for a five-foot (Eastern Entrance, 1.60 metre) drawing exhibited in 2016 at the Museum of the African Diaspora in San Francisco. The work sold at Sotheby's in Hong Kong on 19 April 2021.
Odutola is therefore one of the recent club of emerging artists who have fetched impressive new auction records in Hong Kong, which can now be said to be the new hub for the global Contemporary art auction market. The city is now competing on an equal footing with the primary Western marketplaces, and particularly when it comes to what might be called the 'market confirmation' of young prodigies, a phenomenon that – until just a few months ago – only ever happened in New York, possibly London, but never Hong Kong. This substantial shift in the geography of the global Contemporary art market is notably the result of the dynamism of Christie's, Sotheby's and Phillips which, over the years, have opened up the Hong Kong market to major non-Asian signatures. The three companies are now reaping the benefits of in-depth work carried out to diversify Asian sales and collections. By presenting works by the same artists both in the West and in the East, the Anglo-Saxon auction houses are consolidating and accelerating the markets of young Contemporary stars… and Toyin Ojih Odutola is definitely one of them.

Toyin Ojih Odutola: Turnover at auction since 2018 (copyright Artprice.com)