Free Figuration – Art without complex
[13 Sep 2007]

 

Free Figuration is humour, spontaneity, an uncomplicated language of the people. The birth of the movement dates back to 1981, when Bernard Lamarche-Vadel showed the works of Rémy Blanchard, François Boisrond, Robert Combas and Hervé Di Rosa in his Paris apartment. What do these artists have in common? bright colours and a refreshing style, inspired by cartoons, advertising and daily life….universes accessible to everyone, well away from any artistic elitism.

Of the French Free Figuration artists, only Robert COMBAS has really opened the movement's borders with his international auction room presence (5% of transactions). The works by Hervé & Richard DI ROSA, Jérôme MESNAGER, François BOISROND or Rémy BLANCHARD are limited to the French market. It is worth noting that, in Germany, Italy and the United States, movements exist which are similar in spirit to that of the French artists (New Fauves, Trans-avant-garde and Bad Painting). These three countries thus prefer to back their own artists before turning their attention to work produced in France.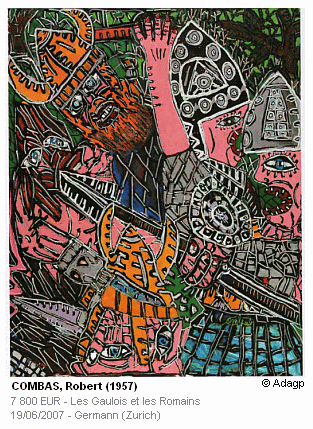 The Free Figuration market is dominated by Robert Combas who holds the auction room record for La fiancée de Belmondo (1984). The work has had a stormy auction room history: sold for the equivalent of EUR 68,600 in 1990 by Poulain-Le Fur (FFR 450,000), it came up for auction on three more occasions between 2001 and 2005, changing hands at a third of its 1990 level (EUR 21,000 in May 2005 at Tajan)…The depreciation for Fiancée does not testify to buyer disaffection. Remember that the 1990 sale came at the height of the speculative bubble and that Combas was to achieve no less than EUR 60,000 for his monumental Jumelage Sète-Marseille (210 x 650 cm, 1984-1987) when it was sold at Cornette de Saint-Cyr in October 2004. For the same sum, in April 2007, a much smaller, later work (250 x 215 cm, 1992) entitled Brave Margot, d'après une chanson de Georges Brassens changed hands at Artcurial.
Robert Combas is extremely productive, but volume production means being very selective when it comes to maintaining a qualitative continuum. Thus a canvas can currently be purchased for less than EUR 10,000 on average (for example, Sado Masso en gant et string de latex et le bonnet de bain, a 65 x 54 cm oil which changed hands for EUR 5,000 at Meeting Art in Italy on 23 June 2007); you'd need, however, five times this amount for a major work. His insatiable creativeness and inventiveness manifests itself in two types of medium: canvas and fabric, caricatured academic drawings unearthed in flea markets (Tatouages académiques series between EUR 2,500 and 3,000 on average). Even his old brushes are recycled to form crucifixes which change hands for an average of between EUR 1,500 and 2,500, whereas it was possible to acquire one for only EUR 900 in 2004 ( Pinceaux crucifix, 35 cm, Charbonneaux sale, Paris). His drawings continue to see good growth: their price index has risen by more than +160% since 2001. Furthermore, his felt-pen work entitled La Photographe was sold for FFR 1,400, equivalent to around EUR 210 in March 2001 at Charbonneaux, then resold two years later for EUR 500 at Cornette de Saint-Cyr.
With the absence of any European or international speculation, the other Free Figuration artists are affordable with 73% of sales at below EUR 5,000 and only 13% above the EUR 10,000 mark. The canvases of Hervé DI ROSA, populated with amusing, whimsical characters, are a good example of this trend. Greatly sought-after during the 1980s, they have returned to favour after 15 years of lacklustre results: between 2000 and June 2007 four canvases achieved (and sometimes exceeded) the EUR 10,000 threshold, as with Dernier bastion , a 1984 acrylic, secured for EUR 10,000 in February 2006 at Artcurial. Hervé's visual imagination gained a third dimension as of 1981, thanks to the talents of his brother Richard, who translated the playful world of his paintings into brightly-coloured statues. Over the years, Richard's universe has diversified and won over an increasingly wider public, thanks, particularly, to affordable prices, with 90% of his works selling for less than EUR 3,500. In June 2007, for example, a sculpture in lacquered wood found a buyer for EUR 1,200 at Cornette de Saint-Cyr, whilst a small 2006 plaster work in solar colours changed hands for just EUR 200 the following month at Osenat (Fontainebleau, 2x18x12 cm).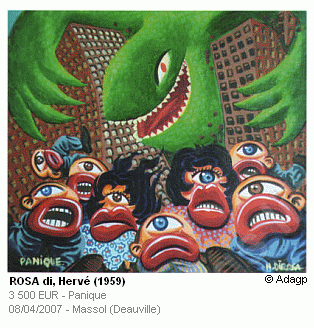 The market collapse during the 1990s hit François Boisrond hard but the artist's reputation was re-established with buyers in 2000 when sales in excess of EUR 10,000 were achieved for high-quality canvases. In June 2007, he sparked some serious counter-bidding for a large 1995 acrylic: entitled Les derniers jours de Pompeï , the work tripled its pre-sale estimate when it was snapped up for EUR 23,000 at P.Bergé-Buffetaud-Godeau-Chambre-De Nicolay…. a record for the artist.
Rémy Blanchard's work has also benefited from renewed enthusiasm. As with Boisrond, 2007 saw his auction room record set for the 1988 acrylic Fisherman's Wharf , auctioned by Champion-Kusel (Nîmes) in the spring. The canvas went for EUR 15,200, triple the pre-sale estimate. Blanchard's work is starting to establish a modest reputation in the USA, as seen at the Bonhams & Butterfields sale in Los Angeles on 22 May 2007: an untitled one-metre canvas sold for USD 4,000, or a little under EUR 3,000…..
Other exponents of the Free Figuration movement, such as the Bazooka group or the Smoking Muslims, are just getting started and are still virtually unknown at auction. As yet known only to art work insiders, these works could soon surface, profiting from the market niche established by Didier CHAMIZO. Freed in 1993 after 10 years of detention, the artist only became familiar with the auction world in 2006. He established his reputation immediately with a first sale at double the low-end estimate, the hammer coming down at EUR 16,500 for the acrylic Ne courez pas, nous sommes vos amis at Cornette de Saint-Cyr.