Guerlain Prize: the three nominees
[29 Dec 2020]

All in their fifties, the three 2021 Guerlain Prize nominees have all chosen drawing as their primary medium of expression and have mature careers; but they are from very different backgrounds. Martin Dammann is German, Erik van Lieshout is Dutch and Françoise Pétrovitch is French. Since 2006, the Guerlain Prize rewards "a medium that represents a great classical tradition and the most daring modernity at the same time".


Martin Dammann
German artist, born in 1965 in in Friedrichshafen am Bodensee, lives and works in Berlin. Studied at the University of the Arts in Berlin. Represented by the galleries In Situ-Fabienne Leclerc (Romainville) and Barbara Thumm (Berlin). 
In his drawings and watercolours, Martin Dammann revisits both history and his own memories. He steeps himself in moments that fomented human destiny, until the virtuosity of his technique reaches beyond what the image seeks to tell us. Dammann usually works with photographic sources. The two world wars were a key subject for exploring the questions of German guilt and of gender, alongside clichés of perfect American families from the 1960s, discoveries from the colonial era and reminiscences from his personal archives. The meaning of the images is not so important, for what the artist is trying to understand is the hidden reality at the moment when the shutter was released.               
"I want to discover what is beyond what we see," he explains. To begin with, therefore, a long period is spent selecting the moment that touches him from among thousands of reproductions. Then he scans and enlarges it. He probes it, even emphasising blurriness or certain weaknesses in the focus, which he turns into a strength as he works the watercolour with his brush. Exploring these forgotten memories of amateur photographers, Dammann interrogates the human condition, in its most extreme or most trivial incarnations, and then the finality of drawing and watercolour… Extract from the text by Marie Maertens.
He has exhibited in numerous institutions, including the Espace des Arts in Chalon-sur-Saône, the Kunsthalle Nuremberg, the KW Institute for Contemporary Art in Berlin, the Museum der Moderne in Salzburg, the Centre de la Photographie in Geneva, the Petach Tikva Museum of Art, Israel, the Capella – Institut de Cultura, Barcelona, and PS1 in New York. His work is held in the collections of the Florence and Daniel Guerlain Donation at the Musée National d'Art Moderne, Centre Pompidou, the Musée des Beaux-Arts in Dole and the Märkisches Museum in Witten…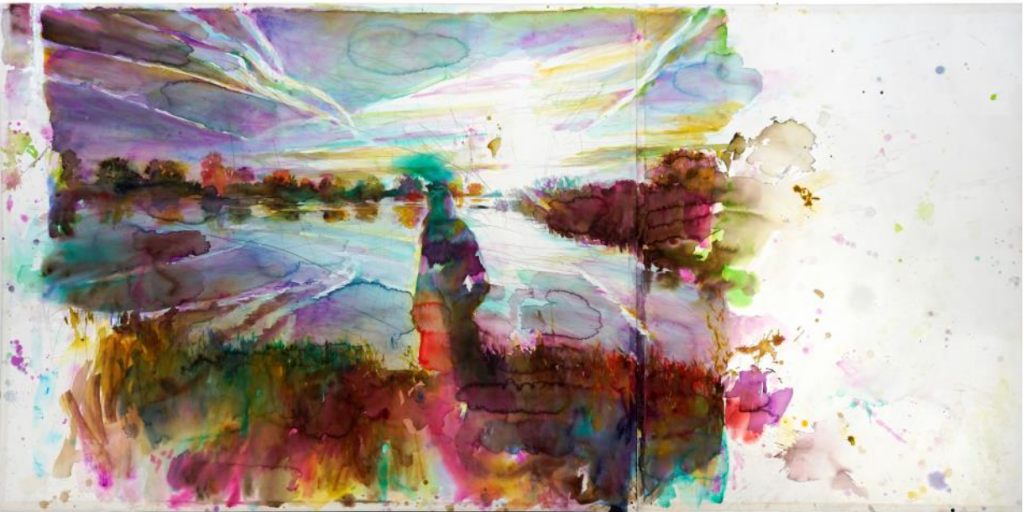 Martin Dammann, Mulde, 2020, aquarelle et stylo sur papier, 155 x 315 cm. Courtesy : the artist/Barbara Thumm Gallery, Berlin ©Martin Dammann
Erik van Lieshout
Dutch artist, born in 1968 in Deurne, he lives and works in Rotterdam.. Studied at the Academy of Art and Design St. Joost and at De Ateliers. Represented by the galleries Guido W. Baudach (Berlin), Annet Gelink (Amsterdam), Krinzinger (Vienna) and Anton Kern (New York).   
In his deliberately acerbic and engaged drawings and collages, Erik van Lieshout questions the finality of art and the very function of the artist, affirming that he or she does indeed have a role to play in our society. Some of his drawings flirt with caricature. He has always found everyday life inspiring and never tires of sketching the political world – figures such as Angela Merkel, Boris Johnson, Donald Trump and Nicolas Sarkozy, for example. But he combines this with existential questions about love, among other things, and may wonder who takes the upper hand, the strategist or the human being. Images that he cuts out from newspapers are a first source. Then, in the studio, he takes up sheets of paper and covers them with his sometimes violent lines and marks. He produces and destroys a great deal. But a good observer cannot be angry and Erik van Lieshout knows that. He therefore tempers what he is saying with a humour and irony that may leave viewers on their guard because of all the provocations.
He sees his work as a mission, and it will be no surprise to learn that when he was a student his role models went by the names of Paul McCarthy, Mike Kelley and Martin Kippenberger. Today, he still feels close to the spirit of Fluxus and Joseph Beuys. But Van Lieshout also values collective inspiration…. Extract from the text by Marie Maertens.               
In 2013 he took part in the Moscow and Venice biennales and he has exhibited at the Wiels in Brussels, at the Ludwig Museum in Cologne, at the Kunsthaus Zurich, at the Hammer Museum-UCLA, at the Rijksmuseum Amsterdam, at Tate Modern in London, at the Albertina in Vienna, and at the FRAC Dunkirk. His work features in the Florence and Daniel Guerlain Collection and Donation to the Musée National d'Art Moderne, Centre Pompidou, and in the collections of the Boijmans van Beuningen Museum (Rotterdam), the Stedelijk Museum (Amsterdam), and MoMA, New York. He is represented by Guido W. Baudach (Berlin), Annet Gelink (Amsterdam), Krinzinger (Vienna) and Anton Kern (New York).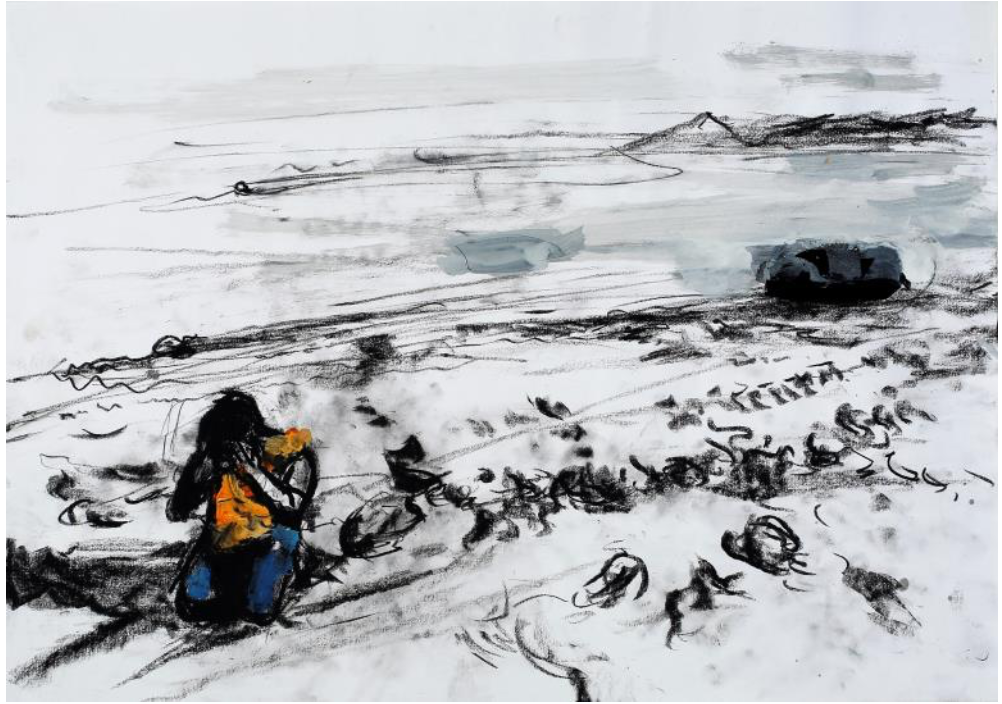 Erik van Lieshout, Untitled, 2016, technique mixte sur papier, 29,5 x 42 cm. Courtesy of the artist and Galerie Krinzinger, Vienne
Françoise Pétrovitch
Self-taught French artist, born in 1964 in Paris, lives and works in Cachan. Represented by Galerie Semiose in Paris.       
Revisiting the classics of art history, Françoise Pétrovitch develops her subjects in an oscillating movement between past and present, the explicit and the implicit, which highlights the spontaneity of her execution and the fluidity of her washes. Pétrovitch works a great deal in series. Lately, an island in her Série Noire paid homage to the Isle of the Dead, the famous painting by Arnold Böcklin, and to a park that she visited. This stood alongside the large portraits of young smokers, flowers and animals, all somewhat fantastical, in her corpus. The repeated themes make it possible to "bring forth a pleasure in making and doing." The artist conceives small format pieces in pencil, while she works in ink and wash on large sheets of paper placed on the floor. Indeed, Pétrovitch's material is very liquid, in the physical and metaphorical senses. Going from one medium to another, she likes her models to develop fluidly – even when they evoke the disappearance, absence or interiority of being, which are recurrent interrogations, as is clearly shown by the Saint Sebastian works, the floating bodies or the bistre and black multiples.
To counter the risk of nostalgia, Pétrovitch uses snapshots of everyday life. She goes for bold, clear breaks and lively tones, notably red. The important thing is to dig, again and again, deeper into pictorial questions… Extract from the text by Marie Maertens                   
Since the late 1990s, she has been exhibited at the Musée d'Art Moderne in Saint-Étienne, at La Louvière in Belgium, at the Museu de Arte Contemporânea in São Paulo, at Mac Val in Vitry-sur-Seine, at the Beaux-Arts museums in Nancy and Calais, at the Laac in Dunkirk, at the Carré d'Art in Nîmes, at the Musée d'Art Moderne et Contemporain in Strasbourg, and at the Musée de la Chasse et de la Nature in Paris. Her work is part of the Florence and Daniel Guerlain Collection and Donation at the Musée National d'Art Moderne, Centre Pompidou, and in the collections of the National Museum of Women in the Arts in Washington, the Musée Jenisch in Vevey, and the Beaux-Arts museums in Rennes and Chambéry. She is represented by Galerie Semiose in Paris.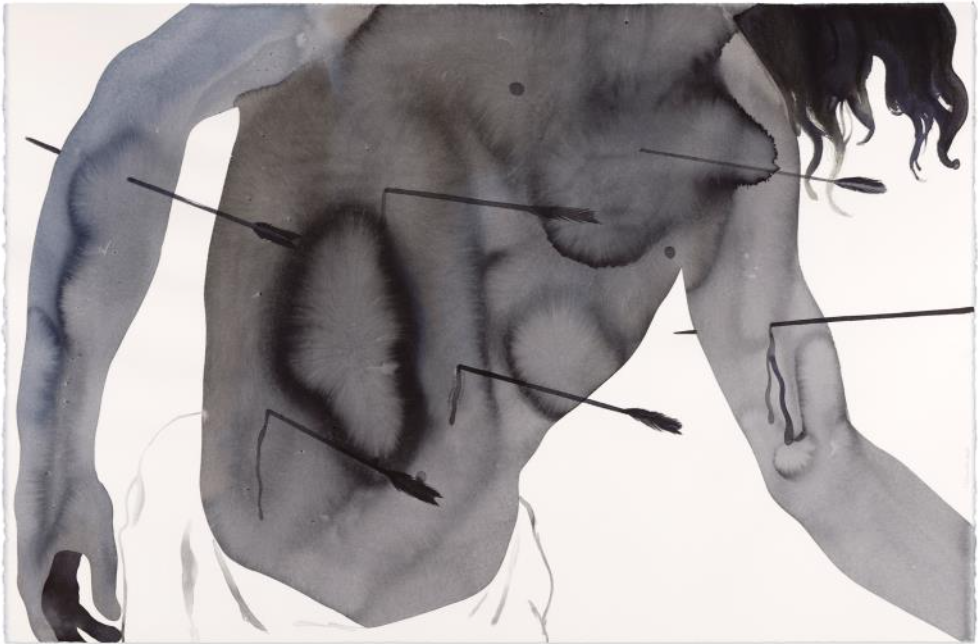 Françoise Pétrovitch, Saint Sébastien (Zurbarán), 2019, lavis d'encre sur papier 80 x 120 cm Courtesy Semiose, Paris. ©A. Mole
Who are the most popular at auction?
In France, there is a healthy population of collectors who do not perceive drawing as some kind of secondary medium but rather as a primary art form in its own right. Its drawing market is the most dynamic in Europe with between 16,000 and 20,000 drawings sold publicly throughout the country each year, twice as many as in Germany, and four times as many as in Italy or Belgium! Even in this exceptionally difficult year with business dampened by the global pandemic, more than 16,000 works on paper have changed hands at public sales across France.
The best auction results for for drawings in 2020 have been hammered for the works by the unavoidable Jean-Michel Basquiat, but also by William Kentridge, Elizabeth Peyton, George Condo and Marlene Dumas… illustrating a genuine diversity of genres and tastes.
Drawing – Top 5 contemporary artists (born after 1950) sold in France this year