Hyper-valuation of young artists… the trend is accelerating
[26 Jul 2022]

 

In a tragicomic play written by Pierre Corneille, one of his characters says "I'm young, it's true; but for well-born souls, value is not a question of age". That famous line may have been written almost 400 years ago, but it hasn't aged a bit and is today more than ever relevant in the current art market, which is increasingly focused on 'young' artists. Indeed, such is the magnitude of this phenomenon that Artprice has decided to focus its next Contemporary Art Market Report entirely to the subject. The Report will be published online on Artprice.com in October.

'Young' artists – by which we mean ''under forty' – are increasingly driving the global art auction market… and they are driving it at price levels that were formerly reserved for works by Art History's major signatures or by the market's "blue chip" Post-War and Contemporary artists. At the end of the 1990s, only one 'young' artist – Jean-Michel Basquiat – had reached the $1 million threshold at auction. But Basquiat (whose age was 'fixed' by his early death) was already a myth and an absolute reference of that era and of Art History.
Today, however, we are seeing uninhibited multi-million dollar bids for works by new emerging stars – artists that hardly anyone outside the market's inner circles have ever seen or heard of before – and at prices that seem to reflect a form of frenetic urgency.

For the past two years (i.e. more or less since the start of the covid pandemic in the West), a whole series of new signatures have been rocking New York, London and Hong Kong art sales. These include artists like BEEPLE (whose Everydays, the first 5,000 days generated the highest auction price ever paid for an NFT and who inspired the major auction houses into a rapid development of their 'crypto' universes), Matthew Wong, Avery Singer, Flora Yukhnovich, Amoako Boafo, Njideka Akunyili Crosby, Toyin Ojih Odutola, Fewocious, Refik Anadol, Jennifer Packer, Loie Hollowell, Tauba Auerbach, Jadé Fadojutimi, Anna Weyant, María Berrío, and Ewa Juszkiewicz… most of whom have links to African history, with the emergence of NFTs and several young women presented as the new hopes of contemporary painting.

 

 

 
More …
55 of the top 100 auction results over the last two years have rewarded works by under-40 artists.
While the first 'young' artists to become 'highly-valued' on the auction market emerged at the end of the 1990s, the last two years (i.e. from the beginning of 2020 until July 2022) have seen more than half of the top 100 results hammered for works by under forty artists. At the top of the list we find Beeple and LARVA LABS, both marking the initial enthusiasm surrounding the emergence of art NFTs on the auction market.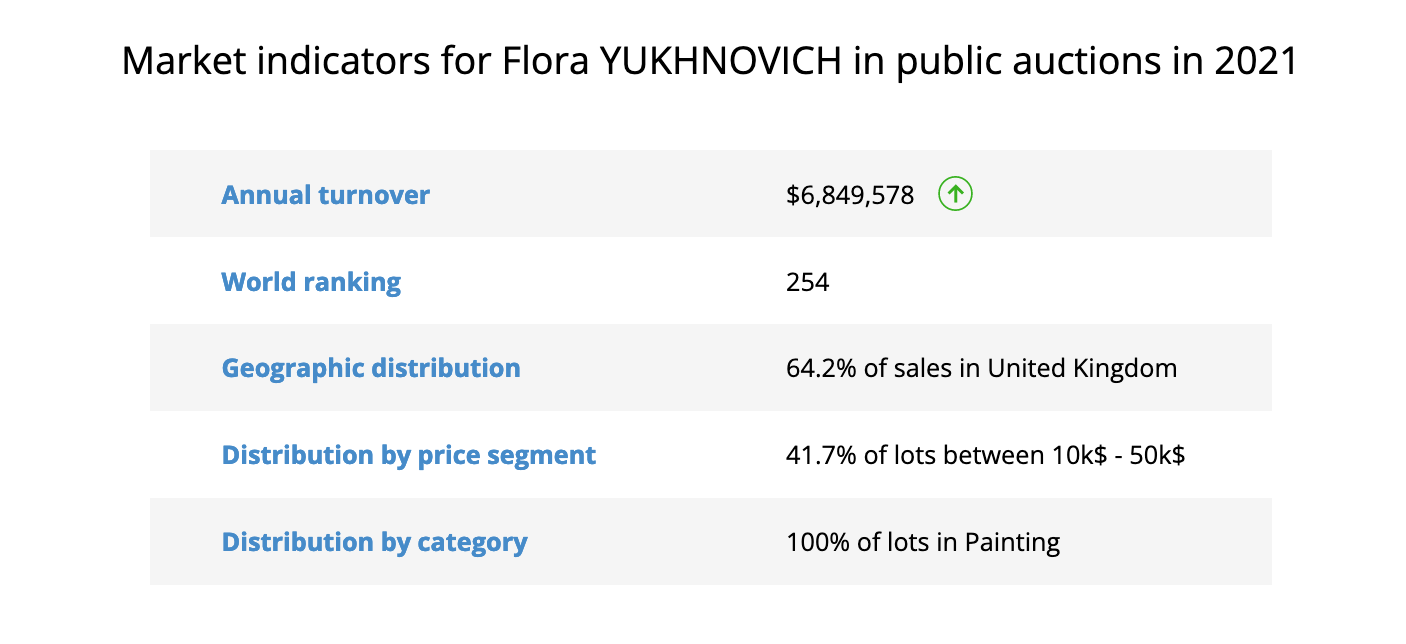 … and higher
8 of the 10 best-ever results for 'under 40s' have been hammered in the last two years:
In addition to the growing number of 'under 40' artists propelled to the forefront of the international art market, there has also been a major escalation of the prices paid for this generation. Aside from the 'NFT exceptions' (with Beeple and Larva Labs far exceeding $10 million), we have seen the thresholds of 3, 4 and 5 million dollars reached very quickly for works by artists like Matthew WONG, Flora YUKHNOVICH and Avery SINGER. Ten years ago such price levels were simply inconceivable for artists in that age-group.
In the past artists needed a confirmed and established demand on the primary market before emerging on the auction market. Today this is no longer the case and it seems young artists can become major assets on the auction market before their work has received significant exposure. This is perhaps one of the major paradigm shifts in the global art market in the early 21st century… a fascinating subject that we will study in more detail in our upcoming Contemporary Art Market Report.