Masterpieces coming to market in June…
[07 Jun 2022]

Before the summer recess, the major auction houses are organising an impressive round of prestige sales including Old Masters in New York, 1,200 lots from the Hubert de Givenchy Collection, a special focus on Marc Chagall, and big sales of Contemporary art. Among the important works that will be presented for sale, Artprice has picked out several that deserve special attention.
Sotheby's (June 8) – Contemporary Art
Highly anticipated, Sotheby's Parisian sale of Contemporary Art opens tomorrow with works by some of the greatest masters of the second half of the 20th century, including Lucio Fontana, Zao Wou-Ki, Pierre Soulages, Kazuo Shiraga and Anselm Kiefer, as well as a spectacular set of works by François Morellet, and three exceptional works from the Christo and Jeanne-Claude estate.
One of the most attractive works is Etude/Blancs by Simon HANTAÏ (1922-2008), an almost unique case in the artist's catalogue raisonné since it has two sides, each of which was treated and signed as a work in its own right. Sotheby's specifies that "This particularity entails a specific hanging, away from a wall, favouring a presentation in the space that underlines the monumentality of the work and its aura.." Acquired in the 1980s by a private collector, the work is making its first auction appearance, coinciding with an exceptional retrospective dedicated to Simon Hantaï at the Louis Vuitton Foundation to celebrate the centenary of his birth.
> Estimated between 1 and 1.6 million dollars, Etude – Blancs looks set to join the artist's Top 10 best-ever auction results.
Christie's (June 9 and 10) – Old Masters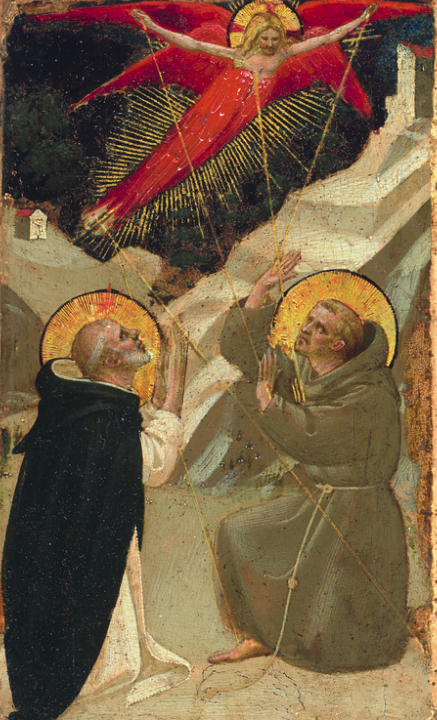 In Christie's two New York sessions devoted to Old Master works on 9 and 10 June, a work by FRA ANGELICO (c.1395-1455) from the Alana Collection stands out. The painting of Saint Dominic and the Stigmatization of Saint Francis will be presented on June 9 as part of the "Old Masters | New Perspectives: Masterworks from The Alana Collection" at Christie's in New York. It was rediscovered in 2013 and recognized as the counterpart to The Virgin and Child with Four Angels kept at the Detroit Institute of Arts. The work is thus part of a diptych of major importance.
Exceptionally rare, the work remained in a French collection throughout the 20th century before being sold privately by Sotheby's to the Alana collection in 2013, one of the finest known private collections of Italian Renaissance art. It was recently exhibited at the Prado Museum in Madrid as part of Fra Angelico and the Rise of the Florentine Renaissance (28 May – 15 September 2019).
> Saint Dominic and the Stigmatization of Saint Francis : Its estimate of between 4 and 6 million dollars makes it the most valued work by Fra Angelico ever offered at auction.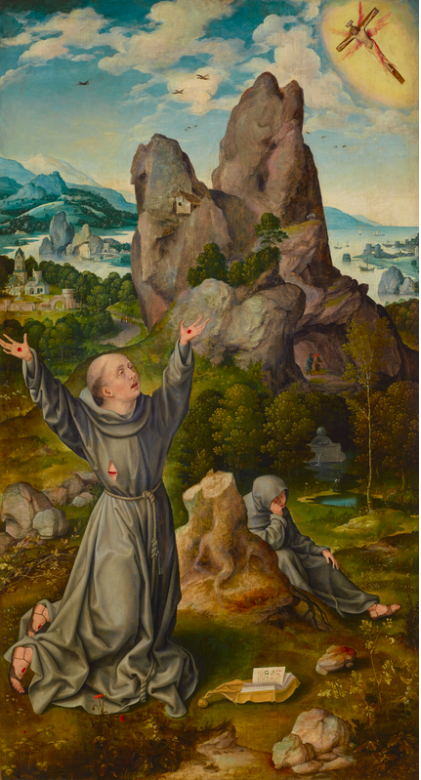 The following day Christie's will be dispersing a superb selection of 64 Old Masters, including a Joos VAN CLEVE (c.1485-c.1540) painting that is expected to fetch a record price. Also a religious scene, Saint Francis Receiving the Stigmata (painted around 1525), depicts a landscape of incomparable finesse and delicacy. After languishing for generations in a private collection under layers of faded old varnish, the painting was revealed at a small Spanish auction at the end of 2018. Once thoroughly cleaned, a genuine masterpiece emerged that was remarkably intact. The attribution to Joos van Cleve was proposed by Peter van den Brink, who explains in his essay devoted to this discovery that the work was probably part of a medium-sized altarpiece. Like the Santa Maria della Pace altarpiece, it may have been commissioned by a wealthy merchant from Genoa and intended for one of the many Franciscan churches there.
> Expected to fetch between $2 and 3 million, Saint Francis Receiving the Stigmata could easily double the previous high obtained at auction for a work by Joos Van Cleve: $1.4 million for his Virgin and Child in 2014 (Sotheby's New York).
Christie's (28 June) – Marc Chagall, Colour of Life: Works Formerly from the Artist's Estate
The catalogue was not yet available online at the time of writing, but Christie's has committed to offering a complete sale dedicated to Marc Chagall on June 28. "Featuring 20 works, it marks the inaugural sale in a series of auctions to be held at Christie's dedicated to the work of the acclaimed artist. Throughout his long and storied career, Chagall forged a bold path within modern art in pursuit of his own singular vision. Conjuring fantastical, dream-like scenes, rooted in his own personal life and rich memories filtered through a highly idiosyncratic painterly vocabulary, Chagall developed an iconic style that earned him a place as one of the most instantly recognisable painters of the Twentieth Century". This commitment by Christie's to Marc Chagall's œuvre should further boost the artist's market which has already generated more than 45 million dollars at auction since the beginning of the year.
Sotheby's (June 29) – Modern and Contemporary Art
Georg Baselitz, Willem de Kooning, Claude Monet and Gerhard Richter are set to generate some of the heftiest results in June, with Sotheby's London sale scheduled for the end of month. Claude Monet's spring landscape at Vétheuil, painted in 1880, was last offered at auction 20 years ago when it fetched $7.6 million at a Christie's Impressionist & Modern sale in London (25 June 2002). This time, Sotheby's hopes to obtain $19 million (according to the high estimate). If that target is reached, the Impressionist landscape will have accreted in value by about +171% in 20 years.
> Claude Monet's View of Vétheuil is expected to sell for between GBP 10 and 15 million.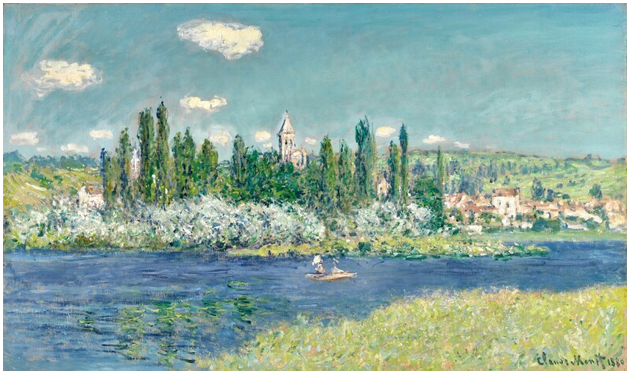 Claude Monet, La vue de Vétheuil
Christie's (June 30)
A Thinker by Auguste RODIN (1840-1917), a seminal work by the famous French sculptor, will be auctioned at Christie's Paris on June 30. Sculpted around 1880 for the Gates of Hell after the work of Dante, the Thinker became a stand-alone sculpture in 1904, when it was exhibited at the Paris Salon. Around forty copies of Le Penseur were made during the sculptor's lifetime and up to 1969. The edition on sale at Christie's is described as "Taille de la Porte" i.e. "door size". It was cast around 1928 by Alexis Rudier and comes from a Parisian apartment designed by decorator Alberto Pinto. The subject has twice exceeded $10 million in the past, setting a record at $15.3 million in 2013 for Le Penseur, Taille de la Porte, Dit Moyen Modèle (1880), which sold at Sotheby's in New York.
> This superb "Penseur" with a brown and black patina is expected to fetch between USD 9 and 15 million.
Phillips (June 30)
Also at the end of June, Phillips will host its "20th Century & Contemporary Art Evening Sale". The catalogue is not yet available online, but works by some of the hottest signatures on the market have already been announced, including Damien Hirst, Maria Berrio and especially the young Flora YUKHNOVICH (1990), for whom Sotheby's obtained a stunning record of $3.6 million last March (for a canvas estimated at one tenth of the final price (Warm, Wet 'N' Wild, 2020).