Modigliani's last masterpiece sold at Sotheby's Hong Kong
Modigliani's last masterpiece sold at Sotheby's Hong Kong
[06 Oct 2023]
This 5 October, Amadeo Modigliani's exceptional portrait of Paulette Jourdain was the star lot of a Sotheby's sale in Hong Kong. Sold for $34.8 million, it did not return the amount obtained in 2015, but lost 8 million.
In the spring of 2015 American shopping center magnate Alfred Taubman, a wealthy art collector and former chairman of Sotheby's Board of Directors, died at the age of 91. A few months later, in November, Sotheby's offered one of the jewels of his personal collection, Modigliani's Portrait of Paulette Jourdain which sold for $42.8 million to the Chinese industrialist Liu Yiqian, co-owner (with his wife Wang Wei) of the Long Museum in Shanghai, China's biggest private art museum.
A few months ago, Liu Yiqian and Wang Wei announced a plan to sell part of their collection this fall for an estimated value of $150 million and then consigned a number of masterpieces to Sotheby's for dispersal including René Magritte's The Universal Mirror (1938-39), one of Léonard Tsuguharu Foujita's Nu au chat (1930), David Hockney's A Picture of a Lion (2017), works by Zao Wou-ki, Matthew Wong, Yayoi Kusama and, above all, Modigliani's famous Portrait of Paulette Jourdain. The proceeds from these sales will be invested in 'new initiatives' at the Long Museum, including future acquisitions (the orientations of which are not yet known).
"I am his last model, his last brushstroke." Pauline Jourdain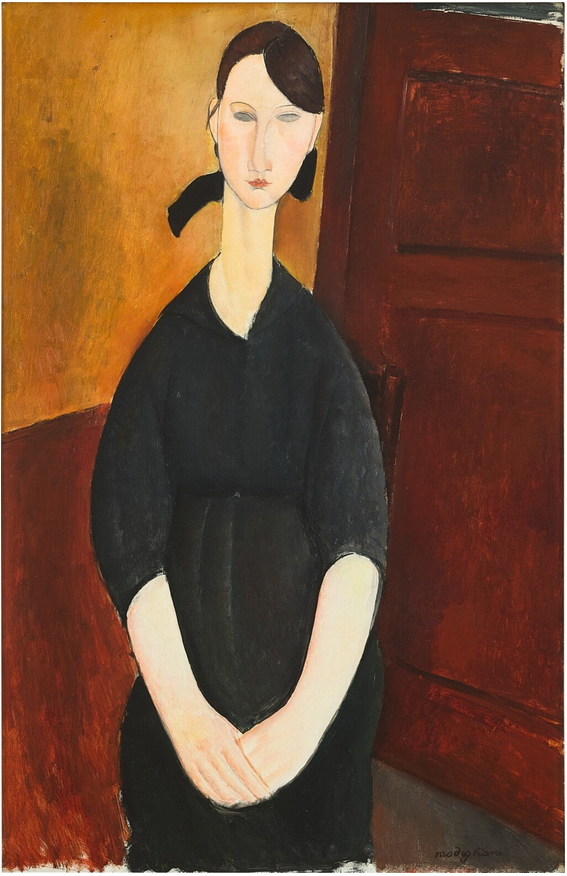 Amedeo MODIGLIANI's portrait of the young Pauline Jourdain is indeed a major masterpiece on several counts: Pauline's almost religious pose, the long neck, the mysterious gaze without pupils, the characteristic tapered nose, the highly singular use of space and the warm colors… the human presence in this work is as mysterious as that of the African masks with magical powers that Modigliani, like many other Cubists, discovered around that time.
But this portrait is also special in that Pauline, known as "Paulette", was Modigliani's last model and it is very probably the very last portrait that Modigliani ever painted. He actually completed the work in 1919, just a few months before his death in January 1920. Another attractive feature of this painting is that the young girl adopts the same pose as da Vinci's The Mona Lisa, a painting Modigliani adored and which influenced several of his best portraits.
A few months after the creation of this portrait, the young Pauline Jourdain helped with the funeral arrangements of the deceased painter and tried (unsuccessfully) to console his wife, Jeanne Hébuterne. She continued to be part of the life of Léopold Zborowski, Modigliani's principal dealer, for whom she was the housekeeper before being his assistant and lover. Little wonder that Léopold Zborowski bought this portrait during Modigliani's lifetime and, indeed, little wonder that Pauline, having forged such strong links with the Parisian art world, herself became a gallery owner after the death of Léopold Zborowski in 1932.
Modigliani has been to the very summit of auction history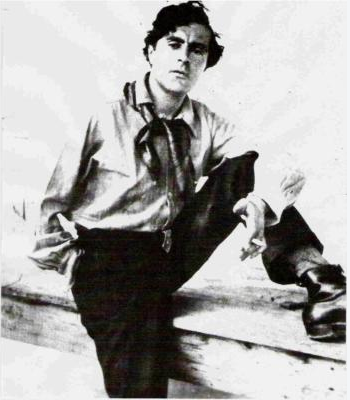 Modigliani's portrait
Claude Monet, Vincent Van Gogh and Jean-Michel Basquiat have each obtained, to date, only one auction result exceeding $100 million. Modigliani has two… two paintings which are among the most expensive in art auction history: the first reached $170.4 million on 9 November 2015 at Christie's New York, and the second sold for $157.1 million on 14 May 2018 at Sotheby's New York. Both reclining nudes (Nu couché and Nu couché, sur le côté gauche), they are among the rarest and most sought-after Modigliani subjects, whose prices have increased exponentially since the start of the millennium.
As far as we know, Modigliani only painted 22 reclining nudes during his all-too-brief career. The most expensive, having exceeded $170 million in 2015, became (at the time) the second most expensive artwork in art auction history. Today it is in fourth place behind da Vinci's Salvator Mundi, Warhol's Shot sage blue Marilyn (1964) and Picasso's Les femmes d'Alger (Version 'O'). Modigliani's Nu couché was also purchased by Shanghai's Long Museum, whose owners, Liu Yiqian and Wang Wei, yesterday sold the Portrait of Pauline Jourdain. By purchasing Nu couché in 2015, the Chinese couple assured their museum an absolute trophy in the history of Modern art, and the promise of attracting lots of additional visitors.
The other nude to have exceeded the threshold of $100 million – Nu couché, sur le côté gauche – is the largest painting known by the artist and was announced by Sotheby's as "one of Modigliani's most iconic and spectacular works". Having previously sold for $26.8 million at a Christie's sale in New York in 2003, its resale fifteen years later for $157.1 million added more than $130 million to its value.
Modigliani: records at auction (in millions). Copyright Artprice.com