Mr Christie, before Christie's… His early days
Mr Christie, before Christie's… His early days
[16 Jul 2021]

The officially recognised start date of Christie's auction activity is Friday 5 December 1766 when Mr James Christie hosted a sale of 'the household furniture, jewelry, plates, firearms, etc… property of a noble character (deceased)" in London. Among other items, the sale included a pair of sheets, two pillowcases and two chamber pots… a banal sale for the time, with all kinds of household items from the home of its deceased owner. But it was notable for being James Christie's first auction within the walls of his permanent sales room on Pall Mall. Small beginnings perhaps… but from that day onwards the Christie's brand began to grow at a steady pace! Today it is an international corporation which celebrated its 250th anniversary in 2016.

James Christie (1730–1803): a superb salesman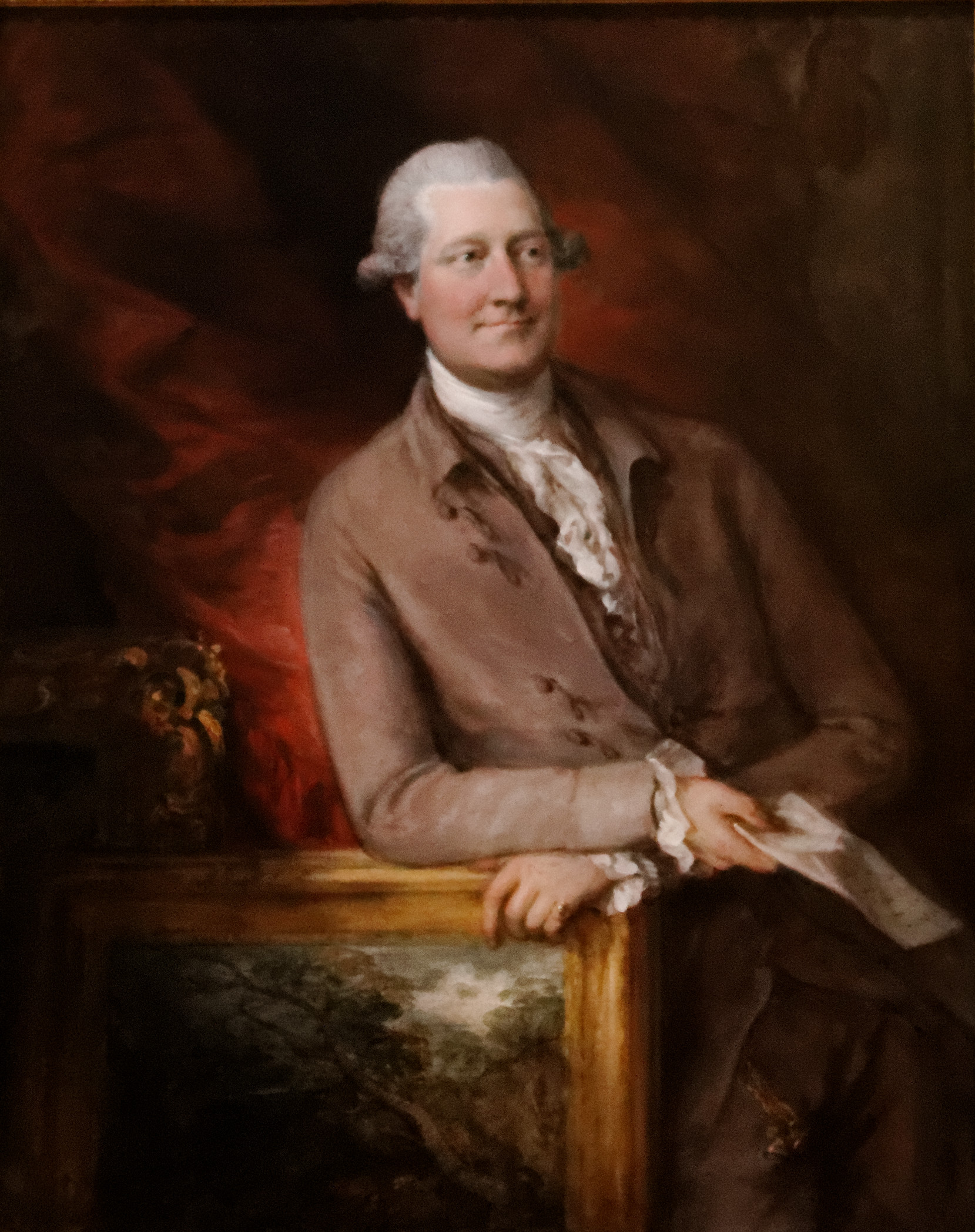 Born in 1730 in Perth, Scotland, to a relatively modest family, James Christie joined the Royal Navy for a short period, but quit around 1750. After moving to London he found employment with a man named Annesley, who ran an auction house in Covent Garden. The Director quickly took on the young and enterprising Christie as a partner, but the latter worked tirelessly to gain the experience and the funds necessary to set up on his own. In 1766 he achieved his ambition and hosted his first sales in the warehouses of the royal printer and bookseller Richard DALTON in Pall Mall. The premises had a certain cachet since they were used for the very first exhibitions of the young Royal Academy! Taking leaves out of various different books, he copied for example the French market practice of collecting lots and carefully publishing one catalogue per sale. Christie was also smart enough to form lasting relationships with various important people including the dealer Robert Ansell, who procured valuable collections overseas for Christie and was so useful he even became a partner from 1777 to 1784.
Closely connected to London's art elite.
Christie subsequently moved to larger rooms a little further up Pall Mall and discovered an illustrious neighbour: Thomas GAINSBOROUGH. The auctioneer quickly forged solid friendships in the upper echelons of London's artistic and intellectual elite. He was regularly seen dining with author, politician and collector Horace Walpole, painter Joshua REYNOLDS, famous theater director David Garrick and a certain Richard Tattersall, founder of the first racehorse auction house. This noble club became known as "Christie's Fraternity of God Parents". James Christie himself was not an art scholar, so he regularly asked advice from his friends regarding vague attributions and valuation estimates. And those who helped him had good reason to do so: in 1778, Thomas GAINSBOROUGH (1727-1788) painted, for free, a portrait of his dynamic friend on condition that the canvas be hung in a conspicuous place in the auction room. The painter was thereby able to assert an advantageous parallel between the Old Master paintings sold at Christie's and his own work, a subtle way of validating his position and his authority as an artist. Moreover, Gainsborough's portrait of James Christie shows the latter casually leaning against one of his own (Gainsborough's) landscapes, thus promoting his preferred genre; in fact, Gainsborough was quite outspoken about his preference (landscapes were difficult to sell at the time) and he said he only painted portraits to make a living. The artist's current market still favors the painter's incredible expertise in portraiture : of his ten highest results, seven are portraits, peaking at over $ 9.3m for Portrait of Mrs. William Villebois, full-length, in masquerade dress at Christie's London in July 2011.

The King of Epithets!
"Let me entreat, ladies and gentlemen, permit me to put this inestimable piece of elegance under your protection, only observe, the inexhaustible munificence of your superlatively candid generosity must harmonize with the refulgent brilliance of this little jewel!"
(Eloquence or The King of Epithets, James Christie. Engraving late 18th Century in the National Portrait Gallery)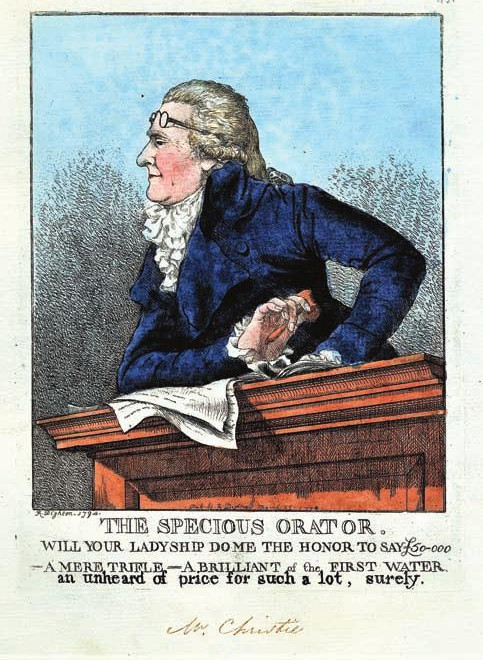 Before him, auctions were a mundane, everyday affair; but James Christie turned them into entertainment, targeting both the emerging middle classes and the wealthy collectors and connoisseurs, thus legitimizing the auction of fine art as a socially acceptable activity. The business's 'private viewing days' became events and its exhibition hall became one of the few places in London where people could enter freely and view Old Master paintings before the advent of public museums. Known for his persuasive manners and his eloquence, Christie turned his sales into real shows: he played to the crowd on a platform from behind a desk he had made to measure by another of his very prominent friends, the cabinet-maker Thomas CHIPPENDALE. This scenography, so familiar to regulars at modern day auctions, was revolutionary at the time and it drew attention to the auctioneer. Leaning forward with his spectacles raised and his hammer in hand, he coaxed bidders to part with "£50,000 – a mere trifle", as shown in a satirical drawing from 1794 titled A Specious Orator. Indeed, these sales-cum-shows soon became known as "sale by epithet".
Christie was an excellent communicator and he developed various business strategies that paid off. He organized openings and evening receptions. He bought shares in two newspapers, the Morning Chronicle and the Morning Post, in which he advertised future sales and private viewing days. Once a sale was over, animated accounts could be found in other newspapers too. The famous Stowe Sale lasted no less than forty days and was largely commented in the media of the time.
1766-1795: the first sales
The first lot of the first catalogue of James Christie's first sale in his own rooms on Pall Mall on 5 December 1766 was a set of six breakfast bowls and plates. It sold to a Mr. Shepherd for 19 shillings, which – taking inflation into account alone – would be roughly the equivalent of $220 today. The sale, which would be called a 'contents' auction in today's jargon, lasted five days and generated a total of £174, or $38,000 in today's money. The first catalogues accompanying these sales were succinct and strictly descriptive, and often incomplete: the enigmatic lot 90 of the auction's fifth day was presented as "Queen Elizabeth and the Spanish Armada" and fetched 5 guineas; but what was it? A painting? An engraving? Likewise, lot 31 of the second day, "a bronze representing Sir Isaac Newton, Pope & Handel, meticulously repaired by the ingenious and regretted Mr Robiliac" has a more in-depth description; but why the ingenious repairman is more worthy of mention than the sculptor himself remains a mystery.
Paintings–only sales…
Before long, the enterprising Mr Christie realised he wasn't going to go very far selling sheets and chamber pots, so on 21 March 1767, he hosted his first sale of paintings: "a veritable and precious collection of Italian, French and Flemish paintings, brought over from the continent" which met with only moderate success. Out of 41 lots, only 10 found buyers, and the sale's total barely exceeded £200. But he persisted with the idea and by adding his patter, his media savviness and his personal network, he managed to organise several sales that attracted a lot of attention while diversifying his method of selling art. In 1778 he was approached by Lord Orford for the appraisal of paintings belonging to his late father, Sir Robert Walpole, from Houghton Hall. Christie, in turn, called on the expertise of painters Benjamin I WEST and Giovanni Battista CIPRIANI and painter-dealer Philippe Joseph TASSAERT. He then arranged the collection's private sale to the Russian Empress Catherine the Great for a total of £40,455 (around $3 million today).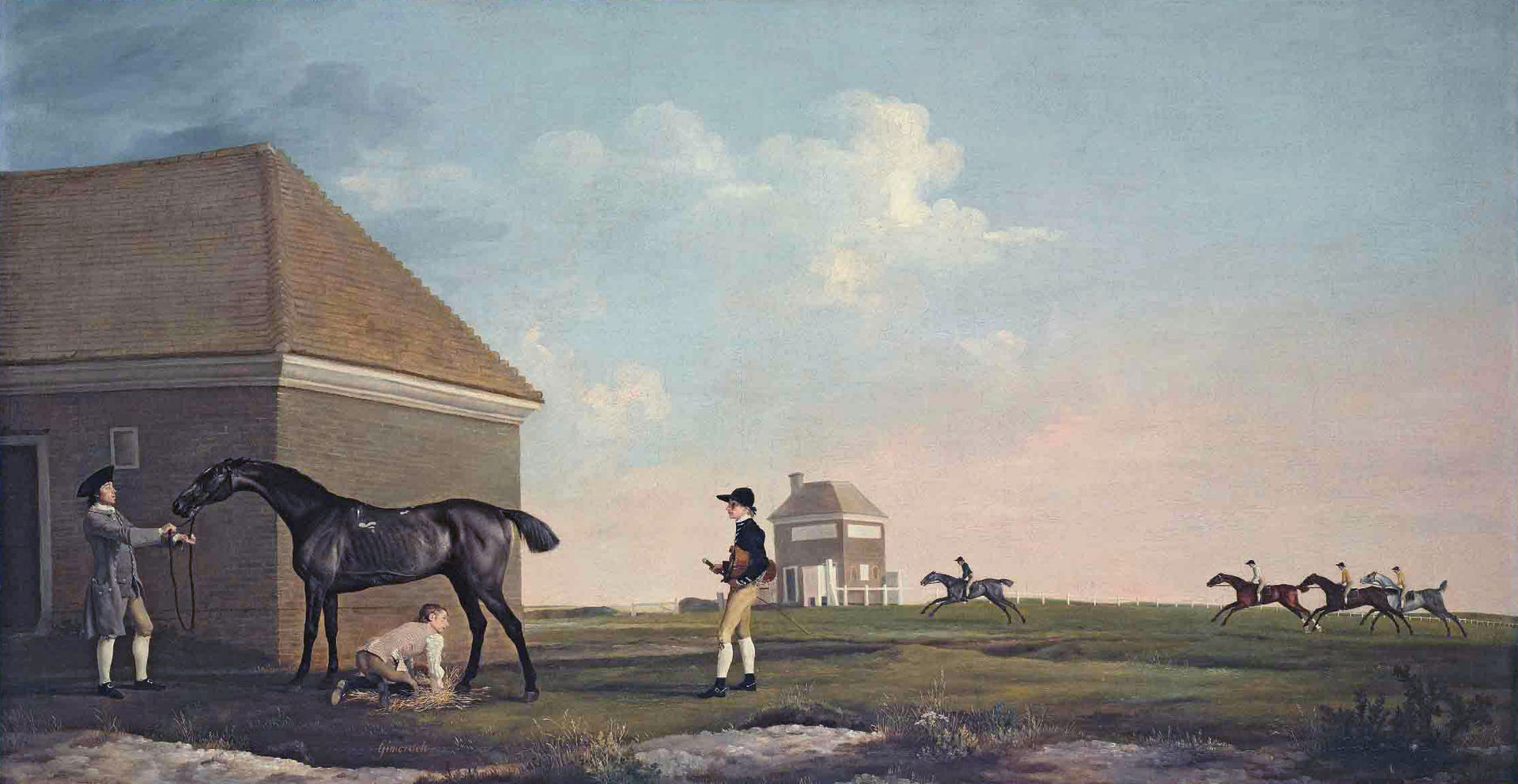 In 1780, George STUBBS' painting Gimcrack on Newmarket Heath, with a trainer, jockey and stable lad was sold for the first time at Christie's (lot number 82). It was acquired for 27 guineas (roughly $3,400 today) by George St. John, the future Viscount Bolingbroke. Gimcrack was one of the most famous racehorses of the 18th century. Unlike his horse-racing peers, Stubbs wanted his portraits to capture the uniqueness of each animal and be as anatomically accurate as possible. The painting captures a calm moment between Gimcrack and his jockey dressed in the riding silks of Gimcrack's wealthy owner, William Wildman, who commissioned the painting in 1765. A masterpiece in the history of sporting art, the work has since gone through Christie's four times, peaking at over $36 million in 2011! A unique progression over more than two centuries.
James Christie kept and maintained his network of friends and organised a 'workshop sale' of paintings by his neighbour and friend Thomas GAINSBOROUGHafter his death in 1788. He did the same after the death seven years later (1795) of Joshua REYNOLDS. Among the many lots in the catalogue for the Reynolds sale is an oil painting on wood panel by REMBRANDT VAN RIJN titled Suzanne et les Vieillards (1647) which is currently kept in Berlin's Gemäldegalerie. In 2015, experts discovered that Reynolds, who had acquired the work in 1769, had made "significant changes" to the background of Rembrandt's painting, presumably with the idea of improving the Master's work.
With the French Revolution having left numerous legacies in suspense, Christie approached a number of exiled French aristocrats. This allowed him – again in 1795 – to obtain the consignment of the precious jewels that had belonged to Madame du Barry, mistress of Louis XV, who died during the French Reign of Terror. This 'coup' placed Christie squarely at the peak of his market where his company remained unchallenged until Sotheby's began selling Impressionist & Modern paintings internationally in the 1950s.
What would James Christie think of the auction house he founded if he were to return today? Christie's is still one of the world's leading auction operators – an art market giant with 85 outlets all over the world – and it is still setting world records. The only place he would probably always feel at home would be inside the mythical Great Hall where the delicate protocol of the auction still takes place according to the rules he helped to define. That said… as an avant-garde entrepreneur, he would undoubtedly approve of his firm's adaptation to new art forms and would certainly have applauded BEEPLE's recent record at $69.3 million adjudicated by Christie's online in 2021, i.e. without a hammer!