News in brief: from Van Gogh… to Beeple
[05 Mar 2021]
Beeple drives interest in non-fungible tokens (NFTs) market
Will it end up being the most expensive digital artwork of all time? The First 5000 Days (2021) by Mike Winkelmann, aka 'BEEPLE', is currently skyrocketing in a Christie's online auction. On Monday 1 March, four days after the start of the sale, this unique digital collage made up of 5,000 images (i.e. one image per day produced over a period of 13 years) had already reached the price of $3 million…. versus a starting price of just $100 …
Bidders have until March 11 to raise the price of this work well beyond $3 million… which is likely because just a few days ago, another digital work by Beeple (CROSSROAD) sold for $6.6 million – a record for an NFT work – through the online marketplace Nifty Gateway, reserved for digital artworks.
According to Noah Davis, Contemporary art expert at Christie's, the sale of The First 5000 Days constitutes "a turning point for the future of new media and also for ways of collecting art". Her remark primarily reflects the work's status as an "NFT" (non-fungible token)… i.e. a virtual object, the authenticity and traceability of which are theoretically inviolable thanks to "blockchain" technology (used as the underlying technology for cryptocurrencies). Davis believes "we are at a time when we could see a dramatic permutation – a generational shift – in what drives new collectors." Christie's is therefore taking a bold step into tomorrow's art market and it is accepting – for the first time – that this digital artwork be paid for in cryptocurrency (ETH).
Big event for French art market: sale of a Van Gogh in Paris…
The last VAN GOGH 's painting to appear at auction was a 41 cm canvas (Fleurs dans un verre, 1890) that fetched $16 million in a prestige Impressionist & Modern art sale hosted by Sotheby's New York last fall. But the last one in France dates back to 1996 (Petite ferme, $234,000, Laurin-Guilloux-Buffetaud, Drouot). In short a Van Gogh in France is definitely big news for the country's art market, and this latest 'discovery' has a perfect history behind it.
Street scene in Montmartre was painted in 1887 during a visit to Paris that Van Gogh finally extended to two years. The canvas takes us to Impasse des Deux Frères, opposite the Moulin à Poivre in rural Montmartre before the Sacré-Coeur cathedral was built. "It shows us what Montmartre was like at the end of the 19th century", says Aurélie Vandevoorde, Head of the Impressionist & Modern Art Department at Sotheby's France. "Most of his so-called 'Montmartre paintings' belong to major international museums like the Rijksmuseum in Amsterdam, the Carnegie Institute in Pittsburgh and the Bridgestone Museum of Art in Tokyo."
However, Scène de rue à Montmartre was unknown to the public because it had remained in the same French private collection for 100 years before its discovery by Claudia Mercier and Fabien Mirabaud (from the Mirabaud Mercier Auction House). "This unique find is above all the story of a family who gave us full access to the painting and placed their trust in us. The work, never exhibited in public, was acquired in the 1920s and has never reappeared on the art market." Its sale in Paris was "a condition imposed by the sellers… in order to support the 'local' art market" explains Fabien Mirabaud, who approached Sotheby's to organise a joint sale in order to give the canvas powerful international coverage.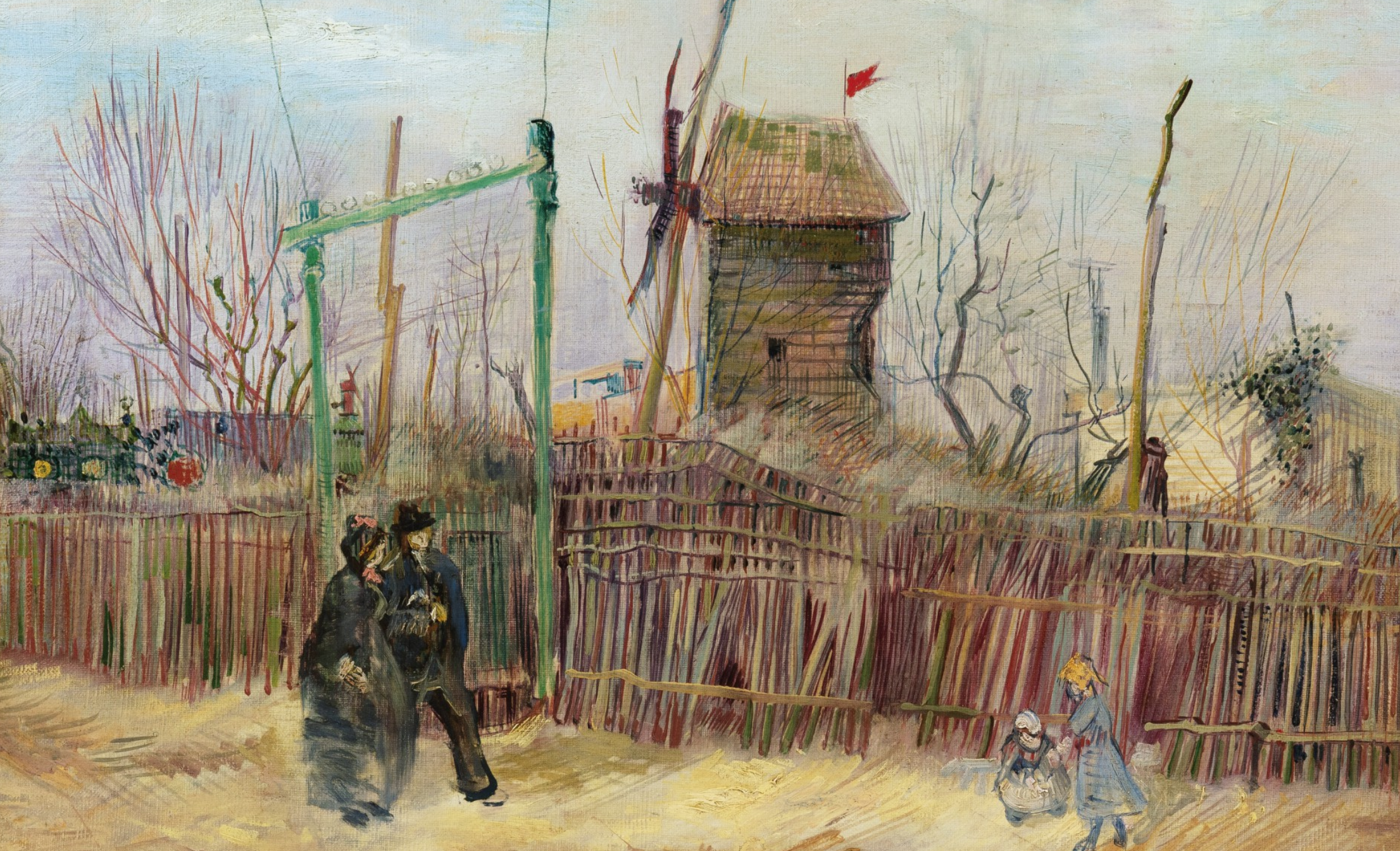 Vincent Van Gogh, Scène de rue à Montmartre (Impasse des Deux Frères et le Moulin à Poivre) (1887). Estimation:$ 6.034.300- $9.654.880, Sotheby's Paris.
.
The painting will be offered for sale at Sotheby's Paris on the evening of 25 March in a live sale with video-links to Sotheby's teams in New York, Hong Kong and London. As part of its pre-sale campaign, Sotheby's is taking the work to Amsterdam and Hong Kong. According to Claudia Mercier, auctioneer at Mirabaud Mercier "Amsterdam is where the artist's greatest collectors are located and where it will be studied by the Van Gogh museum which has shown a genuine interest in the work . The work will then travel to Hong Kong before returning to Paris (first Drouot, then Sotheby's).
The $6 – $9.6 million estimate is very conservative for a work by Van Gogh who already has seven results above the $50 million threshold to his name. Street Scene in Montmartre is irreproachable both in terms of its condition and its provenance and is extremely rare. Moreover, the subject is an important Van Gogh theme and the painting is of 'comfortable' dimensions (46.1 x 61.3 cm). In short, the combination of these factors will almost certainly push the bidding beyond $10 million.