Panorama of Latin American art at auction
Panorama of Latin American art at auction
[07 Nov 2023]

Global interest in Latin American art has numerous channels. Since the beginning of the millennium, public and private institutions alike – mainly in Europe and the United States – have conducted a growing number of initiatives to promote works by LatAm artists and foster links with Latin American museum and galleries to build archives of Latin American art essential for the orchestration of relevant acquisitions by European and American museums.

Work initiated approximately ten years ago by the New York's Guggenheim Museum is a perfect example: in 2013, its Mexican-born curator, Pablo León de la Barra, was hired by the Guggenheim as an expert on Latin American art. One of his missions has been to identify LatAm artists whose works are apt to be included in the museum's permanent collections. Other prestigious museums have taken similar paths: the Pompidou Center in Paris, the Tate Modern in London and the MoMA in New York have all made considerable efforts to research and collect Latin American art, sometimes via specialized acquisition funds like the MoMA's Latin American and Caribbean Fund. But while the major museums are concerned with the historical and artistic values of works by Latin American artists, we take a look at their pecuniary value on the only market that can be analyzed with relative reliability: the auction market.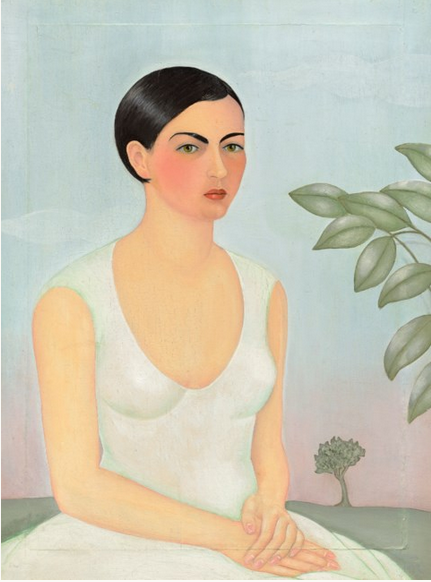 Frida Kahlo (1907-1954), Portrait of Cristina, My Sister ( Jerry Moss Collection)
Estimated between $8 and $12 million at Christie's in its 20th Century Evening Sale on November 9
.
Latin American artists on the global art market
The market has focused much of its attention on Frida KAHLO, Fernando Botero and Wifredo Lam, but there are of course numerous other Latin American artists whose works enjoy more or less demand in different countries of the world.
To get an idea of the size and depth of this market we need to know the total number of Latin American works sold at auction each year, their geographical location and the comparative auction results for the market's main artists. Let us begin with a quick statistical overview:
In total, 6,904 Latin American artists had at least one work of art sold publicly between 1998 and 2022. This amounted to a total of 152,500 transactions generating a total auction turnover of $2.92 billion. However, the value is highly concentrated since the 100 top-performing Latin American artists in the world accounted for 82% of that turnover, from just 30% of the transactions. These artists are therefore very much subject to priority attention from collectors and market players.
EVOLUTION OF FERNANDO BOTERO'S POSITION IN THE WORLD AUCTION RANKINGS

The most well-known artists
The superstars of Latin American art essentially come from eight countries, each providing one or more high-value artists: Chile with Roberto Matta, Uruguay with Joaquín Torres- García, Venezuela with Jesús-Rafael Soto and Carlos Cruz-Diez, etc. All in all, 100 Latin American signatures generate 82% of the market's value!
Although collectors' preferences have evolved over the past 25 years, they have never been truly disrupted. Modern artists Rufino Tamayo, Roberto Matta and Wifredo Lam, along with Fernando Botero, have dominated the annual ranking of the best-performing Latin American artists at auction for a quarter of a century. The most sought-after Latin American works on the international art market were created around the middle of the 20th century, notably by artists who gravitated around the Surrealist movement. But works created in the 1990s are also popular: i.e. the sculptures and paintings of Fernando Botero and installations by Félix González-Torres. Generally-speaking, the market clearly shows that it primarily values Latin American artists who have established ostensible links with Western art history.
Despite the small number of her works in circulation, Frida Kahlo ranks among the ten most successful artists in this market. She is the top-selling female artist in this market, but there are ten other women among the 100 most successful Latin American artists in the world at auction since 1998: Beatriz Milhazes, Adriana Varejão, Carmen Hererra, María Berrío, Lygia Clark, Amelia Peláez, Martha S. Boto, Alicia Pérez Penalba, Doris Salcedo and María Freire. The female presence is thus three times greater in the Latin American Top 100 than in the Global Top 100.
Colombian artist Fernando BOTERO, who died on 15 September last, is the top-selling artist from Latin America at auction. His work has become totally emblematic of Latin American art sales. Christie's Latin American Art sale of 9 March 2023 included 10 works by Fernando Botero in a sale with just 48 lots.
Other LatAm artists, perhaps less known to the general public, are also particularly appreciated by collectors: the Afro-Brazilian Cildo MEIRELES, now ranked in the Top 100 artists by auction turnover (over 20 years), and the Cuban printmaker Belkis AYON, whose prices are currently inflating rapidly. The latter's work addresses very specific themes such as the beliefs, rituals and myths of the Abakuá secret society which is an integral part of the Afro-Cuban religious universe. Sadly, her career was interrupted by her suicide at the age of 32. The extreme rarity of her works, in addition to their virtuosity, has made her one of the most coveted printmakers on the market. A monumental engraving of which only four copies exist – Desobediencia (1998, 253.4 x 197.2 cm) – tripled its high estimate to $214,200 in September 2022 during Christie's Latin American Art sale in New York.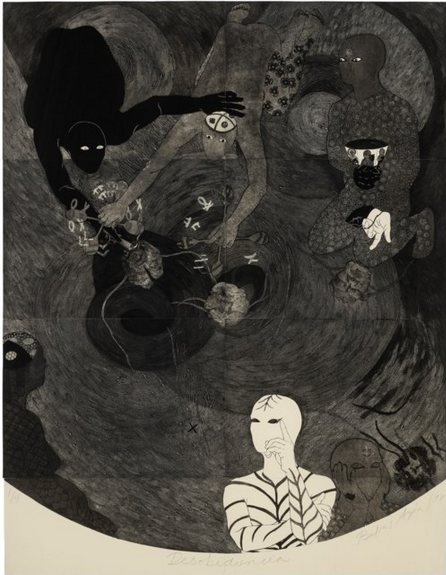 Belkis Ayon, Desobediencia
A market driven by New York's auction rooms
The United States plays a leading role in the trade of Latin American art. New York alone has accounted for 68% of its auction turnover over the last 25 years. Other American cities, including Miami, Chicago, Dallas and Los Angeles, add another 3%. New York's dominance is partly explained by the fact that many Latin American artists studied and settled there, including Rufino Tamayo in the 1920s, Félix González-Torres in the 1980s and María Berrío today. They have all forged close ties with the New York art scene as well as with the city's dealers and collectors.
New York's reign over the high-end art market in the late 20th and 21st century – attracting more of the world's finest pieces than any other city – has also applied to Latin America's finest pieces which are offered in the city's prestige evening sales dedicated to 20th Century Art, as well as in 'specialized' Latin American Art sales. The latter have played a fundamental role in the development of the Latin American art market, generating more than $1.43 billion over 25 years.
Specialized sales, however, have become less frequent over the past five years, particularly since Sotheby's and Phillips chose to include Latin American works in more 'general' catalogs. Phillips' "Latin America" department, which has plans to play a major role in promoting Latin American art, claims to offer the best springboard to Latin American artists by placing them among the leading figures of European and American art. This is clearly a strategic choice designed to appeal to all international collectors and a way of promoting work produced by Latin American artists without burdening it with unnecessary geographical pigeon-holing.
Artmarket by Artprice Article published in Diptyk Magazine in October 2023