Sanyu… China's Matisse
[31 Dec 2019]
Sanyu… China's Matisse
After Zao Wou Ki, Sanyu has become yet another highly appreciated signature on the global art market's Sino-French segment, with the prices of his best works now approaching those of Matisse.
According to the Dutch art critic Jan D. Voskuil – writing in 1932 when SAN Yu was just 31 – The young Chinese painter Sanyu eagerly accepts the legacy of his ancestors' art , but he also, in his own way, manages to incorporate some of the latest European ideas. About ten years earlier San Yu left his native Sichuan province and moved to Europe. After a couple of years in Berlin he moved back to Paris where he started working as an artist; the French capital, the 'Roaring 20s' and the Académie de la Grande Chaumière breathed new life into his painting. Like other Chinese artists who went to live in France in the early 20th century (often backed by a Chinese government scholarship), he opened up a new vein of pictorial representation, merging Asian and Western styles of painting. But unlike most of his compatriots (including Xu Beihong and Lin Fengmian), San Yu never returned to China to cash in on his French experience (i.e. faculty jobs, etc.). Deeply committed to pursuing his artistic development, he chose to stay mostly in Paris, where despite good contacts, his career never really took off during his lifetime.
Although his work was recognised by certain reputed art critics and collected by various experienced art collectors (including Henri-Pierre Roché, Johan Franco, Pierre Joffroy and Pierre Lévy) it never really received the commercial success it deserved during his lifetime. Perhaps it was too new for its time? In any case, it was too atypical and too exclusive (less than 300 paintings) to be promoted in the small world of the Parisian art galleries at that time. San Yu died destitute in Paris in 1966 and appears to have been largely forgotten by the end of the 1960s. But, over recent years his work has been rediscovered … and his paintings are now worth millions.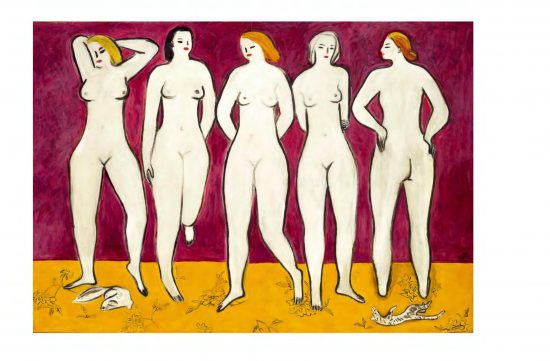 San Yu – Five nudes (Ravenel)
Nudes and flowers
When Sanyu first arrived in Paris he was enthralled by the practice of 'life drawing', a practice that was inconceivable in China at the time, but was a central pillar of Western painting. Women with exaggerated leg proportions… nudes painted with afew detached brush strokes, capturing the essence of his subjects… Sanyu's drawings have a truly 'Matissian' quality, between purity and jubilation. Twenty-five years ago, excellent works by San Yu used to be offered in French auctions for around $3,000. Today you would expect to pay at least $30,000 for a small drawing in black ink or pencil. The price goes much higher if the sheet has colour – to over 2 million euros – especially if it is sold in an auction room in China, Hong Kong or Taiwan where his wealthiest collectors live.
For an Asian collector buying a work by San Yu today is like a Westerner buying a work by Matisse. Both artists are inseparable from the avant-garde of the last century. The prices of San Yu's ink drawings are also catching up with those of Matisse's drawings, driven by an increasingly motivated Asian demand. His works have been leaving France en masse to be sold in China or Hong Kong, the two marketplaces which now account for 91% of the artist's auction turnover (2018-2019).
In Hong Kong, the artist's 'value' reached a new milestone in 2019 with a remarkable nude painting dated 1950 entitled Five Nudes. Reproduced on the cover of Christie's catalogue last November, this solid composition was undoubtedly the star lot of the recent autumn sales. Of impressive dimensions (almost two metres) it is strongly reminiscent of Matisse's famous Dance (painted 40 years earlier) that Sanyu admired so much. According to a Christie's press release, the work attracted buyers from fifty countries and reached USD 38.8 million. Eight years ago the same work fetched just $16 million in a Ravenel sale at Hong Kong's Grand Hyatt (Five Nudes, 30 May 2011).
Despite the flight of Sanyu masterpieces to Asia, the major surge in Sanyu's prices – up 1,154% between 2000 and 2019 – still benefits a number of French auction operators, notably Aguttes, which has hammered some big results over the past four years. In 2015, Aguttes managed to unearth two oils-on-canvas representing flower bouquets, Sanyu's other emblematic subject besides nudes. Each canvas (Deux gros hortensias roses, dans un vase blanc – and – Fleurs dans un vase portant une inscription) fetched over $4 million, easily doubling their high estimates (2 June 2015).
Two years later, in 2017, an individual from the Paris region contacted Aguttes to get a Sanyu painting on his wall valued. The owner had no idea of the work's exceptional nature and it turned out to be a "forgotten" work, the trace of which had been lost since it had been exhibited in the Netherlands in the 1930s. Entitled Pot de fleurs ou Pivoines (Flowerpot or Peonies), of reasonable dimensions (92 x 73 cm), the Aguttes catalogue described the work as "not only offering the aesthetics of a still life in pink and black, but also evoking a cultural and spiritual reflection between East and West". Hoping to sell the work for at least $4 million, Aguttes finally fetched over $10 million (incl. fees), an exceptional price level illustrating the French market's capacity to attract buyers from Hong Kong and Taiwan – who were particularly active on the phones during that sale.
That result – Sanyu's best-ever in France – is in line with the artist's best results worldwide. At the time, it was proof that Sanyu's major pieces can also fetch top whack prices in Paris.