The pioneers of Vietnamese Modern Art are attracting strong demand
The pioneers of Vietnamese Modern Art are attracting strong demand
[23 May 2023]

Over the last six years, since the first-ever 7-digit auction result for a work by a Vietnamese artist, the annual global auction turnover on works by Vietnamese artists first doubled, then almost tripled with a sharp acceleration in the number of auction records hammered over the past two years. Secondary market demand has been strong right across the globe, particularly for works by LE PHO and Trung Thu MAI who arrived in France in the 1930s.

These two artists, Mai-Thu and Le Pho, belong to the generation of Vietnamese artists who linked the world of Asian representation to that of Western modernity. Their initial training was in Western techniques (composition according to Western codes, history of art, oil painting, etc.) at the Ecole Supérieure des Beaux Arts d'Indochine (EBAI) in Hanoi founded by Victor Tardieu and Nam So'n. This first school of fine art in Indochina marked a real turning point in the history of Vietnamese art.

A major figure in modern Vietnamese art, May-Thu (1906-1980) was a great master of silk painting, whose work is currently enjoying unprecedented popularity on the art market. Having spent a large part of his life in France, May-Thu's work has entered many French collections and the French market is indeed the primary market in the world for his works, which regularly exceed their estimates. Last April for example, a painting on silk, representing Three sisters (1947) looking very elegant in their traditional ao dai outfits, fetched a result equivalent to $327,000, twice the high estimate given by the auctioneer (Boisgirard-Antonini, Paris). This work, like others, could have ended up in an American sale, Mai-Thu having been approached at the time by the New York gallery Wally Findlay which would have ensured him an international reputation and a real commercial success during his lifetime. But the artist refused this collaboration and the rapid success it would have generated due to the war that was raging at the time in Vietnam. He nevertheless became one of the two most famous painters of the first class in the history of the EBAI, with his friend Lé Phô, son of the Viceroy of Tonkin, who arrived in Paris with him.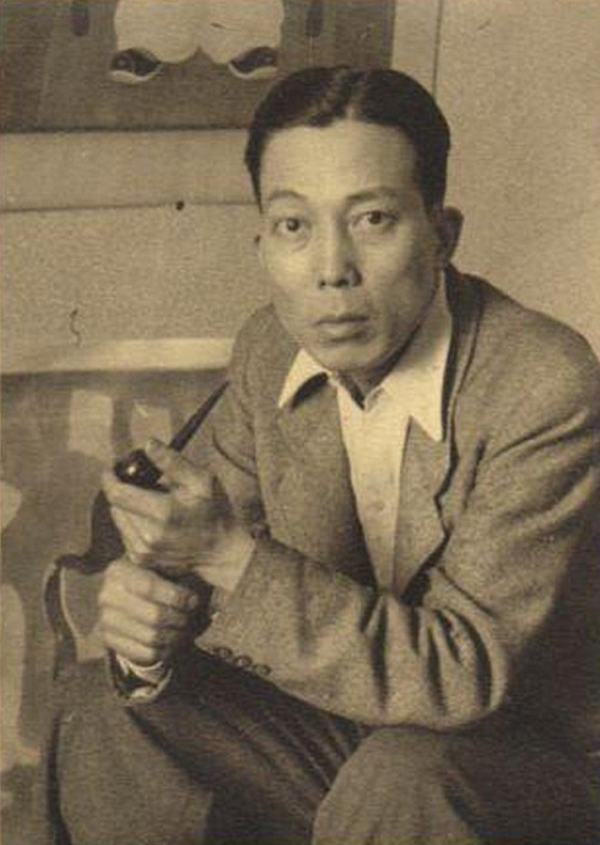 Portrait of Mai Thu in the early 1940s
Mai THU : Geographical breakdown of the number of lots sold since 2020: France is a key hub for his market (copyright Artprice.com)



Le Pho, whom Victor Tardieu considered to be one of the most brilliant artists to come out of the EBAI, settled permanently in France at the end of the 1930s. He broke away from the ancestral techniques of painting on silk in favor of oil painting. Having found his own artistic path, he began to exhibit alongside Marquet and Dufy in the Algiers gallery of André Romanet. In the early 1960s, unlike Mai-Thu, Le Pho signed an almost exclusive contract with the Wally Findlay gallery, which opened up a new American audience for him, so much so that today the American market is better supplied with his works than the French market, and his prices are undeniably rising. On May 6 last, for example, a 35 by 50 centimeter still-life with a Bouquet, carrying an estimate of $3,000 – $5,000, almost multiplied by ten its high estimate in Boston (SVV Grogan & Company). Le Pho enjoyed great fame at the end of his life and his success is unlikely to fade as Asian collectors join American and European collectors in driving up his prices. The latest hotpoint for his works is Hong Kong.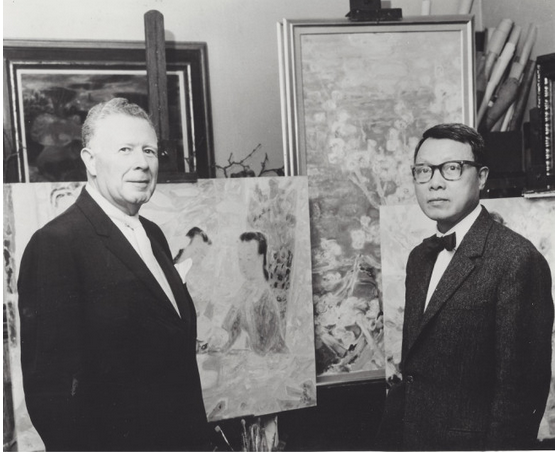 Le Pho and art dealer Wally Findlay at the Findlay Gallery, circa 1960. Wikimedia Commons/Musée Annam
Evolution of Le Pho's price index at auction since 2000 (copyright Artprice.com)


The best auctions between Hong Kong and Paris
The first ever USD million-plus auction result for a Vietnamese artwork was hammered in 2017. It rewarded the work Family Life by the artist Le Pho, whose work has since generated numerous 7-Digit (USD) results. In total, the global art auction market has hammered 18 results above the million dollar threshold for works by Vietnamese artists: 7 for Le Pho and 7 for Trung Thu MAI, the most expensive Vietnamese artist since the sale of his Portrait of Mademoiselle Phuong for $3.1 million (in 2021), and, another four for works by Phan Chanh NGUYEN, PHAM HAU, Cao Dam V, TO NGOC VALVE, Gia Tri NGUYEN
Top results for Vietnamese artists (copyright Artprice.com)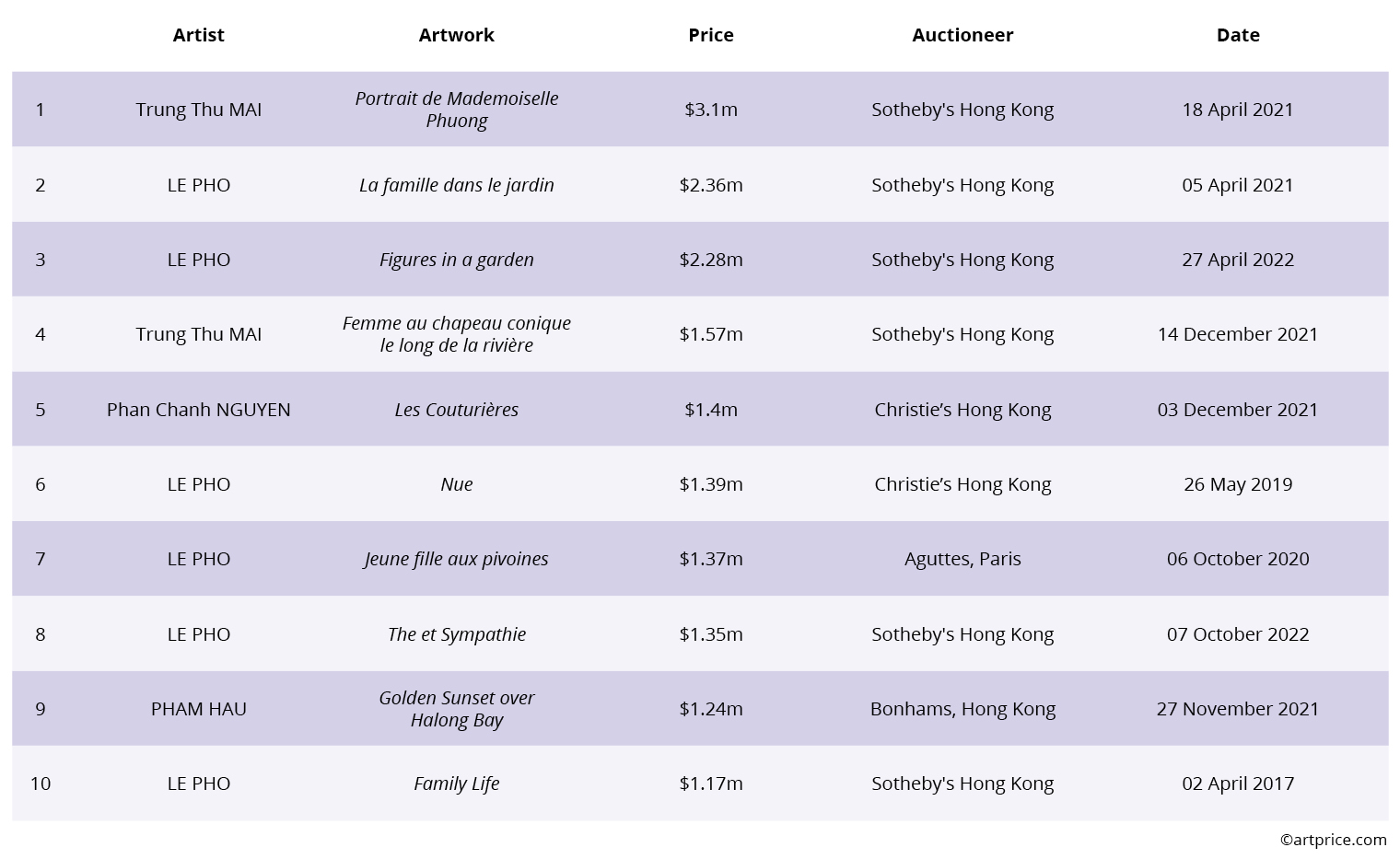 Faced with Hong Kong, where the behemoths Christie's, Sotheby's and Bonhams operate, it is important to point out the role of the French market (two 7-digit results to date), and notably the auction company Aguttes, for whom Vietnamese art has become one of their main specialties.
In 2020, Aguttes' Asian Painters and Asian Arts department (including Vietnamese artists) generated a turnover equivalent to 8.8 million dollars including, at the time, Le Pho's 2nd best-ever result for Jeune fille aux pivoines which fetched over $1.3 million. In 2021, Aguttes hammered Phạm Hầu's 2nd best-ever result (today his third best) at $1 million. Last year, the same department generated $22 million, two and a half times its 2020 turnover, with sustained demand from informed collectors from Taipei, Hong Kong, Ho Chi Minh and Hanoi.
Charlotte Aguttes-Reynier, the department's expert explains her approach "Noting that many of them (Asian artists) have remained unknown to Western audiences, I have endeavored since 2014 to highlight their work, here in Paris, a city to which most of them came to complete their artistic educations. My job is therefore to pay tribute to them and to promote their work in Paris."
In October 2022, the 35th Aguttes auction dedicated to Painters and Arts from Vietnam brought in the equivalent of three million dollars, with an exceptional sold-through rate of 99.6% by value! Maternity by Vu Cao Dam (from the EBAI's 2nd promotion), fetched $478,848, taking the artist's total for four of his works over the million-dollar threshold, while seven works by Mai Trung Thu also generated a million dollars.
TOP 5 results in the Aguttes sale on October 3, 2022
Vu Cao Dam (1908-2000), Maternité – $478 848
Le Quoc Loc (1918-1987), Les rapides de Cho Bo – $453 831
Mai Trung Thứ (1906-1980), Jeunes filles aux coussins – $353,763
Mai Trung Thứ (1906-1980), Pommes – $291,221
Mai Trung Thứ (1906-1980), L'écharpe bleue – $266,205
A pioneer on the market before international demand began to spread, Aguttes intends to multiply future successes by strengthening its departments linked to Asia. The company recently recruited Clémentine Guyot and Marine Bassal-Biron for their Asian Arts, as well as Eléonore Asseline for Asian Painters. "These additions to our teams will allow us to meet growing market demand in this sector and they are in line with our house's ambition to internalize expertise. Aguttes now has nine employees working in this sector."
Evolution of global annual auction turnover for Vietnamese artists (copyright Artprice.com)