You must have cookies enabled to use this website.
ArtMarket® Insight - what's trending on the art market
ArtMarket® Insight contents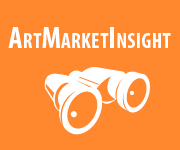 If you think art prices are prohibitive, think again! Half of all artworks are auctioned at below EUR 1,000. Top hammer prices and other exceptional works auctioned over EUR 100,000 account for only 1.5% of auctioned lots! 15% of works sold are multiples or lithographs and rarely sell for more than EUR 1,500.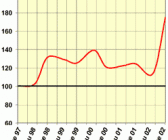 The price of paintings by artists belonging to the Cobra movement has risen by 50% in the last six months in what clearly amounts to a significant revaluation of their work.

French auctions have always been concentrated in Paris and dominated by the auctioneers of Drouot, who between them knocked down around 50% works of art sold at auction. The Tajan auction house had the highest turnover in the art auction market.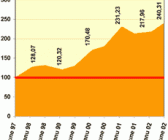 In a market segment which attracts young collectors hammer prices rise and fall in line with sales. Despite being a particularly unstable market, contemporary photographers have commanded steadily rising prices in recent years. But prices are still influenced by economic swings and speculation. The talent of these artists is not yet rooted in art history or in the market. Selection is particularly tough.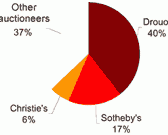 While rumors suggest Drouot, the traditional home for France's auctioneers, may be sold, Sotheby's and Christie's have burst onto the French market. France recently reformed its auctions market throwing it open to competition. French art has long held a great allure for foreign auction houses, and Sotheby's and Christie's have been quick to make the most of the new regime.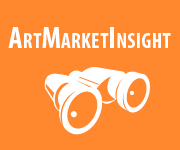 Prestigious auctions held in Hong Kong, Melbourne, Singapore, Tel Aviv, and other locations, by Sotheby's and Christie's have set the art market in an international context. The US continues to dominate with around a 50% share in 2001. But Europe's share is substantial and gaining ground each year. The rest of the world still has a timid presence in the auction market but is becoming more active. The market share commanded by US auctions has fallen from 66.3% in 1997 to 48% in 2001.
Our partners