Art Revolution Taipei
(22 Apr 2016 - 25 Apr 2016)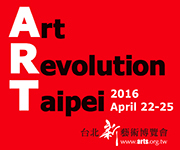 Art Revolution Taipei
Taipei
Taiwan, Republic Of China
Artists at the Center, Asia's Iconic Art Fair
Art Revolution Taipei 2016 Runs April 22~25, TWTC
Art Revolution Taipei (A.R.T.), organized by Taiwan International Contemporary Artist Association, is Asia's iconic art fair. Challenging conventional art shows designed around galleries, A.R.T. pioneers in its curatorial vision of placing the artist front and center, with every booth standing as the artist's solo exhibition.
For its debut in 2011, A.R.T. had made a record with 89.66% of the exhibiting artists having sale, a record comparable to the world's top art fair, the Art Basel. In its second edition, the number reached 91.18%, with several artists, such as French highly-regarded artist Philippe Pasqua, having a complete sellout. The ensuing year attracted more collectors to visit; some artists even sold out all the exhibiting artworks right at the VIP Preview. The rate climbed to unprecedentedly high, 93.21%, in 2014. Last year, to challenge a customary practice prevalent in Asia—that is, to intentionally set the price tag high in order for the buyer to cut it down—an "iron-price" policy was applied. This price policy was appreciated and supported by many art collectors, and as such the rate of artists with sale remained as high as 84.89%. Without a doubt, A.R.T. has now become an international platform for artists to engage dialogue with one another. What's more, it has made some artists becoming famous in their home country because of their successful performance in A.R.T.
The A.R.T. 2016 continues to be directed by Lee Sun-Don, who rigorously selects the exhibiting artworks and designs the entire art show. It will be comprised of eleven sections: A.R.T. Curatorial, International Contemporary Art, New York Contemporary Art Fund, International Artist Salon, China Contemporary Art, Taiwan Contemporary Art, Contemporary Ink Painting, Art with Entrepreneurs, International Artist Grand Prize Competition, Art and Design, and Art Your Compassion.
The section of "Art Your Compassion" is A.R.T.'s another pioneer. Linking art with philanthropy, it invites celebrities and social elites at home and abroad to create artwork for charity sale, which also helps promote the public interests' in collecting artwork. Taiwan's former president, Lee Teng-hui, is one of the committed participants since its premiere in 2011. The participants created with all their heart in various art forms, ranging from painting to collage, photography, and mixed media. This charity event drew great attention from the public every year; hundreds of artworks were always claimed in just one or two hours.
The annual theme for A.R.T. 2016 is "The Glory of Life." There will be more than 3,000 pieces of work by 322 artists from 50 countries or so exhibited. They include winner of Italian International Arte Laguna Prize, a realistic classic artist Carlo Alberto Palumbo; the world-leading body cast sculptor Louise Giblin, who created the sculptures of five Olympic athletes to raise money for charity in London Olympic 2012; Alexandre Monntoya, an artist known for his realistic style throughout Europe and America; Ukraine Olympic medal recipient, Igor Grechanyk, an international-renowned sculptor; a representative artist of Chinese contemporary art, Liu Baojun; famous impressionist portrait artist Vladimir Volegov from Russia, Taiwan's female art trio Ma Sing Ling; the champion of last year's International Artist Grand Prize Competition Kurma Venkata Siva Prasad from India; Alexander Oligerov, member of Russian Union of Artists and of Paris Unit of Artist, who is noted for his vibrant color palette and bold strokes. The A.R.T.'s director Lee Sun-Don will also exhibit his newest creations: the installation art inspired by 3C technology and global stock/currency markets that highlights this year's thematic spirit, and the breathtaking dinosaur fossils set onto contemporary sculptural art.
Art Revolution Taipei 2016
VIP Preview : April 21 19:00~22:00 (with VIP invitation presented)
Regular Exhibit: April 22-23 12:00~20:00
April 24 11:00~19:00
April 25 12:00~20:00
Venue:Taipei World Trade Center (TWTC), Hall 3
No.6, Song-shou Rd., Xinyi Dist., Taipei, Taiwan