French artists on top of the market!
[07 Dec 2021]

As the year closes, we add up and compare the market performances of the artists at auction all over the world. Our initial conclusions, in early December, indicate that 2021 is going to be one of the best-ever years for artists of French nationality (or French residence), far outstripping the overall results for artists of British nationality (or UK residence). The former generated $3.2 billion over the first eleven months while the latter generated an auction turnover of just $524 million. This exceptional total for French artists is not far behind the total hammered for works by American artists, whose cumulative sales amount to $3.8 billion so far this year.

This exceptional performance of French and French resident (past or present) artists owes a lot – as always – to the great signatures of Modern art, but also to the Sino-French artists like Chu Teh Chun and Zao Wou Ki. It also owes something to the French Contemporary artist Pierre Soulages, whose record has been substantially renewed in New York.
Picasso, the eternal number 1
The 3.2 billion dollars hammered for French artists this year is primarily based on transactions involving the great Modern artists like Vincent Van Gogh, Claude Monet, Paul Cézanne and… of course, Picasso. Because, although France refused to grant French nationality to Picasso (despite his request for French citizenship in 1940), "the greatest artist of the 20th century", having pursued his career in France, is considered Franco-Spanish (or more precisely Hispano-French) by the art market.
Once again Pablo PICASSO is the world's most successful artist in the auction sphere with over $550 million (excl. fees) hammered so far this year (up to 1 December 2021). This phenomenal result corresponds – more or less – to the annual auction turnover recorded on French soil in 2020 ($578 million). But the strength of this signature ultimately benefits the French market little because the best Picassos are sold through New York.
Billed as the most popular Picasso of the year, his Femme assise près d'une fenêtre (Marie-Thérèse) (1932) fetched $103.4 million in New York at Christie's 20th Century Evening Sale last May. It is the fifth Picasso painting to cross the 100 million threshold at auction.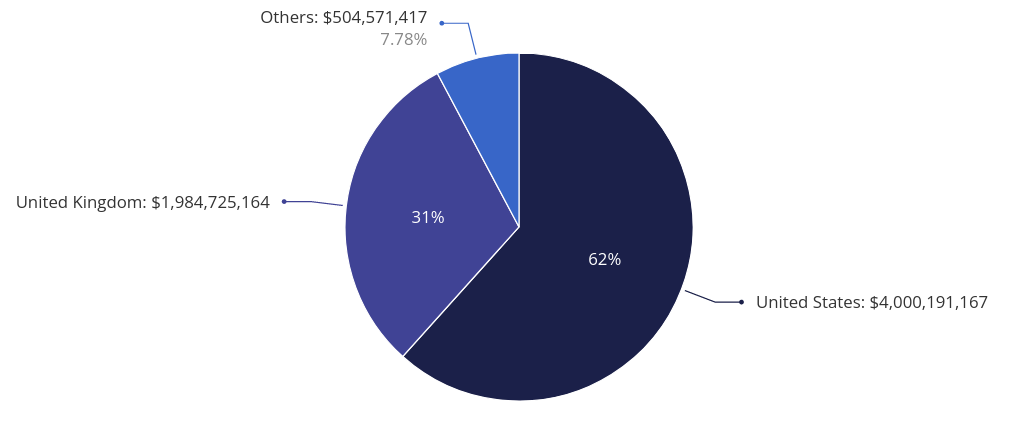 Picasso: geographical distribution of the artist's turnover. Copyright Artprice.com
.
The best paintings by Cézanne, Monet and Van Gogh – the most expensive artists after Picasso – were also sold through New York, mostly at Christie's.
Caillebotte at the Getty Museum
Less expected this year was Gustave CAILLEBOTTE's extraordinary result in New York. His superb painting Young Man at His Window (Jeune homme à sa fenêtre) – considered a masterpiece of modern 19th century urban realism – reached $53 million, adding $31 million to his previous auction record of $22 million for Chemin montant (1881) in 2019 (Christie's London). Acquired by the Getty Museum in Los Angeles, works by Caillebotte have become very rare (only four works sold this year, and none last year), but above all, this young man at the window is an emblematic and incomparable Impressionist work.
Sino-French abstraction
Behind the usual great Moderns, the best results of the year were hammered for works by the Sino-French artists Chu Teh Chun and Zao Wou Ki.
Chu Teh Chun scored the best result with a new record at $29.5 million last April in a Hong Kong sale hosted by Sotheby's (Harmonie hivernale, 1986). This new record adds $15 million to his previous record, also hammered in Hong Kong in the summer of 2020.
In recent years, CHU Teh-Chun's market – like those of all the great Sino-French artists, including San Yu and Zao Wou Ki – has shifted firmly to Hong Kong where it enjoys strong demand from Asian collectors. Nearly 80% of Chu Teh Chun's annual auction turnover is hammered in Hong Kong (2020-2021). The proportion is 70% in the case of Zao Wou Ki.

Comparative price index (2001-2021) between Chu Teh Chun (light blue) and Zao Wou Ki (dark blue). Copyright Artprice.com 
.
Of the same generation, but even more popular than Chu Teh Chun, ZAO Wou-Ki owes his best auction result in 2021 to a canvas from the early 1960s that fetched $21 million, also at Sotheby's April sale in Hong Kong.
Soulages in the firmament
Last on the list of big contributors to the total hammered by 'French artists' is Pierre SOULAGES, still active at the age of 101. On 16 November his superb Peinture, 4 août 1961 set a new personal best at $20 million at Sotheby's New York. Soulages's price index has shown a meteoric rise of 100% since 2017. The canvas was estimated at half the final price.
Painted, as the title suggests, on August 4, 1961, the work spent more than 30 years in a private collection before burying the master of outrenoir's previous record of $10.6 million hammered in 2018 at Christie's New York.
At present, France remains the artist's primary auction market market, both in terms of volume (60%) and auction turnover (43%), despite the recent peak established last month in New York. Faced with pressing demand from American and Asian collectors, the distribution of his market could well be transformed in the near future.
Chronological progression of the proceeds from Pierre Soulages auctions (2000-2021). copyright Artprice.com
Absolute record this year!