Günther Förg on a steep ascension
[29 Apr 2022]

We are currently seeing strong demand for works by Germany's major artists! For example, Günther Förg's price index has risen by more than 600% in 20 years.

Germany is one of the few countries where the art auction market remained almost unaffected by the covid pandemic. Bucking the trend of other Western marketplaces, its overall art auction turnover actually rose in 2020 and the country subsequently posted a historic record in 2021 with a turnover total of $357 million!

So what's going on in Germany? Although the number of works in circulation has not increased, it seems their major 20th century artists have been eliciting stronger demand, both nationally and internationally, pushing prices up sharply. In short, the prices of German artists appear to be growing quickly, and Förg's prices have posted one of the most spectacular surges: up 617% in 20 years. As we looked at the evolution of his market, we asked… is this momentum due to German collectors?

.

Price indices of the principal artists on the German art market since 2000

Emil NOLDE, 68% of lots sold in Germany +37%

Hermann Max PECHSTEIN, 80% of lots sold in Germany +62%

Ernst Ludwig KIRCHNER, 47% of lots sold in Germany +94%

Sigmar POLKE, 66% of lots sold in Germany +379%

Günther FÖRG, 49% of lots sold in Germany +617%

Gerhard RICHTER, 42% of lots sold in Germany +698%

Albert OEHLEN, 50% of lots sold in Germany +3.601%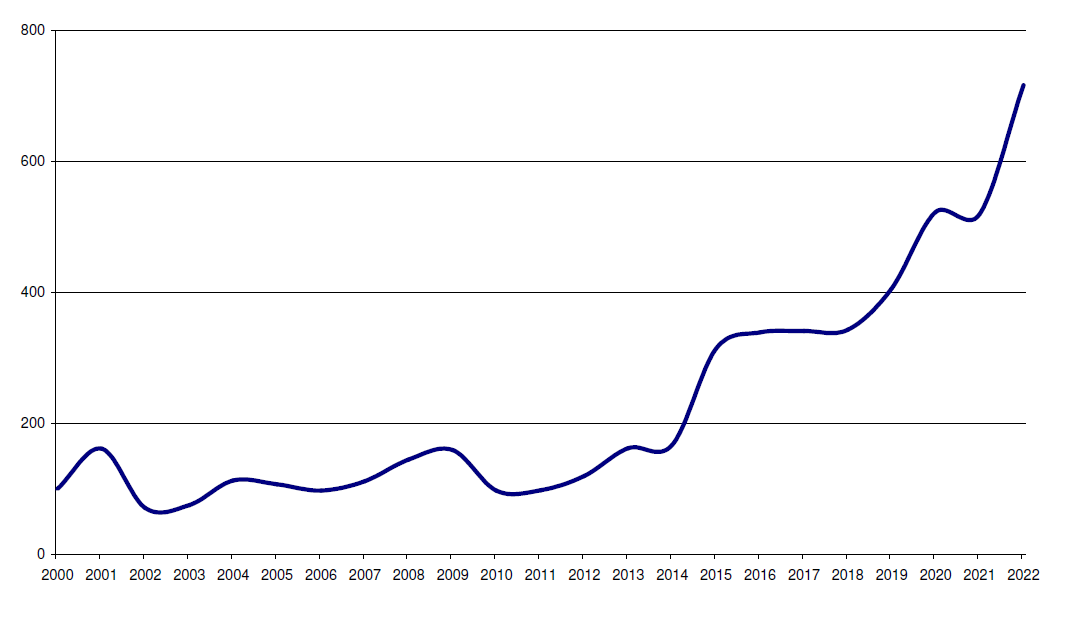 $100 invested in 2000 in a painting by Günther FÖRG is worth an average of $717 (+617%) today.
.
Hauser & Wirth…
Günther Förg (1952-2013) was a prolific creator while leading a provocative reflection on 20th century art, initially in reaction to Kazimir Malevich's Minimalism, and subsequently to Blinky Palermo's Formal Abstraction and Clyfford Still's and Mark Rothko's Abstract Expressionism. His career began in the early 1970s: as a student at the Munich Academy of Fine Arts, he developed a practice based on gray and black monochromes, demonstrating his commitment to conceptualism. But his work continually evolved throughout his career. After exploring neutral colors, he incorporated color, then diversified materials and began to use photographs of culturally and politically significant architectural structures (Bauhaus buildings in Tel-Aviv, Fascist constructions in Italy, among others) selected for their clarity and rationality. His earlier paintings were also rational and stripped of all superfluity, "a bit like paintings reduced to the paint itself, to their own essence", he said.
For a few years Förg stopped painting and pursued a purely photographic practice as a reaction against painting. At the same time, he experimented with the exhibition space by painting directly on the walls and placing photographs on his own murals. In the 2000s, his return to 'real' painting involved bright colors and more expressionist gestures, somewhat reminiscent of Cy Twombly's scribbles.
Over four decades, Förg built a multidisciplinary and audacious body of work that defies categorization. His skilful and witty creativity earned him critical acclaim and exhibitions in major international museums, including the Museum of Modern Art in San Francisco (1989), the Musée d'Art Moderne de la Ville de Paris (1991), the Reina Sofia Museum in Madrid (1999) and the Fondation Beyeler in Basel (2010). More recently, his work has attracted the support of one of the world's most powerful galleries, Hauser & Wirth, which has taken control of the artist's estate since 2018. Behind the Hauser & Wirth brand is a couple who over 3 decades have established themselves as a major force in the international art market with a veritable empire of 13 outlets in 11 cities around the world: New York, Southampton (Long Island), Los Angeles, London, Somerset, Hong Kong, Zurich, Gstaad, St. Moritz, Monaco and Menorca.
Hauser & Wirth is working on a Catalogue Raisonné of Förg's works (an essential reference tool for any dealer or collector) while enhancing the artist's reputation in Asia and the United States via exhibitions. The gallery aims to advocate Förg's contribution to the history of 20th century art and promote his work internationally so that he is recognized as a leading artist. Hauser & Wirth organized a first exhibition of his work in the United States in the spring of 2019 and, since the beginning of 2022, at Tarmak22 in Gstaad and in Los Angeles. This greater visibility with the public and particularly among the world's major collectors (especially those who are already Hauser & Wirth clients) has already modified the structure of the artist's market.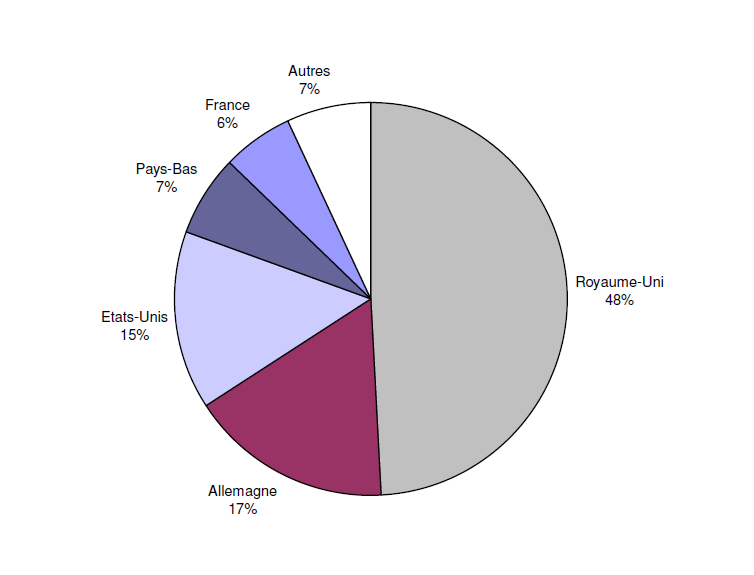 Geographical breakdown of Gunther Förg sales proceeds
.
International demand
Since Hauser & Wirth have been promoting Gunther Förg's work on a large scale, his prices (already ascending after the artist's death in 2013) have substantially accelerated (+100% since 2018).
But above all there has been a significant shift of Förg's market towards New York and London which now account for 70% of Günther Förg's auction turnover (50% from the UK in 2021 and 20% from the USA). Meanwhile, 11% comes from the French market and only 10% from Germany. Before Hauser & Wirth weighed in, the German market accounted for twice as much. Nowadays his best and most expensive works are sold outside Germany. No painting important enough to fetch over a million dollars has yet been sold in Germany, whereas four have exceeded this price threshold in Paris, London and New York. The latest, a colorful canvas from the 2000s fetched $1.15 million at Phillips in London last March (Ohne titel). Germany's best result for a Günther Förg work is only the artist's 20th best-ever result: nearly $500,000 (vs. an initial estimate a third of that result) for a work titled Metro 3 in 2020. Nevertheless, as Förg's international market takes off, so his prices in Germany have gained momentum, substantially raising the values of the best works offered in his native country.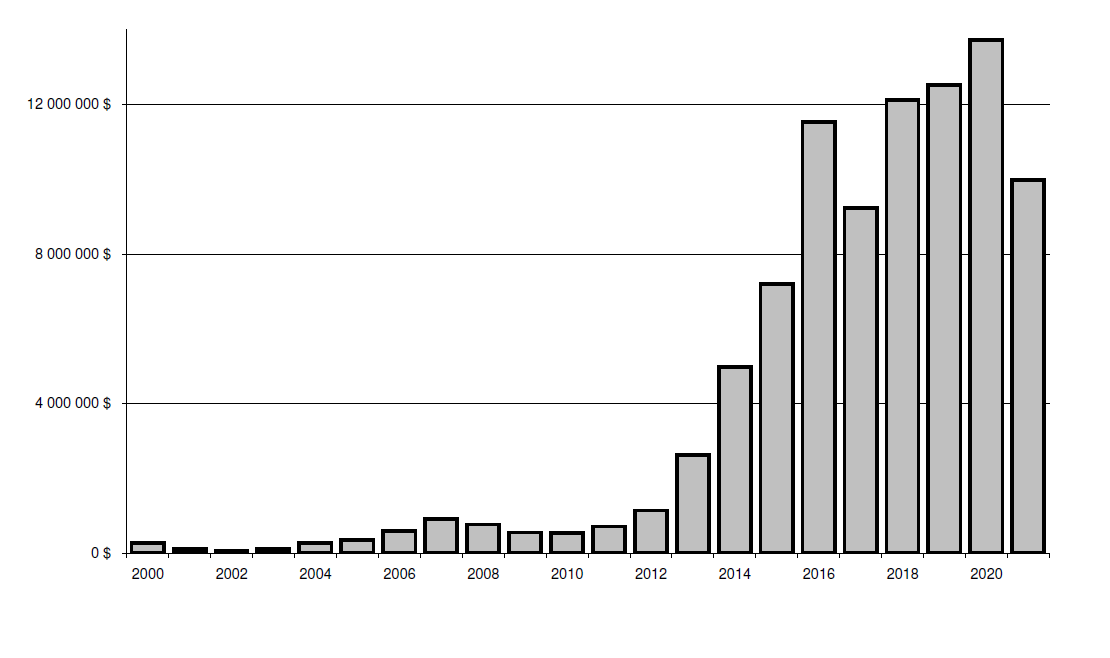 Gunther Förg sales proceeds evolution