Zao Wou-ki and Zhang Daquian, the two giants of the Chinese market
[17 Dec 2019]

In our 2019 global ranking of artists by auction turnover, China's two top-selling artists are posting totals on a par with those of Western artists like Claude Monet and Andy Warhol. With a combined total of over $385 million this year, Zao Wou-ki and Zhang Daqian's results have driven the market.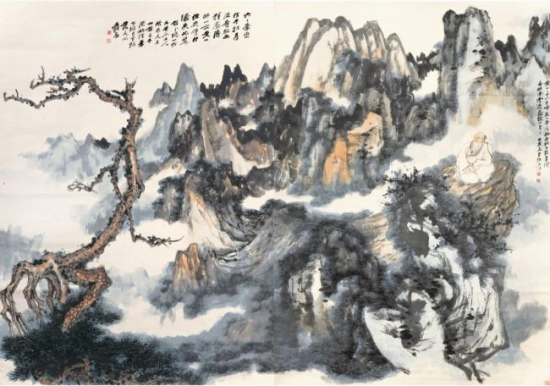 Zhang Daqian, Strange Pines of Mount Huang
A passion for tradition
ZHANG Daqian (1899-1983) is probably China's most popular artist of all time. Born in 1899, he started his career with extensive study of the great Chinese masters, learning to copy them so well he fooled the country's top experts. His copies of Shitao (which he sold in Shanghai in the 1920s) are undoubtedly the most remarkable. Daquian started to receive international recognition when his work was shown at the first exhibition of Chinese painting at the Jeu de Paume Museum (Paris) in 1933 and then in London two years later. Highly cultivated and a passionate collector of old Chinese paintings (Tang through to Qing dynasties), Zhang Daqian was clearly a master in the fine art of interpreting Chinese traditions (inspired by the Four Monk Masters of the early Qing Dynasty, the four masters of the Ming Dynasty's Wu School and Yuan Dynasty landscape painters). In the 1940s, Zhang Daqian changed his style after coming into contact with the Buddhist art of the Dunhuang Caves, but the political context in China prompted him to seek refuge in Argentina, then Brazil and then California. During the 1940s and 1950s his works were shown in Hong Kong, New Delhi, Taipei, the United States (where he travelled in 1954), Japan (1955 and 1956), Rome, then in Paris again. In 1956 he met Pablo Picasso, leading to a friendship that was subsequently presented as the great artistic meeting between East and West (Michael Sullivan, The Meeting of Eastern and Western Art, Greenwich, Connecticut, New York Graphic Society, 1973). Zhang Daqian – who Picasso considered the best Chinese painter of the century – shared with his older friend a few secrets on handling Chinese brushes and ink and the two artists exchanged paintings as a mark of their mutual respect.
We now live in an era in which the two giants of Eastern and Western art are consistently at the very top of annual Fine Art auction rankings. In 2011, Zhang Daqian emerged as the most successful artist in the world with an annual auction turnover total exceeding $550 million (at that time, the best individual annual turnover total of all time) compared to Picasso's $315 million. This year, Daqian's annual total is much less spectacular, with sales of "just" $154 million by the end of 2019, compared with over double that figure for Pablo Picasso. Since the market celebrated the victory of Chinese art's most popular artist over the figurehead of Western art in 2011, Daqian's masterpieces have become considerably more scarce. Moreover, it seems some Chinese collectors have transferred their acquisitive interest to another major signature, Zao Wou Ki, whose recent results position him as the top-selling Chinese artist of 2019.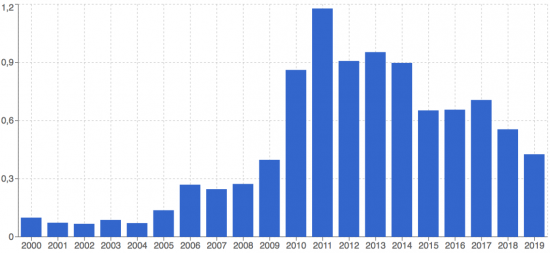 Zhang Daqian – Chronological progression – Number of lots sold (Copyright Artprice.com)
Novelty effect…
Set in September 2018, the world auction record for a work by ZAO Wou-Ki (1921-2013) is $65.2 million, almost double Zhang Daqian's record (Peach Blossom Spring, 1982, $35 million, Sotheby's Hong Kong, 5 April 2016). This record was hammered in Hong Kong for an outstanding 10-meter triptych, Juin-Octobre 1985, commissioned by the great architect Ieoh Ming Pei to 'decorate' the grand lobby of the Raffle City Hotel in Singapore. June-October 1985 may be considered the cornerstone of Zao's 'Infinity' period, marked by solemnity and Asian spirituality, while expressing certain affinities with Abstract Expressionism that the most American of the Sino-French artists absorbed during his long stay in New York in 1957.
The novelty effect of Zao's work – that both Western and Chinese collectors have been chasing avidly – is probably related to his brilliant absorption of the creative vitality of his era across the globe. Zao appears to have created a new way of painting based on Chinese landscape philosophy, but brilliantly assimilating the spontaneity of the great American abstraction of his era. The energy of his best paintings wonderfully merges his oriental heritage with the Western avant-garde.
Major collectors having been scanning the auctions for his works for a number of years now, so that after a period of considerable transaction acceleration (they tripled between 2009 and 2014), supply now seems to have dried up and his prices have rocketed. Zao's annual turnover now exceeds $200 million giving the artist third place on the global podium (according to Artprice's provisional ranking drawn up in December 2019). The auction houses in mainland China, and above all those operating in Hong Kong, are constantly looking for Zao works to fuel their catalogues, while French auctioneers are trying to maintain the benefits from a still dense local offering of Zao's work. Zao's auction record in France was set this year (2019) when his 24.1.61/62 reached $5.2 million at Artcurial Paris last June, far behind the artist's Hong Kong summit. Henceforth, there is fierce competition between East and West to sell his works, which now rank among the most expensive of our time, and whose phenomenal price increase (+1,082% since 2000) has contributed to the overall health of the international art market.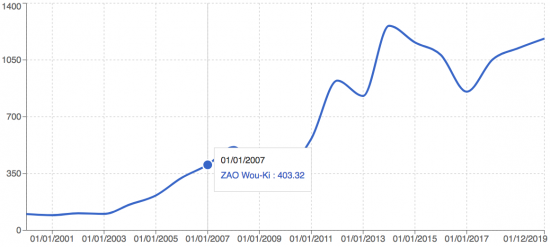 Zao Wou Ki – Price index (Copyright Artprice.com)