On the market, European art covers almost a thousand years of artistic creation and accounts for most of the avant-garde movements as well as most of the major pictorial revolutions in the history of Western art. The historical significance of European art is clearly reflected in our ranking of the Top 500 artists, which contains more than 200 artists from continental Europe and the UK (i.e. 40%, compared with just 15% of Americans). This European presence is logical as its history goes back to the Middle Ages and continues to the present day.
Share of European artists in the Top 500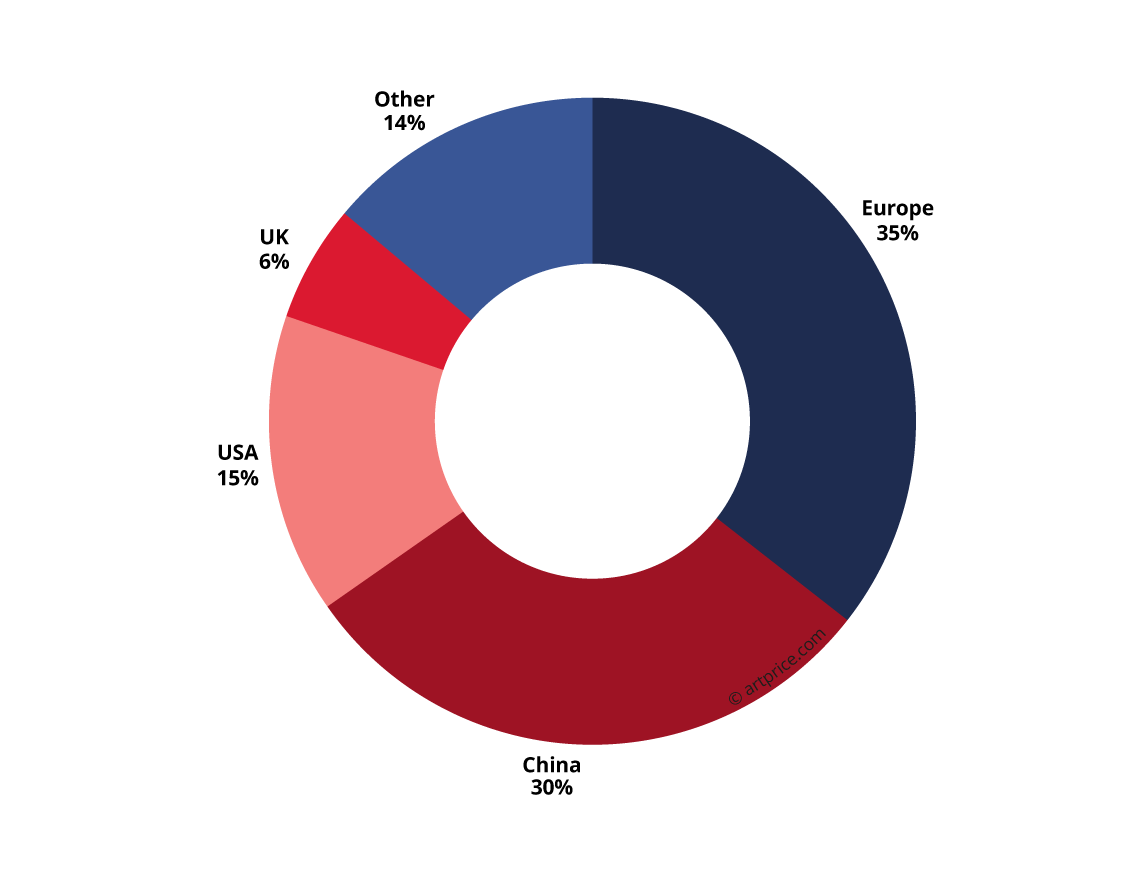 In 2015, Parisian Modern art dominated the auction results with works by Picasso, Modigliani and Giacometti. In 2016, the best auction result was generated by a European artwork, Claude Monet's Impressionist masterpiece, La Meule (干草堆) (1891), while masterpieces by Rubens and Gentileschi demonstrated the market power of European art, igniting the bidding at several sales.
Old Master treasures
The majority of spectacular results reward artists active between the late 19th century and the 1980s. However from time to time a minor miracle occurs with the arrival of an "old" masterpiece on the podium… In early summer 2016, a painting by the Antwerp artist Peter Paul Rubens  entitled Lot and his daughters fetched a final price of $58.1 million at Christie's London, the artist's second best-ever auction result behind his The Massacre of the Innocents, which still holds the record price for an Old Master artwork: $76.6 million (at Sotheby's London in 2002).
During 2016 more than 35,000 Old Master lots were sold in the West, and a number of new records were hammered for 15th century works and even more for 16th and 17th century works. These included works by Valentin de Boulogne, Jacob Jordaens, Vermeyen Jan Cornelisz, Agnesius Jacobus and Jan Metsys, but above all Orazio Gentileschi, one of the rarest and most sought-after signatures. The Caravaggesque artist has a new record at nearly $30.5 million after the sale of his mythological painting, Danae, acquired by the Getty Museum, one of the few Western museums able to afford such a gem. The work was put on sale by Sotheby's in New York, which, together with London, sells all the best Old Master works. However, the French market remains a sort of "promised land" where exceptional works that have remained in private hands (and are sometimes forgotten) are occasionally rediscovered. Recently a canvas that is possibly by Caravaggio was found in the South of France and a drawing by Leonardo da Vinci was discovered in the home of a provincial doctor by an expert from Tajan. The Advisory Commission that declared the work a "national treasure" described it as "a work of exceptional quality".
Top 10 results for works by European Old Masters
| | Artist | Artwork | Auction result ($) | Auction |
| --- | --- | --- | --- | --- |
| 1 | Peter Paul RUBENS | Lot and his Daughters(罗得与他的女儿们) | 58,077,955 | 7 Jul. 2016 Christie's London |
| 2 | Orazio GENTILESCHI | Danaë(达娜厄) | 30,490,000 | 28 Jan. 2016 Sotheby's New York |
| 3 | Pieter BRUEGHEL II | The Four Seasons: Spring/ Summer/ Autumn/Winter | 8,367,651 | 7 Jul. 2016 Christie's London |
| 4 | Domenikos EL GRECO | The Entombment of Christ | 6,101,000 | 14 Apr. 2016 Christie's New York |
| 5 | Jean Étienne LIOTARD | A Dutch Girl At Breakfast(吃早餐的荷兰女孩) | 5,797,861 | 6 Jul. 2016 Sotheby's London |
| 6 | Jean de CAMBRAI | Pleurants provenant du cortège funéraire du tombeau de Jean de France (1340-1416), duc de Berry | 5,653,184 | 15 Jun. 2016 Christie's Paris |
| 7 | VALENTIN DE BOULOGNE | The Crowning with Thorns(荊棘加冕) | 5,178,000 | 27 Jan. 2016 Sotheby's New York |
| 8 | Joshua REYNOLDS | Portrait of Lucy Long, Mrs George Hardinge (d. 1820), three-quarter-length, in a white dress | 5,062,812 | 30 Jun. 2016 Christie's London |
| 9 | Jan BRUEGHEL I | Still Life of Flowers In a Stoneware Vase(静物:陶瓶内的花卉) | 5,060,789 | 6 Jul. 2016 Sotheby's London |
| 10 | Jacob JORDAENS | Saint Martin Healing the Possessed Man(圣马丁疗愈邪气附体的男子) | 4,730,000 | 28 Jan. 2016 Sotheby's New York |
© artprice.com
France is home to thousands of Old Master artworks and these works regularly appear in French auction sales. The new records for Jean de Cambrai ($5.6 million) and Hyacinthe Rigaud ($926,000) were hammered in Paris rather than London. Occasionally a masterpiece causes a sensation at a provincial sale. On 17 December 2016, the auctioneer Gestas et Carrère (in Pau) generated a new record for an "old" drawing in France. The work in question was Étude de tête d'homme by Italian artist Andrea del Sarto's and it fetched more than $3.3 million, six times its low estimate. Clearly, as soon as a "museum quality" work appears, the price soars well beyond estimates. This is true for other artistic periods as well.
Rarity and prestige fuel international demand for Western Old Masters resulting in superb results for the best works. However, somewhat paradoxically, this market is also increasingly populated by affordable works: 80% of Old Master lots are acquired for under $5,000, whereas this price range only accounted for 60% of the segment's sales ten years ago. In short… French auction activity is expanding thanks to a dense supply of "minor masters".
Buyers of 19th century art increasingly demanding…
Prices are rising for the key signatures of 19th century art like Claude Monet and Edvard Munch and in 2016 the market generated a new record for Auguste Rodin  when his white marble sculpture L'Éternel printemps fetched $20.4 million (more than $8 million beyond its high estimate). However, for this creative period, collectors are demanding the very best quality and their selectivity is reflected in the 40% of paintings by Camille Pissarro and Alfred Sisley that remained unsold in 2016, considered too expensive in relation to their quality.
Only the iconic works elicit seriously determined bidding. The long price ascension of La Meule by Claude Monet  is a good example: the painting fetched $4.8 million in 1990 (28.1 million francs at the Bayeux, France, auction house), nearly $12 million in 1999, and then $81.5 million in 2016, setting a new record for the French artist and generating the best result of the year. And yet this result ranks only 20th in the historical ranking of best-ever Fine Art auction results, far behind 2015's records for Modern art (Picasso's Les Femmes d'Alger [$179.3 million], Modigliani's Nu couché [$170 million] or Giacometti's L'homme au doigt [$141.2 million]).
Another striking example of the constant value accretion of 19th century art is provided by Edvard Munch's Girls on the bridge, one of the Norwegian artist's most emblematic subjects. The painting sold for $7.7 million in 1996 and $30.8 million in 2008 and then $54.5 million in November 2016 at Sotheby's. It remains Edvard Munch's most expensive painting, but its price was still far below the sum paid for his drawing of The scream (呐喊) which fetched $120 million at Sotheby's New York in May 2012.
Price evolution of Girls on the Bridge (1902) by Edvard Munch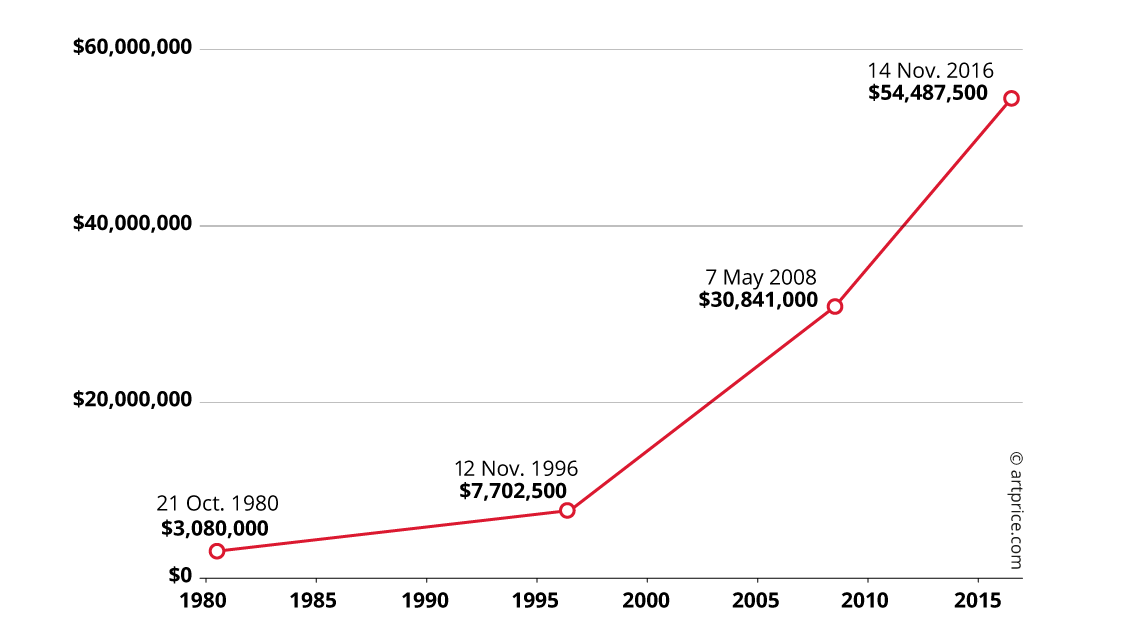 Despite these superb results, the total annual auction turnover generated by 19th century art was down -41% in the West. This sharp contraction is attributable to an absence of museum quality drawings and paintings compared with 2015. At the same time, the number of transactions has rarely been higher. In total more than 45,000 works of 19th century art changed hands in 2016.
New preferences in Modern art
Turnover per artistic period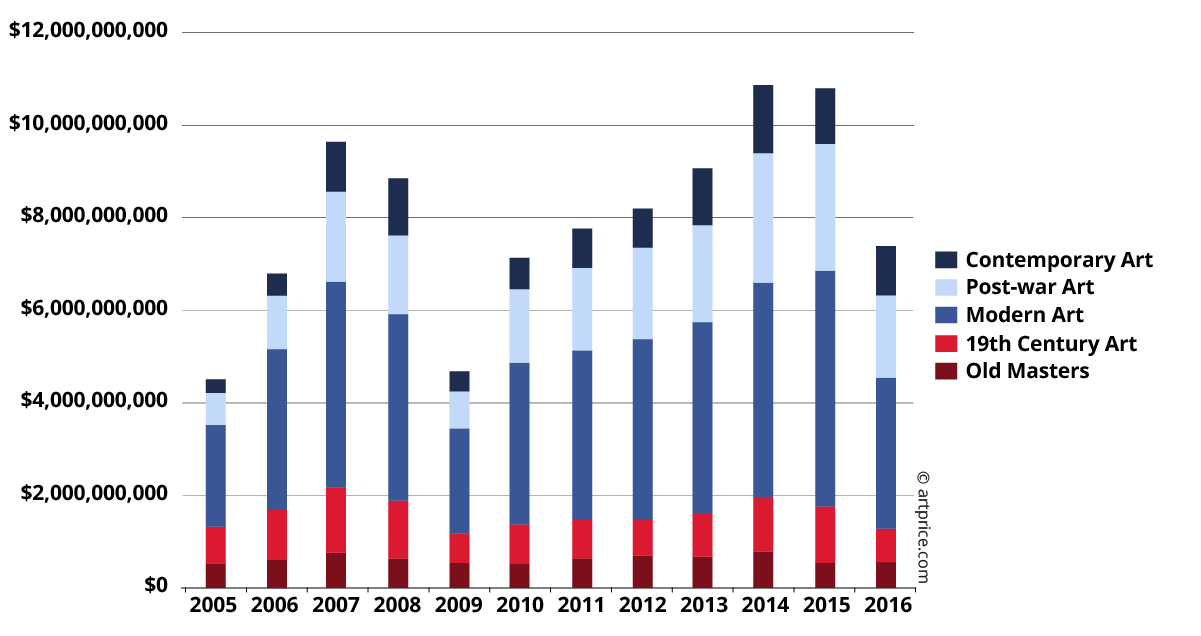 Modern art is a crucial artistic period for the Western art market. Accounting for 44% of the market's total annual revenue ($3.3 billion), the period includes the densest and most diverse range of price-stable, historical and museum-quality works. Expressionism, Cubism, Abstraction, Surrealism and Fauvism… the auction houses never stop presenting Modern masterpieces, sometimes famous, sometimes forgotten. In 2016, a number of major works re-appeared in auction rooms after very long absences, such as James Ensor's painting Squelette arrêtant masques, which had remained for nearly a century in the same family. This concentrated gem of cynicism (30 x 50 cm) easily crossed its timid million-dollar high estimate, setting a new record for the artist and generating the best French result in 2016 at $7.82 million.
In 2016 the world's best result for a work of European Modern art was hammered for Wassily Kandinsky's canvas Rigide et courbé (坚硬与弯曲)  (1935). Absent from the market for over 50 years, the painting sold for $23.3 million at Christie's in New York. This is an important record for the historic "inventor" of Abstract art, but whose prices, paradoxically, are still far behind the auction summits reached by Kasimir Malevich, Piet Mondrian and a number of American Abstract signatures.
There were also new records for the Constructivists László Moholy-Nagy, whose Em 1 telephonbild (em 1 telephone picture) (EM 1电话图画)  (1922) was purchased for more than $6 million by the MoMA at Sotheby's New York on 14 November 2016, and Alexander Rodchenko, whose Construction No.95 (1919) fetched $4.5 million at Sotheby's London on 29 November 2016.
However, the auction success of abstract works has not overshadowed Modern figurative art and the Fauvists and the Surrealists also attracted strong results. On 9 May 2016, Sotheby's confirmed the increasing interest in the first of these two movements with two remarkable results, one for Maurice de Vlaminck, whose Sous-bois fetched $16.4 million, and the other for Henri Charles Manguin, whose Les oliviers à cavalière generated the French painter's first result above the million-dollar threshold.
Another impressive result rewarded the Belgian Surrealist painter Paul Delvaux whose Le miroir fetched a final price of $10.5 million at Sotheby's in London on 3 February 2016, roughly equivalent to two-thirds his annual auction turnover. That result (the painting doubled its value since it was acquired at Christie's London on 8 December 1999) pushed Paul Delvaux into the Global Top 150 artists by annual auction turnover, a few places behind Surrealist Max Ernst ($17.9 million). The value of the different Surrealist artists naturally varies from one to another. For example, Paul Delvaux's price index has moved rather slowly, closely following the overall global art price index; meanwhile, René Magritte's index has grown two and a half times faster: $100 invested in a work by Delvaux in the year 2000 would be worth an average of $157 today. The same investment in Magritte would be worth $418.
Price indices for René Magritte and Paul Delvaux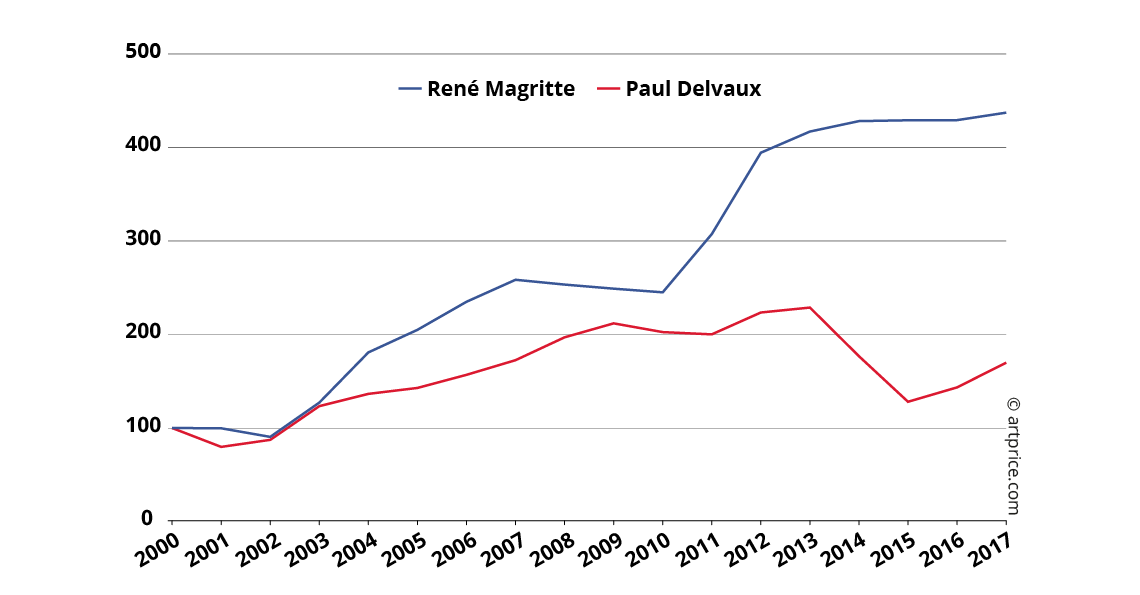 Other Surrealist artists – less famous than Magritte, Ernst, Carrington or Dali – also elicit healthy market interest, like Czech painter Marie Toyen whose Le devenir de la Liberté fetched nearly $800,000 at Thierry-Lannon & Associés in Brest, France, on 5 May 2016. At the lower end of the market, we would not be surprised to see price progressions for artists like Kurt Seligmann or Anton Prinner, some of whose surrealist sculptures are still selling for under $3,000 at auctions.
German painters demonstrate market appeal
A number of German artists command price ranges equivalent to those of top-tier American artists, particularly early 20th century artists like Ernst Ludwig Kirchner (annual turnover of $19.8 million), Josef Albers ($16.7 million) and Emil Nolde ($14 million). We also find a substantial group of Postwar and Contemporary German artists in the Global Top 500, representing 6% of the artists in this ranking. These include famous German-born British painter Lucian Freud (2 places below David Hockney) who generated $39.7 million from 27 works this year and Gerhard Richter in 4th place despite a less impressive total this year ($189.5 million vs. $205.3 million in 2015). Nonetheless, Richter has emerged as the second most in-demand European artist of all time behind Pablo Picasso (whose annual auction turnover amounted to $323.6 million), but above all, as the top-selling living artist! Over the last fifteen years his price index has risen a remarkable +300%.
Sigmar Polke has also shown a strong price progression with a price index up +200% over the same period. Meanwhile, Anselm Kiefer had an excellent year boosted by a major retrospective at the Centre Pompidou and three new results above the million-dollar line. Generating a record annual auction total of $21.8 million, Kiefer was among the Top 100 in 2016.
We also note an impressive +169% jump in Rosemarie Trockel's annual turnover, a new record for the Minimalist work of Imi Knoebel (Grace Kelly, nearly $465,000 at Christie's London on 6 octobre 2016) and another new record for Joseph Beuys (Point of time: The Massacre of Munich, $1.2 million at Christie's London, 11 February 2016). These three leading Contemporary German artists all have markets in which more than half their auction lots are objects, lithographs, photos or drawings available for less than $5,000.
British Artists: some up… others down
The year 2016 saw a generous share of new auction records for British artists; $9 million for Jenny Saville, $5.8 million for Bridget Riley (whose turnover rocketed +969%), $4.7 million for Frank Auerbach, $4.6 million for Ben Nicholson, $4.3 million for Frederick Leighton, $2.2 million for Lynn Chadwick and $990,000 for Peter Lanyon. There was also a new record for Henry Moore at $33.1 million (Reclining Figure: Festival) and the phenomenal success of David Hockney who has enjoyed an extraordinary market revaluation. With a turnover total of $40.7 million in 2016, Hockney beat Mark Rothko and Peter Doig. A central pillar of Postwar British art – like Francis Bacon and Lucian Freud, whose auction records stand at $142.4 million (Three Studies of Lucian Freud) and $56.1 million (Benefits Supervisor Resting) respectively – Hockney's price progression potential for the coming years looks stronger than ever. The momentum is expected to continue in 2017 driven by a major retrospective at London's Tate Britain (9 February – 29 May 2017) and then at Paris's Centre Pompidou (21 June – 23 October 2017). Alongside these generally encouraging results, some locomotives of the market like Banksy  and Damien Hirst lost momentum with annual revenues down by -42% and -34% respectively. However, this airhole for the two British stars will probably not last long as they are both subject to pressing demand. Moreover, after Hirst and the Gagosian reformed their profitable collaboration in 2016, we would expect to see renewed interest in Damien Hirst's work in the future.
A selection of new records for British artists
| Artist | Artwork | Auction result ($) | Auction |
| --- | --- | --- | --- |
| Henry MOORE (1898-1986) | Reclining Figure: Festival(侧卧人像:节日) | 33,125,678 | 30 Jun. 2016 Christie's London |
| David HOCKNEY (b. 1937) | "Woldgate Woods, 24, 25, and 26 October 2006"(伍茲森林,2006年10月24, 25, 26日) | 11,712,500 | 17 Nov. 2016 Sotheby's New York |
| Jenny SAVILLE (b. 1970) | Shift(转变) | 9,069,466 | 28 Jun. 2016 Sotheby's London |
| Bridget RILEY (b. 1931) | Untitled (Diagonal Curve) /(无题 [斜角曲线]) | 5,813,156 | 30 Jun. 2016 Christie's London |
| Frank AUERBACH (b. 1931) | Head of Gerda Boehm(格尔达·波姆的脑袋) | 4,708,968 | 10 Nov. 2016 Sotheby's London |
© artprice.com
French abstract art on firmer ground
Alongside the market success of French Impressionist and Modern artists, a number of French Postwar and Contemporary artists are also gaining a stronger foothold on the international art market. Fernandez Arman's latest auction record of over $490,000 was set in Hong Kong (Baroquial, Seoul Auction, 4 April 2016) and Bernard Buffet's canvas Les clowns musiciens, le saxophoniste fetched $1.5 million at Christie's London (22 June 2016).
Meanwhile, the French abstract scene is gaining ground with a new record for Simon Hantaï whose M.A.4 (Mariale) fetched $4.7 million at Sotheby's Paris on 6 December 2016, and a first-time 7-digit result for Daniel Buren whose Peinture aux formes variables fetched $1 million at Christie's Paris on 22 October 2016. However, these new peaks are still lower than the auction summit of France's dearest abstract artist, Pierre Soulages, which has stood at $6.7 million since 2013 (Painting, 21 November 1959, Sotheby's London, 26 June 2013). Much in demand, Pierre Soulages' works have enjoyed an impressive +327% price inflation since 2000, a success driven essentially by growing demand in the UK and the USA, which is rare for a French artist.
French Abstract art has been driven by artists from surprisingly diverse backgrounds: Serge Poliakoff came from Russia, Hans Hartung from Germany, Gustave Singier from Belgium, Jean-Michel Atlan from Algeria and Vieira da Silva from Portugal. While Serge Poliakoff, Hans Hartung, Vieira Da Silva, Jean Fautrier and Pierre Soulages are the only French Abstract artists to have crossed the million-dollar threshold on the secondary market, a number of other lesser-known French Abstract artists are much more affordable. For example, well-dated and signed canvases by Jean Bertholle, Roger Bissière or Jean Le Moal usually sell for between $5,000 and $15,000.