The Chinese Art Market's Steady Rise
The global art market continued to settle down in 2016. Auction results from Fine Art sales totalled $12.45 billion (including buyer's premium), a 23% drop since 2015. However, due to the development of corporate collections over recent years coupled with increased efforts from auction houses to unearth premium artworks and 'fresh' commodities, the Chinese art market has been able to break through and slowly crawl out from the slump.
In 2016, the turnover for Chinese art auctions totalled $4.79 billion accounting for 38% of the global market share, an increase of 8% since 2015, and bringing China to rank first worldwide (in front of the USA with $3.5 billion in 2016).
Fine Art auction turnover trend in China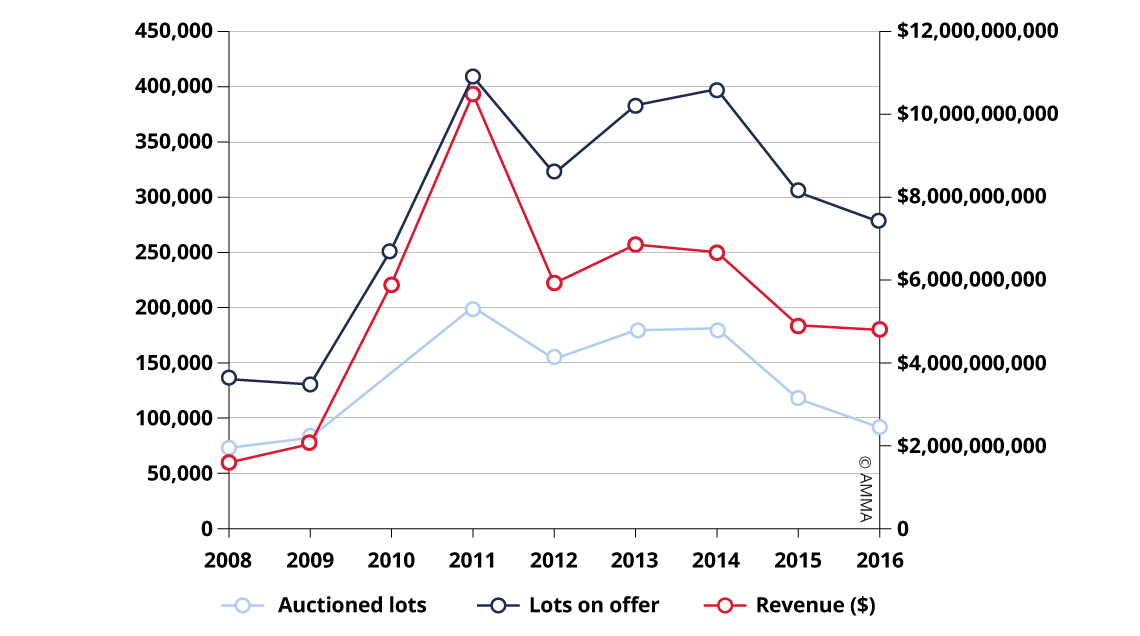 2016 has seen a favourable phase of steady growth. Auction houses have implemented a doctrine of 'quality over quantity', collecting premium works of art that have never appeared in public and settling them into the hands of various collectors. Supply has transitioned from connoisseurs to low-profile collectors. Thirty-nine lots surpassed an auction result of $10 million, somewhat strengthening the confidence of all parties involved in the market. New categories of collectors, headed by corporate collections and young collectors, have entered the market leading to a growth of fresh blood and new funds within the Chinese art market. One could say that 2016 revealed a future trend for the market: one with a healthy, positive and moreover sustainable trajectory.
Fine Art auction turnover in China by price range (2016)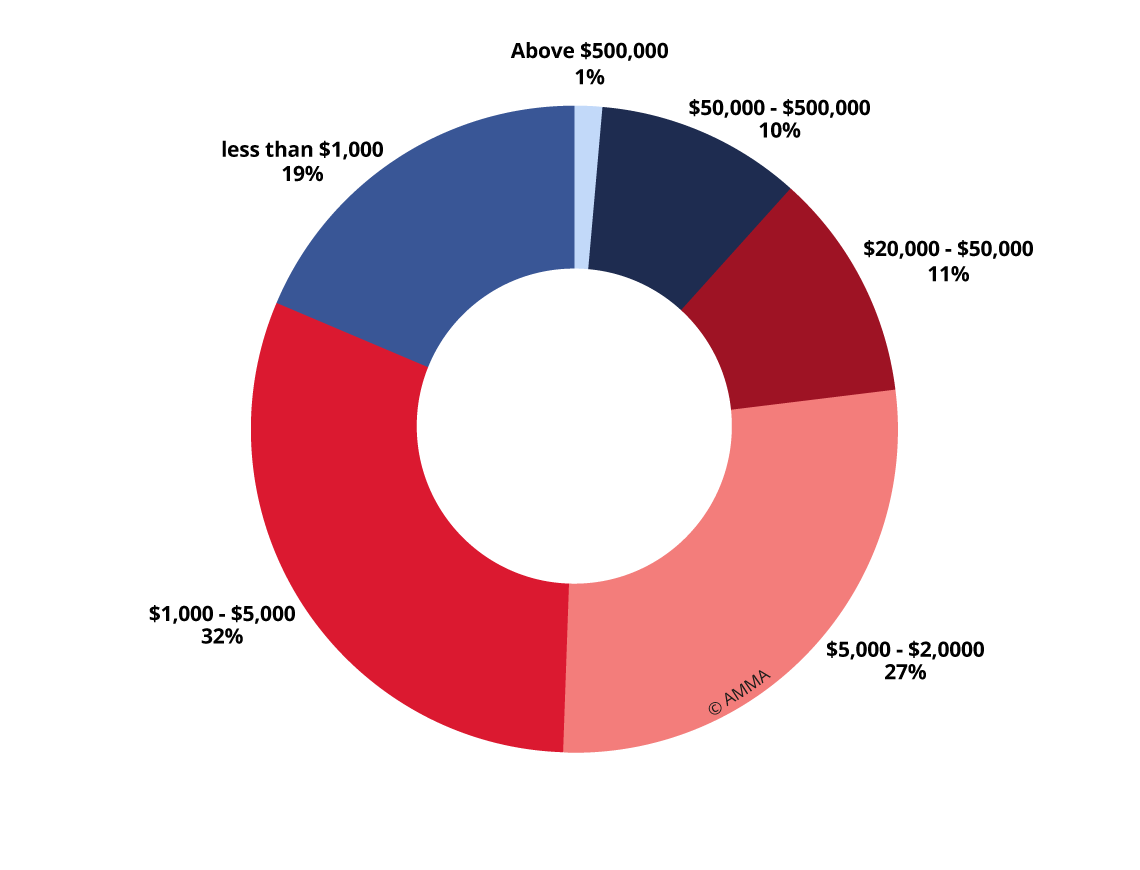 In terms of regional markets, the number of lots sold has fallen by -16.22% since last year in Hong Kong, Macao and Taiwan. Auction results, however, have increased by +16.67% displaying a relatively stable environment. In mainland China, Beijing is still the market leader with a turnover of $2.29 billion in the Chinese art market. Its dominance is relatively prominent and market shares have risen by +5.82%. The number of lots sold and overall auction turnover in Beijing and Tianjin have fundamentally remained consistent, their booming art market economies projecting the performance of each quarter onto the entire market direction. In contrast, the Yangtze River Delta shows a high volume of lots sold but a low auction turnover. This current market situation is reminiscent of Beijing and Tianjin during their early phase – the evolution of auction marketplaces involves an inevitable progression to maturity and the Yangtze River Delta is currently in the early stages of this growth. The high volume of lots sold and low auction turnover reflect an issue of control with regards to premium lots, forming a distinct contrast with the Hong Kong region.
Chinese Painting and Calligraphy – stirrings of a rising market
In 2016, the Chinese Painting and Calligraphy market pace was calm and rational with lots sold and overall auction results slipping -22% and -3% respectively. Market shares occupied 81.59% of the Chinese art market. This year, the key characteristic of the Painting and Calligraphy market is its repeatedly high prices. In comparison to two years ago, there has been a high number of lots with results exceeding $5 million. Over the same period of time, a total of 86 lots have increased in value by -32.3%, contributing 24.78% in terms of market shares.
Chinese painting and calligraphy market trend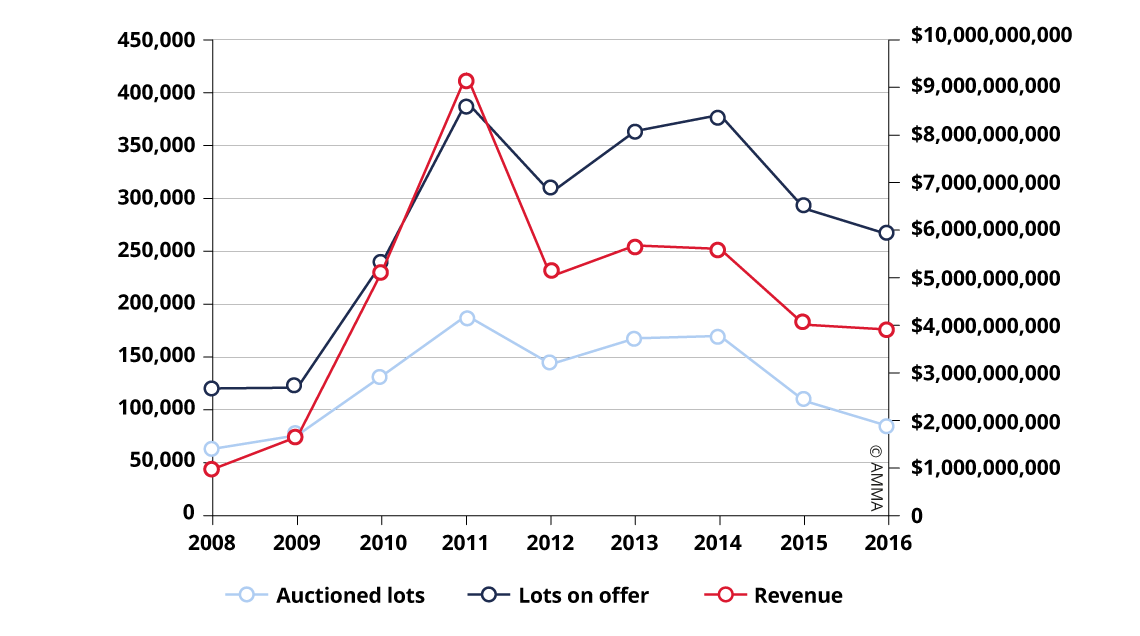 The increase in high-value lots reflects that, from an auctioneer's perspective, the market does not lack funds but rather lacks high quality works of art. When a successive circulation of superior articles, 'fresh' goods or classic artworks emerges, vigorous and competitive bidding will, as before, ensue. Furthermore, the rise of high-value lots will provoke a collecting effect amongst buyers. Owing to the increasing number of corporations entering the world of art collection advantageously armed with disposable funds, there are no longer psychological barriers towards price boundaries. This illustrates that organisations and collectors have learned from 20 years of auction market history and focus on the artwork itself as opposed to its price. These concepts have been amply incorporated into the behaviour of large companies and prominent collectors. Simultaneously, corporations have big aspirations and generous funds to support and nurture the construction of their cultural estates.
The enthusiasm for Classical Chinese Painting and Calligraphy continued in 2016, receiving increased attention owing to their scarcity and outstanding quality. Premium artworks from the Song and Yuan dynasties led the market for Classical Chinese Painting and Calligraphy with an unwavering presence. In 2016, this sector decreased by -5.17% in lots sold although the sale turnover rose by 41.16%. Beijing Poly International's Five Drunken Kings Return on Horses by Ren Renfa achieved a result of $45.54 million that not only broke a new auction record for the artist but also claimed the record auction result for a Chinese artwork in 2016. Purchased by Suning Universal, the artwork has become the Suning Museum's most prized piece. Chinese Classical Paintings and Calligraphy have exhibited great strength during this period of market adjustment, stabilising the sector's market as well as confirming the popularity of the artworks.
Modern Painting and Calligraphy play a key role in the Chinese Painting and Calligraphy market. After experiencing a five-year period of adjustment, the market is gradually showing signs of recovery this year. Whilst sales of Modern Painting and Calligraphy has fallen by -12.74%, auction results have remained the same as last year. The demand for high-end artworks from companies in recent years has further boosted the market price for Modern Painting and Calligraphy. Artists from this category still lead the top Chinese artists at auction in 2016. Ranking first to third are ZHANG Daqian – the most eye-catching artist with a total of 885 artworks auctioned and $355 million in results – followed closely by Qi Baishi and Fu Baoshi. Zhang Daqian's 1982 work Peach Blossom Spring (桃源图) fetched $34.65 million at Sotheby's Hong Kong and Fu Baoshi's 1954 work The Gold of Cloud and the Great Lord of Fate reached $34.50 million at Beijing Poly International.
In 2016, Contemporary Painting and Calligraphy continued to decline. Total lots sold and auction turnover fell 32.68% and 16.65% respectively, which shows that overall, the sector is tired and adjusting. With support from premium, 'fresh' works of art and corporate collections, Classical as well as Modern Painting and Calligraphy have made a powerful comeback, leaving Contemporary Painting and Calligraphy as before – under structural revision. A few Contemporary Painting and Calligraphy artists who appeared amongst the top Chinese artists at auction several years ago have almost altogether disappeared this year.
In 2016, the high-end art market of the global Chinese Painting and Calligraphy sector has followed a consistent and stable trend. The pursuit for unique artworks now targets artworks that are both rare and of outstanding quality. Concurrently, after a continued period of adjustment between 2012 and 2015, prices for middle and low ranking lots have stabilised with collectors' focus shifting to give priority to the style of the artworks and their personal preferences. Hence, Chinese Painting and Calligraphy auction market professionals who adapt their offer to these new requirements will make the most of these new market features.
Top 10 Chinese Artists (2016)
| | Artist | Period | Lots on offer | Auctioned lots | Revenue ($) |
| --- | --- | --- | --- | --- | --- |
| 1 | ZHANG Daqian (1899-1983) | Modern Art | 3,881 | 885 | 354,813,562 |
| 2 | QI Baishi (1864-1957) | Modern Art | 3,151 | 711 | 230,082,436 |
| 3 | WU Guanzhong (1919-2010) | Contemporary Art | 736 | 189 | 197,341,070 |
| 4 | FU Baoshi (1904-1965) | Modern Art | 1,512 | 170 | 158,209,076 |
| 5 | CUI Ruzhuo (1944) | Contemporary Art | 115 | 78 | 121,614,730 |
| 6 | HUANG Binhong (1865-1955) | Modern Art | 2,262 | 366 | 91,688,633 |
| 7 | ZAO Wou-Ki (1921-2013) | Contemporary Art | 147 | 113 | 84,483,153 |
| 8 | LI Keran (1907-1989) | Modern Art | 1,066 | 247 | 81,509,796 |
| 9 | WU Changshuo (1844-1927) | Modern Art | 3,328 | 652 | 76,342,615 |
| 10 | XU Beihong (1895-1953) | Modern Art | 1,931 | 275 | 75,796,694 |
© AMMA
The Chinese Oil Painting market's gradual inclination towards reason
In 2016, owing to a few regular collectors and private museums, the Oil Painting and Contemporary Art sectors received a rejuvenating boost within the Chinese art market subsequently making it possible for the market to operate effectively. This year the two categories experienced a year-on-year decrease of -22.63% in lots sold, totalling 6,804 lots. The turnover however remained fundamentally unchanged at $882 million.
Oil painting and Contemporary Art market trends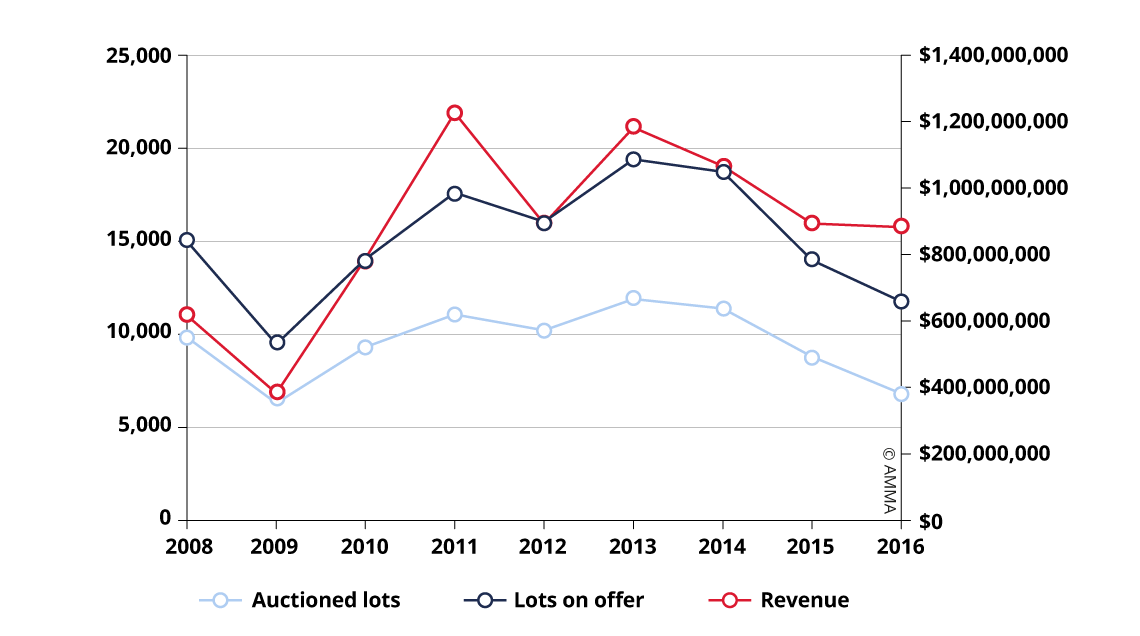 From a market perspective, be it Chinese or international, the 2016 Oil Painting and Contemporary Art auctions sought to integrate the style and markets of Chinese, Japanese, Korean and Far Eastern art. This is especially apparent in Christie's emphasis on Japanese and Korean art in the hope of balancing the shortage of Chinese mainland Contemporary Art, which is experiencing a market slump. Yayoi KUSAMA has, for example, received continued attention from Chinese collectors whilst China's own Contemporary Art scene is still showing characteristic signs of being in the process of emerging and developing. The market is willing to offer high prices, which will in turn boost the global market, for pieces that are consistent with their era, held an important role in art history and are of outstanding quality.
In 2016, the performance of early 20th century Oil Painting has been particularly prominent with lively transactions and high return on investments – a tell-tale sign of collectors' approval and confidence in its value. Simultaneously, this sector's exceptional performance is reflected in the increase in turnover as well as the market's undeniable impetus. This should equally generate a sustainable driving force for the future market. Wu Guanzhong, San Yu, Chu The-Chun, ZAO Wou-Ki and other 20th century masters of Modern Art are the main force within this sector. Wu Guanzhong's 1997 work The Zhou Village (周莊) was auctioned by Poly Auction Hong Kong for $30.21 million – the highest auction price this year within the Oil Painting market. The second highest auction price was also an artwork by Wu Guanzhong, A Lotus Pond (荷塘) (1997), fetching $13.59 million. One could say that Wu Guanzhong made a powerful return to the market in 2016. Christie's Hong Kong sold San Yu's piece Chrysanthemums in a Glass Vase (瓶菊) from the 1950s, which reached $13.26 million whilst Chu Teh-Chun's 1990-1999 work Snowy Vertigo was sold for $11.75 million, both artworks setting personal records for the artists.
Another artist who received attention is Wu Dayu. Sotheby's Hong Kong, Beijing Poly International, Beijing Council and other auction houses have all auctioned works of his and moreover, almost all lots have been sold. Sotheby's Hong Kong featured Wu Dayu's 1980 artwork Untitled 14 that achieved $2.31 million. Looking at the 2016 auction results, the market for early 20th century art is still going strong. This is partly influenced by the fact that existing artworks of the above-mentioned artists are limited, thus creating a feverish struggle amongst collectors whenever one is auctioned. This goes to prove that the market does not lack purchasing power, but rather lacks quality lots.
The value of the Contemporary Art market gradually revealed itself in 2016. If two years ago the auction market was still undergoing various exploratory adjustments, from this year's auctions, the market has reflected that it is gradually accepting the value of Contemporary Art. Collectors are progressively leaning towards a unanimous view with regards to what pieces are purchase-worthy and at what price. The Contemporary Art market is an undoubtedly incremental market that follows the estimate of artworks, progressively reaching a consensus. Only when this sector has matched its market value will it achieve a stable, healthy and sustainable increment.
During the auction "Countdown from Ten: the Johnson Chang Collection", Beijing Council International sold Zhang Xiaogang's 1995 work Bloodline Big Family No.2 for a result of $5.72 million achieving the highest price in the sale. Poly Auctions Shanghai auctioned ZENG Fanzhi's Untitled 07-14 (2007) for $3.19 million. This year saw many key Chinese collectors and private art museums take part in Contemporary Art sales. Mr. Zhao Xu, the Executive Director of Beijing Poly International Auction Ltd., stated, "Approximately 30% of buyers are new art collectors and they are all Chinese. The decline in price has driven many seasoned collectors to return and bid on artworks."
It should be noted that Chinese auction houses are testing the waters with artworks by Western masters, thus initiating a completely new sector. Poly Auctions Shanghai held the auction "Dialogue: From Yuan Dynasty People Hunting in the Fall to Picasso – Important Eastern and Western Art". The sale achieved a $89.19 million turnover with 88% of lots sold. Picasso's artwork Femme sous la lampe (Jacqueline) (灯下的女人"杰奎琳") (Woman under the Light (Jacqueline)) sold for $8.8 million whilst Monet, Gauguin, Morandi and other Western masters equally achieved high auction results. The Western art lots from this one evening sale exceeded $30 million in total, demonstrating that Modern Western masters are capable of bringing in fresh blood and potential to the Chinese Oil Painting market.
(2016 Art Market Report – China Section. Data from Art Market Monitor of Artron, taken between 1st January 2016 – 31st December 2016.)