Auction house competition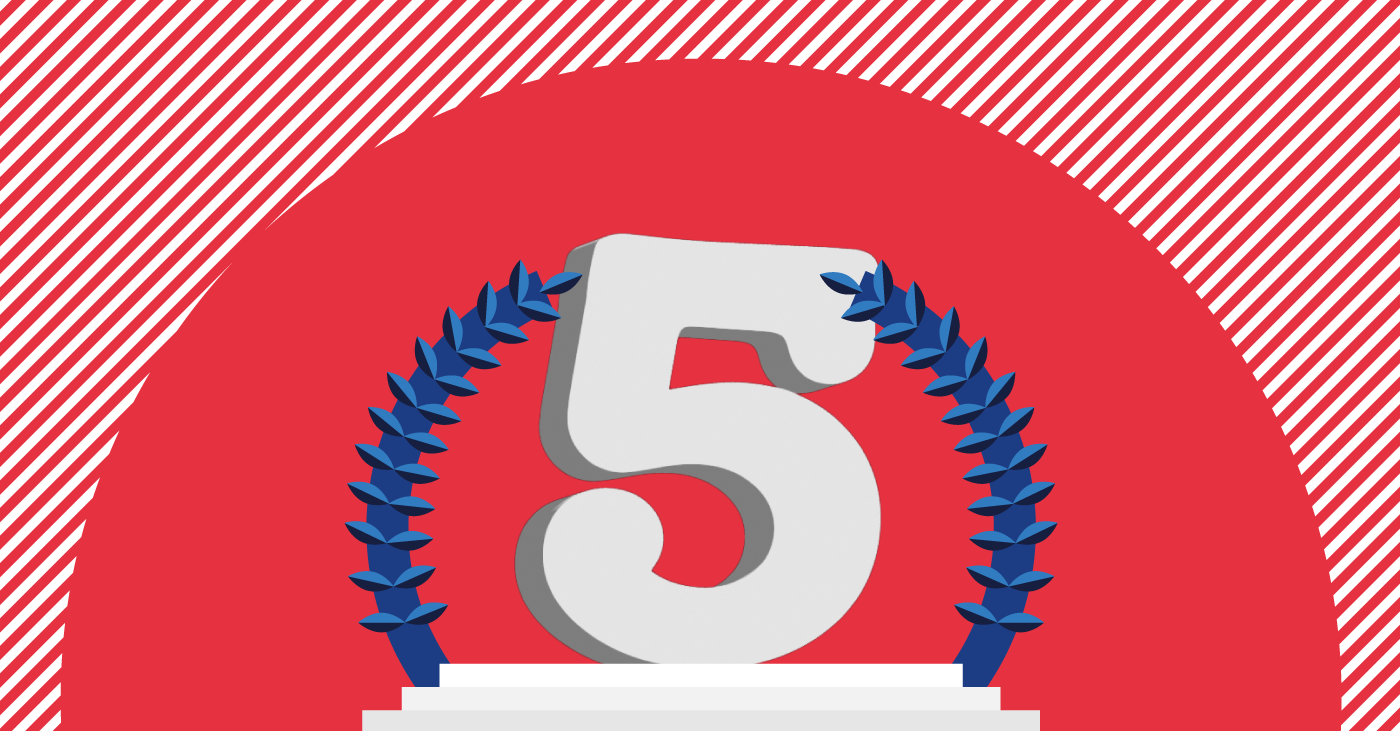 In 2022, the world's two leading auction houses, Christie's and Sotheby's, took $9.7 billion from Fine Art auctions alone. This figure represents 59% of global art auction turnover compared with more than 70% at the beginning of the millennium, before the emergence of Chinese auction houses. Despite this competition, their turnover has continued to increase as the prices of masterpieces have increased and the number of buyers around the world has grown. Faced with the temporary decline in the Chinese art market, the two companies clearly dominate the high-end market, accounting for 90 of the 100 best results of the year.
Geography of Sotheby's, Christie's and Phillips' Fine Art and NFT auction turnover (2022)

Christie's hammers the lion's share
Geography of Christie's Fine Art and NFT auction turnover (2022)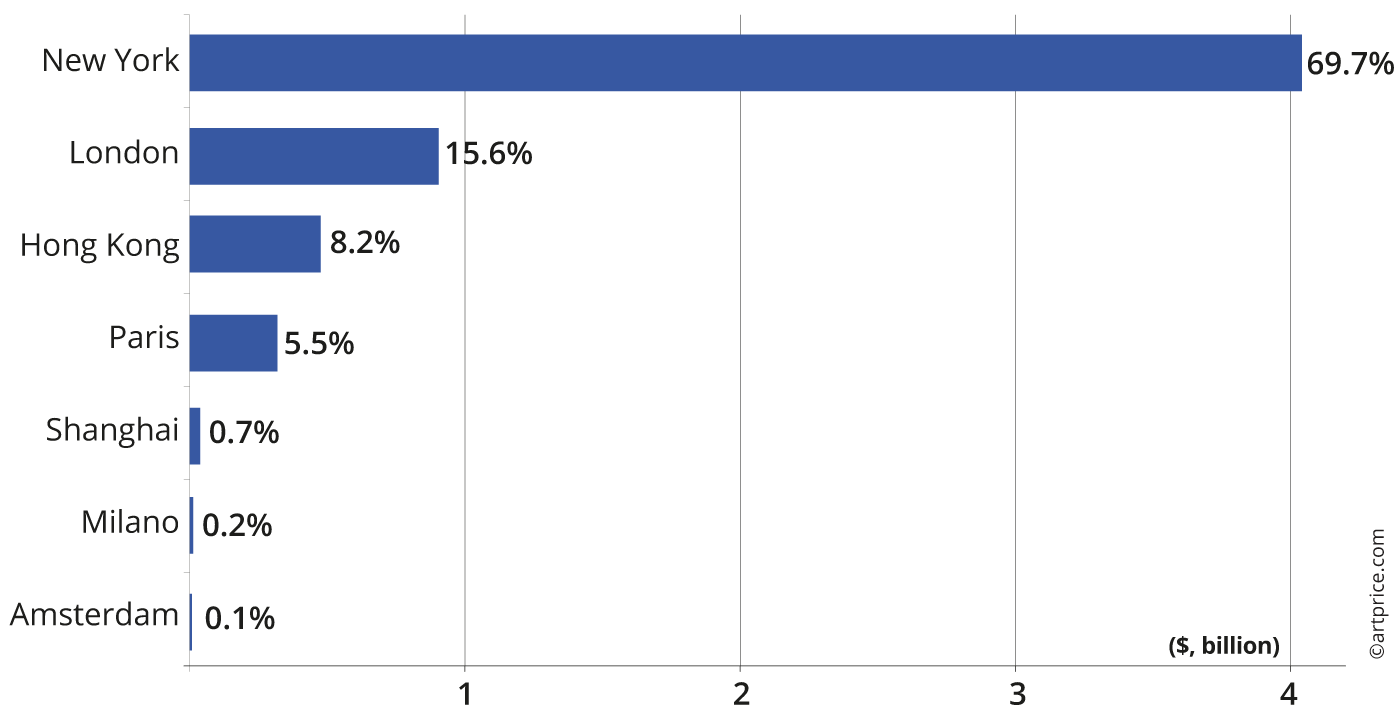 With an art auction turnover total of nearly $5.8 billion during 2022, Christie's hammered more than a third of global art auction turnover (35%). The extraordinary quality of the private collections it handled contributed substantially, since the Bass, Allen and Amman collections alone generated $2.4 billion, or 41% of Christie's global art auction proceeds. The three collections also generated 40 of the year's 100 best results.
Christie's therefore largely dominates at the global art market's price peak with 58 of the year's 100 best results being hammered by their teams. Of these, two were sold in Paris, two in Hong Kong, nine in London and forty-five in New York, where the company generated 70% of its annual sales turnover.
The development of Christie's is also being driven by a new generation of collectors. In its end-of-year report, the company states that 35% of its clients are 'new customers', of whom 34% are described as 'millennials' (compared to 31% in 2021). And it also reports that the fastest growth of its 'new collectors' is happening in the Asia Pacific zone.
Sotheby's is shifting its focus towards Asia
Likewise, in many respects, for Sotheby's, whose end-of-year report states that 68% of its new bidders in 2022 were from Asian countries. This new reality represents a significant financial windfall for the auction house since its Asian collectors spend 20% more on average than their counterparts in the rest of the world.
Well established in Hong Kong, where it hammered 12% of its total 2022 art auction turnover (vs. 22% in London and 58% in New York), Sotheby's has ambitious expansion plans in Asia. These include the opening of premises in Shanghai in 2023 and, in 2024, the establishment of a new headquarters in Hong Kong and the opening of an exhibition space and sales room in the Landmark Chater district. In 2022, it had already opened an office in Tokyo and hosted its first auction in Singapore for fifteen years.
Although Sotheby's has announced that 2022 was the company's strongest year for all of its businesses (including Classic Car sales, Real Estate, etc.), its turnover from art auction sales contracted 11%, with a total of $3.9 billion versus $4.4 billion in 2021. Maintaining a strong result will certainly depend on its development in Asia, but also on its capacity to attract exceptional consignments in 2023.
Geography of Sotheby's Fine Art and NFT auction turnover (2022)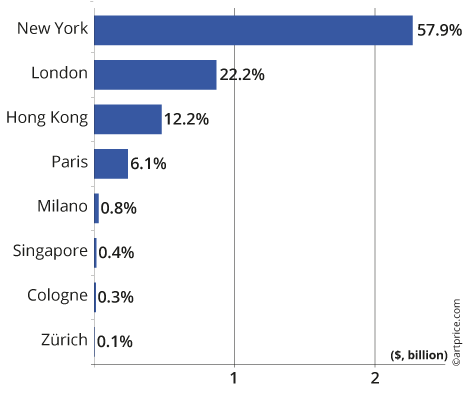 Phillips, a strong competitor on 20th Century Art
In third place, Phillips hammered a second annual turnover total (all activities combined) above the billion-dollar line, at $1.3 billion, of which $729 million from art sales. This dynamic company is beginning to emerge in the ultra high-end art auction space, a niche in which its competitors have had supreme control until very recently.
In 2022, Phillips hammered eight results above the $10 million threshold, one of which was among the year's Top 10 results. Consigned by Japanese businessman Yūsaku Maezawa, Phillips sold a painting by Jean-Michel BASQUIAT to another Asian collector for $85 million, the best result the British auction house has ever hammered and a very significant milestone. Another memorable moment was their sale of Contemporary Art in November 2022 that totaled $140 million, including $41.6 million for a painting by Cy TWOMBLY.
Largely absent from the European market, Phillips is strengthening its roots in New York (64% of its art auction turnover), London (23%) and Hong Kong (13%), and is becoming a major competitor for the sale of exceptional works from the 20th century.
Geography of Phillips' Fine Art and NFT auction turnover (2022)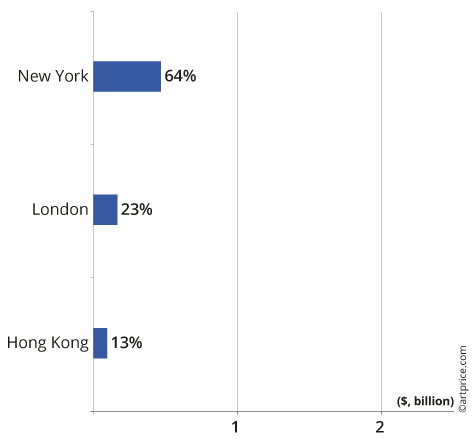 Bonhams sets out to conquer Europe
The fourth Western auction house behind the Asian operators China Guardian, Zhong Cheng Auctions and Poly Auction, Bonhams generated a total turnover of $1 billion across all of its activities for the first time since its creation in 1793. Its art sales accounted for $214.7 million. In addition, the London-based company is solidly developing its presence in other territories, notably via the acquisition of four auction houses in 2022 in order to strengthen its network in the intermediate market (prices below a million dollars), which has significant growth potential, particularly among young buyers. First on their acquisition list was the Danish company Bruun Rasmussen, then the American firm Skinner, then the Swedish operator Bukowskis, and finally the French auction house Cornette de Saint Cyr, based in Paris and Brussels. Bonhams says that its growth strategy is primarily focused on Europe, but that it is also looking at other growth opportunities, particularly in Asia.
Artcurial, the leading French auction house
Finally, Artcurial achieved its best year since its creation two decades ago with a total of $102 million from its Fine Art sales. The leading French auction company (10% of the country's art auction turnover in 2022) ranks fifth in the West and managed to sell several million-dollar lots despite stiff competition from Christie's and Sotheby's in Paris. Its best results in 2022 came from a remarkable antique tondo (Dix mois de l'année) by Abel GRIMMER that sold for $1.5 million, a painting by Alfred SISLEY (Printemps au bord du Loing) that fetched nearly $1.3 million, a Pierre SOULAGES masterpiece (Peinture 92 x 73 cm) acquired for $2.9 million, and, above all, a famous still-life by Jean-Baptiste Siméon CHARDIN that fetched $26.8 million, a world record for an old French painting sold at auction.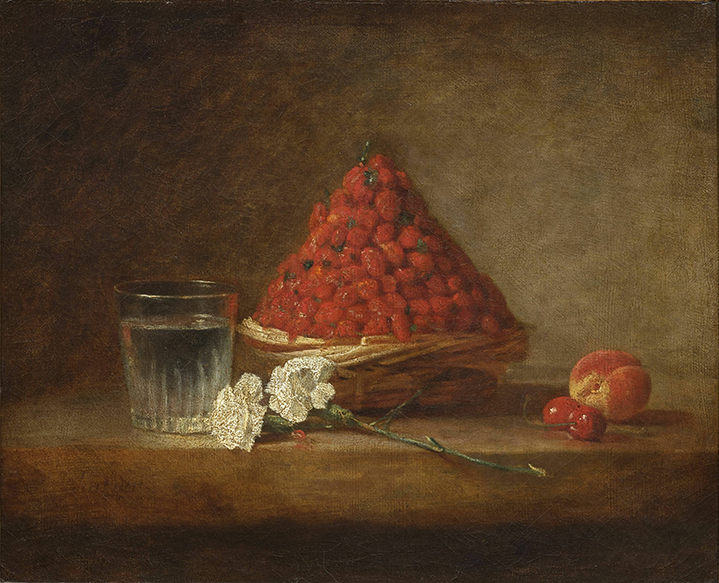 The basket of wild strawberries. Oil on canvas, 38 x 46 cm
$26.8 million on 23 March 2022 at Artcurial, Paris, "Old Masters & 19th Century"
Table of contents
Auction house competition