Painting… above all
Paintings account for 65% of the global Contemporary Art Market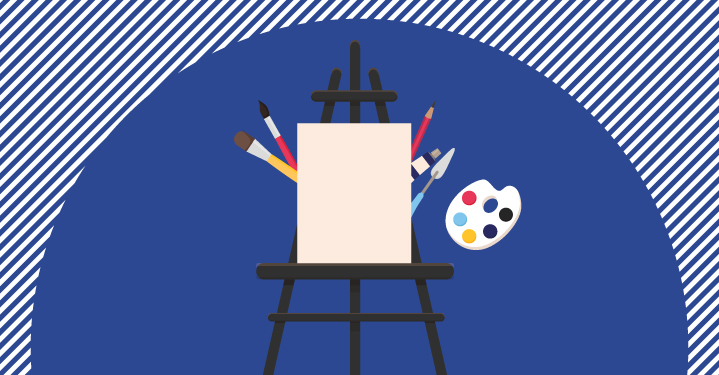 The most expensive works of our time reflect the success Pop Art (and its heirs), of historical and current American Abstract Art, of iconic "Street artists", and of Chinese and Japanese painters who entered the market with the new millennium. Rewarded by the market's highest price levels, the works in these categories are generally large with powerful colors and a lot of energy. Corresponding to these criteria, the decisive figures of Contemporary painting form a relatively small group: there are eight whose works have elicited bids above the 20 million threshold (Basquiat, Wool, Fanzhi, Doig, Nara, Yifei, Kippenberger, Marshall) and 18 if we lower the bar to $10 million. Indeed, 7 or 8-digit results are as essential to the market as a whole (by pulling it up) as they are rare: they concern less than 1% of the results, whereas three-quarters of the market's works on canvas sell for less than $5,000.
In 20 years, painting has asserted itself as the principal locomotive of the Contemporary Art Market. But, not only in Contemporary Art… across the entire Art Market. The price curve for Contemporary painting shows the strongest increase in any medium and in any creative period. Accounting for $1.4 billion in 2019 (a record), painting as a medium represents the lion's share of the Contemporary Art Market, accounting for 65% of the turnover from sales of Contemporary Artworks versus 52% in 2000.
Growth driven by Contemporary painting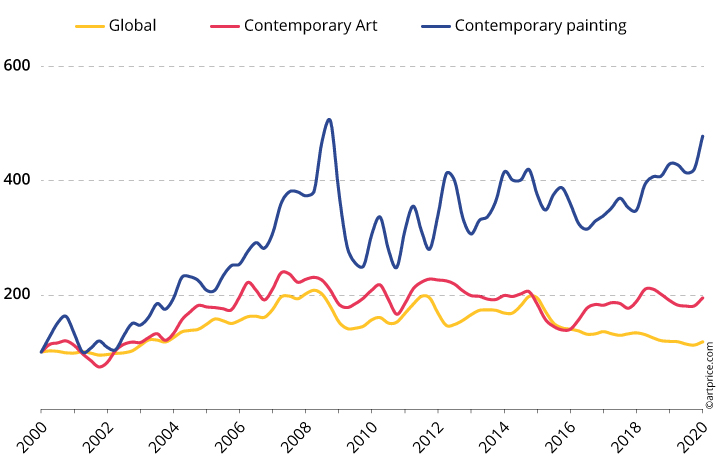 Contemporary painting has progressed faster than any other Art Market segment
Sculpture: organization and subversion
The market for Contemporary sculpture has revealed powerful and often controversial works – sectioned animals by Damien HIRST, provocative installations by Maurizio CATTELAN (featuring Hitler and Pope John Paul II), crucified frogs by Martin KIPPENBERGER – are among the most subversive, the most memorable and the most popular. Other visual artists, including Koons and Kapoor, are known more for their technical prowess, with works requiring significant research and production resources.
The sculpture market has also developed laterally with editions available in a multitude of sizes and materials. This was notably the case with Takashi MURAKAMI who, following in Andy Warhol's footsteps, set up his own factory – the Kaikai Kiki Co. – to produce his works. Today the company employs a hundred people who make unique works, limited series, derivative products, animated films and record covers, and it also supports a number of young Japanese artists.
In Japanese culture, there is no distinction between 'High' and 'Low' culture, and this is perfectly reflected in the productions from Murakami's workshop, whatever their format. It forms a whole, of which modern-day consumerism is an integral part, just as his mentor Andy Warhol had fully understood before him, and as Koons and Kaws understood subsequently… each in their own way.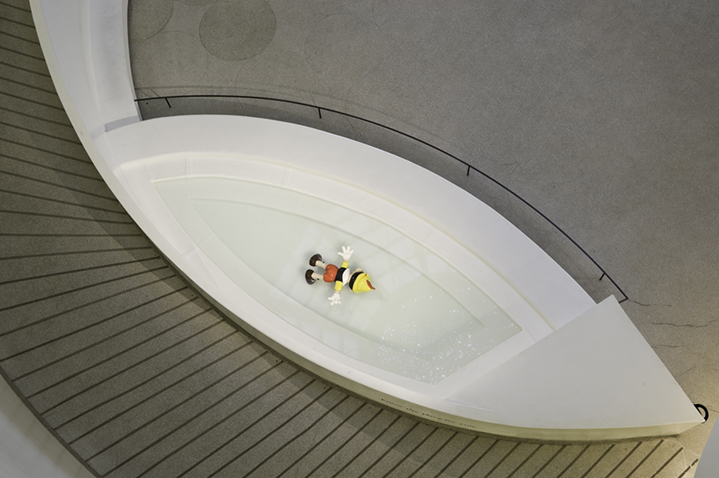 Maurizio Cattelan
Daddy, Daddy, 2008
Polyurethane resin, steel, epoxy paint
25.4 x 109.22 x 96.52 cm
Edition of three plus two artist's proofs
Installation for the group show "theanyspacewhatever"
at the Solomon R. Guggenheim Museum, New York, 2008-2009
© Maurizio Cattelan, Courtesy Marian Goodman Gallery
Photo Kristopher McKay
Sculpture is the second largest category (medium) in Contemporary Art sales, representing 16% of the global market auction turnover from just 10% of its transactions. In 20 years, its turnover volume has grown 1,485% thanks to the phenomenal price growth of the big American favorites, Jeff Koons and Kaws, the British artists, Hirst and Gormley, the Germans artists, Martin Kippenberger and Thomas Schütte, the Japanese artists, Takashi Murakami and Yoshitomo Nara and the Italian artist, Maurizio Cattelan.
Sculpture: six impressive results
Auction turnover per category (medium)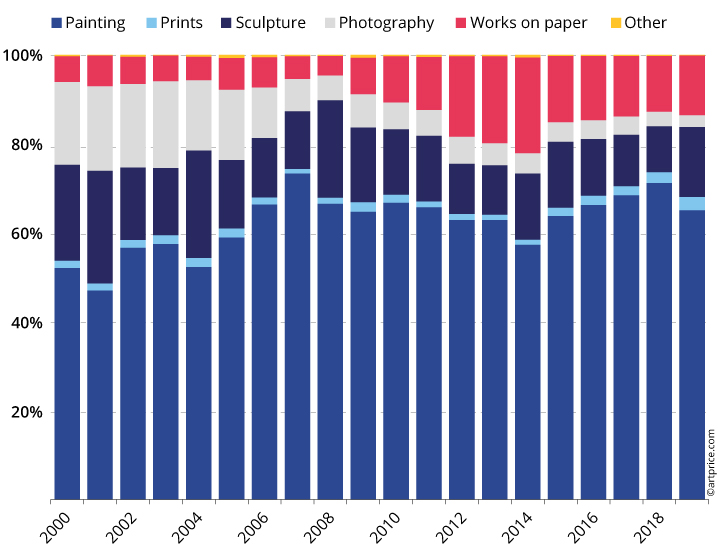 Painting and sculpture represent 80% of auction turnover for the period
Photography… the big turning point
The market for Contemporary photography took a very significant turn in 2007 when a series of new records were hammered and the medium's annual turnover total rose substantially, reaching $102 million versus $17 million in 2000. Thereafter, Contemporary photography was respected as a serious constituent part of the Art Market, representing half of the medium's total turnover, all periods combined. This development was partly 'structural' as historical photographs became increasingly rare; but it was also 'cultural' as the photography medium became increasingly in tune with our image obsessed era. Moreover, the photographic works are easy to transport and store (therefore to accumulate) and most are accessible with a small budget (50% of the photographs sold at auction fetch under $2,000). Other buyers are seduced by the monumental formats produced by certain Contemporary photographers, reminiscent of the larger painting formats. Photography has therefore gained more and more buyers and collectors over the past 20 years, and the number of photos sold has almost quadrupled, from 1,300 lots to nearly 5,000 in 2019 (a record year).
Following the general upsurge in art prices, two photographs by Cindy SHERMAN went for more than $1 million in 2007. In February of the same year, an oversized diptych by Andreas GURSKY, (99 cent II (2001)), reached $3.3 million in London. This 'landscape' of a new kind, focusing on the vertigo of our consumer society, set a new record for a Contemporary photograph, but only for a few months. In November of the same year, Richard PRINCE defied all predictions when another of his 'American anthems', his iconic Cowboy (2001-2002), measuring 2.5 meters, sold for $3.4 million.
Jeff Koons is both the author and the subject of the most expensive Contemporary photograph ever sold at auction.
Sherman, Gursky, Prince… the inner circle of 7-digit photographers widened little thereafter, but it was joined by the influential Jeff WALL in 2008, the duo GILBERT & GEORGE in 2008, Thomas STRUTH in 2015, Jeff Koons in 2013 and Ai Weiwei in 2016. The latter two, like Richard Prince, are not known as photographers per se. Three images from a performance by AI Weiwei showing the artist voluntarily dropping a Han Dynasty urn which breaks on the ground (Dropping a Han Dynasty Urn) fetched over $1 million: this iconoclastic gesture "letting go of the past" reached $1.08 million against a high estimate of $300,000 at Sotheby's in London. Its value had increased tenfold in 10 years, in line with Ai Weiwei's explosive popularity rating. As for Jeff Koons… he is both the author and the subject of the most expensive Contemporary photograph ever sold. His The New Jeff Koons, a single print that passed through the Saatchi collection in London, fetched $9.4 million. Koons, as seen by Koons… at the age of his first artistic "revelation", thereby confirmed his status as a living "icon" via the photography market…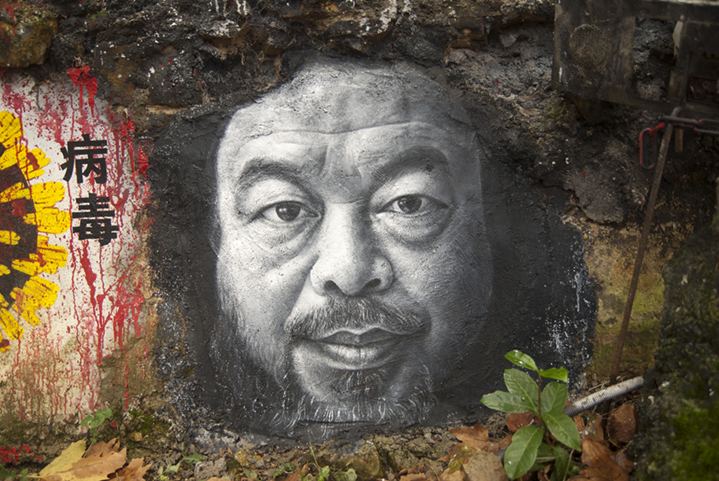 Portrait of Ai Weiwei at the Abode of Chaos
© thierry Ehrmann, Courtesy Musée l'Organe
Mentalities and habits have changed considerably for this 'young' medium of the Contemporary Art Market, a medium that didn't start to gain the confidence of collectors until the 1990s. For the record, the first fair exclusively dedicated to photography (Paris Photo) dates back to 1997. It was around that time that we discovered the first 'monumental' formats which combined photographic presence with the power of painting… works like those of Cindy Sherman, which barely reached the $50,000 threshold back then. She has since helped to elevate photography to the rank of a 'noble' art form. With $143.2 million of Contemporary photographic works sold over 20 years, Sherman is the best performing woman on the Contemporary Art Market, ahead of all the great female painters. She is also 25th in the global ranking… behind 24 men.
Auction turnover from photography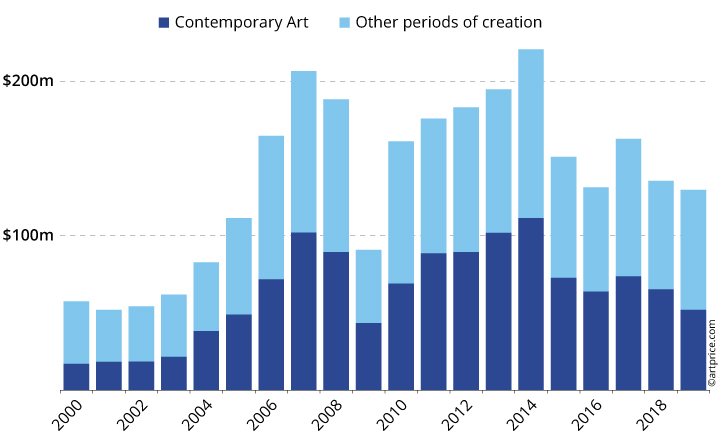 Photographers began to gain economic recognition thanks to large formats