The viral madness of NFTs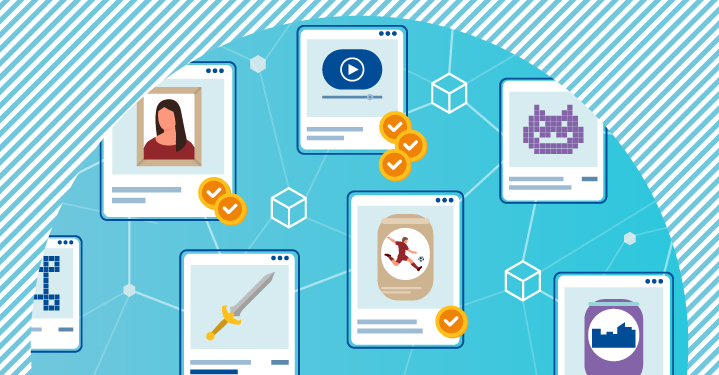 Technological epiphany… New Renaissance… Art Market revolution… Digital bubble… and of course… New speculative niche… just some of the terms applied to the Art world's dive into the virtual world of NFTs and cryptocurrencies. And indeed, why not? The sale on March 11 of BEEPLE's Everydays – Everydays: The first 5000 Days, a digital file in JPEG format and the first digital work ever to be offered at Christie's, had the effect of an earthquake by propelling Mike Winkelmann (Beeple) – unknown to anyone unfamiliar with digital Art – into the top three most expensive living artists, alongside Jeff Koons and David Hockney. So… having fetched $69.3 million, digital Art must now be considered a medium that is capable of creating major value.
The buyer of the first NFT in the history of public auctions, Vignesh Sundaresan is a 32-year-old Indian millionaire who made his fortune in the world of cryptocurrencies. What he acquired is nothing more than a line of code referring to a virtual work by Beeple whose authenticity and traceability are guaranteed by blockchain technology. Mr. Sundaresan, creator of one of the principal NFT investment funds (Metapurse), aims to build the largest collection of NFT Art in the world. Three months before acquiring The First 5000 Days, his company Metapurse apparently already invested more than $2 million in digital works by Beeple, and then apparently divided the ownership into digital tokens (NFTs) to sell them at the most strategic time of Christie's online auctions, i.e. when the balance between supply and demand was at its most advantageous.
The NFT phenomenon has aroused tremendous enthusiasm. According to Christie's, 22 million people, nearly 60% of whom were under the age of 40, logged in to the sale of The First 5000 Days. Among them, several investors with abundant crypto portfolios substantially inflamed the bidding…. Eager to take advantage of new communities of buyers focused on digital Art, as well as the liquidity in the crypto space (NonFungible believes that NFTs generated nearly $2.5 billion over the first five months of 2021), the auction houses did everything possible to include NFTs in their prestige spring sales.
What is it?
NFT

An NFT (non fungible token) is a digital collector's item stored on a blockchain. Unique and non-modifiable, it takes the place of a certificate of authenticity (deemed inviolable) and constitutes digital proof of origin and ownership. Concretely, when a collector buys an NFT work, he buys the token representing the work (an image, a gif, a video file, etc.) or a title deed. The owner of the NFT is the sole owner of the content, even if the gif or jpeg image is shared millions of times online. For collectors, it is a way to acquire works of proven rarity. For digital artists or creators of ephemeral Art (urban artists or performers), it is a way to build value on their work.

Blockchain

Created in 2008 by Satoshi Nakamoto, blockchain designates a transparent and secure information storage and transmission technology. The information contained in this "chain of blocks" – transactions, title deeds, signatures, contracts – are protected by cryptographic processes which make the token unfalsifiable.
The blockchain has served the circulation of cryptocurrencies for years. It simplifies buying and selling, enables fast, direct and inexpensive transactions, while providing a reassuring chain of provenance and authenticity.
Innovation: a primary value criterion
To create maximum value on digital objects, auction companies want to present highly technical works (or at least works created in a digital format) that have never been seen before on the market. So… after Beeple's astounding $69.3million result at Christie's in mid-March, innovation became, of itself, one of the cardinal values for the auction houses that engaged in the NFT race. In April, Phillips announced the first multi-generational NFT capable of automatically generating new works. In May, Christie's offered the first tokenized Warhol work. In June, Sotheby's presented the "first" intelligent NFT capable of interacting with its owner thanks to artificial intelligence… and innovation itself was clearly a key justification for spectacular price increases.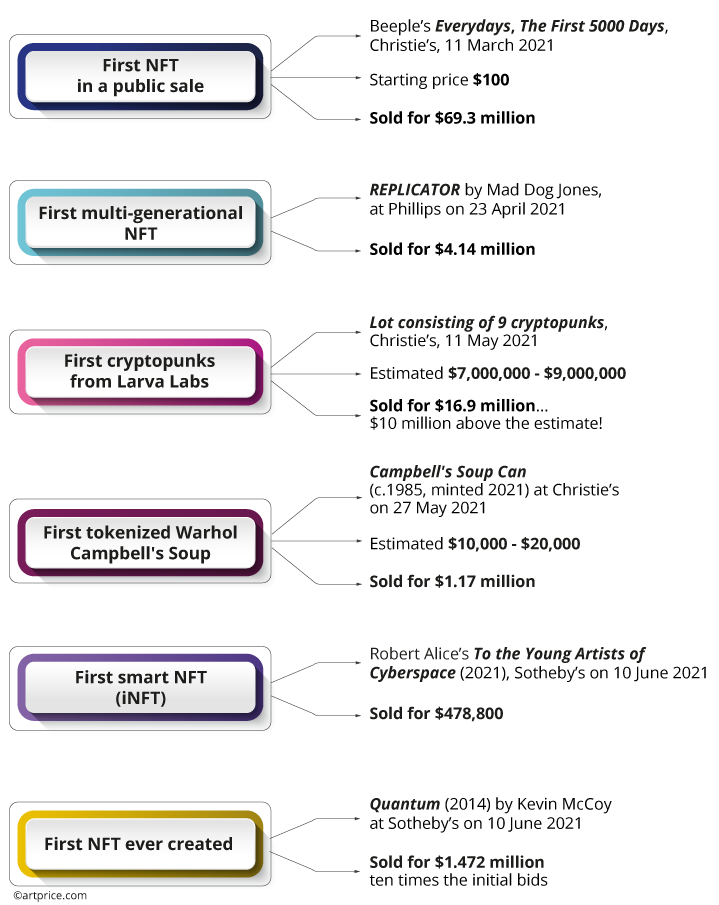 Artists undergoing a digital transition
A number of Contemporary works have already been transformed into NFTs to feed the auction market. Images created by Andy Warhol (who died more than 30 years ago) to promote the release of the Amiga 1000 computer in 1985 have notably been adapted to this technology. Sold online on Christie's website ("Andy Warhol: Machine Made", 19-27 May) as five NFTs in 4,500 x 6,000 pixel TIF formats, they demolished their estimates, generating $3.4 million in total.
The transformation of Warhol's original works into NFTs was authorized by the Andy Warhol Foundation, at the request of Christie's: a legal procedure that is not always respected.
BANKSY, for example, entered the wonderful world of NFTs in March, when the Burnt Banksy Collective burnt his print Morons (325/500) live so that it might survive uniquely as an NFT. The work was particularly well chosen, since it features an auctioneer raising the bidding on a painting with the inscription "I can't believe you morons actually buy this shit"
At the end of the cremation ceremony, the digital token of Morons no longer had any non-digital "physical" competitor… which adds more value to the digital work. Driven by disruptive staging, strong speculation on NFTs and Banksy's popularity, the digital version of Morons was acquired on Open Sea for 228.69 Ether (around $380,000) at approximately four times the purchase price of the physical print.
Several major Contemporary artists want to integrate the NFT ecosystem and adopt its codes. Some, like Shepard Fairey, Kaws, Murakami or Jenny Holzer, have taken the plunge or are preparing for it. Meanwhile, Damien HIRST has launched NFT (The Currency) forcing buyers to question the value of Art. He asks them to make a choice between keeping a physical work or its virtual counterpart.
Any work can be transformed into an NFT, including the Mona Lisa. This clearly multiplies opportunities for selling Art. Museums have started doing it, starting with the Uffizi Gallery in Florence, which in May sold an NFT version of Michelangelo's Tondo Doni (c. 1505) for nearly $170,000, largely beating its other 'derivative' objects in terms of profitability. In fact, the Italian Museum is planning similar digitization initiatives with other masterpieces (by Titian, Caravaggio, Botticelli…) to shore up its finances. Nevertheless, the price of the Tondo Doni raises a number of questions. For example, why such a huge gap between the $170,000 for the first NFT of an artist as major as Michelangelo and the $69.3 million hammered for Beeple's NFT? Buyers' preferences seem to be moving towards digital works that express strong connections with contemporary aesthetics and issues. The most expensive NFTs generally obey the imperative of technology serving the work rather than serving a museum or a famous artist from the past. This perhaps explains why cryptopunks are worth $16.9 million while an NFT of Warhol's Campbell's Soup Can tops out at $1.17 million: Andy WARHOL takes us back to the past century whereas LARVA LABS represents new ways of trading and collecting in our 2.0 era.
Contemporary Art sales by medium (2020/21)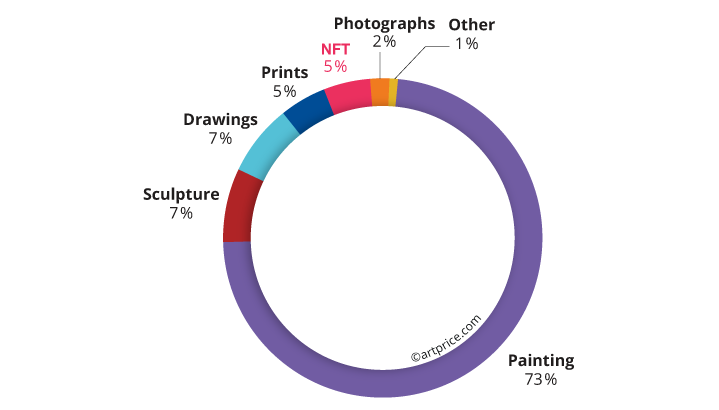 → In four months, NFTs generated $127.6 million in auction turnover, twice the total generated by the Photography medium and from just 100 NFT lots sold, versus 6,500 photographs!
Another astonishing figure: the unsold rate for NFTs is the lowest on the market, only 6% versus an average 30% for other mediums (painting, sculpture, drawing, photo, print, etc.). In short the desire to acquire NFTs has more than kept pace with the galloping notoriety and hype that exists around them.
NFT Calendar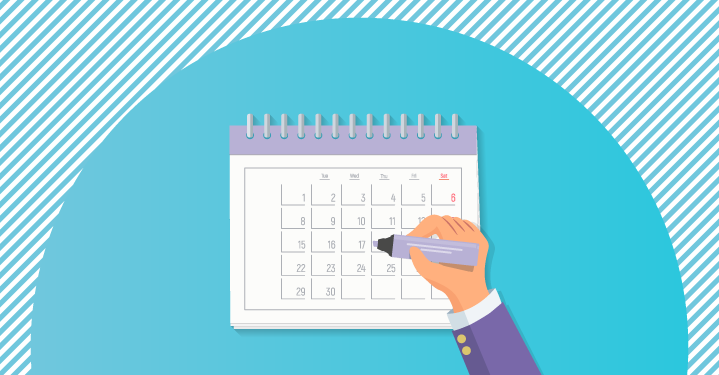 Discover the moments and events that shaped 2020 →
Table of contents
The viral madness of NFTs