Two new major signatures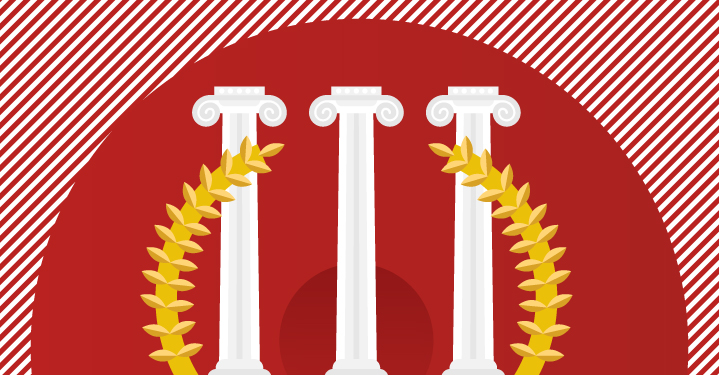 The fact that Jean-Michel Basquiat is still the most expensive Contemporary artist at auction is not surprising. The African-American star, who died in 1988, is to Contemporary Art what Picasso is to Modern Art. On the other hand, the logic behind the other two artists in the year's top 3 Contemporary auction results is more puzzling. One is the digital artist Beeple, creator of the first NFT ever sold at Christie's (prompting all the major auction houses to offer digital Art), and the other is Sino-American artist Chen Danqing, whose latest auction record at over $25.1 million (in June) is six times his previous record and the best result ever hammered for a Chinese Contemporary artwork.
Top 3 Contemporary artists by auction record (2020/21)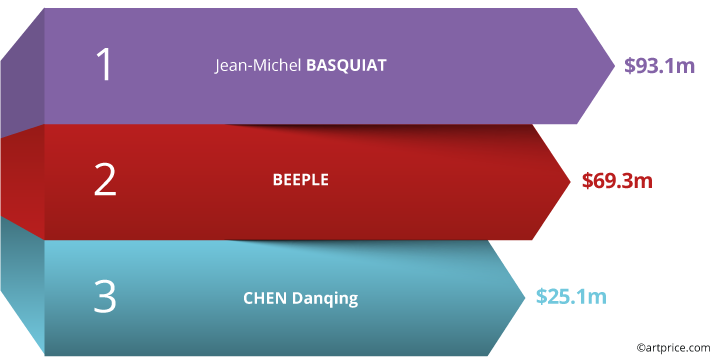 Jean-Michel Basquiat (1960-1988)
Demand for works by Jean-Michel BASQUIAT is more than ever spreading: he is responsible for 5 of the period's 10 best results and 14% of the global auction turnover from Contemporary Art. In 12 months collectors have spent $385.8 million on 162 lots.
The two most expensive paintings of the year (In This Case, $93.1 million and « Versus Medici », $50.8 million) were sold, as usual, in New York; but three other major works changed hands during prestige sales hosted by Christie's and Sotheby's in Hong Kong. With over $300 million already to his name in H1 2021, Basquiat looks set to remain the most successful Contemporary artist on the secondary market for the year as a whole.
Beeple (b. 1981)
Completely unknown to the traditional Art auction Market last year, BEEPLE is today one of the three most expensive living artists in the world – all media combined – after David Hockney and Jeff Koons.
With a single result that was not only colossal but was also online and for a non-fungible token and paid in Ethers, Beeple attracted the second best Contemporary Art auction bid of the year so far. The first NFT ever offered in a public auction, Beeple's Everydays: The first 5000 Days (2021) fetched an eye-watering $69.3 million against a starting price of $100 and for an artist who had no gallery, no exhibitions and no previous auction sales! But he did have several million followers on Instagram and the support of Christie's, one of the oldest and most reputable auction houses on the planet. With the sale of just two lots, Beeple alone accounted for 3% of global Contemporary Art market auction turnover.
Chen Danqing (b. 1953)
Unexpectedly, the third Contemporary artist on the period's price record podium is CHEN Danqing (originally from Shanghai but living in the United States since the 1980s) after he added a staggering $21.7 million to his previous auction record at the beginning of June at Poly International Beijing. Measuring less than 80cm tall and depicting a Tibetan couple about to kiss against the backdrop of the vast Lhasa prairies, his Tibetan series : Shepherds (西藏组画·牧羊人) (oil-on-cardboard) reached nearly $25.2 million versus a previous record of $3.5 million ten years ago at the same auctioneer. From a famous series of works depicting Tibetan scenes and people, Chen Danqing's painting became the most expensive work of Chinese Contemporary artwork ever sold at auction and placed the artist in the Global Top-20 Contemporary artists (by annual turnover), ahead of Damien Hirst!
Weight of top 5 artists in total Contemporary Art auction turnover (2020/21)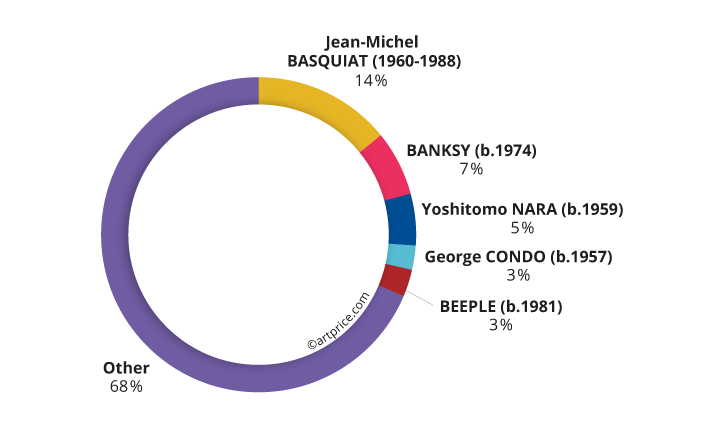 → Basquiat, Banksy, Nara, Condo and Beeple make up the new "Top 5 club". The most successful artists of the period in terms of auction turnover, together they account for nearly a third of the entire Contemporary Art auction market (32%).
Banksy (b. 1974)
At 47 years old, the anonymous Street artist is one of the world's top five most successful signatures on the secondary market, all periods combined. In the specifically Contemporary segment, Banksy ranks second behind Basquiat, with a cumulative turnover of $181 million, representing 7% of the segment's total revenue. This is an absolute record for one of the three most sought-after artists on the market. In the 2020/21 period Bansky was the subject of two results above $10 million, including a personal best of $23.2 million for his canvas Game Changer (2020). Estimated at around $5 million the work elicited tremendous enthusiasm. It depicts a young boy abandoning his Batman and his Superman to play with a super-nurse doll. The result clearly illustrates a strong collector preference for works in tune with current events. It was also largely inflated by having a charitable dimension, with Christie's promising to donate the majority of the final price to the NHS (British National Health System). Over the last five years, BANKSY's turnover has grown exponentially: from $3 million in 2016, to $7 million in 2017, $16 million in 2018, $29 million in 2019, $67 million in 2020 and $123 million in H1 2021.
George Condo (b. 1957)
George CONDO 's tragi-comic painting has influenced lots of painters in the Glen Brown / John Currin generation. Exhibited in New York, London, Shanghai and Berlin in recent months, his works are highly sought-after and the prices are high: $100 invested in one of them in 2000 would be worth an average of $2,488 (+2,388%) in July 2021. In 2018 his prices acquired a new dimension with a result above $5 million for "Nude and Forms" (Christie's, New York), followed by a second record in July 2020 with the sale of Force Field (2010) for $6.8 million, i.e. double the estimates provided by Christie's Hong Kong. With works worth more than $72 million sold between New York, London and Hong Kong, George Condo accounted for 3% of the global Contemporary Art Market.
Contemporary artists in the Top 500 by country of origin (2020/21)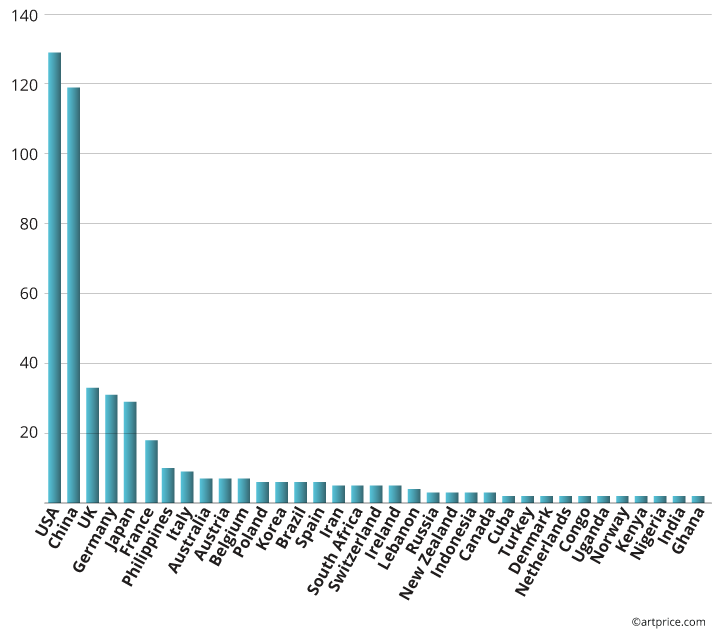 → The nationalities dominating the Top 500 reflect the dynamism of the different countries on the global auction market. American and Chinese artists account for half of the world's Top 500 artists by annual auction turnover. Perpetually chasing originality, the American market is in the best position to encourage the emergence of digital artists (like Beeple and Larva Labs). The strong presence of Japanese artists reflects the success of the Manga aesthetic with Nara, Murakami, Rokkaku, but also Madsaki and Masakazu.
Among English and French creators, the boom in demand for Street Art has driven up the prices of Banksy, Doodle and Stik (for the Brits) and Invader, Brainwash and Gully (for the French). We cannot help but observe that the emergence of very young British and American artists appears to be much easier than that of European artists.