Affordable art
While the number of auction records is clearly growing, half of the artworks sold on the secondary market in the West fetch less than $1,000. And while such a small budget allows access to a large number of works on paper (drawings, prints, photographs), it can also  acquire small gems in the sculpture and painting medium.
Distribution of Fine Art Auctions in the West by price range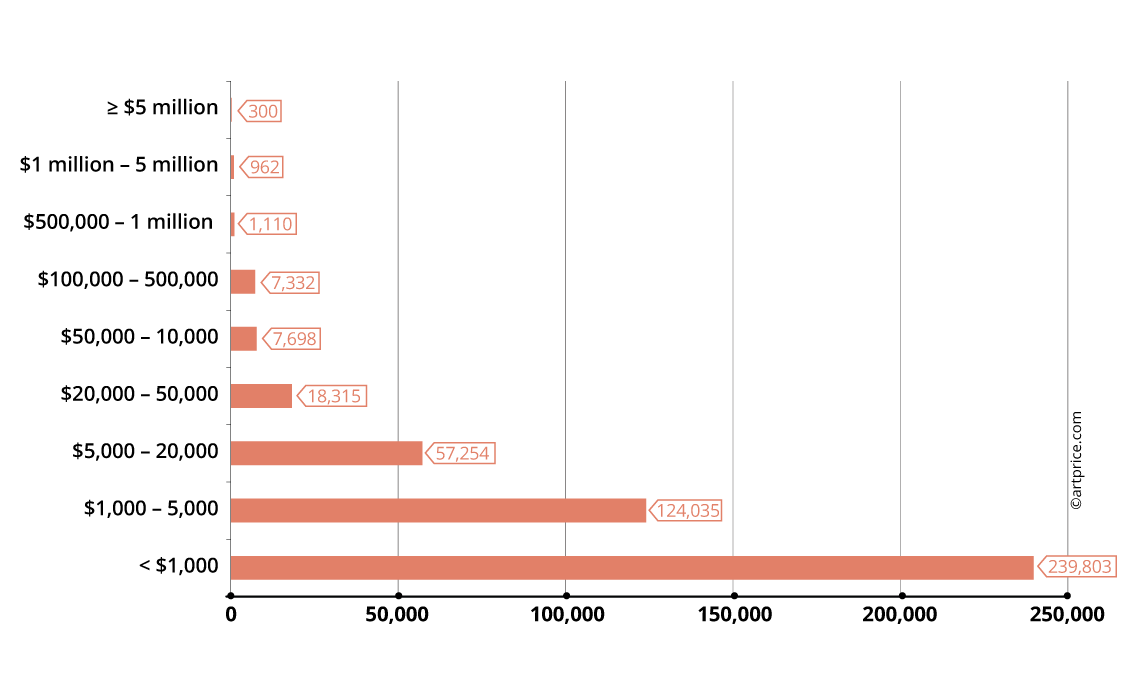 Works under $5,000
With nearly 539,000 artworks sold worldwide, a figure up 55% over the decade, the Art Market has reached an unprecedented density. The appetite for Art is particularly evident in the Western Market that generates the vast majority of global adjudications – almost 457,000 – only a small percentage of which (less than 4%) involved prices above $50,000. Therefore the Western Art Market cannot be said to be reserved for a financial elite. On the contrary, more than half of the works sold at auction sell for under $1,000 (52%), a ratio that climbs to 79% if we raise the budget to $5,000. The Art Market is more affordable than most people believe, and this applies to all categories of creation, including works on canvas.
Contrary to popular belief, the proportion of paintings purchased for less than $5,000 is the same as that for photographs: 74% of works on canvas and 74% of photographs change hands below this price, and the ratio for sculptures is 73%. The ratio climbs to 83% for drawings (which are still 'original' works) and 90% for prints (multiple works).
Distribution of sold artworks in the West by category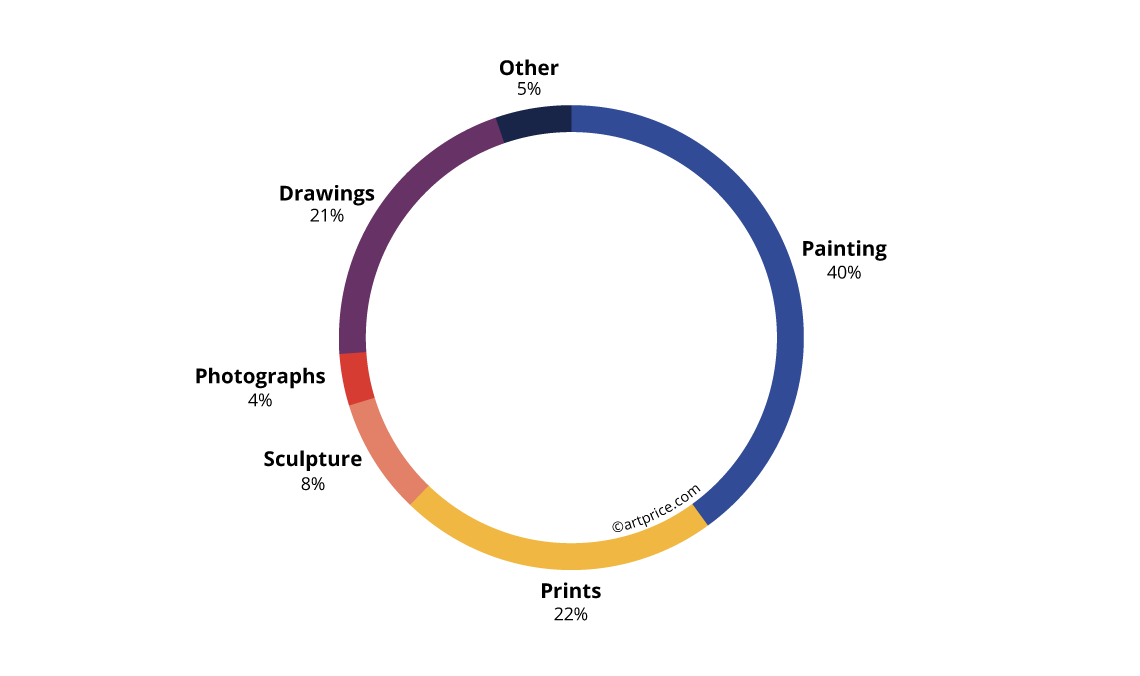 The biggest names in Art History, including Monet, Picasso and Gauguin, are also available in this price range thanks to their prints. Of course, prices are exploding for the rarest prints and the best-dated editions, but the choice remains vast. For example, concerning Paul GAUGUIN, who created some of the finest woodcuts of the late 19th century, his Te Po (La Nuit) was accessible for $2,300 during the summer (Mainichi Auction, Tokyo, 14 July 2018) and one of his most famous engravings, Auti Te Pape. (Femme à la rivière), sold for $5,000 in September (Swann Galleries New York, 20 September 2018). Both works were from editions of 100, i.e. short runs considering the potential demand.
Famous signature photography at low prices
Some of the world's very best photography can be acquired at extremely modest prices, since 37% of the works sold fetch less than $1,000 at auction. This budget also gives access to historical daguerreotypes by Joseph Philibert GIRAULT DE PRANGEY, vintage prints by Robert Doisneau, albumen prints by Eugene Atget, superb photos by Robert Capa, but also works by the major signatures of Contemporary photography, of which there are thousands. The most sought-after Contemporaries like Thomas Struth, Cindy Sherman and Nan Goldin sell for around $1,000 under certain conditions (large editions and/or not very popular subjects). With a budget of $5,000, the choice widens considerably: portraits by Rineke Dijkstra, Andres Serrano's cibachromes and even vintage prints by Robert Mapplethorpe.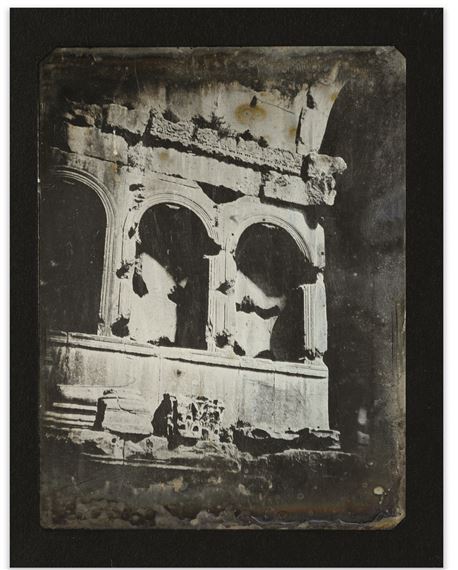 Joseph Philibert Girault de Prangey (1804-1892)
59. Rome, Arc de Janus, Détail, 1842
Prices can change very quickly if demand is 'animated' by a high profile auction record. Last year this happened following David HOCKNEY's accession to the title "world's most valued living artist": in the month following the spectacular sale of Portrait of an Artist (Pool with Two Figures) for $90.3 million, small photographs by Hockney estimated at $500 – 700 were sold for more than $2,000, and some above $5,000, at an American sale (Millea Bros, New Jersey, 16 November 2018). In short, market news can have an impact on an artist's entire value chain.
Identifying bargains
Erroneous attributions, thin communication, absence of a reserve price… for the most assiduous dealers and collectors, the study of sales catalogues can identify lots of bargains. In this game, certain sharp eyes scrutinise the sales catalogues of provincial auctioneers, less publicised than the catalogues of operators located in major cities. In France, a drawing by Louis Léopold BOILLY escaped the vigilance of dealers and museums. When the work, Étude pour un couple, was put up for sale at Azur Enchères in Cannes (28 November 2018) it sold after just one bid. However, the drawing turned out to be a study for a major Boilly painting: Entrée du jardin turc, acquired in 2010 by the Getty Museum in Los Angeles. Paid around a thousand dollars ($1,134 excluding fees), Étude pour un couple is in fact an essential document in the construction of one of Boilly's most important paintings.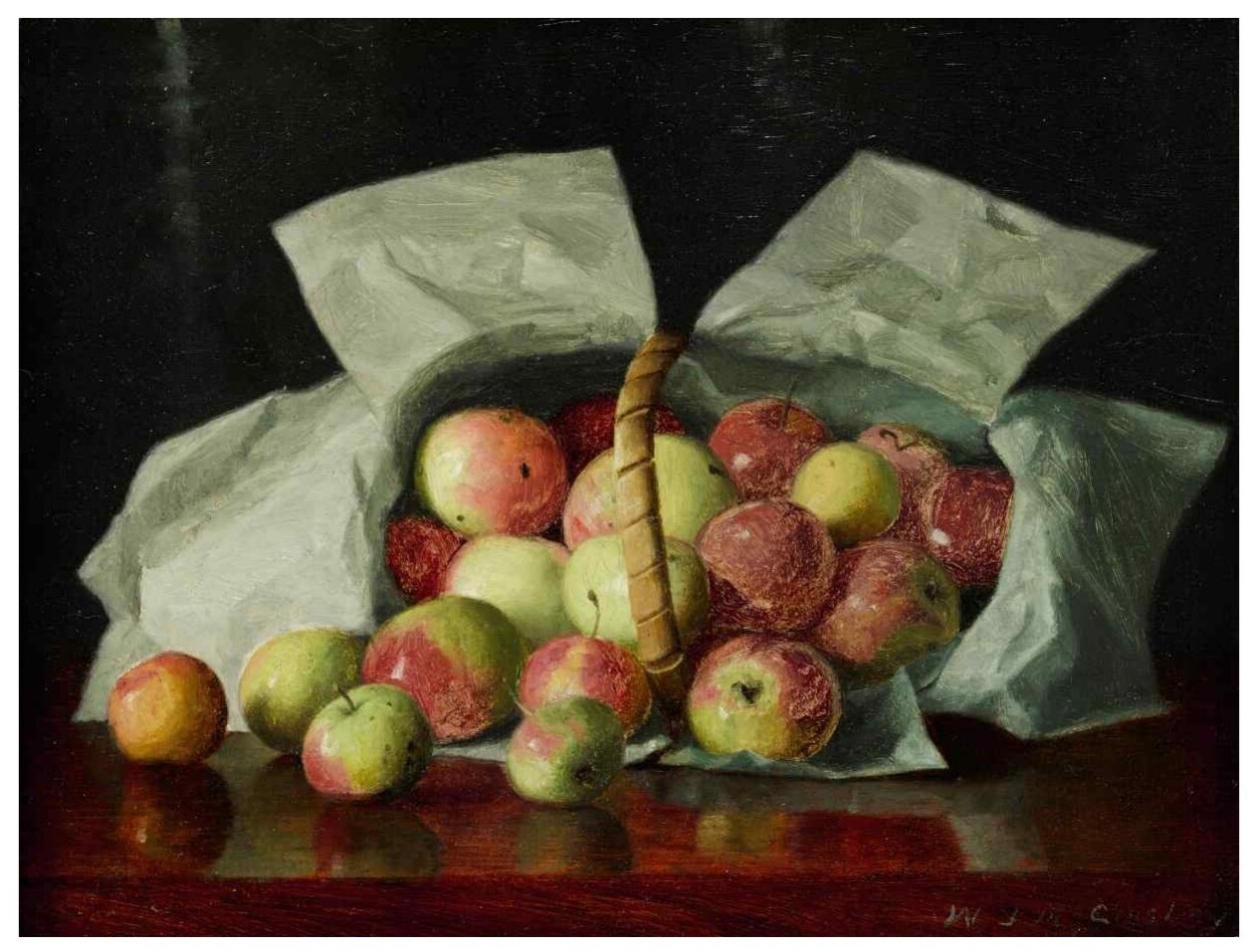 William Joseph McCloskey (1859-1941)
Lady apples in overturned basket
That said, one can also find bargains in the world's major marketplaces. In New York, a still life by William Joseph MCCLOSKEY was offered between $50,000 and $70,000 at Sotheby's on 2 October 2018. In December 2012 at Christie's, the same work fetched  $185,500. As McCloskey's works are rare and sometimes fetch more than $500,000, the estimate was no doubt designed to attract as many bidders as possible. However, that did not happen… and a lucky bidder paid just $875 for this Lady apples in overturned basket, which had no reserve price. The market obviously has its flaws. Demand is not always where the offer is… a fact that allows alert enthusiasts to make excellent acquisitions for a very small budget.