"Crazy" sales
While technology is shaking up the Art Market (blockchain certification, artificial intelligence, self-destruction in the middle of a sale), the market's blue chip artists are continuing to generate the most extraordinary gains… but also some disappointments.
A capital gain of $130 million
During their initial showing in Paris, Modigliani's # a-19969 nudes were considered obscene by a police commissioner with offices in front of the Berthe Weill gallery where they were hung. Nowadays, they are sought after by the world's greatest museums. One of them, Nude Reclining (on the Left Side) (1917) was on display at an exhibition entirely dedicated to the artist's nudes at the Tate Modern, between November 2017 and April 2018. One month after this highly successful exhibition, Sotheby's received a consignment for the painting's sale on on the free market. Having already reached $26.8 million in November 2003 at Christie's New York, Nude Reclining (on the Left Side) reached $157.1 million at Sotheby's, adding $130 million in just 15 years and generating the best Fine Art auction result of the year 2018.
This is the second time that Modigliani has crossed the $100million auction threshold: in November 2015, at Christie's, the Chinese billionaire Liu Yiqian acquired another emblematic Reclining Nude for the record price of $170m. An absolute jewel for his glitzy private museum: the Long Museum in Shanghai.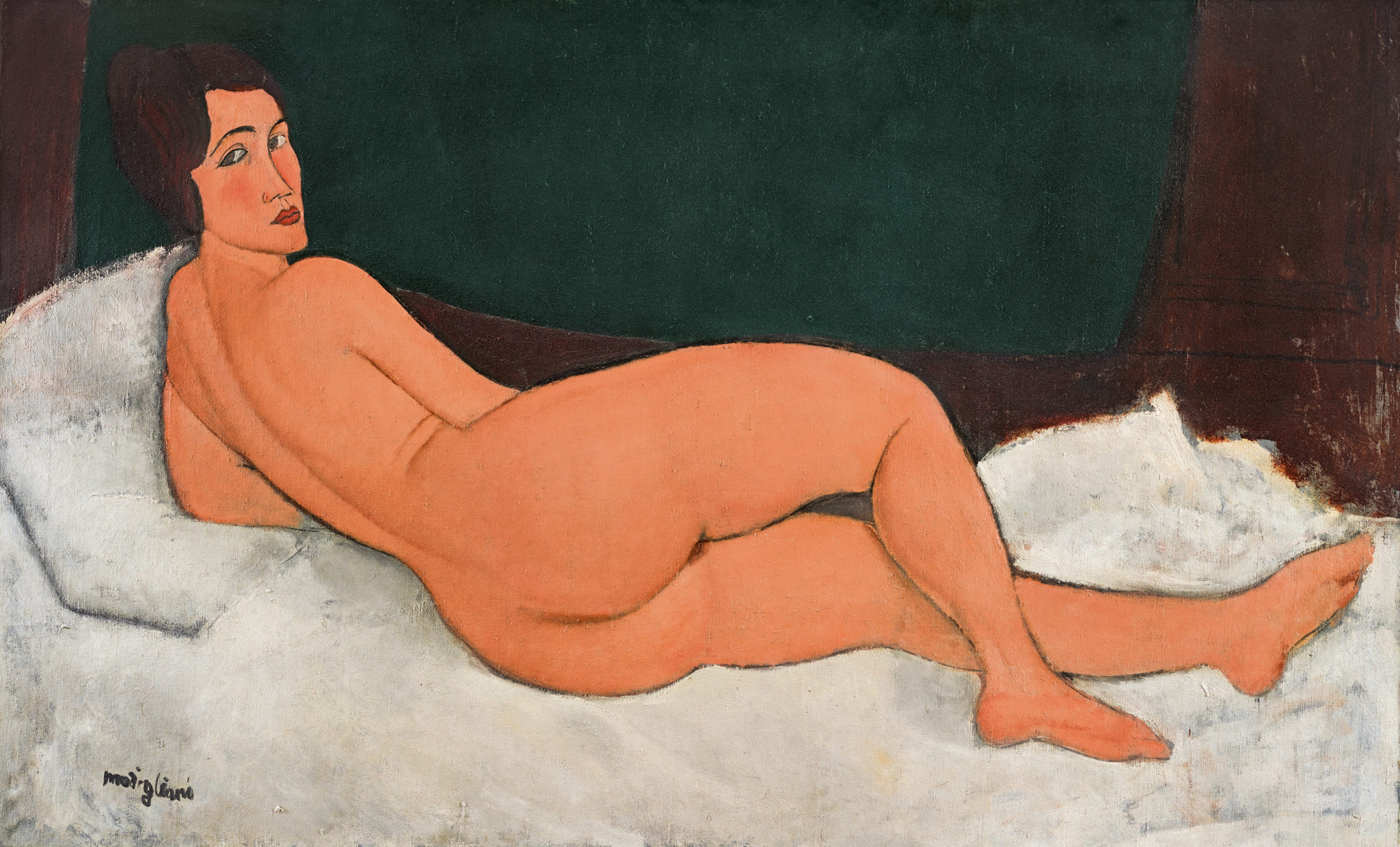 Amedeo Modigliani (1884-1920)
Reclining Nude (on her left side) (1917)
How to beat the forgers?
Modigliani's work has been at the heart of a major scandal: twenty paintings from a total of fifty exhibited at the Ducal Palace of Genoa between March and July 2017 have been declared fakes. The case has revived debate around the authenticity of works in major private collections and museums, especially in France, where all Modigliani's works are currently being analysed. Nowadays, the pedigree of an artwork is therefore not totally guaranteed…
The application of Blockchain technology to the Art Market could mean the end for exaggerated archives and all manner of scams. This information storage and transmission technology is deemed inviolable. In November 2018, Christie's was the first major auction company to apply this technology, partnering with Artory, a blockchain platform specialising in art. Each work sold was accompanied by an encrypted certificate of authenticity containing secure and tamper-proof information.
A "Banksied" sale
On 5 October, the world's most famous anonymous artist, BANKSY played a master stroke live at Sotheby's London when his work Girl With Balloon (2006) –  having just fetched $1.4 million – self-destructed in front of the audience and the cameras. It was a cleverly prepared event since the artist had carefully built a shredder into the work's frame which could be activated remotely at the right moment. Considering this was the first ever booby-trapped artwork in market history, the event will definitely be remembered. By its planned destruction, Girl With Balloon has become an icon, giving the work undeniable additional value. In any case, that was the argument put forward by Alex Branczik, head of Sotheby's Contemporary Art department, and by the buyer, who was perfectly happy to keep the shredded work. Banksy is gaining popularity and remains one of the most sought-after artists of our time: in terms of transactions, he was the 15th best-selling artist in the world (number of lots sold up +208% over the decade).A.I. already in demand
Banksy's Annual Auction Turnover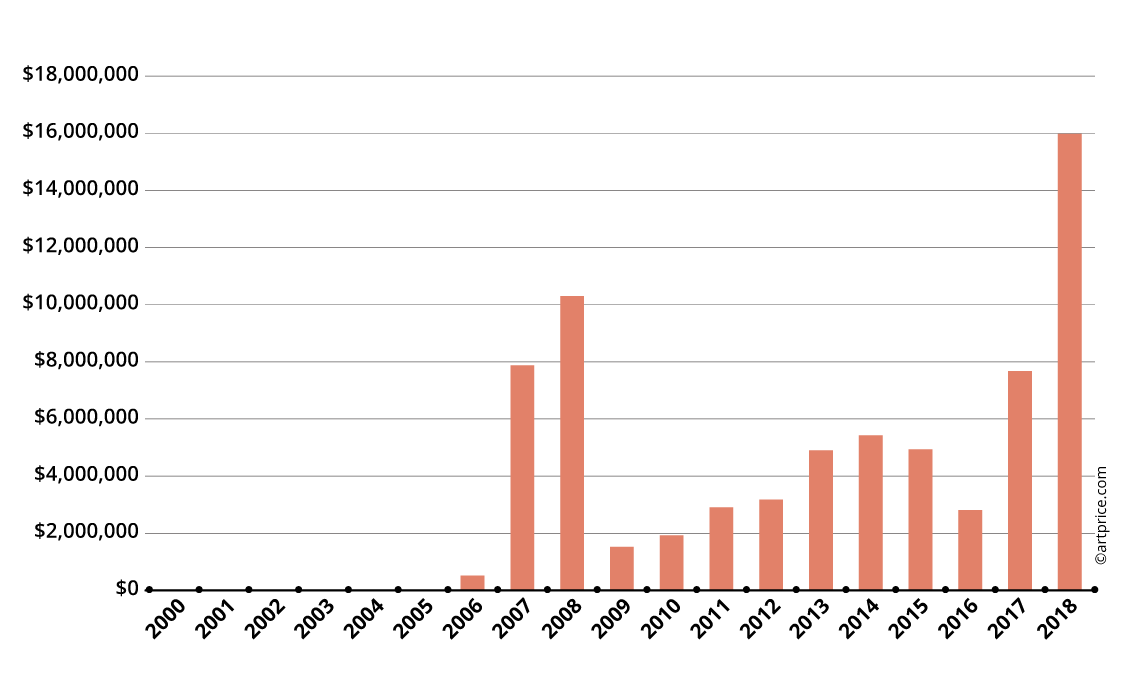 A.I. already in demand
On 26 October 2018, Christie's New York sold the first work entirely designed by an artificial intelligence (AI) program. Entitled Edmond de Belamy, de "La famille de Belamy", the work has part of the algorithmic code that produced it as a signature. As this was a first in auction history, the lot, estimated between $7,000 and $10,000, was the subject of frenzied bidding that didn't stop until it reached $432,500, nearly 45 times its high estimate.
Edmond de Belamy is the first work by the collective OBVIOUS, consisting of three young Frenchmen, an engineer, an entrepreneur and an artist, friends since childhood. Their work began with the discovery of Generative Adversarial Networks (GANs), a system capable of producing images without any human intervention. The product of a machine and not of man, Edmond de Belamy seems to have genealogical connections with a certain bicycle wheel exhibited more than a century ago by Marcel Duchamp…
Major disappointments…
Beyond the records, every year also brings a certain number of disappointments. Among the important Contemporary works that failed to sell: an iconic sculpture by Jeff Koons, Cracked Egg (Blue) for which Christie's had hoped to secure $13 – 19 million, and a Gerhard Richter painting (Abstractes Bild) estimated $15 – $23 million. Indeed, several "star" Contemporary artists posted poor market statistics after rapid and spectacular progressions. This was the case for Adrian Ghenie, Mark Grotjahn and Ai Weiwei, who all posted weak market performances compared with 2017 (-58%, -62% and -83% respectively).
Top 10 unsold artworks in 2018 (selection)
Artist
Artwork
Estimate
Auction
1
Pablo PICASSO (1881-1973)
Femme au chat assise dans un fauteuil 《抱着猫的女子坐像》 (1964)
$22,000,000 – $28,000,000
15 May 2018 Christie's New York
2
Alberto GIACOMETTI (1901-1966)
Le chat 《猫》 (1951)
$20,000,000 – $30,000,000
14 May 2018 Sotheby's New York
3
Gerhard RICHTER (1932)
Schädel (Skull) (1983)
$15,612,500 – $23,418,700
4 Oct 2018 Christie's London
4
Clyfford STILL (1904-1980)
PH-916 (1946-No. 1) (1946-1947)
$15,000,000 – $20,000,000
17 May 2018 Christie's New York
5
Jeff KOONS (1955)
Cracked Egg (Blue) (1994-2006)
$13,010,400 – $19,515,600
4 Oct 2018 Christie's London
6
Gerhard RICHTER (1932)
Abstraktes Bild (811-2) (1994)
$12,000,000 – $18,000,000
17 May 2018 Phillips New York
7
Pablo PICASSO (1881-1973)
Femme au chien (1953)
$12,000,000 – $18,000,000
14 May 2018 Sotheby's New York
8
Sigmar POLKE (1941-2010)
Stadtbild II (City Painting II) (1968)
$12,000,000 – $18,000,000
17 May 2018 Phillips New York
9
Joan MIRO (1893-1983)
Peinture (1933)
$10,534,800 – $15,802,200
19 Jun 2018 Sotheby's London
10
Alberto BURRI (1915-1995)
Grande legno e rosso (1957-1959)
$10,000,000 – $15,000,000
15 Nov 2018 Phillips New York
© Artprice.com
There were also some disappointing results among the Moderns and the Old Masters. On 5 July, an important RUBENS painting depicting  Clara Serena, the artist's daughter, was bought in at Christie's. The previous day, however, another Rubens work fetched nearly $7.2 million, two million over its high estimate, at Sotheby's. Admittedly the portrait of the aristocrat is more finished work than that of Clara Serena, and, it had also benefited from strong marketing, being exhibited with 15 other masterpieces in the London shop of Victoria Beckham on Dover Street before its sale. A visibly effective art of teasing.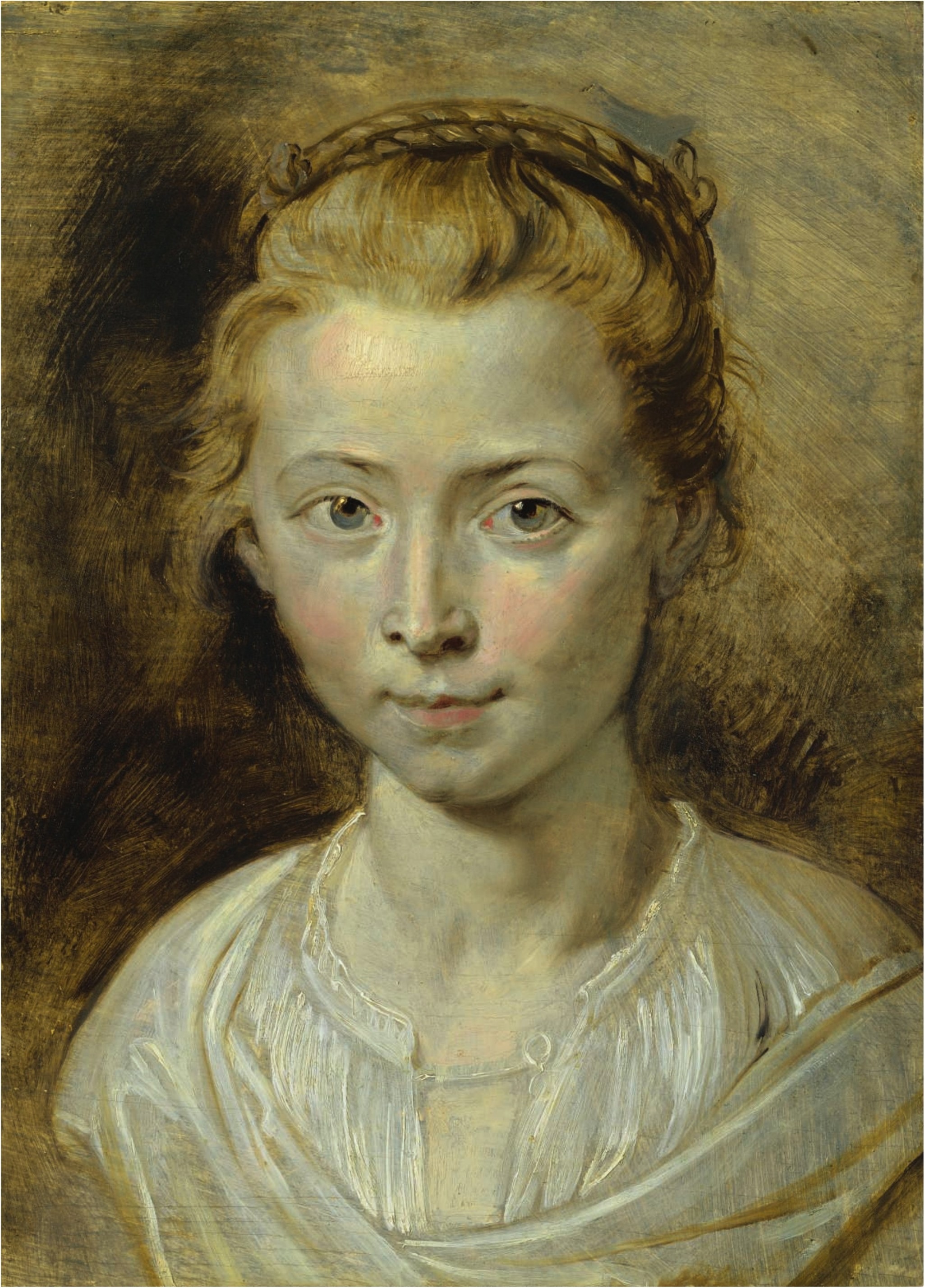 Peter Paul Rubens (1577-1640)
Portrait of Clara Serena, the artist's daughter