Global assessment: strong and flexible demand
The Art Market is continuing to grow: in 2019, no less than 550,000 fine art lots were sold via auctions throughout the world generating a total of $13.3 billion. That's the highest ever-recorded number of fine art auction lots sold in one year. In terms of turnover, the Art Market posted a -14% contraction, but did not falter. The unsold rate remained perfectly stable at 38%, as did the overall price index, which rose +0.48%.
The market's ultra high end adapted to the scarcity of masterpieces, while demand continued to grow for Contemporary and Post-War Art. In the absence of major pieces by Picasso, Modigliani or Giacometti, the auctions were dominated by an Impressionist painting – Meules (1890) – from Claude Monet's Haystacks series. It was the only artwork to cross the $100 million threshold in 2019, although several other results significantly altered the shape of the global art world: Jeff Koons's Rabbit sculpture (1986) became the most expensively sold artwork by a living artist; a small panel attributed to the legendary Cimabue defied all predictions 40 km from Paris, and Banksy's giant canvas Devolved Parliament (2009) took full advantage of the Brexit debacle.
Global art auction turnover
90% of works sold for under $17,000
In 2019, the top 500 artists ranked by their annual auction turnover figures sold an average of 120 works each last year, and the average rose to twice that number for the top 100. Pablo Picasso alone accounted for more than 3,500 lots sold at auction over the twelve-month period and his market was all the more robust for covering practically all price ranges.
While the average value of a painting by ZAO Wou-Ki (1921-2013) (3rd in our 2019 general ranking) is around $4 million, that of his drawings is around $100,000 and that of his prints is about $5,000. The circulation of a large number of works (60 paintings, 40 drawings and 330 prints were sold last year) favours the broad geographical distribution of Zao Wou-ki's work and the stability of his market: the estimates are less arbitrary and the price progression is more gradual. This does not however prevent long-term value accretion since Zao Wou-Ki's price index has risen by +1,040% since the year 2000.
The most powerful auction houses on the planet are also those that offer the highest number of works. Thus, Christie's has established itself as the leading auction house both in terms of turnover and in terms of lots sold. In 2019 it hammered five results above $50 million, all in New York, but half of its transactions fetched sums below $20,000. Its activities are now spread over nine cities spanning three continents: New York (56%), London (25%), Hong Kong (10%), Paris (7%), Shanghai (1%), Amsterdam, Dublin, Zurich and Dubai (1% of turnover together).
Top 15 auction houses by auction turnover – 2019
Auction Houses
Auction Revenue ($)
Sold Lots
1
Christie's
3,647,885,000
15,320
2
Sotheby's
3,589,239,300
14,134
3
Poly Auction
617,015,000
4,575
4
China Guardian
587,802,200
8,659
5
Phillips
583,821,200
4,613
6
Holly's International
203,296,300
1,323
7
Xiling Yinshe Auction
186,202,300
3,941
8
Bonhams
170,108,700
8,729
9
Rombon Auction
150,324,600
2,901
10
Council International
108,069,000
1,209
11
Artcurial
104,392,300
3,588
12
Beijing Hanhai
74,993,400
4,122
13
Dorotheum
71,249,200
4,692
14
Sungari International
69,741,700
1,459
15
Ketterer Kunst
61,927,000
1,586
© Artprice.com © AMMA
The United States (35%) ahead of China (31%)
The two major Anglo-Saxon marketplaces both posted a similar contraction of approximately one fifth of their value: the United States was down 22% and the UK was down 21%. In effect, 2019 reversed the growth recorded a year earlier: +18% for the United States and +12% for the United Kingdom in 2018. The two marketplaces both enjoyed transaction growth; but the high-end market was less dynamic in both countries.
In the English capital, 353 lots fetched beyond $1 million in 2019 versus 415 the previous year. London got off to a good start in March 2019 with the sale of David Hockney's painting Henry Geldzahler and Christopher Scott for almost $50 million. But it remained the UK's best result for the rest of the year.

 Pan Tianshou – Pine after rain (初晴)
$29,300,000 – 18 November 2019 – China Guardian Beijing
Pursuing a process that started five years ago, the Chinese art market – the world's second largest national art marketplace – is continuing to restructure. Its overall turnover contracted -9% versus -12% in 2018. Art sales on the continent remained extremely dynamic in terms of lots offered (134,500) but only 44% of them found buyers, compared with an average of 66% in the rest of the world. Among the world's top ten auction houses, six are only active in China, while the other four (Christie's, Sotheby's, Phillips and Bonhams) all organise sessions in Hong Kong.
The Hong Kong marketplace remained extremely solid throughout the year: 7,400 lots sold for $1.37 billion, confirming the historic performance of 2018 ($1.38 billion). The power of the Hong Kong marketplace is based on particularly competitive demand, as capable of establishing new world records for great Modern masters as for recognised Contemporary artists: Sanyu's Five nudes (1950) fetched $39 million while Yoshitomo Nara's Knife Behind Back (2000) reached $25 million, and Kaws' The Kaws album (2005) sold for $14.8 million.
In 2019 France took a much stronger 4th place in the global ranking of national art marketplaces by simultaneously posting the best turnover progression of the year (+18%) and its best-ever annual auction total: $827 million from 82,000 lots sold. This historic performance received strong impetus from four results above the $10 million threshold (twice as many as in 2018) for works by Nicolas de Staël, Cimabue, Pierre Soulages and Paul Gauguin, all hammered in the second half. The arrival of prestigious international galleries in Paris, including David Zwirner in October, attests to a repositioning of France, and continental Europe, on the Art Market's global chessboard.
Geographical breakdown of 2019 sales turnover
Auction Revenue ($)
Sold Lots
Best Result ($)
United States
4,613,929,700
99,095
110,747,000
China
4,101,689,400
66,106
38,850,000
United Kingdom
2,175,511,300
70,319
49,561,790
France
826,633,100
82,016
26,777,270
Germany
268,010,300
45,741
3,535,930
Italy
207,755,200
30,436
3,055,400
Japan
110,644,500
14,559
1,265,830
Switzerland
104,839,500
9,862
3,428,320
Autria
99,364,700
6,985
1,969,000
Australia
74,476,700
13,939
1,302,650
Poland
69,364,800
8,182
2,088,470
Czech republic
58,464,900
6,013
3,579,190
India
57,491,000
1,845
3,785,610
Canada
55,883,600
12,256
6,881,060
South Korea
54,875,000
1,074
1,632,140
© Artprice.com © AMMA
Stable prices over twelve months: up 0.48%
Among the 550,000 auction results gathered by Artprice and AMMA in 2019 there were plenty of highly profitable financial transactions. For example, Daniel Buren's Peinture acrylique blanche sur tissu rayé blanc et rouge fetched $357,500 in London after being acquired in Paris in 1997 for $3.500. And a work on paper entitled Wisteria by Lin Fengmian reached $1.3 million last year in Hong Kong compared with an acquisition price of $28,000 in 1993 in New York.
However, other results were not so positive. A small ink drawing on paper Nu au collier signed Georges Rouault, was resold for $19,000 in June 2019 at Christie's in London, despite being purchased for $403,000 in the same auction room in 1988 during the speculative bubble on Impressionist and Modern Art largely driven by Japanese collectors. In Contemporary Art, Vik Muniz's work Still, After Cindy Sherman (From Pictures Of Ink) was resold for $4,400 by Sotheby's in July 2019 as part of an online sale, although it had previously fetched over $26,000 in 2005 (New York) and $40,000 in 2011 (London).
All in all, art prices (all periods of creation combined) rose very slightly in 2019: +0.48%. The Contemporary Art price index recorded the best increase: +4.4% over twelve months, a progression that is reabsorbed if we look at the longer-term figures. The Contemporary Art price index was more positive in the second semester of the year… while Sotheby's withdrew its BID shares from the New York Stock Exchange.
Artprice's Contemporary Art Price Index vs. Sotheby's share price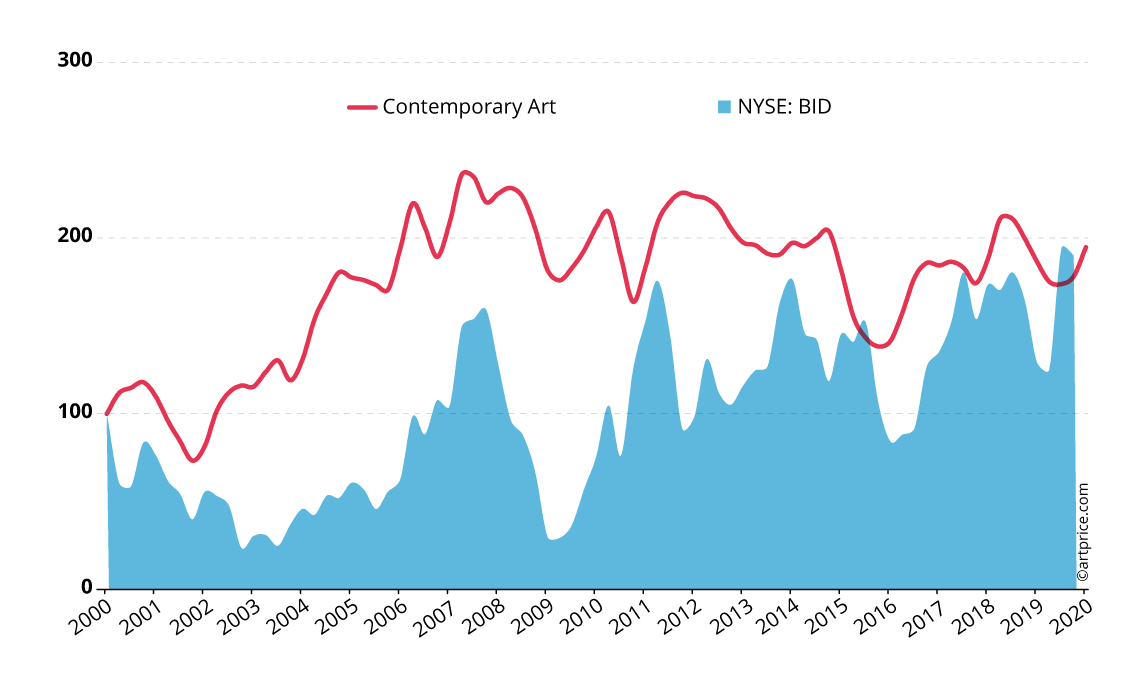 Contemporary Art turnover multiplied by 20 in twenty years
The segmentation of Art History into 'periods of creation' helps us to highlight the main mechanisms underlying the evolution of the Art Market and, more specifically, the fundamental differences in terms of supply and demand between the oldest and the most recent periods.
Representing 14% of China's Art Market, the Old Masters segment only accounted for 3% of the total value of New York's art auctions. In general, Old Masterpieces rarely fetch more than $10 million in the West, although there are of course exceptions: in 2017 Leonardo da Vinci's Salvator Mundi alone generated 3% of the year's total proceeds from art auctions around the world… and in the second half of 2019, a couple of provincial auctioneers in France made art news headlines thanks to a couple of extremely rare discoveries that attracted the world's biggest collectors and most prestigious museums.
Modern and 19th Century Art share a common problem: how to meet demand, particularly for museum-quality works. Every year, the major auction houses manage to offer one or two masterpieces by Pablo Picasso, Amedeo Modigliani and Claude Monet. But these two segments (Modern and 19th Century Art) have probably reached a limit in terms of supply,  and collectors are gradually turning to signatures they had somewhat neglected, such as Gustave CAILLEBOTTE (1848-1894), who last year generated two results around $20 million.
The Post-War and Contemporary Art segments together do not yet account for 40% of the global Art Market, but it probably won't be long before they do. The American Market stands out for the extraordinary performances of the major representatives of Abstract Expressionism and Pop Art, while the UK and Chinese markets are more focused on Contemporary creation. In fact the preferences of Chinese collectors are ultimately not significantly different from those of their Western counterparts. The substantial interest in Old Masters in China represents a similar market share to that recorded in France – around 15% of total art auction turnover – and the dynamism of China's Contemporary Art market is similar to that which drives the UK art market.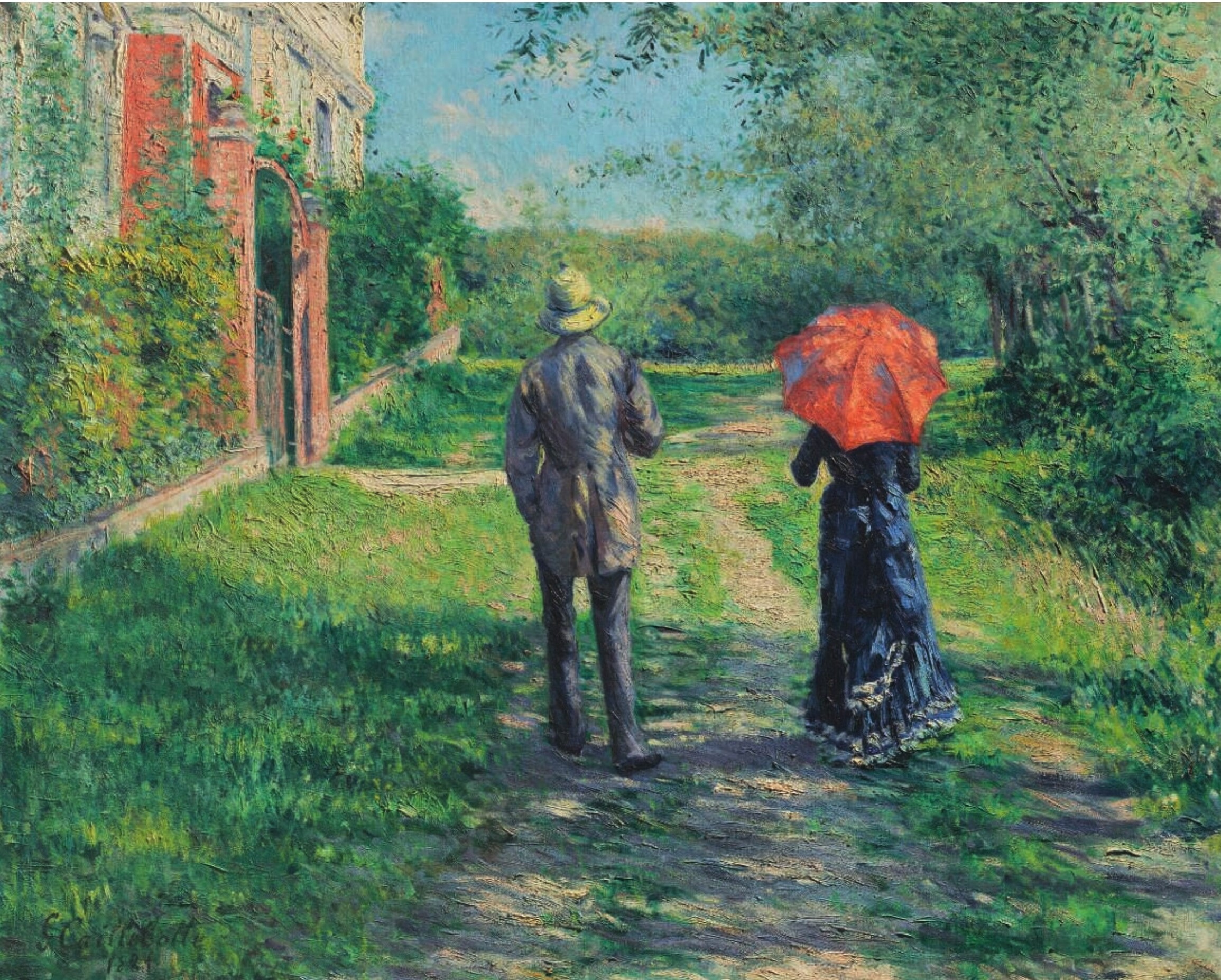 Gustave Caillebotte – Chemin montant (1881)
$22,160,700 – 27 February 2019 – Christie's London
Table of contents
Global assessment: strong and flexible demand