African artists breaking through
After 20 years of more or less successful attempts, African creation is finally capturing the hearts and minds of international collectors. A new era is starting for Contemporary African art which has now established firm outlets in places like Venice and New York.
In the Africa and Diasporas chapter of our previous Contemporary Art Market Report (2017/2018), we took stock of the extraordinary growth of Afro-American and Afro-British art, led notably by Kerry James MARSHALL, Njideka Akunyili CROSBY, Adam PENDLETON, Toyin Ojih ODUTOLA, Yinka SHONIBARE, Hurvin ANDERSON and Henry TAYLOR. This year, our focus is on artists who actually live on the African continent, whose prices are less flamboyant, but whose work is increasingly subject to international demand.
Multiplied by 10 in 20 years
Twenty years ago, Sotheby's sold a selection of African works from Jean Pigozzi's famous collection (24 June 1999, London). The sale marked a turning point, as it was the first big sale organized by a major international company. The price of the works was low (not more than $18,000), but almost all the lots sold (88%).
20 years later, Sotheby's turnover on African art sales has grown tenfold and its Modern & Contemporary African Art sale in April 2019 generated a total of $3 million from a similar number of lots, implying a very sharp rise in prices.
Demand is at last taking root…
It has taken roughly twenty years for collectors to get used to the idea of buying works by African artists. During this period specialised African Art sales tended to produce depressing ratios: 60% unsold at Bonhams in London in 2010… 74% unsold for Artcurial Paris the same year… 72% unsold at Bonhams' Africa Now sale in 2016 … Nowadays, the unsold rates fluctuate between 25% and 45%.
The trend appears to have improved roughly two years ago, when Sotheby's Modern and Contemporary African Art Department opened in London. Since the first session of 16 May 2017 (sold rate of 79%, turnover total of $3.6 million), the company has hammered more than 60 new auction records for African artists. This success has been driven by a handful of new stars of the market, including El Anatsui, the second African artist to have won a Golden Lion at the Venice Biennale (2015) after Malick Sidibé (2002).
A window in Venice
African artists are again highly visible in Venice this year with El Anatsui not the only one attracting attention. His work accompanies works by Ibrahim Mahama, Felicia Abbas, Lynette Yiadom-Boakye, John Akomfrah and Selasi Awusi Sosu at the first Ghanaian pavilion of this unavoidable biennial art fair. Africa has never had such good exposure in Venice, with representations from seven of the continent's 54 countries.
The strong Venetian presence helps to broaden the circle of international admirers and collectors. Since he was awarded a Golden Lion in 2015, El ANATSUI has enjoyed two new 7-digit results. Similarly, after Malick SIDIBÉ won the same prize in 2002 there was an acceleration of transactions and a significant growth of his annual auction turnover from $5,000 to $44,000 between 2006 and 2007. Since the beginning of this year, the Malian photographer (Sidibé died in 2016) has a new auction record at $87,500 for an installation of 38 photographs sold at Swann Galleries in New York on 21 February 2019.
The Venice Biennale acts as a catalyst. It influences the behavior of buyers by ensuring the international visibility of the artists. Likewise with the proliferation of major exhibitions and fairs dedicated to African art, such as the rapid development of the 1:54 art fair launched by Toura El Glaoui in London (2013), then in New York (2015) and in Marrakech (2018). The internationalization of the Contemporary African scene is making it possible to attract a loyal and growing audience.
Top 10 Artworks by Contemporary African artists (July 2018 – June 2019)
Artist
Artwork
Result
Auction
Auction house
1
Chéri SAMBA (b. 1956)
J'aime la couleur (2005)
$122,554
2 Apr. 2019
Sotheby's, London
2
Chéri SAMBA (b. 1956)
L'attachement aux racines (2010)
$116,519
15 May. 2019
Piasa, Paris
3
Eddy Ilunga KAMUANGA (b. 1991)
Palm (2016)
$106,213
2 Apr. 2019
Sotheby's, London
4
YÉANZI (b. 1988)
Tokoos 3 (2018)
$99,340
14 Nov. 2018
Piasa, Paris
5
Chéri SAMBA (b. 1956)
Prix Nobel de l'Amour (2004)
$90,302
15 May. 2019
Piasa, Paris
6
Aboudia Abdoulaye DIARRASSOUBA (b. 1983)
Carnet de voyage (2011/12)
$78,650
15 May. 2019
Piasa, Paris
7
Ian MWESIGA (b. 1989)
The telephone call (2018)
$68,774
14 Nov. 2018
Piasa, Paris
8
Chéri SAMBA (b. 1956)
Le debut de Cheri Samba (2001)
$59,353
20 Mar. 2019
Bonhams, London
9
Chéri SAMBA (b. 1956)
J'aime la couleur (2003)
$57,707
20 Mar. 2019
Bonhams, London
10
Aboudia Abdoulaye DIARRASSOUBA (b. 1983)
Sans titre (2015)
$53,490
14 Nov. 2018
Piasa, Paris
© Artprice.com
Chéri Samba and Chéri Chérin
Today, the most in-demand artist at sales of African Contemporary Art is Chéri SAMBA. In fact, half of the top 10 results from these 'specialised' sales belong to him. The artist has generated bids above $100,000 in London and Paris, the two primary hubs for this segment. With Cheri Samba's auction results going back some thirty years already, we can follow cases of successful resales. At Sotheby's 1999 Pigozzi sale, his Une vie non ratée fetched $14,500. It was subsequently resold in May 2017 for $68,000 (Une vie non ratée (A Successful Life) Sotheby's London), i.e. a 369% increase value in less than 20 years.
A series of recent results obtained for Chéri CHÉRIN are equally indicative of the upward trend: in November 2018 one of his paintings reached $30,000 against an estimate below $10,000 at Piasa (Paris). Another work, estimated $5,000 at Bonhams, was hammered down at $36,000 last March.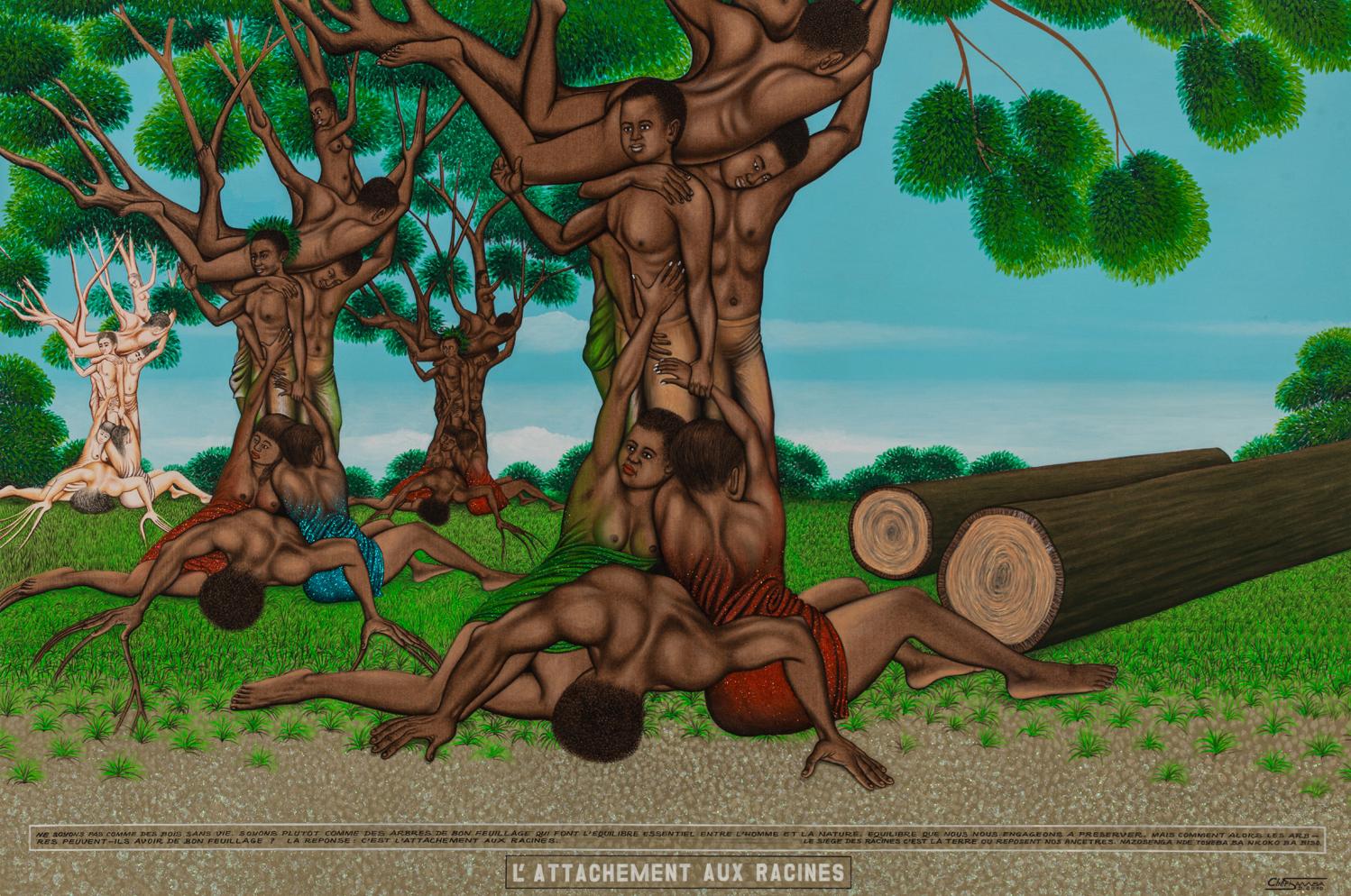 Cheri Samba – L'attachement aux racines (2010)
Acrylic and glitter on canvas, 135 x 200 cm
© Chéri Samba
$116,500, Piasa, Paris, 15 May 2019
London and Paris… and of course, New York
While New York is contributing to the sharp value accretion of African-American art, Paris and London are focusing on Contemporary Art from the African continent. Specialised sales – Bonhams and Sotheby's in London, Piasa and Artcurial in Paris – now attract good audiences. More than encouraging, the results from these sales are excellent with new records constantly being hammered and sales totals constantly growing.
x 4
The combined result of Paris and London has risen from $7.6 million between 2014 and 2016 to $27.9 million between 2017 and 2019. The auction turnover from sales of Modern and Contemporary African Art has almost quadrupled.
+ 260%
On 15 May 2019, the Parisian auctioneer Piasa recorded a new record total for a sale of African Contemporary Art at $1.455 million. The total was up 260% compared to November 2016.
x 3
Revealed by the Saatchi Gallery in 2015, the young Eddy Ilunga KAMUANGA (1991) is the figurehead of new Congolese painting. Last April, Sotheby's sold his Palm (2016) at triple its low estimate. The artist's new record is now $106,000.
16%
Bonhams' Africa Now sale (10/2018) now represents 16% of its turnover on Contemporary Art (2018/2019). This is the highest share for any international auction operator.
Specialised sales of African Art: London dominates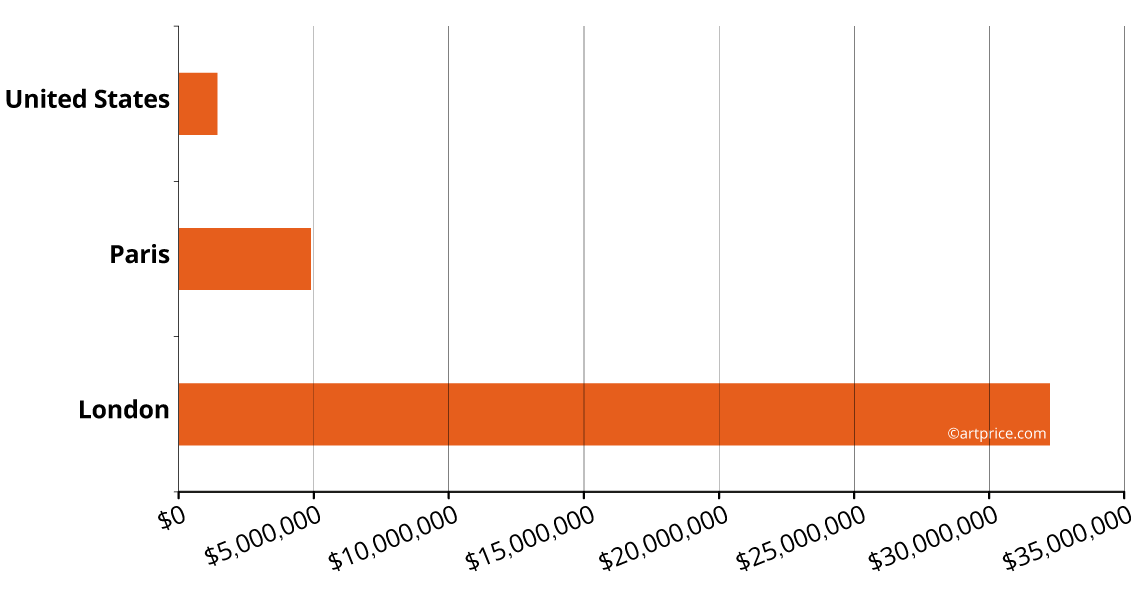 In London, Sotheby's is a strong competitor for Bonhams. In just two years of activity in the African Art specialty, Sotheby's is already posting better results than Bonham's (despite the latter's ten-year lead) with two sessions each generating more than $3 million, while Bonhams has peaked at $2.9 million since May 2016.
Sotheby's recent success suggests that there are enough collectors sufficiently motivated to absorb at least two specialised sales a year in the UK. Department specialists speak of a real "explosion of interest in African Modern and Contemporary Art"… an "explosion" that should soon be felt in New York…
Bonhams has just exported its African Art sales to the United States, organizing a first New York sale on 2 May 2019 when the 1:54 fair was in full swing. This first sale took in $1.4 million, with six works selling above $100,000 under the signatures of Ben Enwonwu, Irma Stern, Demas Nwoko, Alexander Skunder Boghossian, Papa Ibra Tall and Nelson Mandela. This move by Bonhams represents a decisive step for the future of this market, with New York being an essential springboard for the conquest of new international collectors.
Contemporary African Art has also made a remarkable entry to the New York MoMA thanks to Jean Pigozzi. The biggest known collector of African Contemporary Art (more than 10,000 works) donated 45 works of sub-Saharan art to the prestigious museum this summer (July 2019). Works by Frédéric Bruly Bouabré, Seydou Keita, Romuald Hazoumé, Moké and Chéri Samba have been integrated into the redevelopment of the American museum's permanent collection.
The French auction market is a good springboard for young African artists whose prices are evolving rapidly. Numerous records have been recorded since May 2018, especially for the Angolan Cristiano MANGOVO (nearly $37,000), the Ugandans Ian MWESIGA ($53,000) and Joseph NTENSIBE ($43,700), the Central African Dieudonne Sanna WAMBETI ($22,000) and the Congolese Aboudia Abdoulaye DIARRASSOUBA ($78,600). The works of several artists, including YÉANZI and ANJEL fetched well over ten times their estimates at their auction debuts.
Collectors are ready to engage in serious bidding battles to obtain the works they consider the best, including by novice artists on the secondary market whose prices have not yet been constructed. Market enthusiasm of this nature is even more worthy of mention considering how rare it is on the Paris market, contrary to the rapid breakthroughs regularly observed in New York. The strong buyer enthusiasm is injecting significant momentum into the African Art segment and new oxygen into the Contemporary Art market in general. However, a trend that started in Paris is very likely to be much more noticeable in New York, very soon.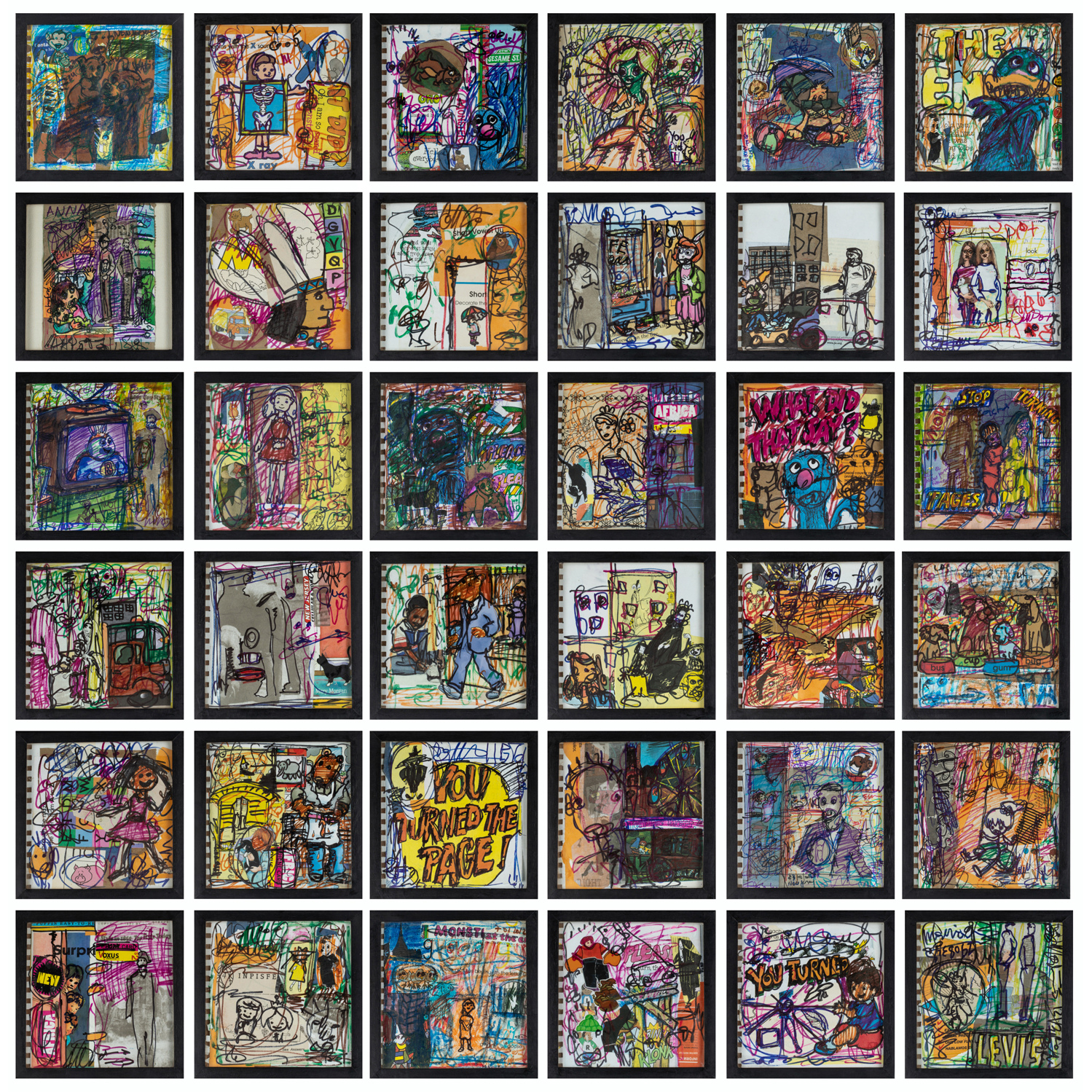 Aboudia Abdoulaye Diarrassouba – Carnet de voyage (2011/12)
Drawings (36), 15 x 15 cm (each)
© Aboudia Abdoulaye Diarrassouba
$78.650, Piasa, Paris, 15 May 2019
Table of contents
African artists breaking through