The geo-politics of the Contemporary Art market
The USA remains the market's primary growth engine although the Asian market is growing and diversifying, led by Hong Kong, which is building bridges between Asia and the West.
USA: 39%
In 2018/19, the US market excelled turning over $724.5 million, up 18% compared with its already good performance of the previous year. New York accounted for 95% of the US Contemporary Art market generating 17 times the turnover of Paris and three times that of Hong Kong or Beijing. This gap is almost entirely due to the high values attributed to a handful of American artists who generate the most lucrative transactions.
In short, the power of the American Contemporary Art market relies heavily on a very small number of artists. Five signatures, Jean-Michel Basquiat, Koons Jeff, Kaws, Christopher Wool and George Condo, constitute the core of its high-end market. The cumulative value of their results ($485.5 million in 12 months) represented a quarter of global Contemporary Art market auction turnover.
The United States not only generates the most expensive works (with 46 of the world's 100 best results), it also represents the densest market (with nearly 17,000 lots offered) and enjoys an excellent balance between supply and demand (with an unsold rate of 25%, well below the global average of 39%).
Geographical distribution of Contemporary Art auction turnover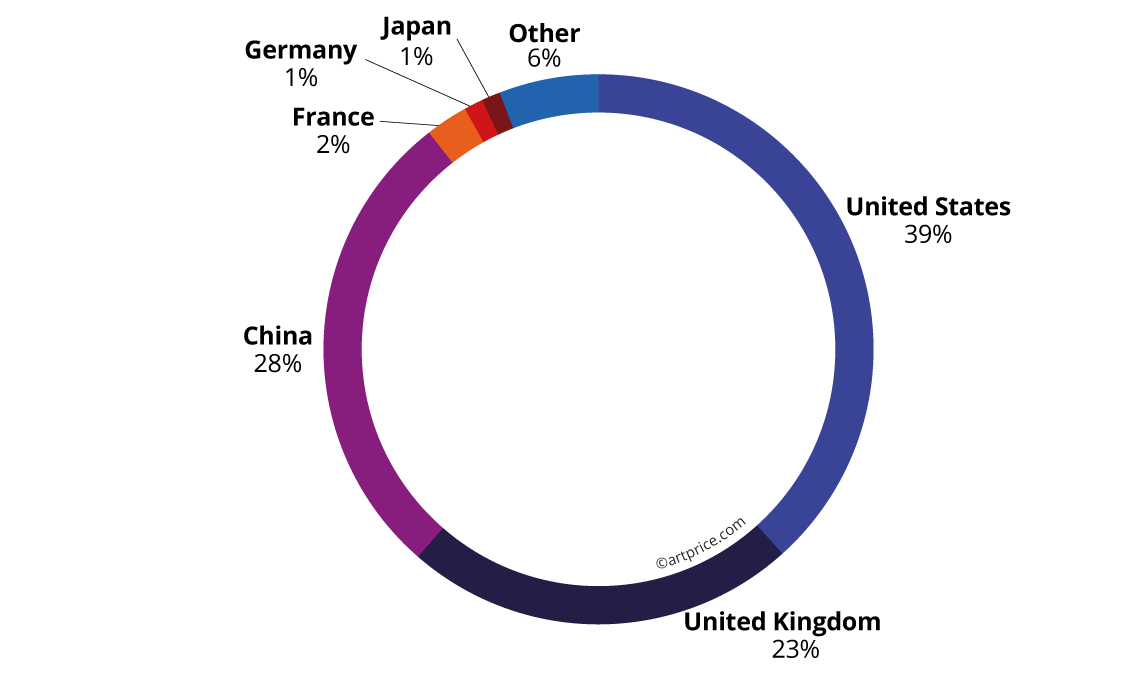 No less than 106 Contemporary works generated results above the million-dollar threshold in the US compared with 81 in the UK and none in Europe… This American supremacy is explained, on the one hand, by the fact that American artists are extremely well supported by their domestic market, and, on the other hand, by the fact that the best European works are sold mainly in New York. In sum, the market's high-end offer is still concentrated on New York (and London) despite the increasing dematerialization of auctions and the ability to bid online.
The 'world capital' of prestige sales, New York is also home to the most prestigious galleries on the planet whose influence and exhibition areas are continually growing. The Zwirner Gallery is preparing to open its fourth space in New York and the Pace Gallery has announced, for 2020, the opening of an eight-story space with a surface area of 7,000m² (over 75,000ft²), i.e. substantially larger than the Whitney Museum (with just 4,500m² of exhibition space). In short, these galleries offer museum spaces to the artists they 'launch' to fame.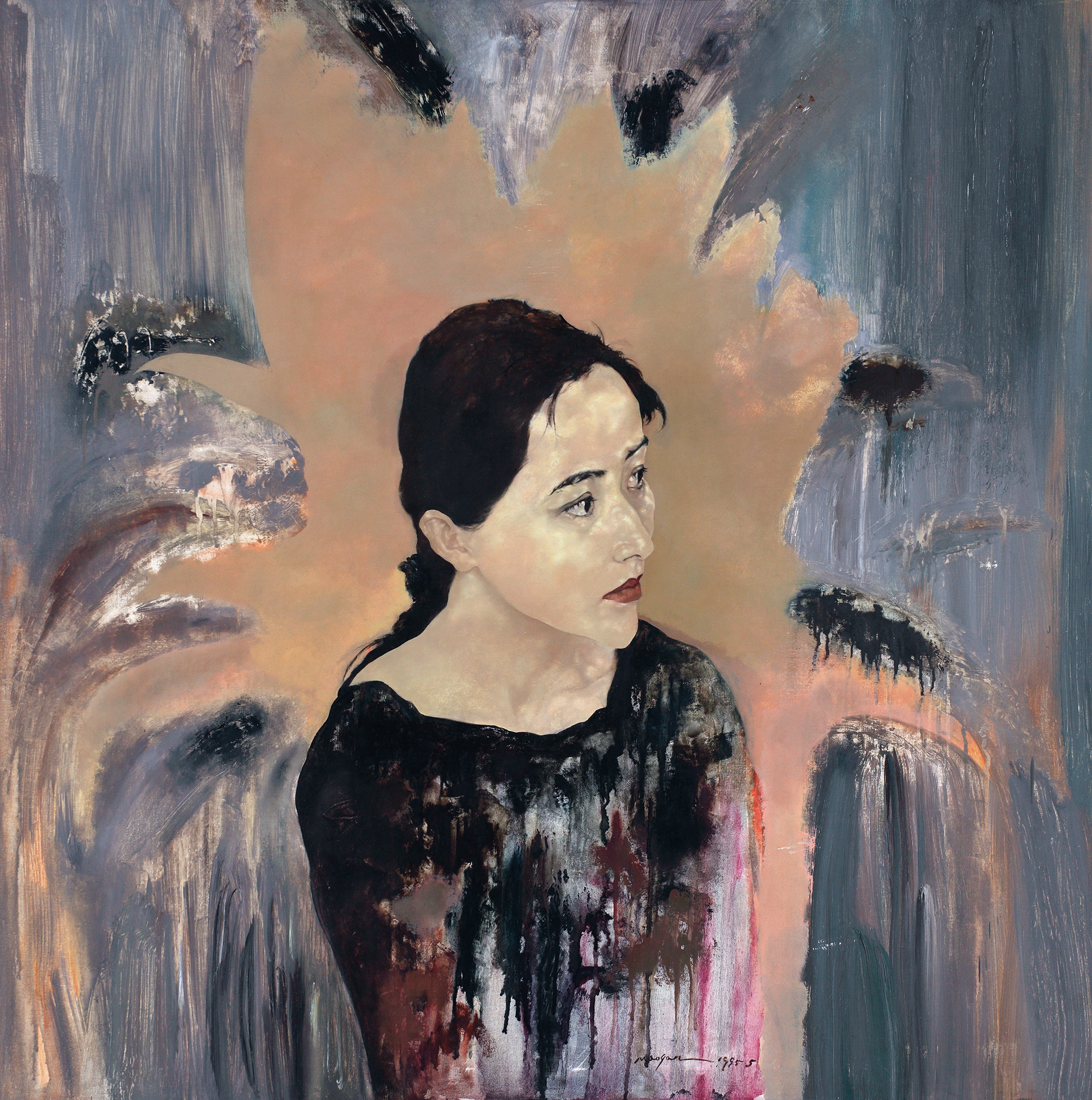 Mao Yan – Portrait (女子肖像) (1995)
Oil on canvas, 99 x 99 cm
© Mao Yan
$676,400, Poly Auction, Hong Kong, 31 March 2019
Asia: 29%
Despite the slowdown in China's auction turnover from the Contemporary Art segment (-13%), Asia remains the second largest global power thanks to the development of an increasingly international and prestigious Hong Kong market.
↗ Hong Kong
Hong Kong accounts for nearly half (46%) of the Contemporary Art market in Asia and 14% of the global market. The city's exceptional performance in 2018/19 – up 56% – put it ahead of Beijing. Hong Kong is now the third most dynamic city in the world after New York and London for Contemporary Art auction sales. It relies heavily on the growth of the Contemporary Art sector, which represents 21% of its overall Fine Art turnover, compared with 16% in the United States and only 8% in France.
Increasingly prestigious and global, Hong Kong's offer now competes with London and New York. Prices are rising for the big-name American and European artists, driven by the increasing involvement of Western collectors and by Asian buyers wishing to diversify their collections.
The latest auction records for several Western artists were hammered in Hong Kong last year, the most impressive of which was that for KAWS. Adored in the West and in Asia, the artist scored a new record of $14.8 million for a work that fetched 15 times its high estimate at Sotheby's Hong Kong. The same auction house also renewed the personal auction records for Julie MEHRETU  with a result of $5.6 million at double its high estimate for Black Ground (Deep Light), for Yayoi KUSAMA with a result of $8 million for Interminable Net #4, and for the American artist Mark GROTJAHN with a result of $3.4 million for Untitled (Yellow White Butterfly).
The attractiveness of Hong Kong has convinced the Chinese auction operator Holly International to expand its activities. Established in Guangzhou since 1994, Holly International organized it first-ever sales in Hong Kong in May 2019 (7 in total), during which a new auction record for British sculptor Tony CRAGG was hammered at $947,000.
The former British colony – where no taxes are levied on art imports and exports – is fully exploiting its role as an international platform for trade in goods and art, and each year it is consolidating bridges between the East and the West.
Hong Kong, the leading marketplace for Contemporary Art in Asia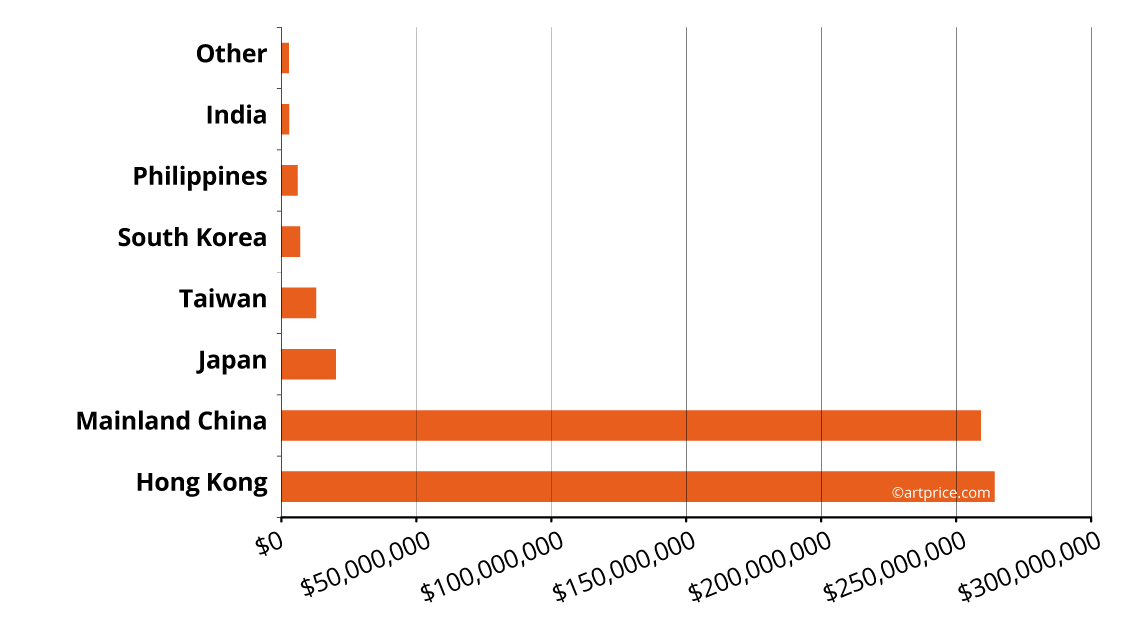 ↗ Japan
Japan represents another important marketplace in Asia and in 2018/19 it posted a 38% increase in auction turnover from Contemporary art, reaching a total of approximately $20 million and giving the country 7th place behind Germany. Since Tokyo collectors are avid consumers of Contemporary Art, the number of transactions is accelerating in the megacity, with 2,700 Contemporary works sold in the 12-month period compared with 2,000 the previous year. Tokyo is now the 5th largest city by sales volume, just behind Beijing. The Japanese market is carried by a number of internationally marketed stars, including Yayoi Kusama (born in 1929), Yoshimoto Nara (6th in the top 500) and Takashi Murakami (3rd best-selling Contemporary artist with a total of 594 lots sold in 2018/19). It is also growing thanks to Tomoo GOKITA and Ayako ROKKAKU, two of the most prominent artists on the international scene. Increasingly in-demand in New York (which generates 37% of his turnover versus 17% in Japan), Tomoo Gokita scored his first million-plus auction result in May 2019 at Phillips for a work estimated between $250,000 and $350,000 (Be Just Like Family, 2015). Spearhead of second-generation Kawaii (Japanese Pop), Ayako Rokkaku, a young protégé of Murakami, is enjoying tremendous success that is primarily benefiting the Japanese market (75% of his turnover since 2018). His price index has risen 760% over the past decade.
↘ Taiwan
In January 2019, Taiwan launched a new fair, Taipei Dangdai, whose first edition displayed an impressive level of professionalism. The tenors of the Western art market (Gagosian, David Zwirner, Hauser & Wirth and Thaddaeus Ropac) rubbed shoulders with their Asian counterparts Kukje (South Korea) and Tina Keng (Taiwan). These galleries have made a strategic choice knowing that the small island of 36,000 km² hosts 521,000 millionaires for just 23 million inhabitants (Credit Suisse 2018 Global Wealth Report). According to Kevin Cheng, Managing Director of Sotheby's Asia and responsible for the company's strategic expansion in the region, "Taiwan is a market in its own right, as important as mainland China and Hong Kong". However, for the time being, the islands turnover has significantly slowed down (-29%) generating a total of just 12,8 million. Taiwan's collectors seem to be more active in Hong Kong, where the offer is more stimulating.
↘ Singapore
The most dramatic slowdown in Asia has been in Singapore, where auction turnover on Contemporary Art is down 64% on the previous year. It reached just $655,000 from 95 lots sold in 12 months. The deterioration appears to have anticipated the contraction of the Singaporean economy in the second quarter of 2019, hit by the trade war between the United States and China. The year had already started badly with the cancellation of Art Stage Singapore a few days before it opened. The fair had previously suffered a significant decline in the number of exhibitors from 170 galleries in 2016 to 40 registered in 2019. Ranked 4th in the world for GDP per capita (IMF's 2018 World Economic Outlook) and ranked ahead of Tokyo and Hong Kong among Asia's richest cities (according to Knight Frank's 2018 City Wealth Index), the Southeast Asia hub is suffocating. The promise of a new fair, Art SG, has been postponed until 2020. One of its directors is none other than Magnus Renfrew, head of ART HK, Art Basel Hong Kong and Taipei Dangdai fairs. Art SG could provide new impetus to art trading in Singapore. In the meantime, the Singaporean auction market is clearly suffering from excessive competition from Hong Kong and Beijing.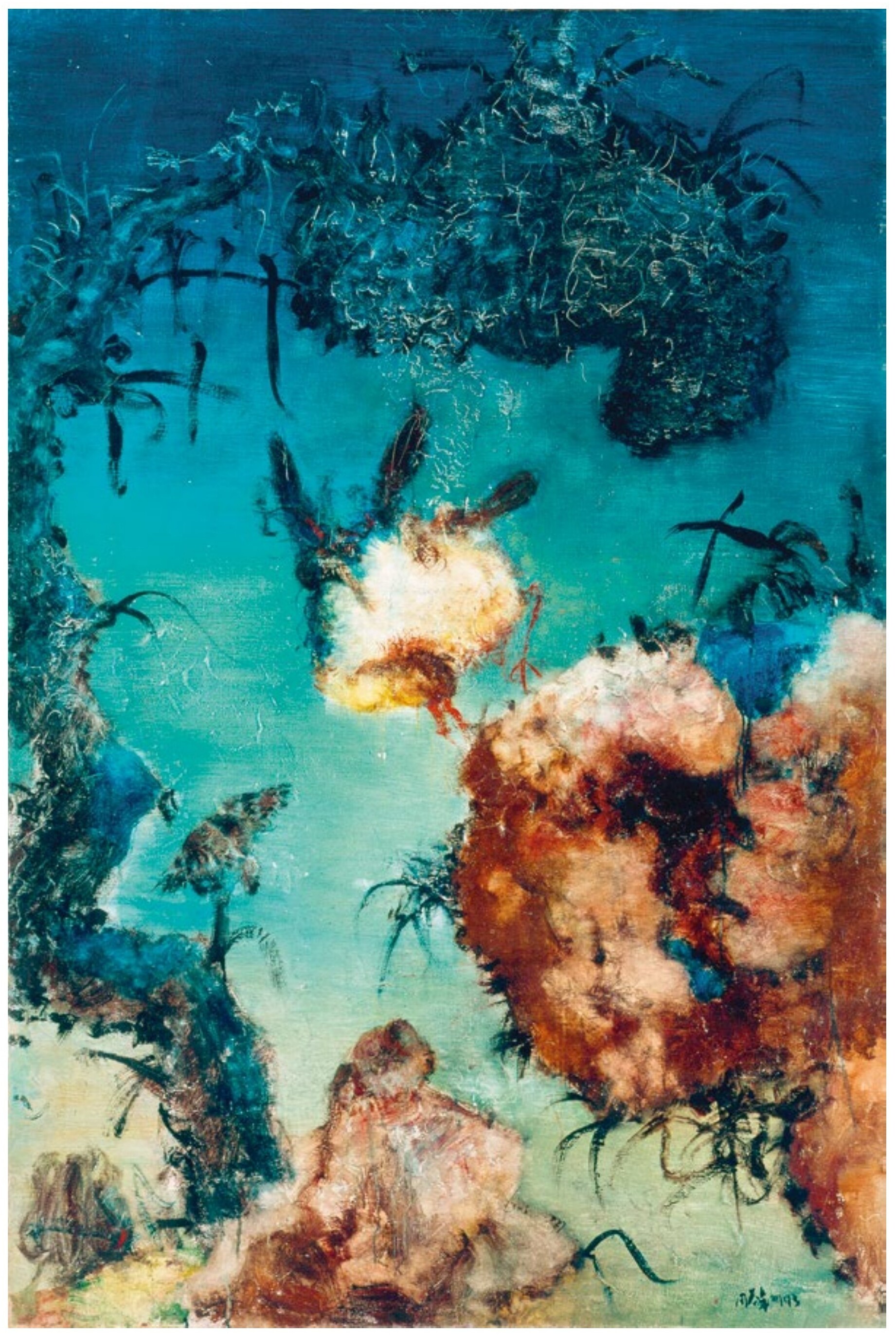 Zhou Chunya – Chinese Landscape (中国风景) (1993)
Oil on canvas, 194 x 130 cm
© Zhou Chunya
$6.1 million, China Guardian, Beijing, 21 November 2018
United Kingdom: 23%
In 2018/19, the UK accounted for less than a quarter of the global Contemporary Art market, compared with 30% the previous year. Its performances considerably contracted in recent months leading to a total turnover for the 12-month period of $435 million compared with $543 million in 2017/18 (-20%) and ending the period $300 million behind the US market.
Nevertheless, the low unsold rate (32%) and the vitality of the high-end market are reassuring indicators. All in all, the UK has resisted the Brexit uncertainties relatively well with 81 auction results above the million-dollar threshold, five fewer than last year, but 28 more than two years ago.
With a total turnover 10 times higher than the French total ($43.9 million) and 20 times higher than the German total ($21 million), the UK retained its dominant position, especially for the sale of major European signatures. London is where the German artists Albert OEHLEN and Martin KIPPENBERGER get their best annual auction results. It also generates significant results for Adrian Ghenie and Peter Doig, as well as for American stars like Basquiat, Grotjahn and Wool. The French artist Daniel BUREN also fared well in London with his Peinture acrylique blanche sur tissu rayé blanc et rouge (1972) fetching $316,000 seven months before his latest record hammered at Christie's in New York ($2.17 million) for Peinture aux formes indéfinies (15 May 2019).
United Kingdom: auction house shares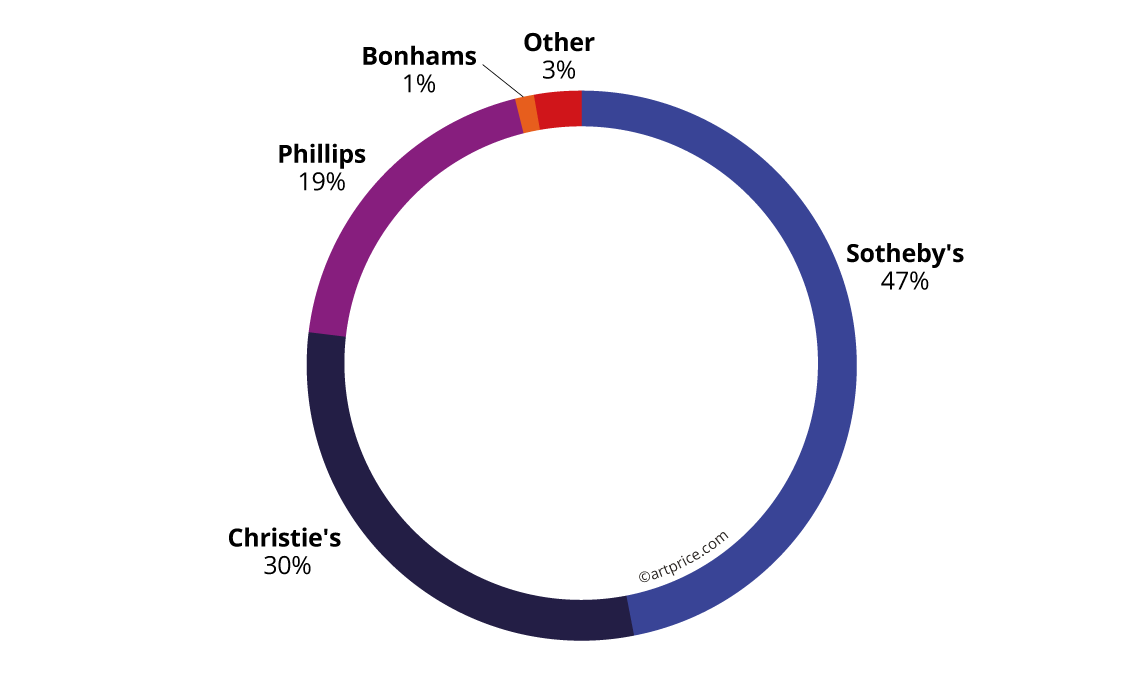 As big ticket artworks are generally sold in the global market's most powerful countries, the United States, the United Kingdom, Hong Kong and China (with Beijing) account for 89% of global Contemporary Art auction turnover (from 39% of the total lots sold). Compared with these totals, Europe's performances look very meagre. France represents 2.3% of the global Contemporary Art auction market (which still gives it 5th place). Germany represents 1.1%, Italy 0.6%, Austria 0.4%, Belgium and Poland 0.3% each.
2.3% France
Social protest movements have discouraged many tourists and collectors from going to Paris, the capital of the French art market (accounting for 91% of the country's turnover). The confrontational context has impacted gallery visits, without actually harming the success of the auctions themselves. French auction turnover from Contemporary Art did indeed contract (-39%), but it was primarily due to a comparison effect after the exceptional growth recorded the previous year (+81%) thanks to the sale of the Jean-François and Marie-Aline Prat Collection which generated $46.6 million in October 2017 at Christie's Paris.
Again, although France's auction turnover ($43.9 million) on this segment of the art market is just 1/10th of the UK's today, the social context is not to blame. Other underlying phenomena explain the relative weakness. Firstly, French Contemporary artists (unlike their Modern artists) do not export well and are almost completely absent from international sales catalogues. This prevents their prices from rising; there isn't a single French artist in the segment's top 100 auction results of the year. Even France's most valued artists, including Robert COMBAS and Gérard GAROUSTE, are finding it very difficult to get included in foreign auction catalogues.
Secondly, London clearly captures the high-end of the European art market; there wasn't a single 7-digit result in Paris from the Contemporary Art segment in 2018/19. These two facts prevent French Contemporary Art from participating in the game of international Soft Power, despite the esteem enjoyed by certain French artists, like Laure PROUVOST at the Venice Biennale.
The French Art Market may not be particularly high-end and its artists may not have global reach, but it stands out for its density and diversity. The 7,700 Contemporary works sold in the 12 months make France the 3rd country in the world in terms of transaction volumes.
Will Brexit allow Paris to renew its attractiveness with Paris becoming the de facto new European capital of the Art Market when the UK quits the EU? The French capital's repositioning versus London is already underway with powerful gallery-owner David Zwirner opening a new gallery in the Marais district (October). The most influential personality in the art world according to ArtReview, David Zwirner has taken over the former Yvon Lambert space near the Thaddaeus Ropac gallery. The inauguration of his Paris gallery, one year after that of Hong Kong, is directly linked to Brexit, which "changes the game" he told the Financial Times last summer. "After October, my London space will be a British and non-European gallery. I am European and I want a European gallery" (Melanie Gerlis, Financial Times, 11 July 2019).
Other leading galleries like Hauser & Wirth and the White Cube are considering opening Parisian branches. The arrival of these big brands promises to attract major collectors to Paris… however, a significant revival of the French auction market seems less likely.
For the world's two leading auction operators, their Parisian turnover on Contemporary Art is a tiny fraction of their overall business: 1.4% for Christie's and only 0.9% for Sotheby's.
Things will not improve for the French market until its artists are connected to the International Art Market. Years of highly conceptual output have caused French Contemporary Art to lose the favour of international collectors who are more inclined to buy large works on canvas and sculptures, rather than installations.
Top 5 Contemporary Art auction results in London (July 2018 – June 2019)
Artist
Artwork
Result
Date
Auction house
1
Jenny SAVILLE (1970)
Propped (支撑) (1992)
$12,490,600
5 Oct. 2018
Sotheby's, London
2
Jean-Michel BASQUIAT (1960-1988)
Apex (山之巅) (1986)
$10,815,000
5 Mar. 2019
Sotheby's, London
3
Jean-Michel BASQUIAT (1960-1988)
Sabado por la Noche (Saturday Night) (周六晚上) (1984)
$10,635,000
25 Jun. 2019
Christie's, London
4
Peter DOIG (1959)
Buffalo Station I (1997/98)
$9,903,000
5 Oct. 2018
Sotheby's, London
5
Albert OEHLEN (1954)
Selbstportrait mit Leeren Händen (Self-Portrait with Empty Hands) (两手空空的自画像) (1998)
$7,552,000
26 Jun. 2019
Sotheby's, London
© Artprice.com
Top 5 Contemporary Art auction results in Paris (July 2018 – June 2019)
Artist
Artwork
Result
Date
Auction house
1
Anselm KIEFER (1945)
Herr und leander (1990)
$707,500
19 Mar. 2019
Sotheby's, Paris
2
BANKSY (1974)
Kill mom ? (2003)
$707,300
19 Nov. 2018
Artcurial, Paris
3
Jean-Michel BASQUIAT (1960-1988)
Untitled (1982)
$446,000
5 Dec. 2018
Sotheby's, Paris
4
Günther FÖRG (1952-2013)
Sans titre (2007)
$437,200
4 Dec. 2018
Christie's, Paris
5
Günther FÖRG (1952-2013)
Sans titre (2007)
$417,200
5 Dec. 2018
Christie's, Paris
© Artprice.com
Table of contents
The geo-politics of the Contemporary Art market