General synopsis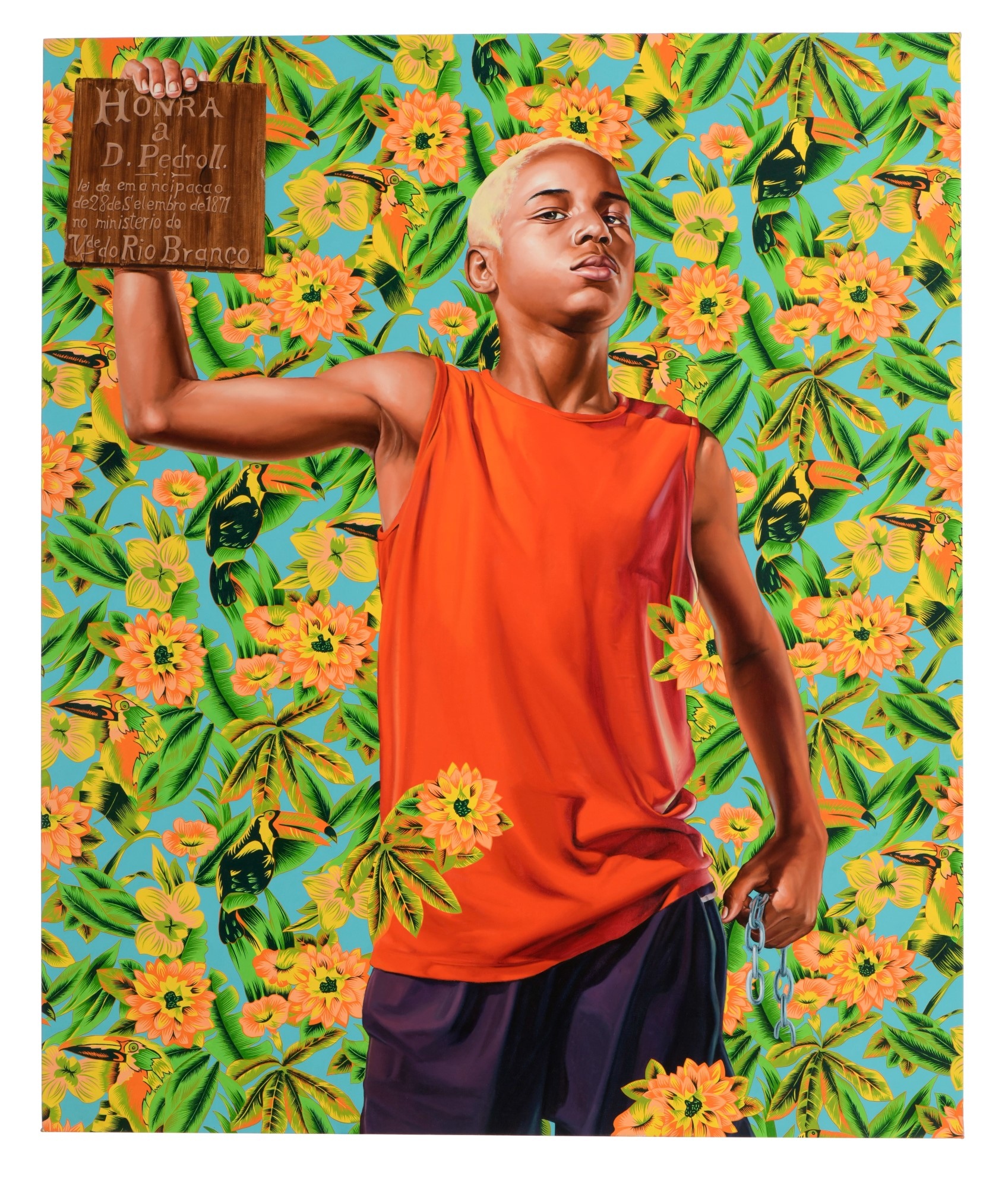 Kehinde Wiley – Alegoria a lei do Ventre Livre (2009)
Oil on canvas, 183 x 153 cm
© Kehinde Wiley
$120,500, Hôtel des Ventes Piguet, Geneva, 22 May 2019
Driven by growing demand, the total volume of auction turnover generated by the Contemporary Art auction segment worldwide has doubled over the past decade with the recent figures showing strong sales right across the segment's price spectrum. 
Key figures
The figures for the 12-month period reveal a mature and dynamic market giving increasing support to living artists while generating its own "classics" with prices at the art market's highest levels.
Global turnover ($1.89 billion) has doubled in 10 years
The United States and Asia account for 66% of the global market
Record number of Contemporary artworks sold (71,400)
21,996 Contemporary artists sold vs. 10,243 ten years ago
Nearly 20,000 new artists records
A stunning new record for a living artist: Jeff Koons reaches $91 million
Sotheby's leads global sales of Contemporary art with turnover of ($623 million)
Only four female artists in the segment's top 100 auction results
Half of the works sold for less than $1,000
Only 3% of the works sold fetched over $100,000
284 new 7-digit results
The segment's global average unsold rate remained stable at 39%
The price index of Contemporary Art progressed 22%
Driven by a new phase of growth in 2018/19, the Contemporary Art market generated $1.89 billion, its third best performance in auction history after totals of more than $2 billion in 2013/14 and 2014/15. One of the most remarkable developments this past year was the record number of lots sold: 71,400, an average of 195 works per day. This total has risen by 131% in the past ten years and by 480% since 2000.
And… as market demand for Contemporary Art has expanded – both numerically and geographically – so its share of the total art market has risen… with its price index posting a 22% increase over the 12-month period in question.
A growing share of the total market
Contemporary Art now accounts for 15% of the global secondary Art Market compared to only 3% in 2000. It is now the third largest period of creation by global auction turnover ($1.89 billion) behind Modern Art (43%) and Post-War Art (24%). Much more dynamic than 19th Century Art and the Old Masters segment, the Contemporary Art market represents a land of inexhaustible discoveries, constantly fueled by new works. In fact, for certain Contemporary artists, their production is running at full capacity in response to an unprecedented level of popularity.
Market share of Contemporary Art vs. other periods of creation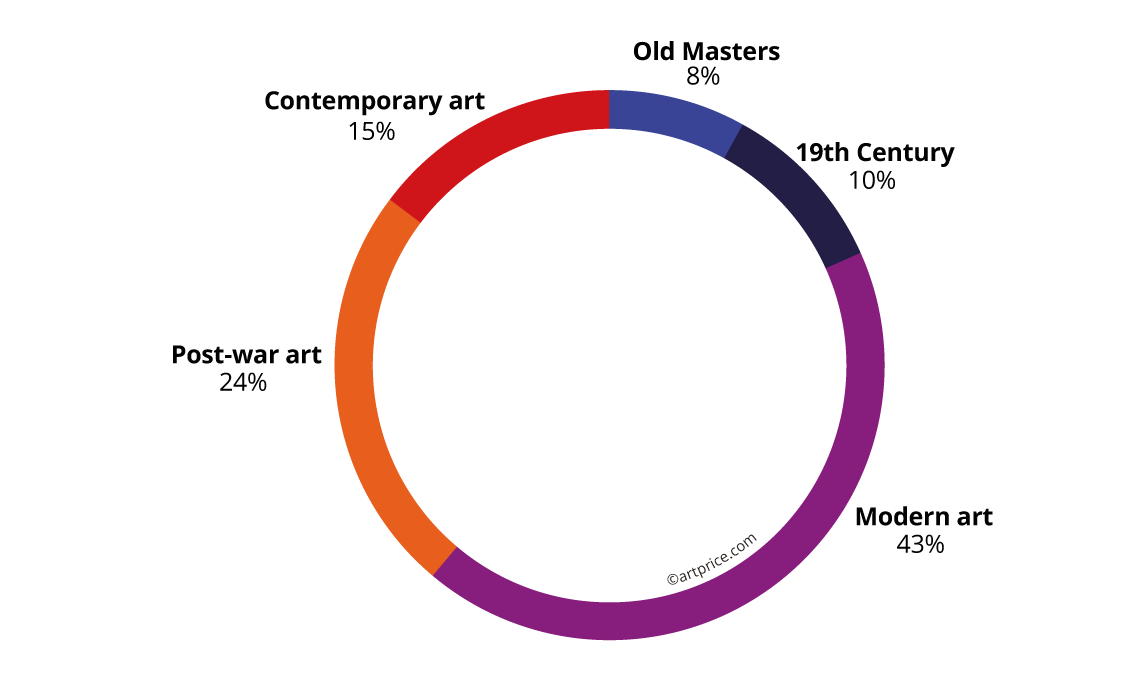 A record year in terms of lots sold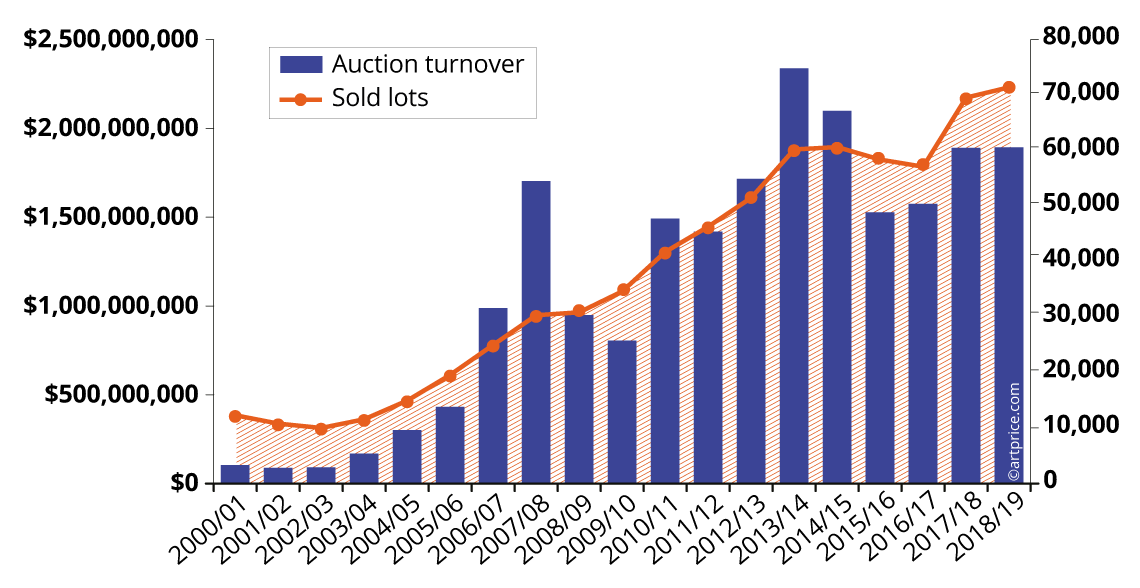 Art by living artists becoming more expensive
The constant growth of the Contemporary Art segment is being driven by a spectrum of different factors including the emergence of a whole new generation of art collectors. This phenomenon may well be responsible for the recent promotion (sharp price increase) of certain works created in the 2nd half of the 20th century to the rank of "classic" masterpieces. We had already seen Post-war & Contemporary Art sales producing better results than Old Masters sales (despite the increasing rarity of the segment's iconic pieces). Now they are producing results equal to, or better than, the results for top-quality Modern masterpieces. We only have to compare the $33 million total hammered on 1 May 2019 at Christie's Old Masters sale with the $538.7 million total (16 times more) generated by its Post-War & Contemporary Art sale (of which $122.6 million for Contemporary works) 15 days later.
Meanwhile, art created by artists still alive today is becoming more expensive and the renewal of their auction records has accelerated. The record for a living artist has been beaten twice in recent months. First for the British artist David HOCKNEY (born 1937) whose canvas Portrait of an Artist fetched $90.3 million on 15 November 2018 at Christie's, and then for a sculpture by Jeff KOONS (Rabbit) which fetched over $91 million on 15 May 2019.
Koons' personal record is now higher than the personal records of a number of the principal icons of Modern Art. It is almost $10 million above the current Van Gogh record ($82.5 million for Portrait du Docteur Gachet) and $30 million above that of Paul Cézanne ($60.5 million for Rideau, cruchon et compotier).
Only 11 artists in auction history have reached a higher price than Jeff Koons: Leonardo da Vinci, Picasso, Modigliani, Bacon, Qi Baishi, Munch, Monet, Basquiat, Warhol, Lichtenstein and Hopper. Indeed, the promotion of Koons' iconic Rabbit to the rank of a "classic" of Contemporary Art represents a milestone for the Art Market as a whole. It marks the moment the market literally dropped its attachment to notions of historical hierarchy: the market now values the most sought-after Contemporary artists at the same levels as the confirmed 'monuments' of Art History.
Auction records for living artists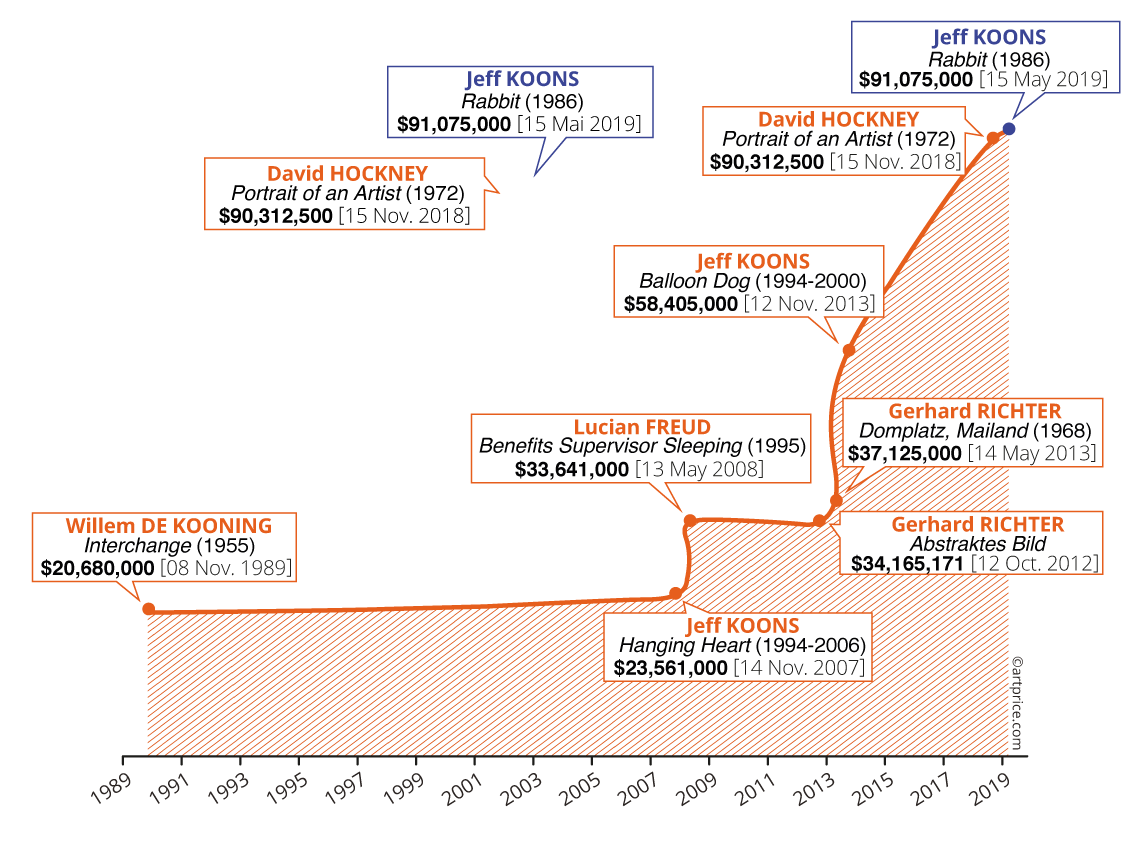 The most sought-after artists
Shepard Fairey and Kaws now top the list of the world's most in-demand and top-selling artists in the Contemporary Art segment. Ultra-popular, these Americans, whose works typify made in America, illustrate the dominance of American Soft Power over the rest of the world. They are the only artists to sell more than 600 works (each) this year, thanks to a totally globalised demand. In the case of Shepard FAIREY, 70% of his auction turnover since 2018 has been hammered in France. Kaws, enjoyed a majority Asian demand over the 12-month period, with 58% of his works traded in the East, compared with just 16% in the United States and 13% in France.
Top 10 Contemporary artists by number of sold lots (July 2018 – June 2019)
Artist
Sold lots
Auction turnover
1
Shepard FAIREY (b. 1970)
660
$1,104,200
2
KAWS (b. 1974)
622
$9,365,090
3
Takashi MURAKAMI (b. 1962)
594
$23,083,950
4
BANKSY (b. 1974)
550
$17,020,350
5
Keith HARING (1958-1990)
482
$41,205,058
6
Damien HIRST (b. 1965)
369
$26,018,800
7
Yoshitomo NARA (b. 1959)
339
$42,566,500
8
Jeff KOONS (b. 1955)
199
$111,860,500
9
Robert COMBAS (b. 1957)
196
$5,316,100
10
Günther FÖRG (1952-2013)
157
$10,800,600
© Artprice.com
Those who sell the most (both in volume and turnover) are prolific artists, whose popularity relies as much on branding (notoriety) as on the 'democratic' dissemination of their works via  a broad range of high-volume limited editions. The Americans Keith Haring and Jeff Koons, the Japanese artists Yoshitomo Nara and Takashi Murakami, and the British artists Banksy and Damien Hirst are all champions of multiple productions that allow young collectors access to a famous signature at relatively low cost.
The presence of Robert COMBAS and Günther FÖRG in this top 10 ranking is due to their recent (and spectacular) price increase, which in turn has stimulated their auction sales, leading to unprecedented demand and lower unsold rates over the last two years.
The vitality of demand is also measured by unsold rates. Repeated sales failures sometimes result from overly-optimistic price estimates and sometimes from a simple lack of 'market fervor' for a particular signature. On the other hand, a zero unsold rate suggests an 'ultra-motivated' demand and/or a shortness of supply. The following is a list of Contemporary artists with 100% auction success rates in 2018/2019:
Dana Schutz (1976) 15 lots sold
Tomoo Gokita (1969) 54 lots sold
Henry Taylor (1958) 23 lots sold
Harold Ancart ( 1980) 21 lots sold
Rashid Johnson (1977) 17 lots sold
Kehinde Wiley (1977) 13 lots sold
Martin Grelle (1954) 17 lots sold
Shara Hughes (1981) 16 lots sold
Rodel Tapaya-Garcia (1980) 13 lots sold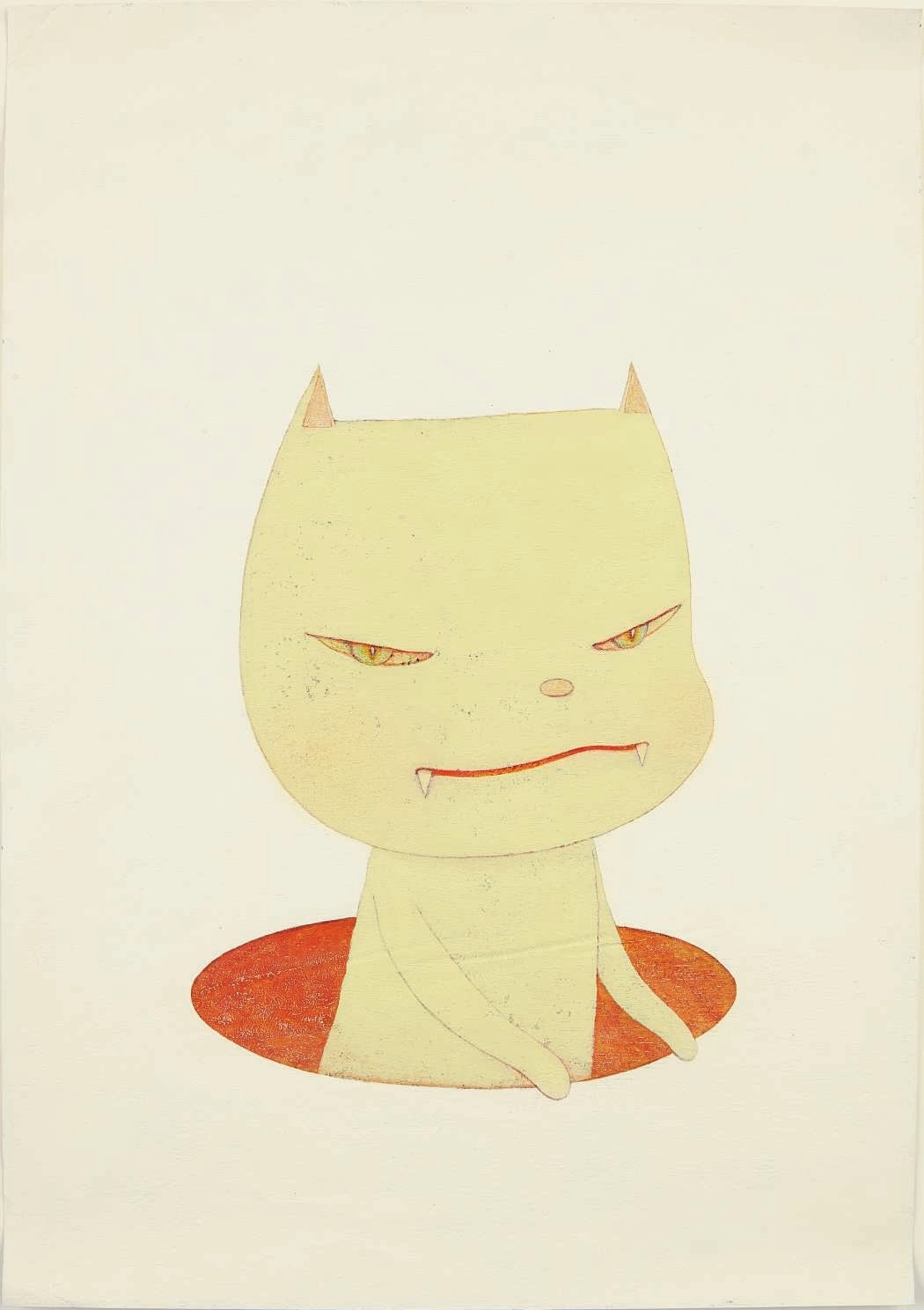 Yoshitomo Nara – White Night Cat (2002)
Mixed media on paper, 52 x 36 cm
© Yoshitomo Nara
$160,000, SBI Art Auction Co, Ltd, Tokyo, 27 April 2019
The most commercial techniques
Video art, photography, installations and other multimedia works are not very popular among collectors who are still showing a distinct preference for painting, sculpture and drawing. These three essential media in the Contemporary Art Market together account for 74% of the lots sold and above all, 94% of the segment's global turnover.
Painting, the dominant medium (by auction turnover)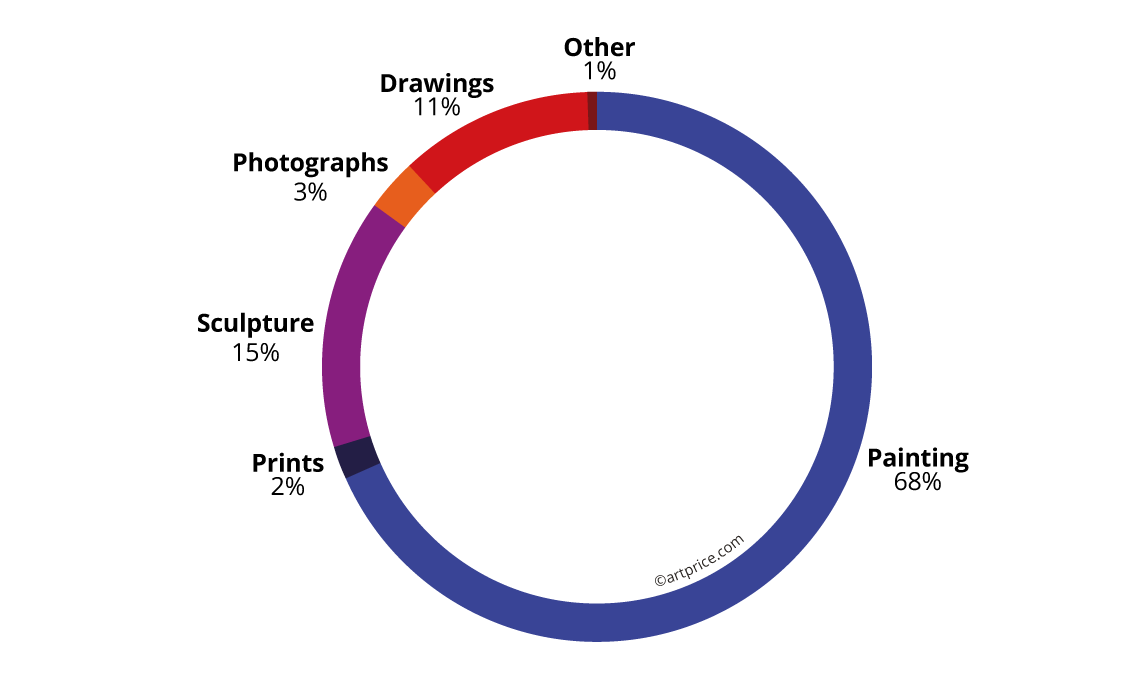 Painting
Accounting for 68% of the Contemporary Art auction turnover, from 44% of the lots sold, painting is still by far the most popular medium of expression in the Contemporary art market and it clearly dominates the ultra high-end market (7- or 8-digit results). In 2018/2019, out of the 284 results above the million-dollar threshold, 244 were paintings. These 7 or 8 digit  results represented just 0.8% of the number of paintings; the vast majority of Contemporary paintings are relatively affordable with 74% changing hands for under $5,000.
Sculpture
The second most-valued medium, sculpture, accounted for 15% of the turnover on the global Contemporary Art auction market and 10% of its transactions. Of the 7,540 sculptures sold in the 12-month period, only 22 exceeded $1 million. The top favorites in the medium were first and foremost the Americans Jeff Koons and Kaws, the Germans Martin Kippenberger and Thomas Schütte and the Japanese Takashi Murakami and Yoshitomo Nara.
Drawing
In line with the long-standing 'hierarchy of mediums' in the West, drawing was the third major medium of the Contemporary Art auction market accounting for 11% of its turnover and 19% of the lots sold (13,500). The most sought-after artists in this medium are the same as for painting and printmaking, with few Contemporary artists working exclusively on paper… except in China. A number of Chinese artists, virtuosos in ink, are collected in Beijing (sometimes in Hong Kong), including LIU Guang (45th in our global ranking of Contemporary artists by auction turnover with two new ink-on-paper works fetching 7-digit results in 12 months), HAO Liang (48th in the ranking with three 7-digit records for his silk inks in 2018/2019) and WANG Mingming (52nd in the ranking). Strongly inspired by traditional Chinese art, these artists appeal to collectors in mainland China, but do not export much.
Prints
Despite its small market share (2%), the market for Contemporary prints is not negligible as it represents the third most dynamic medium in terms of transactions. More affordable than painting or drawing, it accounts for 16% of Contemporary Art auction transactions. The prints market also indicates which artists are the most popular. Among the 'most established' Contemporary artists (i.e. born over 50 years ago), three artists generated results for prints above $200,000: Jean-Michel Basquiat, Wolfgang Tillmans and Keith Haring. These champions of the prints market are today subject to hot competition from the rising generation of under-50s and particularly from Banksy and Kaws, both crowned with a new record in this medium in 2019.
Top 3 record results for prints (artists under 50, 2018/2019)
Banksy $382,000 – Avon and Somerset Constabulary (Edition of 10), Sotheby's Hong Kong
Kaws $159,250 – Blame Game 《十件作品:责备游戏》 (Edition of 100), Phillips Hong Kong
Kaws $143,000 – Blame Game《责备游戏》 (Edition of 100), Sotheby's Hong Kong
Affordable Works represent the bulk of the Contemporary Art market