The best auction houses
Racing to capture works by 'star' artists… the quest for global market coverage… permanent strategic adaptation… these are some of the keys to the success of the top three auction companies: Sotheby's, Christie's and Phillips.
The leading trio…
New York, London and Hong Kong are the primary marketplaces for the top three auction operators in Contemporary Art. This strategic positioning ensures their domination over all of their competitors and allows them to satisfy American, European and Asian demand simultaneously.
Together, Sotheby's, Christie's and Phillips account for 70% of the Contemporary Art market by turnover, from just 10% of the lots sold. At a global level, they don't sell much… but what they do sell fetches high prices. They hammered 85 of the top 100 auction results in 2018/2019.
Market shares of the top three auction companies:
Sotheby's: 32.9%
Christie's: 25.4%
Phillips: 11.9%
This year again, Sotheby's came out top for sales of Contemporary works generating $623 million (up 17%) from 2,000 lots. Although Christie's sold 900 more lots, it lagged $141 million behind Sotheby's with a stable turnover of $481 million.
Sotheby's performed particularly well in Hong Kong, attracting 35,000 visitors and 20% new bidders for its sales just after Art Basel Hong Kong. In fact the American company generated the best Fine Art turnover of any auction operator in Asia. Its Modern, Contemporary and Southeast Asian Art sales together took in $232 million, with an average sold rate of 89%. It also hammered the best Contemporary Art result (the new Kaws record) in the entire Asia region this past year.
After excellent growth figures for the two previous years (+40% in 2015/2016, +18% in 2016/2017), Phillips' total shrank (-22%). The contraction reflected the absence of any results above the $10 million line, compared with three in 2017/2018. Its best result was $9.5 million for Self Portrait (1983) by Jean-Michel BASQUIAT compared with $45 million for a work (Flexible (灵活)) by the same artist in May 2018 (the world's best Contemporary Art result in 2017/18).
Phillips has moved considerably upmarket in recent years. It now competes directly with Christie's and Sotheby's for the sale of the best works by the titans of the Contemporary Art market: Basquiat, Mark Bradford, Kaws, Martin Kippenberger and Christopher Wool. Its annual turnover on the Contemporary segment ($225.6 million) gives it a good lead over the world's n° 4 auction operator, China Guardian ($73.5 million).
Seven Asian companies
The other auction operators in the global top 10 companies are all Asian, and mostly Chinese – including China Guardian, Poly, RomBon, Beijing Council and Beijing Yubao – with turnover between $17 million and $74 million last year. Together, the seven operators hammered 12% of the global Contemporary Art auction market, thanks to the success of Chinese artists like Liu Xiaodong, Zhou Chunya, Zeng Fanzhi, Zhang Xiaogang and Chen Yifei, but also thanks to a growing number of Western heavyweights who are now fetching million and multi-million dollar results in Chinese sales, like Cecily Brown and Anselm Kiefer.
In 2018/19, China Guardian was the leading Chinese auction house with turnover of $73.5 million representing 3.9% of the global Contemporary Art market. It beat Poly International with three sales above $5 million this year; for LENG Jun, ZHOU Chunya and ZENG Fanzhi.
Top 10 Auction houses (July 2018 – June 2019)
Auction house
Auction turnover
Sold lots
Top result
1
Sotheby's
$623,121,600
2,062
$25,701,500
2
Christie's
$481,382,000
2,945
$91,075,000
3
Phillips
$225,661,500
2,17
$9,500,000
4
China Guardian
$73,499,000
540
$6,330,000
5
Poly Group
$86,654,000
613
$6,659,000
6
RomBon Auction
$28,513,000
970
$748,000
7
Beijing Council
$21,924,500
120
$3,758,000
8
Beijing Hanhai
$21,712,000
651
$1,773,500
9
Seoul Auction
$17,436,600
138
$5,615,300
10
Beijing Yubao Jiahe
$15,690,000
137
$3,781,800
© Artprice.com
French leader
Artcurial ranks 14th in the world after 9 Asian companies and Bonhams (plus the top 3). It is the only French auction operator to generate $10 million. Artcurial sold 663 Contemporary works in 2018/2019 for a total amount of $10.9 million…. Nothing compared with Christie's and Sotheby's global results of course, but nevertheless beating the two global leaders on French soil (Christie's France with $6.5 million and Sotheby's France with $5.7 million).
Artcurial is increasingly successful in mobilizing foreign buyers and has managed to hammer a number of international record results, including a European record for Chu Teh Chun ($5.8 million). Leader for the sale of Contemporary Art in France, Artcurial stands out with its sales of African Art and Urban Art. The latter specialty is extremely popular and has allowed Artcurial to hammer its best results including a world record for Space Invader (nearly $400,000, "Vienna" (2008), 5 May) as well as the best result for Contemporary Art in France this year: $707,000 for Banksy's Kill mom ? (2003).
Artcurial: $10.9 million
Cornette de Saint-Cyr: $4.1 million
Piasa: $3.8 million
None of the French auction firms produced 7-digit result last year but the totals for the three main companies are encouraging: Artcurial's turnover increased by 5%, Cornette de Saint-Cyr's by 18% and Piasa's by 67%.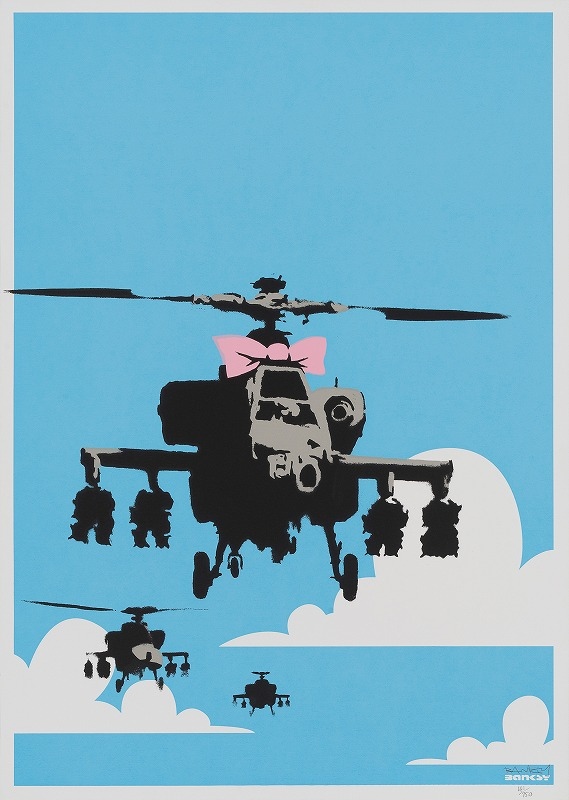 Banksy – Happy Chopper (2003)
Print, 67 x 47 cm, Ed. 150
© Banksy
$66,000, SBI Art Auction, Tokyo, 3 November 2018