Asia: the Art Market's centre of gravity is heading East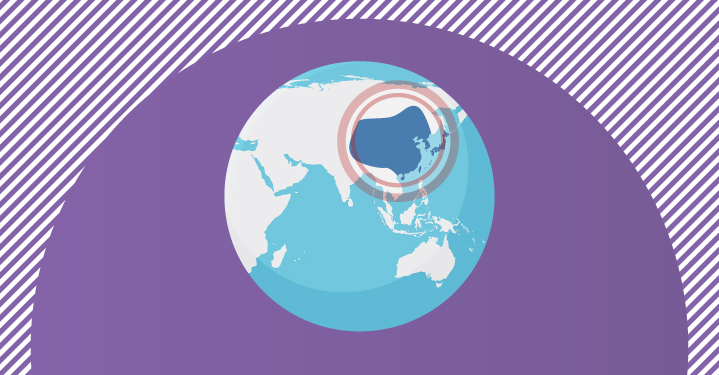 After a very difficult year in 2020, China, Hong Kong and Taiwan all posted outstanding performances in the latter half of the year and the first half of 2021. Their combined contribution to the global Contemporary market (approximately $1 billion) represented 40% of its value. The Asian market has therefore effectively become the world's primary zone for the exchange of Contemporary artworks, and not just for Asian artists, but also for a growing number of Western artists. In short, the Art Market is increasingly solid and active in the East (as we have predicted for many years).
Provenance of Contemporary Art auction turnover (2020/21)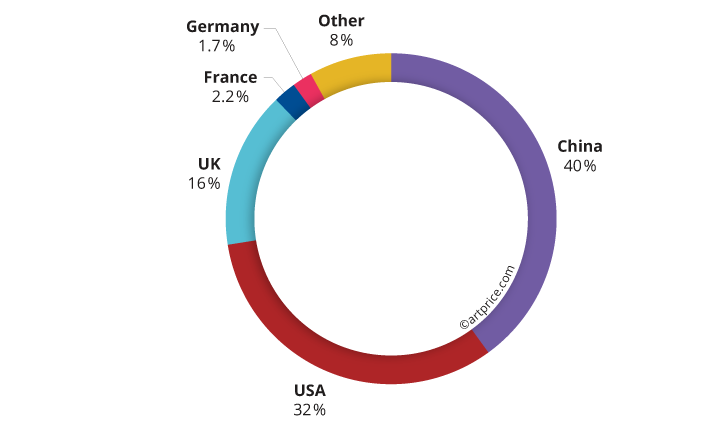 Hong Kong steps up the pace
Art Market activity has never been so buoyant in Hong Kong and the auction houses' results there have been exceptional. Its unsold rate is the lowest in the world: just 10% versus a global average of 30%. Hong Kong was also the period's 'premium market' champion with 129 Contemporary results hammered above the $1 million threshold, six more than in the United States.
In addition, Hong Kong's auction catalogs had never contained so many major American works, including works by the highly 'strategic' Jean-Michel BASQUIAT, who alone accounted for 14% of global Contemporary Art auction turnover. Three remarkable paintings by Basquiat each sold for more than $35 million in Hong Kong this year. The Former British colony is now clearly a new hub for the sale of Basquiat's finest works and Asian collectors are showing a voracious appetite for this signature. Whereas London and New York accounted for more than 90% of the artist's annual turnover before 2020, Hong Kong now accounts for more than a third (36% in H1 2021).
The market's geography has also been reconfigured for the American artist Richard PRINCE, whose auction record is no longer a New York result. On 18 June, Sotheby's Hong Kong hammered $12.1 million for his Runaway Nurse during their highly publicized sale curated by the 'King of Mandopop', Jay Chou. Richard Prince's worrying nurse added $2.4 million to his 2016 record hammered in New York, until then the primary outlet for his works.
These successes are not just flukes and nor are they isolated cases. They are the result of efforts made by Christie's, Sotheby's and Phillips, who, over the years, have opened the Hong Kong market to major Western signatures. The three companies are now reaping the benefits of in-depth campaigns to diversify Asian sales and collections. Moreover, the initiatives taken in recent months to organize prestige online sales have made it possible to further decompartmentalize the Art Market's geographical divisions. Broadcast live, the new format for prestige sales completely abolishes borders and puts collectors from all over the world in competition with each other.
Another major evolution in Hong Kong is the 'confirmation' (market recognition) of young Western 'prodigies', which – until just a few months ago – only ever happened in New York and occasionally in London, but never in Hong Kong. This development represents a major turning point for the Contemporary Art Market as a whole.
In this domain (Contemporary Art), Hong Kong is therefore now competing directly with the top Western marketplaces. In recent months the following artists have all seen new records hammered in Hong Kong: Nicolas PARTY (Swiss), Salman TOOR (Pakistani), Amoako BOAFO (Ghanaian), Toyin Ojih ODUTOLA (Nigerian), Avery SINGER, Loie HOLLOWELL, Emily Mae SMITH (Americans)… and many others. By presenting the works of the same artists both in the West and in the East, the major Anglo-Saxon auction houses confirm, consolidate and accelerate the markets of these young Contemporary stars.
Building on these recent successes, Christie's plans to step up the pace of its sales in Hong Kong and move to a new luxury headquarters designed by Zaha Hadid. This move is the fruit of clear and logical foresight since half of Christie's buyers are Y Generation… based in Asia.
Phillips, for its part, has formed a "historic collaboration" with the Chinese company Poly International, the fourth largest auction house in the world, to optimize its sales. Their joint session in June 2021 posted a record attendance rate (800 online bidders), set new auction records for 17 artists and, above all, sold 86% of the lots above high estimates.
The $90.4 million of works sold on June 7 and 8 could not have been achieved by Phillips alone. Its collaboration with Poly has allowed it to considerably expand its reach to an Asian clientele that clearly has a strong appetite for Contemporary Art. Although Western Collectors had a substantial presence in the bidding, the sums invested by Asian collectors were huge compared with the initial estimates and often dwarfed bids by Western collectors. In the end, 86% of the lots offered at this sale in June were purchased by Asian customers.
The Hong Kong model is now being exported to other countries in the region, including South Korea and Japan. Seoul and Tokyo are also asserting themselves as Art Market hotspots. Around their major home-grown artists, these two marketplaces are helping to bring out a whole new generation of stars, led by the likes of Nicolas Party, Ayako Rokkaku and even Mr Doodle.
Top 5 Asian auction houses (by Contemporary Art turnover 2020/21)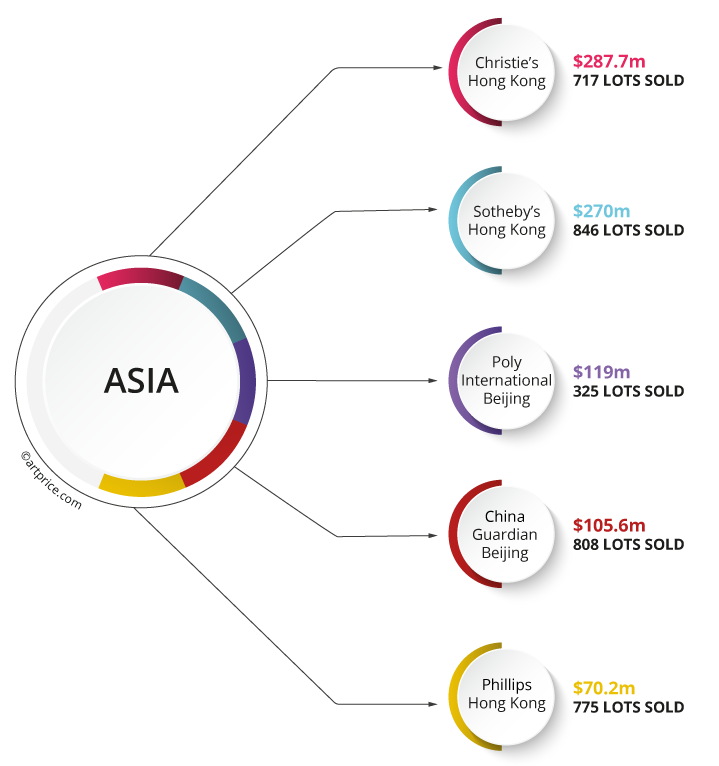 The Hong Kong market is now crucial for the world's top three auction houses. Phillips generated a quarter of its Contemporary Art turnover there, Christie's 33% and Sotheby's as much as 38%. And they are doing everything possible to accelerate their growth in this market over the coming years.
Top 3 Contemporary Artists by auction turnover in Asia (2020/21)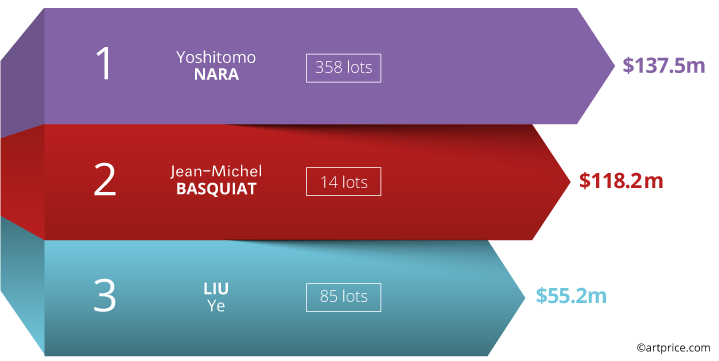 The Asian market's leading trio
The biggest surprise of the 20/21 period was the appearance of a Western artist on the Asian market's podium. Asia's major collectors can now bid for Basquiat's most prized works in Hong Kong and they seem to be very willing to do so. On 23 March 2021, an Asian buyer raised the price of Jean-Michel BASQUIAT's Warrior (1982) to $41.6 million, setting a new record for a Contemporary artwork in Asia (at Christie's Hong Kong). Indeed, having generated a total of $118.2 million in the region over the 20/21 period, Basquiat's market has clearly undergone a profound change, with a third of its turnover now hammered in Hong Kong.
Yoshitomo NARA's success was more expected. Japan's best-loved artist of his generation is an unavoidable signature on the Asian market, and he ended the period in first place with a total of $137 million. His best works were reserved for Hong Kong, which generated 80% of this total. Nara also ended the period as the third top-selling artist in the global Contemporary Art Market (behind Basquiat and Banksy) accounting for 5% of its total turnover. The prices of his works have doubled in two years and frequent results above the $10 million line have kept him at a higher price level than that of his compatriot Yayoi Kusama, a success reflecting the importance of the Manga aesthetic in major collections.
In third place on the podium, LIU Ye is attracting growing interest after a number of impressive exhibitions in Asia and the West. His works have been acquired by private and institutional collections around the world (in China, Germany, Switzerland, the United States, among other countries) and, since he joined the international gallery David Zwirner in 2019, demand from 'serious' collectors has stepped up considerably with about thirty of his paintings exceeding $1 million at auction and a result above $10 million a few months after his first solo show organized by Zwirner in New York (Bamboo bamboo broadway (竹子 竹子 百老汇), $12.6 million, Poly International, Beijing, 4 June 2021). Often associated with his Japanese peer Yoshitomo Nara, demand for Liu Ye's works looks set to continue growing. The only problem for collectors is that his paintings are relatively rare (around 350 produced over 30 years) and the competition is fierce.
Table of contents
Asia: the Art Market's centre of gravity is heading East