The West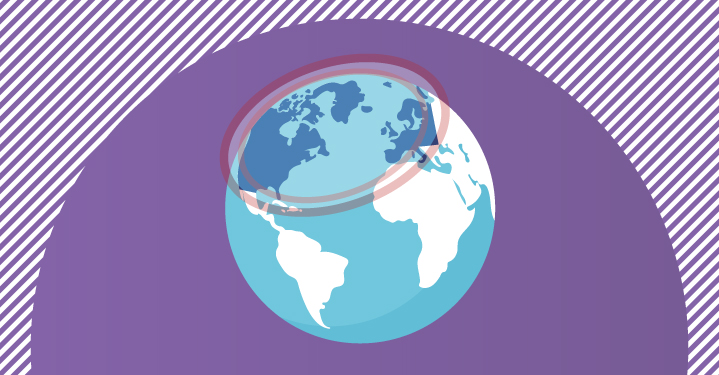 Behind China/Hong Kong and its total of $1 billion in turnover, the American market nevertheless posted an exceptional total of $889 million, its best in the history of American Contemporary Art sales. The recovery, already very clear in the summer of 2020, accelerated considerably in 2021, resulting in a total turnover figure up +113%… just a year and a half after the start of the covid pandemic.
In New York – where the strongest result of the year ($93 million) rewarded Jean-Michel Basquiat's In This Case (1983) at Christie's on 11 May 2021 – the Art Market appeared to have rediscovered all its dynamism. It has also regained density with more than 20,000 Contemporary lots sold over 12 months (the highest volume in the world).
By presenting famous signatures and a large number of affordable works at less than $5,000 (73% of the American market, nearly 15,000 lots), the American Art Market confirmed its unparalleled attractiveness. It posted an exceptional sold-through rate: 84% versus a global average of 70%. No other Western country posted such a good sold rate. In France, for example, only 57% of the Contemporary works offered found buyers.
Western Contemporary Art auction turnover by country (2020/2021)
Auction turnover
Market share
USA
$889,514,627
58%
UK
$424,293,543
28%
France
$59,988,653
4%
Germany
$47,884,793
3%
Italy
$15,188,392
1%
Other
$103,630,649
7%
© artprice.com
New York is still clearly the epicenter of the Western market and places like Paris and the French provinces are unable to attract as many international Contemporary Art collectors. The French capital takes very little part in the emergence of new Art Market prodigies at auction. Some young French artists have nevertheless developed major international careers and have become highly valued. This is the case for Claire TABOURET, one of the most promising French painters, represented by Almine Rech and Emmanuel Perrotin.
That said, the French market has shown astonishing dynamism with a turnover of nearly $60 million (up 44%) accounting for 4% of the global Contemporary Art auction market versus 2.3% a year earlier.
France is above all the world's third strongest market in volume terms with more than 10,000 works sold, most of them at low prices (82% of the Contemporary works sold below $5,000!). Only three works fetched over $1 million (two sculptures by François-Xavier & Claude LALANNE and a painting by Günther FÖRG), versus 123 in the United States and 57 in the UK.
Whereas the French market is based on its diversity and its flow of affordable works, the economic health of London's market depends more on the country's highly sought-after national signatures. The gap between the $424 million hammered (including virtually) in the UK and the $60 million hammered in France is indeed huge. Maybe France needs a BANKSY ? The Street artist generated more than $60 million during the recent London sales and accounted for 15% of the UK's total auction turnover on the Contemporary Art segment.
Top 5 Western auction houses by Contemporary Art turnover (2020/21)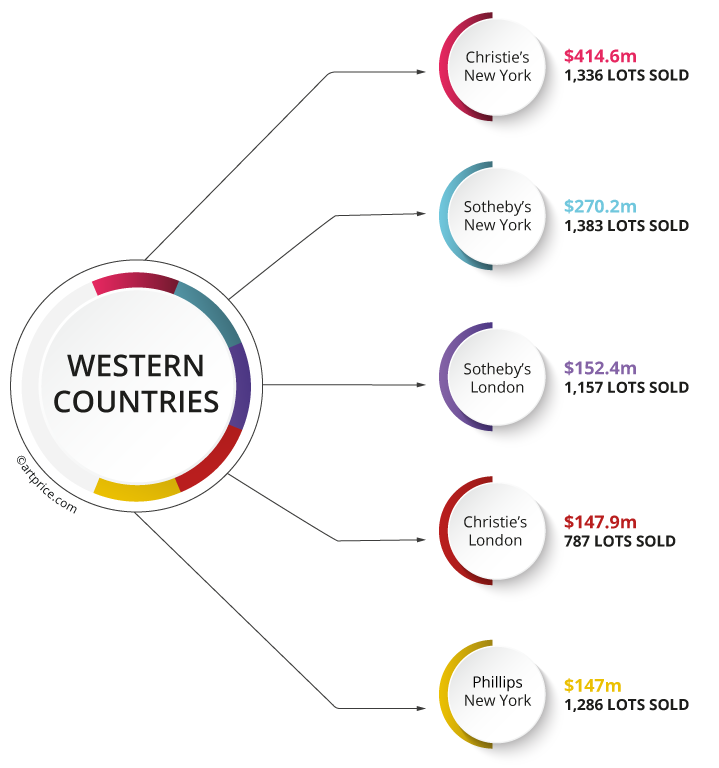 In the 2020/21 period, Christie's emerged as the world's top seller of Contemporary Art, dominating both the Asian and the Western markets. The heart of its activity remained New York which accounted for half of its Contemporary Art turnover (48%), versus 33% in Asia and 17% in London. More than half of the Contemporary works sold by François Pinault's company (Christie's) pass through New York. Likewise, more or less, for Sotheby's and Phillips.
Top 3 Contemporary artists by turnover in Western auctions (2020/21)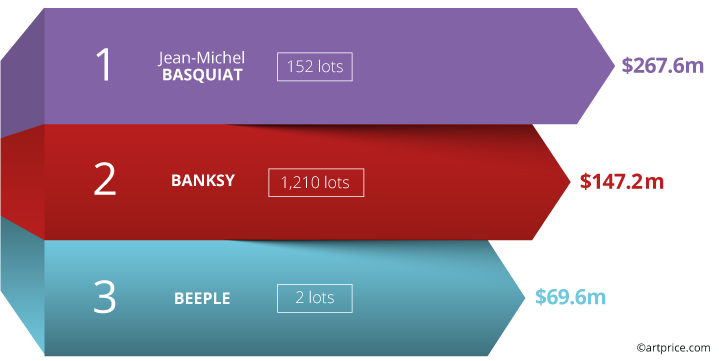 → Basquiat has become one of the most profitable artists on the global Art Market, both in Asia and the West. He is followed by Banksy, whose abundant offer included two results above $10 million this past year (again, 20/21). Meanwhile… only one result was needed (although two were recorded this year) to project Beeple onto the Western podium. And remember: the NFT that fetched $69.3 million was acquired by an Asian collector…