Hong Kong, the new Ultra-contemporary hub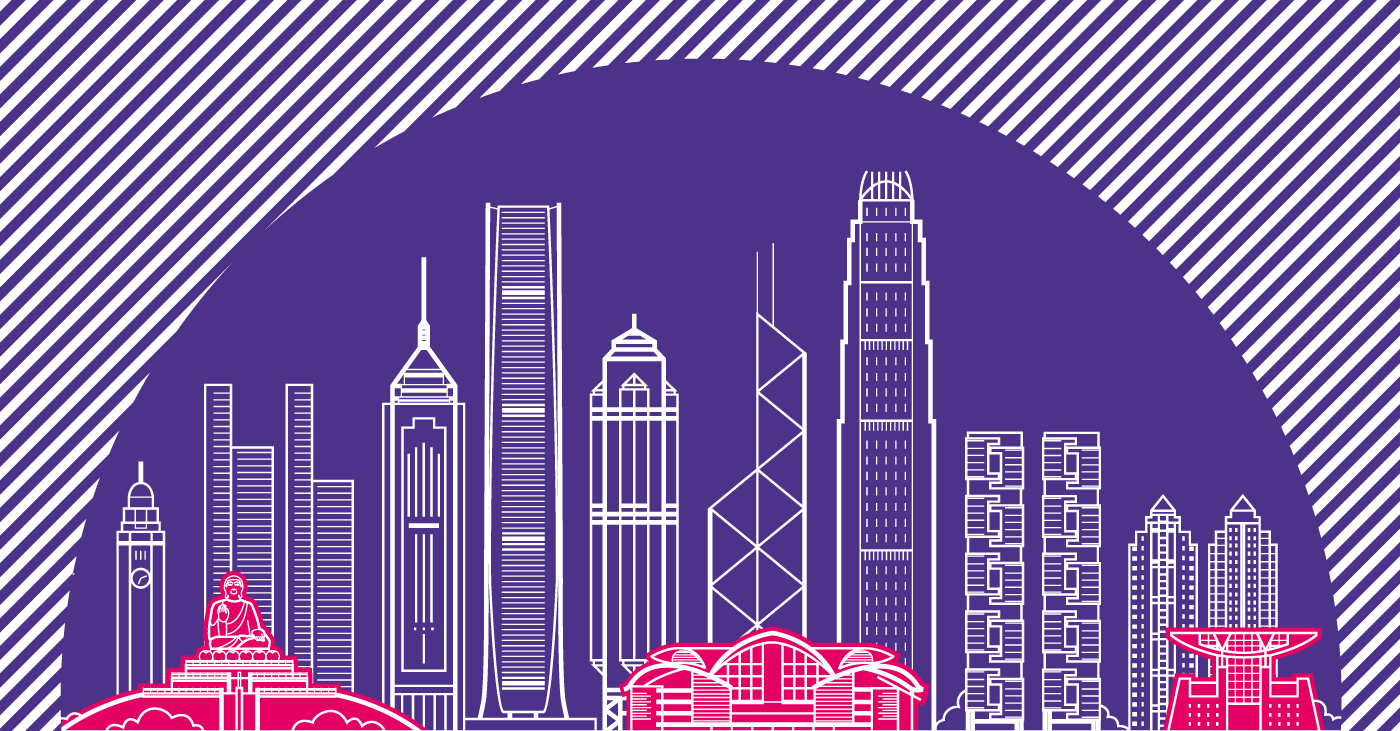 For two or three years, the works of very young artists have reached spectacular prices in sales hosted in Hong Kong, a major hub of the Ultra-contemporary art market alongside New York and London.
Hong Kong, whose art auction market didn't really exist before 2008, has established itself as one of the main hubs for the exchange of artworks, and certain segments of the art market have become as dynamic in Hong Kong as they are in New York, notably the Ultra-contemporary segment.
Today, Hong Kong is hot on the heels of New York in this segment with $39 million in H1 2023 from 239 Ultra-contemporary works sold compared with New York's $41 million, but from 688 lots sold. This essentially means that the most exciting bidding battles for works by young Western artists are happening first and foremost in Hong Kong rather than in New York, the historic stronghold of this market.
Of the three centers of gravity of the Ultra-contemporary market, Hong Kong has shown the best resistance to the slowdown in the high-end market. Its sales turnover only shrank by 11% compared with -42% in the United States and -52% in the UK, and Hong Kong is now where the majority of 7-digit results in this segment are being hammered. During the first half of 2023, Hong Kong recorded seven million-plus results for artists under 40, compared with four in New York and two in London.
Hong Kong is well ahead of the UK's performance in this segment and is almost at the same level as the United States.
Hong Kong has become a test market for the introduction of the new stars of Western painting to the auction market. Take for example Camilla ENGSTROM, a 34-year-old artist who owes the genesis of enormous popularity to Instagram (more than 120,000 followers today). Her work was exhibited by the German gallery König in 2022 while Christie's offered one of her works for sale at its HK branch. Her Love Tastes Delicious (2020) reached almost $73,000 against a high estimate of $15,000. This immediate value hike illustrates the taste of Asian collectors for vivid paintings with Surrealist accents. In the spring of 2023, Phillips adopted the same strategy by choosing Hong Kong to sell her Purple Lake (2020). A little smaller than the painting sold at Christie's, it reached $48,500 against a high estimate of $19,000.
Camilla Engstrom is far from being an isolated case. The out-performance of young artists on the Hong Kong market has intensified over the past two years. During the first half of 2023, million-plus results (in USD) have been hammered for two works by Matthew Wong (his River at Dusk at $6.6 million and his The Road at $4.6 million), one by Avery Singer (Untitled, $4 million), one by Liang Hao (Theology and Evolution, $3.1 million), one by Loie Hollowell (Standing in Red, $2.29 million), one by Lucy Bull (Thin Skin, $1.2 million) and another by Jadé Fadojutimi (Let's Curl Up Inside My Collar, $1.1 million).
The highest valued works in Hong Kong sales are mainly creations by non-Asian artists. At the top of the list this year, we find Matthew Wong, Avery Singer, Loie Hollowell, Lucy Bull and Jadé Fadojutimi, all crowned with million-plus results.
The results hammered in Hong Kong do not always correlate with those hammered in New York. Take for example with Louise BONNET, a Swiss artist based in Los Angeles, whose work was included in the exhibition on Surrealism at the 2022 Venice Biennale (The Milk of Dreams) and exhibited at the Gagosian Hong Kong simultaneously. Such strong spotlights caused the price of one of her paintings to soar in April 2022 when Sotheby's Hong Kong hammered $722,000 for her The Ice Skater (溜冰者), against a high estimate of $57,000. However, a few months later in New York, Sotheby's failed to sell another work offered with roughly the same price estimate. Today, although four lots by Louise Bonnet have exceeded the $600,000 threshold in Hong Kong – where a few powerful collectors are buying at any price – the artist's best auction result in New York is $403,000.
Hong Kong no longer only serves as an 'accelerator' for the 'prodigies' of Western art, it is becoming the place where the most intense passionate buying occurs. Asians are such good customers that Phillips, Sotheby's and Christie's are pursuing ambitious development strategies there. Indeed, Sotheby's plans to open a new headquarters there as well as a new exhibition space and a new auction room. Christie's will be opening its new Hong Kong headquarters in a few months, comparable in size to its London headquarters, in a building designed by Zaha Hadid's firm of architects. For its part, Phillips inaugurated its new headquarters designed by Herzog & de Meuron in March 2023, housing an auction room, exhibition spaces, offices, a café and a VIP lounge. The three companies are focusing a large part of their efforts on Hong Kong, with the aim of expanding their offer to a high-demand Asian clientele.
Geography of auction turnover from Ultra-contemporary art (H1 2023)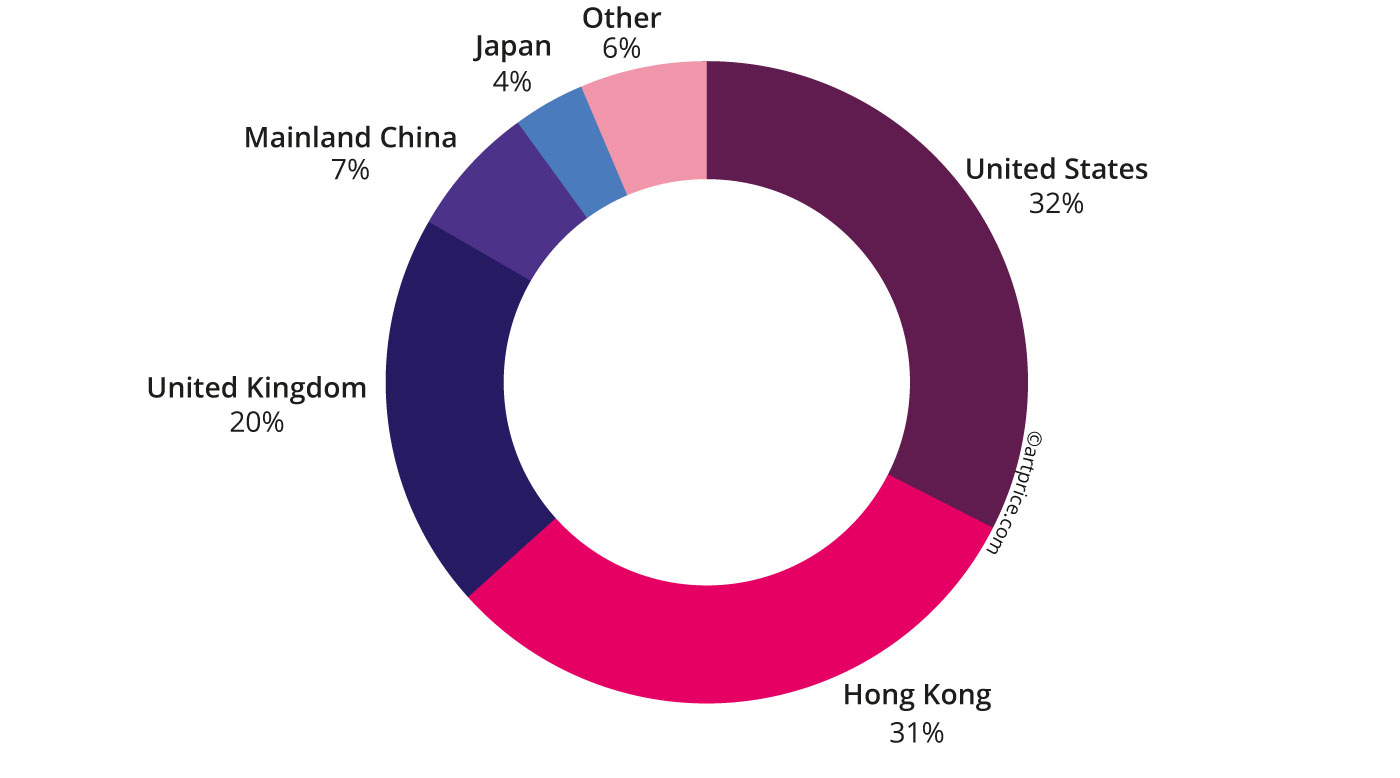 Table of contents
Hong Kong, the new Ultra-contemporary hub