New recruits and the major auction houses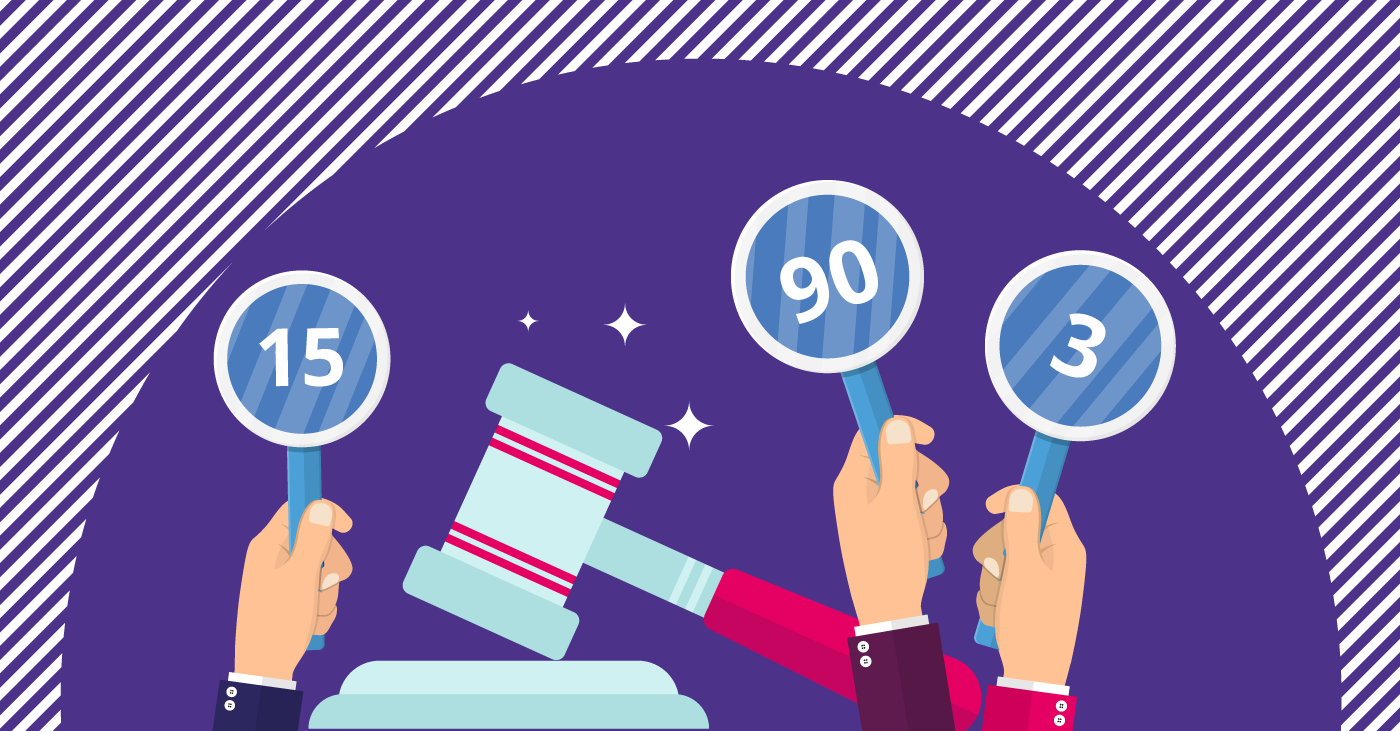 The major auction houses' strategies for the promotion of young artists.
Ultra-contemporary art does not represent an important source of income for the vast majority of art auction operators. Only those with the most extensive international networks and the biggest financial muscle dare to introduce young artists to the auction sphere and they are essentially Sotheby's, Christie's and Phillips. Located in the three cities where collectors of Ultra-contemporary art are the most active (New York, London and Hong Kong), together, the three auction houses make rain or sunshine in this market segment and generate 81% of the global turnover in this sector from just 20% of the transactions.
The outcome is not the same for each of these companies: while Ultra-contemporary art represented only 1% of Christie's Fine Art auction turnover ($24.4 million in H1 2023) it accounted for about 3% ($53.8 million in H1 2023) at Sotheby's, the leading auction house in the sector. Meanwhile Phillips, which is much more focused on the Ultra-contemporary segment, generated 9% of its turnover ($24.5 million in H1 2023) from this segment of the art market.
Half-year auction turnover totals from Ultra-contemporary art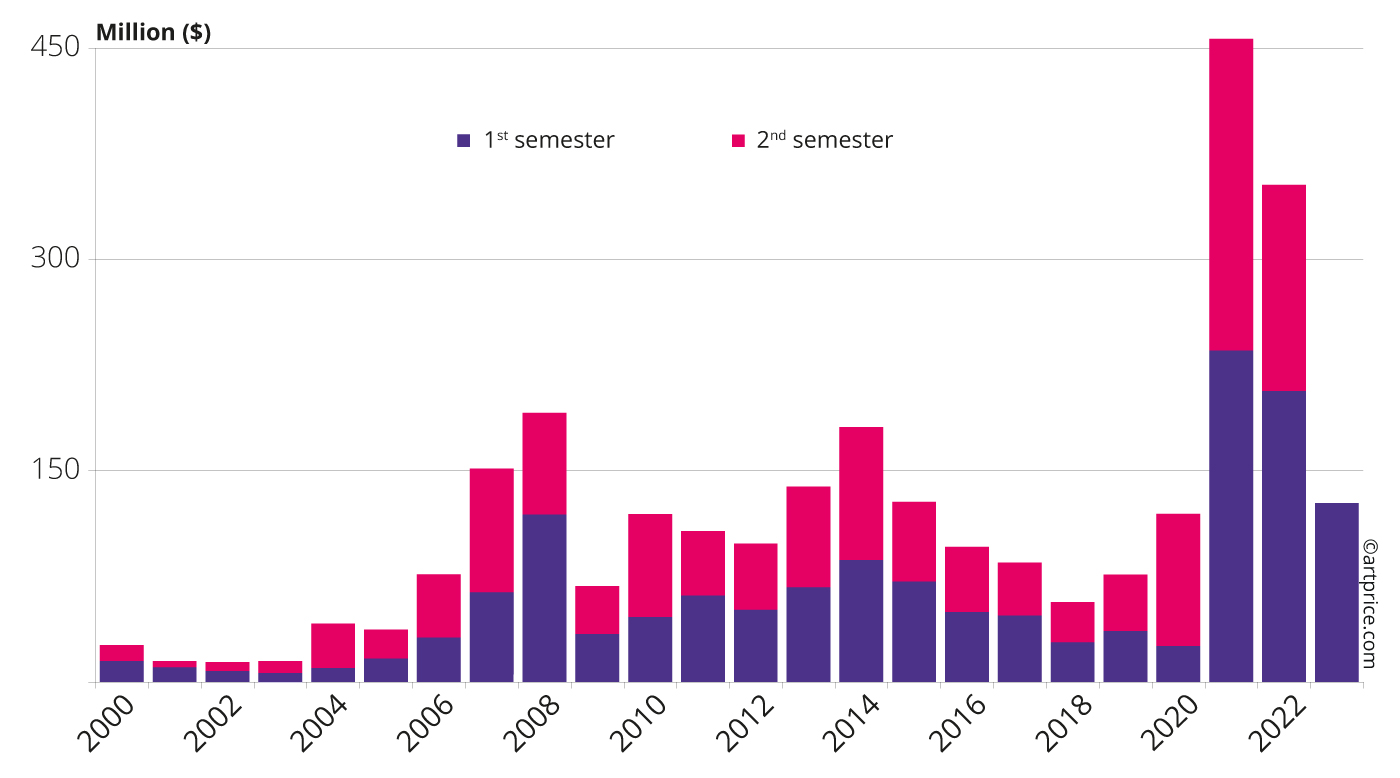 Phillips, the leading scout of rising stars
Phillips is a leading auction house for its prospective work. The discovery of young artists has been part of its DNA for many years and it is often to Phillips that we owe the successful introduction to auction of artists who subsequently conquer other major auction houses. Phillips notably launched artists like Emmanuel Taku (b. 1986), George Rouy (b. 1994) and Allison Zuckerman (b. 1990) on the auction market in 2021, then Brandon Lipchik (b. 1993), Ilana Savdie (b. 1989) and even Anna Park (b. 1996) in 2022.
Several young artists introduced to auction by Philips two or three years ago achieved immediate success, leading its two competitors – Christie's and Sotheby's – to become increasingly interested in the potential of Ultra-contemporary art. This was the case for Robin F. WILLIAMS: the American painter made his auction debut at Phillips in 2020 with The Getaway (Study) (2016), a large pastel study for which collectors went all the way to $88,200. With that result in his pocket, Sotheby's included the artist in sales the following year (2021) and then Christie's included him in one of their most prestigious sales of 2023: the 21st Century Art Sale in New York.
A veritable talent scout for young painters in tune with demand, Phillips has again successfully introduced new artists in its 2023 sales, such as the promising French artist Laure Mary COUÉGNIAS (b. 1989) whose painting The Visitor (2021) almost tripled its high estimate ($33,000), and the Californian Jo MESSER (1991), whose Pass Pass Aperitif (2021) sold at double its mid-range estimate ($12,000).
The hot bidding observed for works by Laure Mary Couégnias and Jo Messer is much less a matter of speculative enthusiasm than of a real desire among collectors to acquire new Contemporary painting. The works of these artists appear in a price segment without major financial risk and transactions have accelerated for works valued between $10,000 and $50,000, whereas they have slowed down for the most expensive lots.
Examples of young artists introduced to auction by Phillips:
Kyle Dunn (American living in New York, born 1990)
Introduced to auction in October 2022. His three results, including the first at $121,000, have all been hammered by Phillips.
Fang Yuan (Chinese living in New York, born 1996)
Phillips beat Sotheby's and Christie's in March 2023, selling his first painting at almost nine times its mid-range estimate ($88,900).
Anna Park (South Korean living in New York, born 1996)
Introduced to auction by Phillips after joining the Blum & Poe gallery, her first painting reached $289,000 in early summer 2022. She entered the sales catalogs of Sotheby's and Christie's the following fall.
Anthony Cudahy (American living in New York, born 1989)
Phillips hammered his first and best auction results, including $88,200 for his painting The Gate, sold in May 2022.
Occasionally Sotheby's even manages to get ahead of Phillips, as in August 2022 with the auction debut of Raghav BABBAR via the company's Singapore branch. At just 25, the London-based artist obtained a decisive result of $316,000 last year (Memory is a permanent luxury, 2020) and reached a new milestone this year with the sale of The Coal Seller ( 2020/21) for $733,000 at Sotheby's London branch.
Sotheby's has successfully stepped up its exposure to the avant-garde
For two years, Sotheby's has been increasingly innovative by devoting entire sales to the 'latest' art. During the first half of 2023, it organized two Now Evening Auctions in London, while also launching a Contemporary Discoveries session in Hong Kong. These sales aim to bring together selections of works by the most coveted artists of the 21st century alongside new signatures still unknown to the secondary market. The "Now" label matched with already strong resumes stimulates collectors so much that the results obtained are often well beyond the pre-sale estimates.
During its Now Evening Auction on 18 May 2023, for example, Sotheby's hammered a new record for Portia ZVAVAHERA at more than double the high estimate (sold for $355,600) and another for Justin CAGUIAT at $787,400. Indeed, the auction sphere has remained surprisingly dynamic on the new signatures with the most promising careers. Although major price hikes have been rarer this year, they can still happen for an artist whose career is taking on an international dimension: Portia Zvavahera is a rising star supported by the powerful Zwirner gallery and Justin Caguiat has numerous exhibitions to his credit, notably with Greene Naftali and Taka Ishii. Sotheby's choices are always eminently strategic: they carefully seek to promote the most successful artists at the major galleries, those with the most promising and stimulating career development opportunities.
Sotheby's dedicates regular sales to 21st century art to meet the growing demand for emerging artists.
Sotheby's is accelerating its search for new young artists and is increasingly introducing new signatures at the same time as Phillips. This was the case with Lucy BULL, whose work quickly sold for 7-digit sums in 2022, then, this year, with the brightly colored canvases of Daisy DODD-NOBLE and with the enigmatic paintings of Emma WEBSTER, like her "Primavera" (2019), which soared ten times above its low estimate on 1 March to reach a sensational result of $488,000.
The strong commitment to new artists is paying off for Sotheby's and in H1 2023 it was the most successful auction operator in the Ultra-contemporary segment with a total turnover of $53.8 million, whereas Phillips and Christie's together did not reach $50 million.
Top 3 auction houses for Ultra-contemporary art (H1 2023)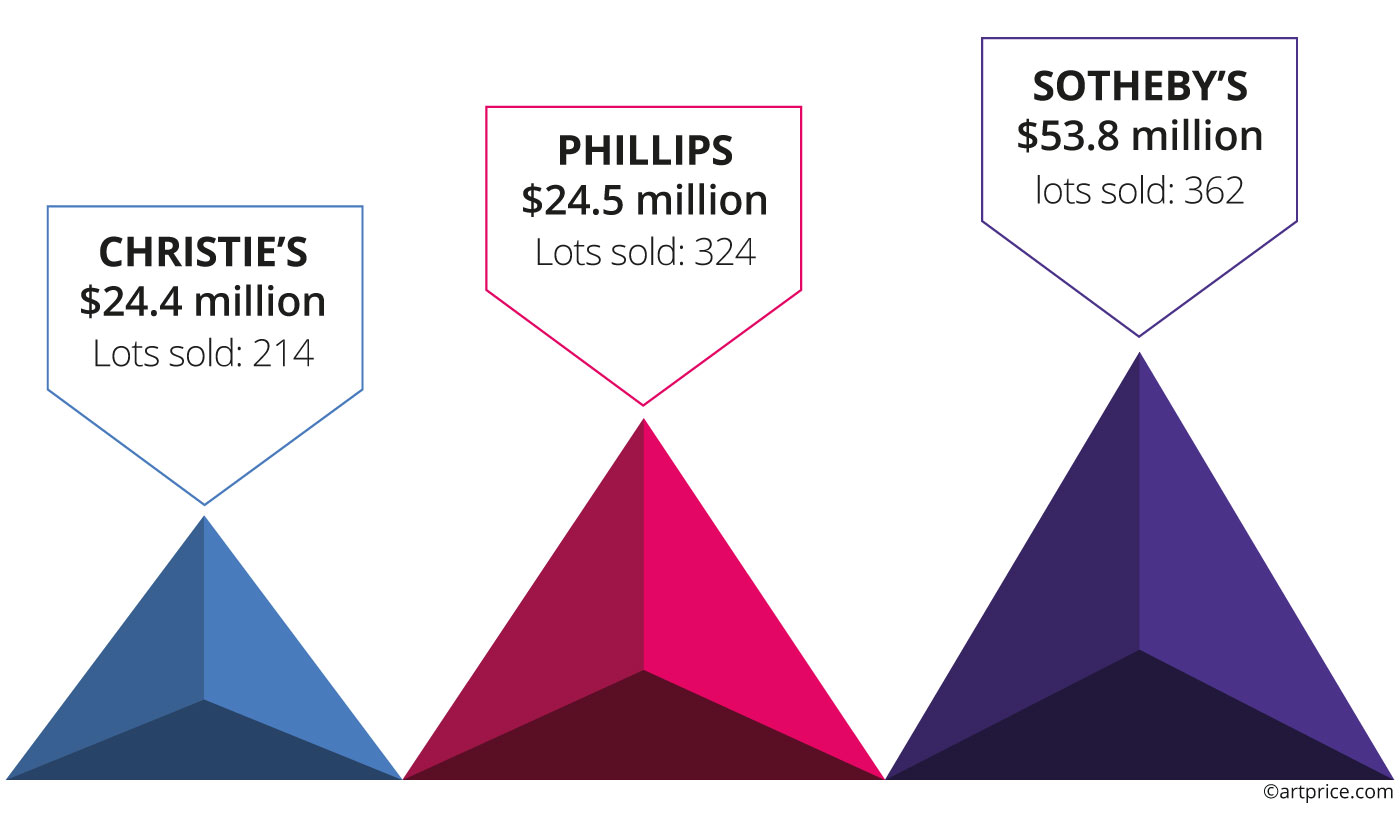 A quarter of the artists in Christie's prestige 21st Century Art sale in New York were under 40
In H1 2023 Christie's generated 1% of its total global fine art auction turnover from Ultra-contemporary art. A priori, that's not much, but it's still $24.4 million and it's a very high profile segment. Having included six artists under the age of 40 among the 26 hand-picked artists in one of its most anticipated sales of the year, Christie's is fully participating in the development of this market. In addition to this strong presence of works by young artists, the 21st Century Art sale on 15 May 2023 began by highlighting the young artists: the Czech Vojtěch KOVAŘÍKas well as the Americans Louis FRATINO and Robin F. WILLIAMS, all authors of figurative paintings estimated at around $100,000.
The three other young recruits in this sale were the Anglo-American Emma WEBSTER the English artist Rebecca ACKROYD, supported by Peres Projects and Timothy Taylor, and the American Julien NGUYEN who many discovered during Loewe's presentation at the Paris Fashion Week (Fall/Winter 2023) earlier this year. The paintings of these three young artists were presented in the catalog alongside works by major Contemporary Art signatures like Yayoi Kusama, Jean-Michel Basquiat and Cecily Brown. In short, a key step in the promotion of young artists in the upper echelons of the market is their legitimization in the sales catalogs of the more prestigious auction houses.
Top 10 price hikes for Ultra-contemporary works (H1 2023)
Artist
Work
Estimate
Date
Auction house
Low
High
Price
1
Raghav BABBAR (b. 1997)
The Coal Seller (2020/21)
$24,046
$36,069
$732,912
1 Mar 2023
Sotheby's, London
2
Marc PADEU (b. 1990)
David et Goliath (2019)
$640
$853
$16,691
10 Feb 2023
Millon & Associés, Paris
3
YAN Cong (b. 1983)
Painting Time (画画时间) (2016)
$4,208
$7,014
$104,858
10 Jun 2023
Cuppar, Beijing
4
Shozo TANIGUCHI (b. 1990)
Sungoes down (2020)
$1,540
$2,310
$28,331
28 Jan 2023
SBI Art Auction, Tokyo
5
Michaela YEARWOOD-DAN (b. 1994)
Love me nots (2021)
$48,404
$72,607
$884,349
28 Feb 2023
Christie's, London
6
Bingjie HUANG (b. 1994)
Battle In Dreams (梦里的战斗) (2018)
$2,806
$7,014
$77,434
10 Jun 2023
Cuppar, Beijing
7
Daisy DODD-NOBLE (b. 1989)
Three trees on an island (2020)
$5,000
$7,000
$69,850
8 Mar 2023
Phillips, New York
8
Youhei SUGITA (b. 1983)
The Abstract Life (2010)
$1,495
$2,242
$22,343
15 Apr 2023
SBI Art Auction, Tokyo
9
Ishmael ARMARH (b. 1986)
Ed West (2022)
$1,192
$2,385
$22,534
9 Mar 2023
Christie's, London
10
Emmanuelle RYBOJAD (b. 1991)
Kalash
$217
$326
$3,011
23 Mar 2023
Art Richelieu, Paris
©artprice.com
Table of contents
New recruits and the major auction houses