Geography of the Contemporary Art Market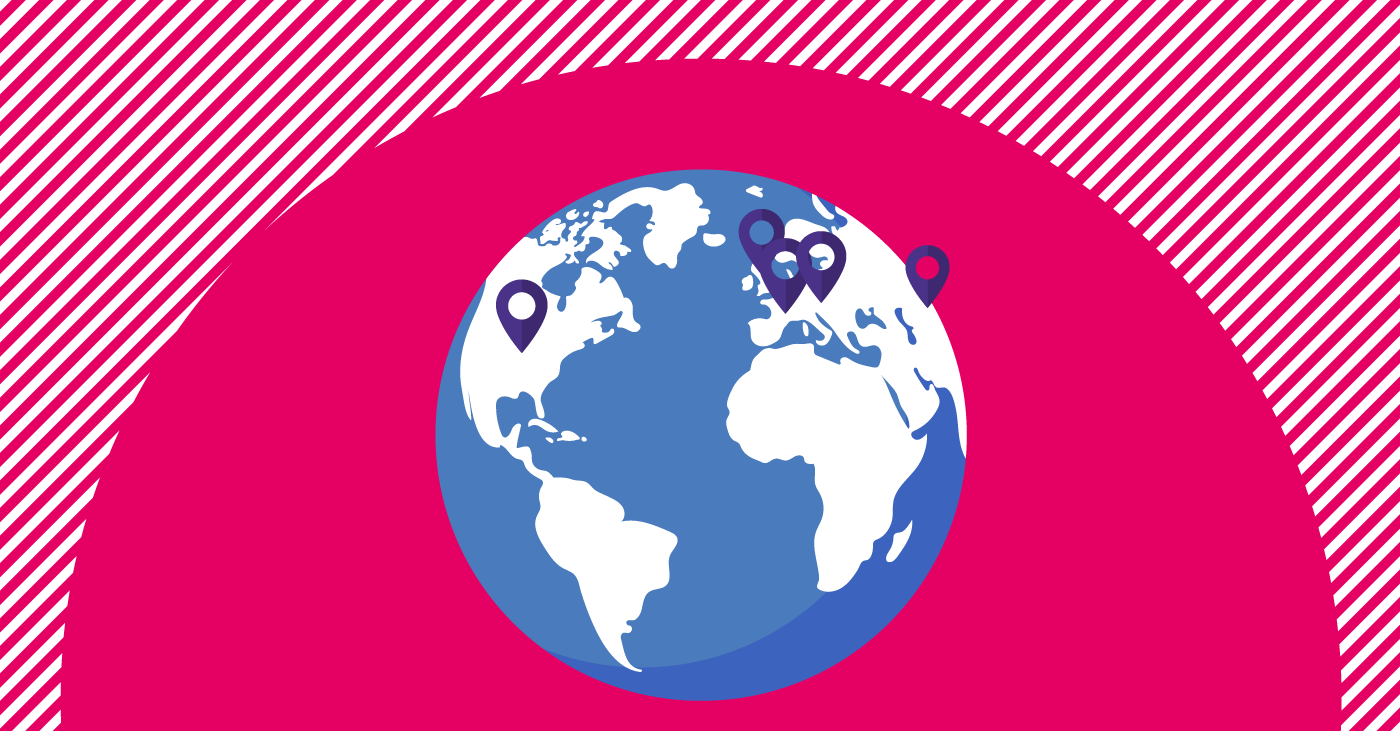 The slowdown in the main global marketplaces is due to a lower number of multi-million dollar auction results, the smallest share of the art market by volume.
The 22% decline in million-plus auction results (in USD) has impacted the primary hubs of the Contemporary art market first and foremost, essentially the London and New York branches of Christie's and Sotheby's which usually account for the bulk of the segment's global high-end turnover. In 22/23, the United States posted a 19% contraction and the UK's auction turnover from Contemporary art shrank by 23%. Together, the two countries posted a shortfall of $300 million versus the previous 12-month period – a considerable sum indeed, but one that simply reflects the absence of a dozen or so highly sought-after Contemporary works on the auction podiums.
Nevertheless, the United States and the United Kingdom still clearly dominate the other Western art marketplaces. While the United States retained its leading position with $857 million (versus $1 billion last year), the United Kingdom hammered $376 million vs. $486 million the previous year. Together, the two countries accounted for 54% of the world's Contemporary Art auction turnover. Ten years ago, this share was larger (65%) with a turnover that was half the size… that was before the expansion of the Asian art market.
China's performance was stable, partly thanks to Hong Kong
China, with Taiwan, and especially with the ultra-dynamic Hong Kong market, remained the world's second largest marketplace for Contemporary art with sales in this segment amounting to $744 million. Indeed, China's total was only down 5% compared with the year-earlier period, a much softer contraction that the -19% in America and -23% in the UK.
After a 45% drop in its turnover at the height of the pandemic (2019/2020), China's Contemporary art market is showing remarkable resilience. The period of decline appears to have ended and China has since doubled its revenue from Contemporary art sales and even posted a gain of +13% above the 2018/2019 level (with an additional $85 million).
The advances of the Chinese market are not only due to the remarkable demand for works by artists like Zeng Fanzhi, Zhou Chunya, Chen Yifei and Liu Ye, they are also based on the opening of the market to major foreign auction houses and on the Westernization of the its offer. Beijing, the epicenter of the Chinese market 10 years ago with a very domestic offer, is today second to Hong Kong, where Christie's, Sotheby's and Phillips fetch excellent results for works by major international Contemporary artists and by emerging artists from around the world. In 22/23, Hong Kong generated the best auction results for Contemporary art in China with three results above $10 million: a canvas by Jean-Michel BASQUIAT (Untitled, 1981, sold for $13.4 million at Poly Auction) and two works by Yoshitomo NARA (In the Milky Lake, 2012, sold for $12.8 million at Sotheby's and Lookin' for a Treasure, 1995, sold for $10.7 million at Phillips). Sotheby's – which this year celebrated its 50th anniversary in Asia with a commemorative sale of works by Eastern and Western masters – hammered a new record of $7.9 million for a sculpture by the Japanese artist Yayoi KUSAMA, Pumpkin (L).
Hong Kong, which accounted for more than a third of China's Contemporary Art auction transactions (39%) generating more than half of the country's auction turnover in this segment, has again extended its lead over London. Hong Kong hammered $414 million which is $45 million more than London, historically the second art hub for Contemporary Art after New York. But while Hong Kong is ahead of London in terms of turnover, the British capital remains the most dynamic city in the world in terms of transactions. London is where the largest number of Contemporary works are sold at auction: more than 8,000 compared with 2,200 hammered in Hong Kong over the same 12 month period (22/23).
Hong Kong is the second biggest city for Contemporary Art sales. It is now ahead of London by $45 million, from just over a quarter of the lots sold in London!
In addition to China, two other Asian countries rank in the Top 10 for Contemporary art sales: Japan with $40 million (-39%) and South Korea with $21 million (-68%). Despite a slowdown this year, the Japanese and South Korean markets have made a tremendous leap of over 940% in Contemporary art auction turnover in the last decade, clearly illustrating that demand for Contemporary art is growing rapidly in Asia.
In 2022/2023, Singapore bucked the trend by posting growth of 460% to reach $9.3 million. The Singaporean revival owes much to the return of Sotheby's to the island city-state. After fifteen years of absence, Sotheby's Singapore presented works by artists from a wide variety of backgrounds: Liu Ye, Christine Ay Tjoe, Jean-Michel Basquiat, I Nyoman Masriadi, applying a recipe that has already proven itself in Hong Kong.
Top 15 countries by Contemporary art auction turnover (2022/2023)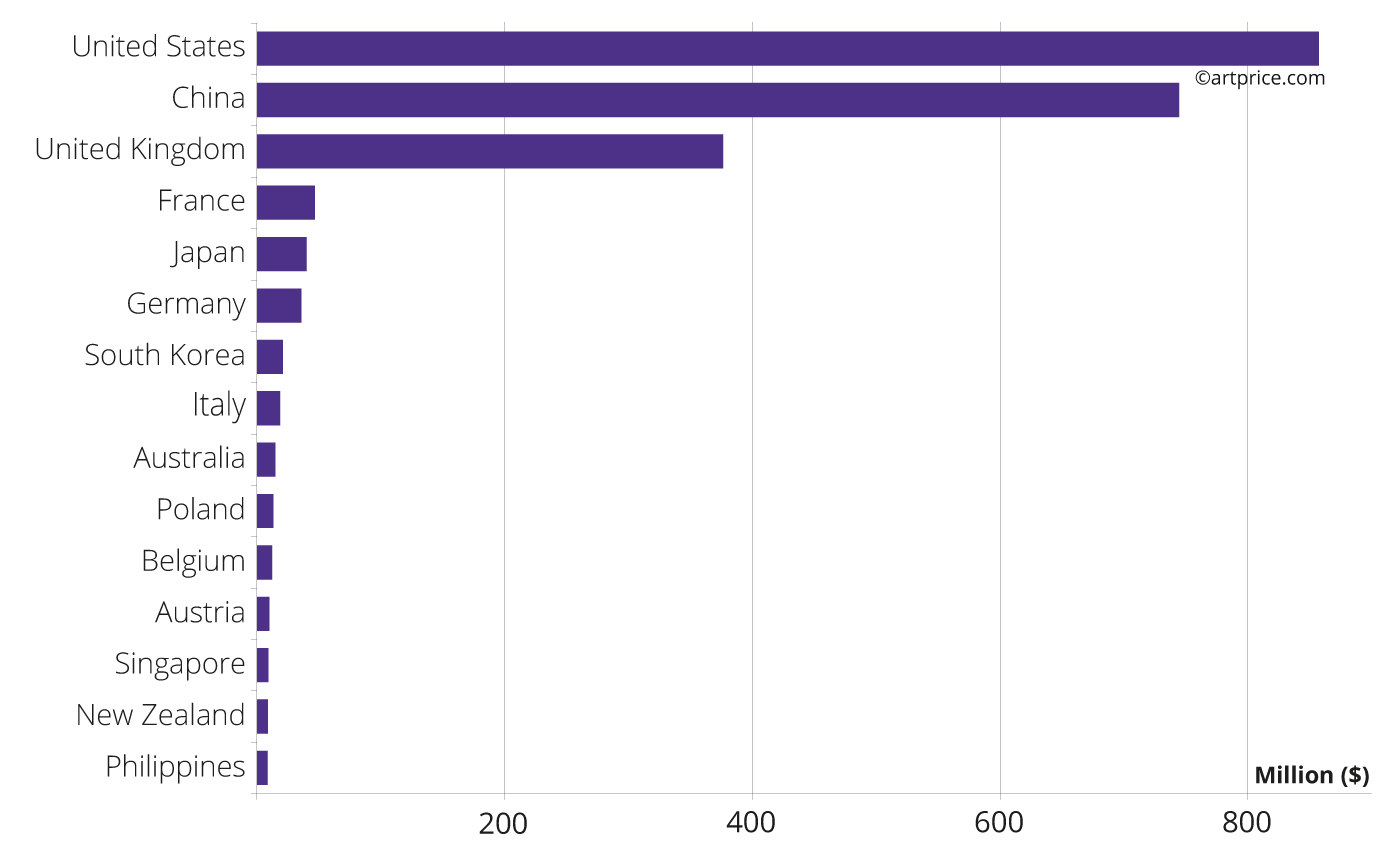 The leading EU country: France
Four EU countries are among the top ten bastions of the global art market for the public sale of Contemporary art: France, Germany, Italy and Poland. Together, these four countries generate just under 5% of the global turnover in this segment and 11% of the art market as a whole (all periods combined).
Contemporary Art is therefore not, a priori, their principal driving force, but it nevertheless represents a fundamental resource in certain countries: more than 9% of art auction turnover in Germany and Italy and as much as 17% in Poland. In the UK, the Contemporary art segment is a major resource representing a quarter of the country's total fine art auction turnover. Unfortunately, in 22/23 Contemporary art only accounted for 6% of France's total fine art auction turnover.
The French market owes its Fine Art performances to its historical signatures, in particular its Modern and Post-War artists who enjoy global demand. On the other hand, few French contemporaries rise to the price levels of the great international artists and there are only ten French artists in our ranking of the 500 top-selling Contemporaries, which is about the same number for Belgium, but only half that for Italy and a third that for German Contemporary artists.
The most popular Contemporary painters in France fetch much lower prices than their American, English or Chinese counterparts. The gap is immense between the famous Robert COMBAS, whose auction record has peaked at $353,000, and Keith Haring – with whom he is sometimes compared stylistically – whose auction record stands at $6.5 million.
French painter Gérard GAROUSTE climbed into the global top-selling 500 artists this year with a new personal best of around $110,000: a significant price for the French market, but well below what it could be if the American market were to take an interest in the artist, especially considering that the American dealer Leo Castelli exhibited his work in his gallery in the 1980s.
Following roughly the same logic, the prices of French artists are substantially higher when they live and work outside Europe. More American than French, Nicole EISENMAN is the only artist to have a 7-digit (in USD) result to her name (record at $2.4 million this year for Night Studio (2009) at Sotheby's New York). The young Claire TABOURET, who lives and works in Los Angeles, has achieved great success in international marketplaces, including a record of $870,000 at a Christie's sale in New York in 2021.
The 10 French artists ranked among the 500 top-selling global Contemporary artists (2022/2023)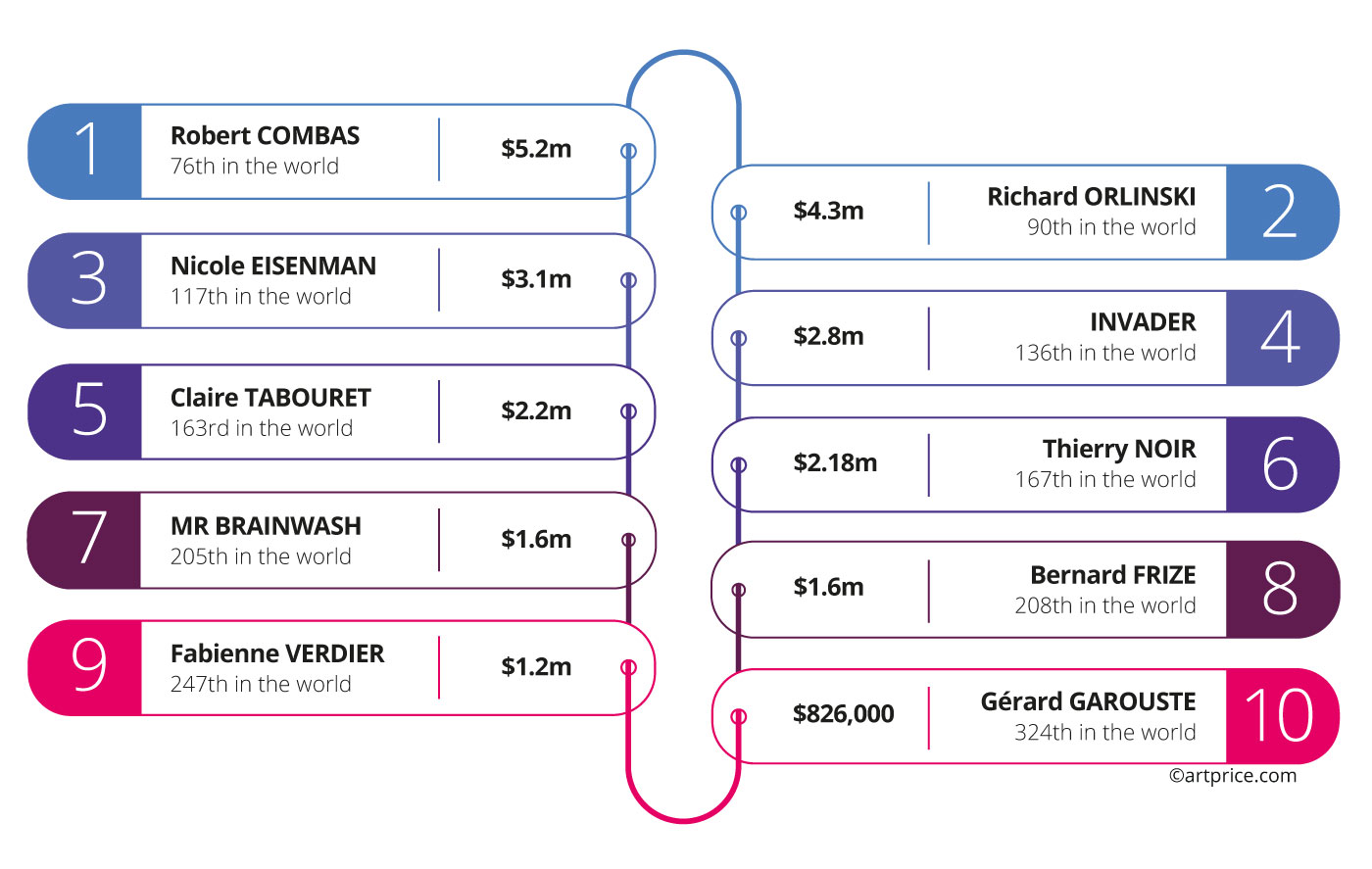 With the exception of Nicole EISENMAN, no 'Contemporary' artist (i.e. born after 1945) born in France has yet reached one million dollars at auction, unlike a great many Americans, British and Chinese artists. The price gap between artists from the world's primary art market hubs and French artists explains the gap between the annual art auction turnovers of these countries. France is indeed the fourth marketplace for Contemporary Art, but it only generates 2% of the global turnover in this segment with a total of $46.7 million compared to $857 million in the United States, $744 million in China and $376 million in the United Kingdom.
French artists and all artists from the EU struggle to measure up to American and Chinese artists dominating half of the global Top 500.
The French market is driven by a passion for art, rooted in its culture, and by an energetic spirit of discovery and collection, who acquired 10,170 Contemporary works this year. French sales commands an impressive 8% share of the global art transactions, firmly establishing itself as the third most dynamic player, rivaling the American and British giants in this domain.
Table of contents
Geography of the Contemporary Art Market