General Synopsis
The global Art Market has posted a third consecutive year of growth on the back of a record volume of transactions (539.000 lots sold), twice the volume recorded in 2000. In the West, buyers remained extremely confident throughout the first half of the year, but became a lot more selective as of the first sales after the summer recess.
Growth driven by the United States
In 2018, global annual Fine Art auction turnover reached $15.5 billion, up 4% vs. 2017 with the growth driven essentially by Western markets (+12%), and particularly by the American market which posted its best-ever total at $5.9 billion (+18%). The UK (+12%), Italy (+17%) and Japan (+31%) also contributed to the growth, whereas the French secondary art market (-10%) was clearly lacking in the type of works that attract big money.
The Chinese art market (-12%) continued the restructuring that started in 2015 with the country's auctioneers trying to shrink their unsold rates (54% in 2018 for the territory as a whole after 64% in 2017).
Global Fine Art Auction Turnover, by semester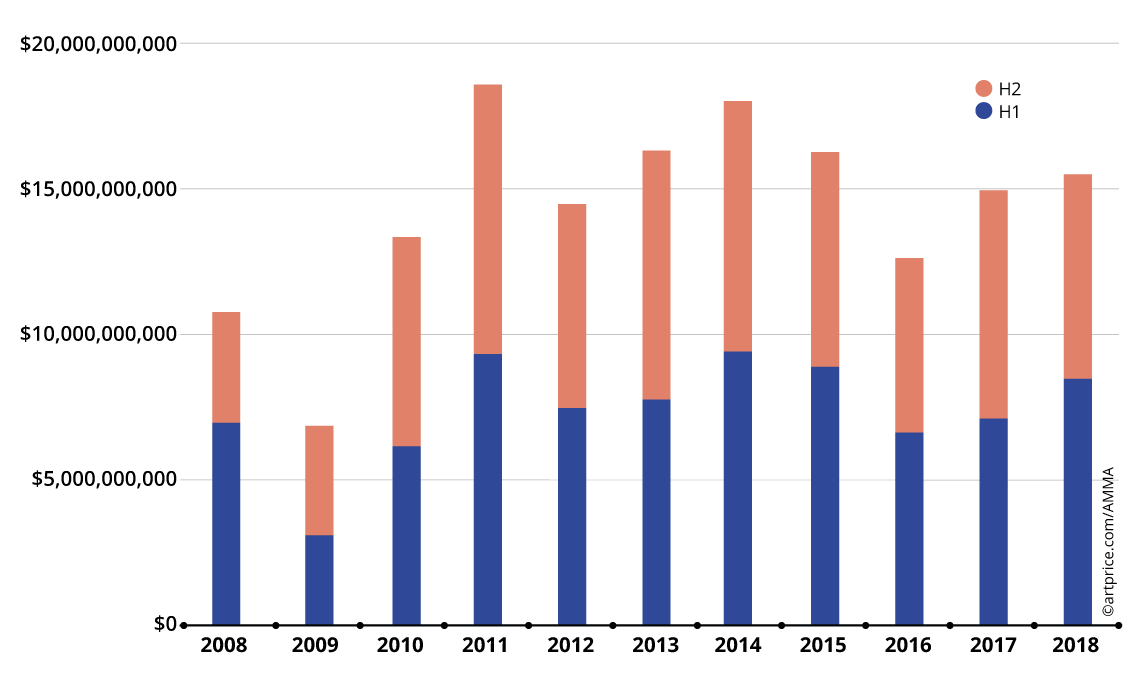 A veritable symbol of a market that is perfectly global, ultra dynamic and in excellent health, Pablo Picasso posted an exceptional performance in 2018 with 3,390 lots sold generating $744.4 million. Some analysts admitted they were slightly disappointed by the $115 million hammered for his Fillette à la corbeille fleurie《拿着花篮的女孩》 in May in New York. In Japan his Tête de femme en pleurs (1939) set a historic record (for a Picasso sold in  Japan) by fetching $10.1 million (iART Tokyo, on 2 June 2018).
A flamboyant H1 2018
The sale of the Rockefeller Collection allowed Christie's to prolong the euphoria triggered by the records hammered for Jean-Michel Basquiat ($110.5 million) and Léonard de Vinci ($450 million) in 2017. In 2018, Modern artists attracted the top bids with two results above the $100 million threshold.
However these extravagant results seem to have triggered questions about the way the high-end art market functions. The intense competition between the major auction houses is forcing them to take major risks with the guarantees they offer to secure their star lots. These risks can (and, in 2018, did) have a negative impact on their operating margins. Sotheby's share price dropped 10% after it announced its H1 2018 profits. In fact, despite a rise in turnover, the company's earnings fell 23%, a shortfall that Sotheby's blamed on its own guarantee strategy. Apparently, the sale of Modigliani's Nu Couché (sur le côté gauche) (1917-18) for $157million – an all-time record for Sotheby's – was not the best financial operation of the year for the world's n°2 auction structure.
Top 15 auction houses by Fine Art turnover in 2018
Auction house
Turnover
Lots sold
1
Christie's
$4,998,867,473
16,082
2
Sotheby's
$3,932,490,788
13,307
3
Poly Group
$654,304,640
8,000
4
Phillips
$653,829,059
4,450
5
China Guardian
$606,226,161
10,323
6
Council
$328,964,829
2,656
7
Rongbao
$246,871,078
6,895
8
Bonhams
$171,110,342
7,531
9
Hangu
$155,654,501
454
10
Xiling Yinshe
$132,962,259
3,386
11
Holly
$118,142,000
1,319
12
Canton Treasure
$103,393,032
2,798
13
Seoul Auction
$90,041,918
477
14
Hanhai
$80,175,039
5,366
15
Artcurial
$79,944,407
3,159
© Artprice.com © AMMA
Greater selectivity in H2 2018
In the second half of 2018 there were fewer exceptional lots on offer in the West and the sales companies posted unusually high unsold rates on their high-end lots. Christie's prestige Contemporary & Post-War Art sales in New York on 15 and 16 November posted an overall unsold rate of 17%.
The Market's slowdown in the second half of the year (-7.4% in the West and -15.6% in China) was nevertheless counterbalanced by a number of new and highly symbolic records which proved that buyers have continued confidence in the Art Market, but have simply decided to focus on its very best offerings.
Artprice Global Price Index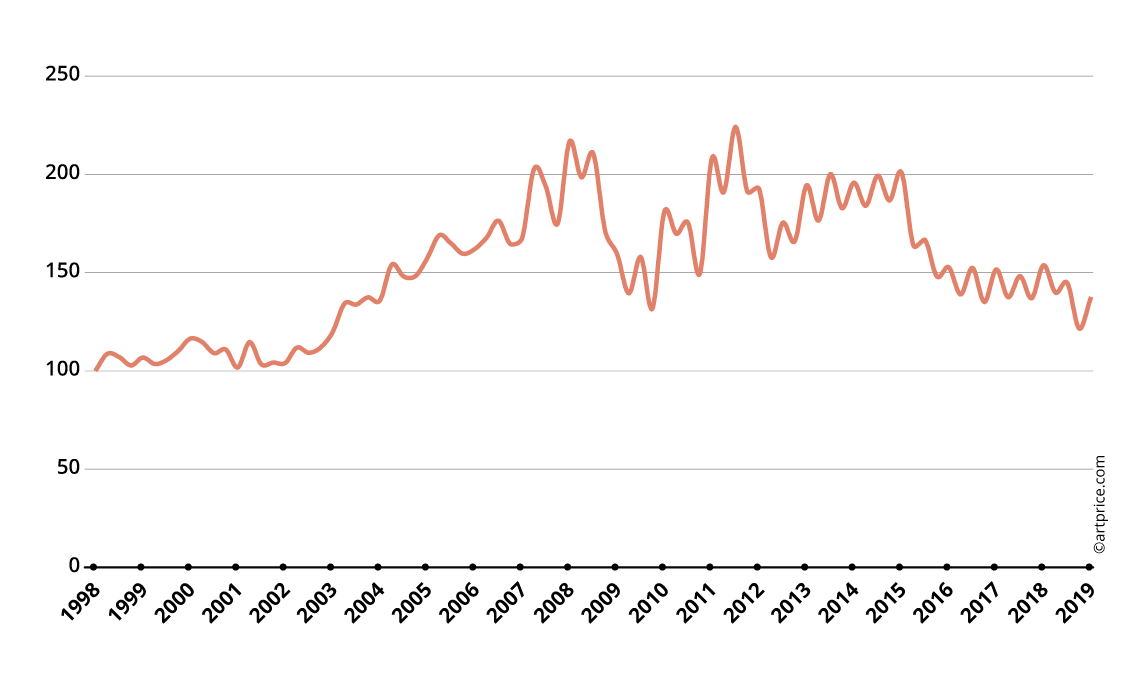 Jenny Saville's Propped (1992) on 5 October, and David Hockney's Portrait of an artist (1972) on 15 November set two new records for living artists (female and male). Indeed, throughout the second half, surprising results for artists like Edward Hopper, Willem de Kooning, Pierre Soulages, Cecily Brown (in New York), Franz Marc and Foujita (in London), Zao Wou-Ki and SU Shi (in Hong Kong) focused the market's spotlight on a number of different periods of Art History.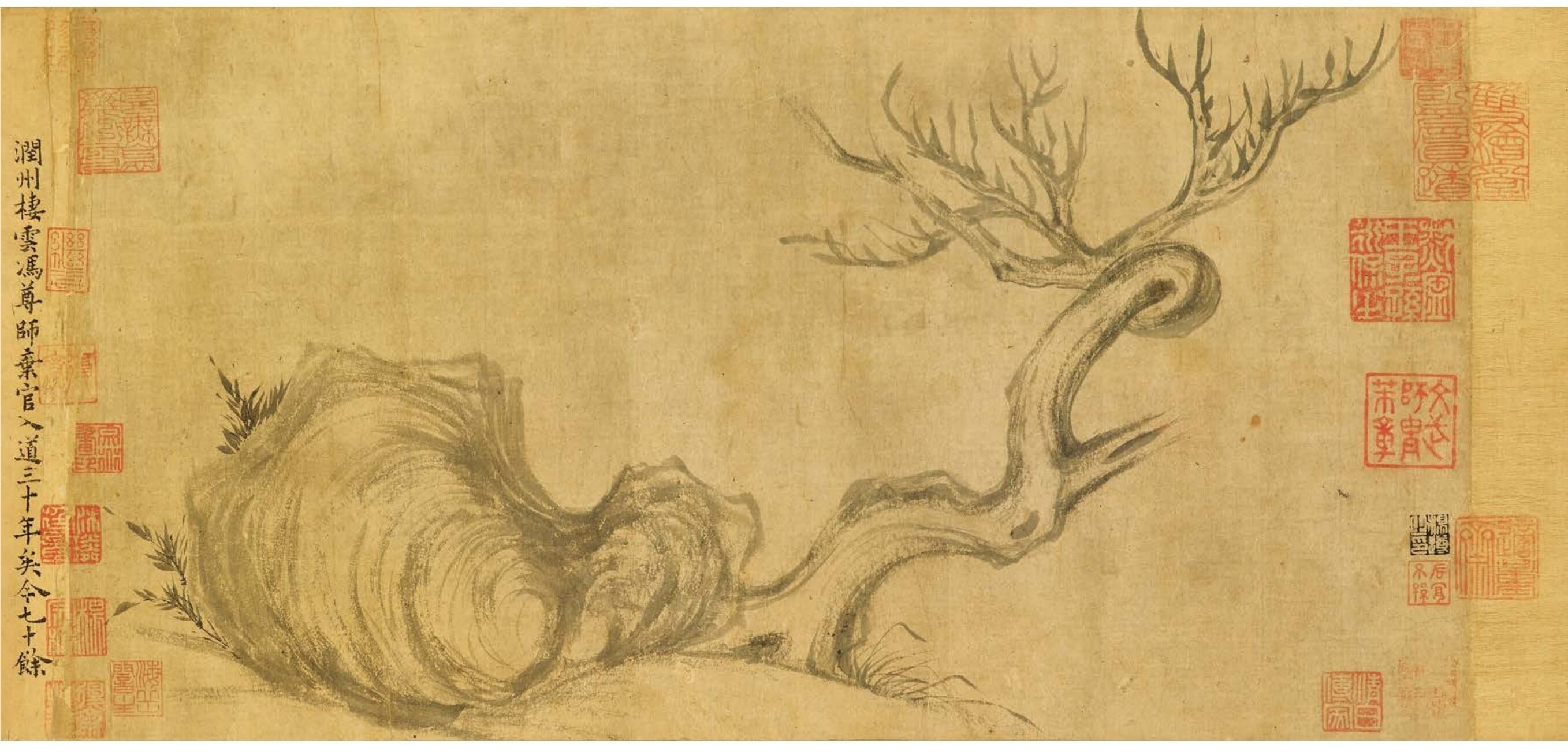 Su Shi (1037-1101)
Wood and rock (木石图)
Price stabilisation
The immense success that has greeted several African-American artists was particularly visible during 2018, notably for the painter Kerry James Marshall (1955). On 16 May 2018, Sotheby's New York sold his painting Past Times (昔日) (1997) for $21 million (vs. an estimate of $8 – 12 million) to the music producer Puff Daddy. On 25 September, this success was confirmed by the sale of his drawing Study for Past Times (1997) for $1.8 million. However, on 15 November Marshall's Knowledge and Wonder (1995), a painting measuring nearly 7 metres and offered for sale by the Chicago Public Library, failed to find a buyer against an estimate of $10 – 15 million at Christie's.
These results show that buyers are ready to raise the ante for exceptional works, but have no regrets allowing less emblematic works to pass them by.
Kerry James Marshall vs. Zeng Fanzhi Auction Turnover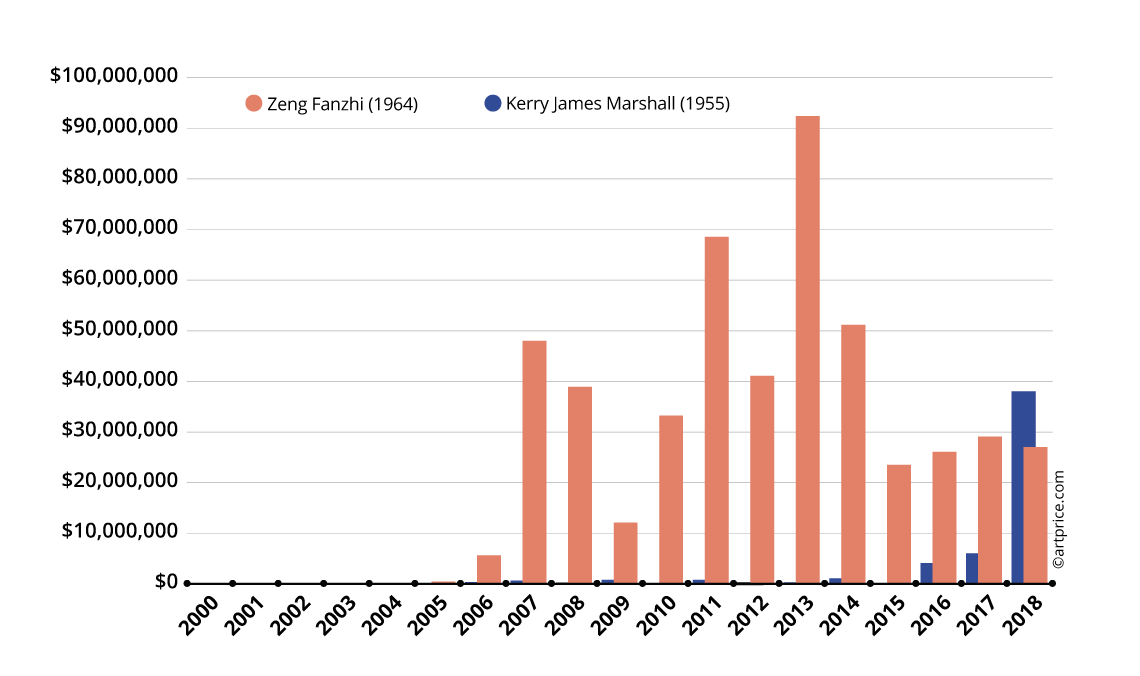 The big discovery of 2017, Njideka Akunyili Crosby, also had a reassuring year. Her three paintings and one drawing that came onto the market (vs. 8 works in 2017) showed a supply continuity which in itself suggests that collectors are not expecting any price contraction. This is an ideal situation for this painter of Nigerian origin who saw the value of her works rocket after an exhibition at London's Victoria Miro gallery in October 2016.