Contemporary Art, beyond Europe and the United States
(Contemporary Art: artists born after 1945)
In 2019, Jeff KOONS (1955), KAWS (1974), BANKSY (1974) and Maurizio CATTELAN (1960) were the subject of more written commentaries and fuelled more Instagram accounts than Claude Monet or Gustave Caillebotte. The first three set remarkable new auction records, while the fourth caused a sensation at Art Basel Miami Beach with bananas taped to the wall, selling for $120,000 each. More than ever before, the Contemporary art market is a question of staging and audacity.
Contemporary "classics"
For twenty years now, Jean-Michel BASQUIAT (1960-1988) has been ranked among the 50 most successful artists in the Art Market, all periods of creation combined. In May 2017, an auction result at $110.5 million propelled Basquiat into a much higher orbit than his contemporaries. However, since that record, his large canvases are becoming rarer, his auction turnover has fallen by 40% and several artists have started to close the gap. But this gap is not being closed by the hot artists of yesteryear: Damien Hirst, Richard Prince, Zhang Xiaogang and Zeng Fanzhi's prices are holding up… but their works no longer circulate with as much intensity.
In May 2019, Jeff Koons once again became the most expensive living artist in the world, after the sale of his Rabbit (1986) sculpture. But his annual performance was based almost entirely on that single result which generated 82% of his annual turnover. Peter DOIG (1959) was almost totally absent from auction rooms, as was the Chinese painter CHEN Yifei (1946-2005). The performances of these "classics" of Contemporary Art fluctuate from year to year, depending on whether any major works were consigned for sale. However, when they reappear, demand remains strong.
Among the seven works by Damien HIRST (1965) estimated above $1 million in 2019, six found buyers. The Stygian Shore (2007) was sold for $2.7 million in November in New York and two formalin-bathed animals from the George Michael collection raised $2.3 million six months earlier in London. His sculpture Unknown Pharaoh (2015), presented in Venice in 2017 during the controversial exhibition Treasures from the Wreck of the Unbelievable, was purchased for $735,000. Just below its low estimate.
Annual auction turnover of 4 top performing Contemporary artists in 2019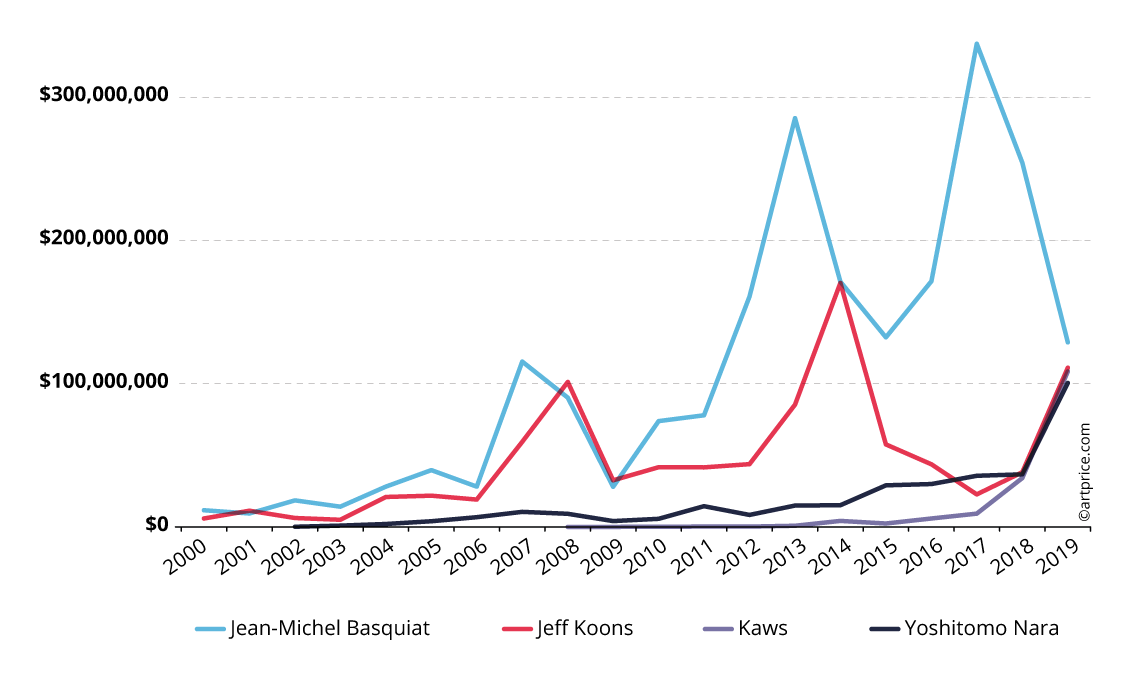 Suddenly unavoidable…
The circulation of a large number of drawings, prints and multiples favours the markets of prolific artists like Kaws and Yoshitomo NARA (1959) : more than eight hundred auction lots per year for Kaws and more than 400 for Nara, while Jean-Michel Basquiat's market consisted of just 64 lots last year.
That kind of density effectively feeds an international market. In 2019, 21% of the auction lots created by KAWS (1974) were sold in Hong Kong, 18% in Japan, 15% in France, 14% in Taiwan and 7% in the United Kingdom. New York, where Kaws lives and works, still dominated the market for his large sculptures and accounted for 29% of his turnover, from 10% of his lots sold. But Hong Kong has become the primary hub for his paintings, and it generated no less than 51% of his total 2019 auction turnover.
Indeed, the geographic expansion of Kaws' sales is driving prices up. Over the last 6 years, the top bid recorded, per year, for a work by Kaws has followed an exponential growth path:
$426,000 in London in 2014
$490,000 in Hong Kong in 2017
$3.5 million in New York in 2018
$14.8 million in Hong Kong in 2019
Similarly, the record price for a work by the Japanese artist Yoshitomo Nara – which dated from 2015 with a result of $3.4 million for The Little Star Dweller (2006) – was beaten eight times this year, including seven times in Hong Kong. He is now the most expensive Japanese artist of all time after his Knife Behind Back (2000) sold for $25 million.
Nara's Midnight Vampire (2010) also suggests that the price of his large paintings has doubled in the last two years:
$2.2 million – 25 November 2017 – Christie's, Hong Kong
$4.7 million – 7 October 2019 – China Guardian, Hong Kong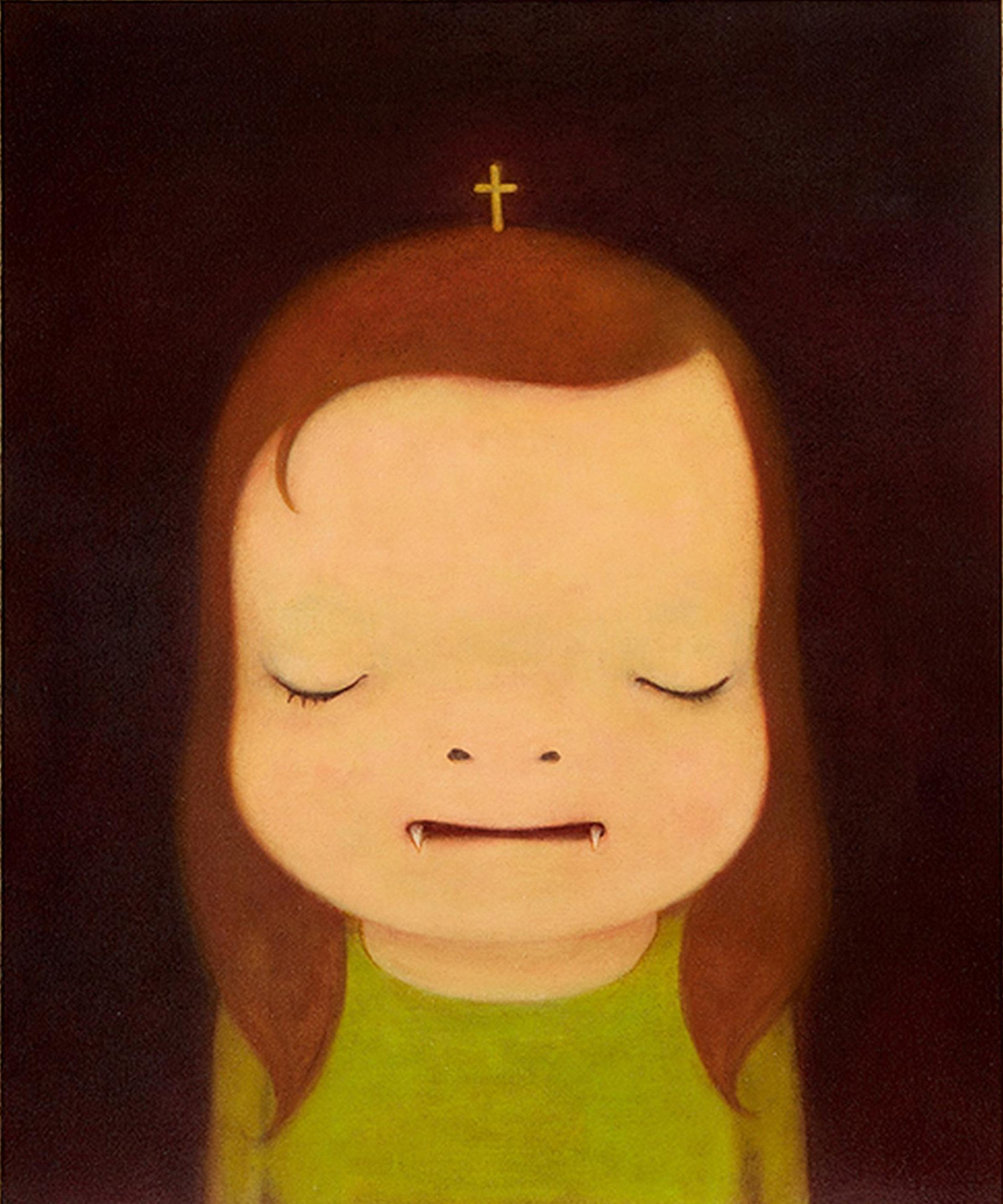 Yoshitomo Nara – Midnight Vampire (2010)
$4.7 million – 7 October 2019 – China Guardian Hong Kong
The Chinese artist, LIU Ye (1964), the German artist Albert OEHLEN (1954), the American artist Jonas WOOD (1977) and the Ethiopian artist Julie MEHRETU (1970) all stood out this year with four of the best turnover progressions. And new records allowed each of them to climb a little higher in our Top 500.
More of the same…
In general, 2019 confirmed trends that were visible in 2018.
This was the case for Street Art which is continuing to impose itself in auction rooms. Kaws and Banksy are clearly the movement's current stars, but a number of other street artists are coming to the fore and leading a generally robust market. These include INVADER (1969) (French), STIK (1979) (British), Shepard FAIREY (1970) (American) and the young  VHILS (1987) (Portuguese) whose auction turnover figures all improved in 2019.
Demand for works by Afro-American and African artists also continued to consolidate. The sudden record at $21 million in May 2018 for Kerry James MARSHALL (1955) was confirmed in 2019 by the sale of his Vignette 19 (2014) for $18.5 million, a canvas half the size and a lot more recent than Past Times (1997). Kerry James Marshall ranked 55th in our 2019 annual turnover ranking, ahead of Mark BRADFORD (1961) (69th) and Barkley L. HENDRICKS (1945-2017) (399th).
With its short sale titled HI-LITE on 23 November 2019 in Hong Kong, Christie's demonstrated the need to put a name on a movement that is lending considerable momentum to the art market. Placed under the aegis of Takashi Murakami, this small curated selection brought together works that share "bold flattened forms, bright colors, and clean lines, referencing images appropriated from popular media and fashion, music, graffiti and animation".
The market performances of Nicolas PARTY (1980) and Harold ANCART (1980) attest to the growing interest of collectors in this type of colorful painting. Born in Switzerland, Nicolas Party was trained in Glasgow before settling in Brussels. Harold Ancart grew up and studied in the Belgian capital but subsequently moved to New York. In 2019 they are the best performers of their generation on the secondary market. Revealed by Xavier Hufkens, they have both joined prestigious galleries: Hauser & Wirth in the case of Party, Clearing and David Zwirner in the case of Ancart.
A breath of fresh air
The generation of artists aged under 40 is increasingly diverse in origin and gender. Not only has gender parity almost been reached in the top 20 (by annual auction turnover) with eleven men and nine women, but the 20 top under-40 artists represent Europe and North America as well as Latin America, Asia and Africa.
Top 20 artists born after 1980 by auction turnover in 2019
Artist
Auction Revenue ($)
Sold Lots
Best Result ($)
1
Nicolas PARTY (b. 1980)
5,087,300
32
1,120,200
2
Harold ANCART (b. 1980)
4,824,700
23
658,200
*
3
Ayako ROKKAKU (b. 1982)
4,154,300
80
188,700
4
Tschabalala SELF (b. 1990)
2,871,800
12
487,400
*
5
HAO Liang (b. 1983)
2,507,100
3
1,933,100
*
6
Oscar MURILLO (b. 1986)
1,938,000
16
364,900
*
7
Shara HUGHES (b. 1981)
1,915,200
17
337,500
8
Loie HOLLOWELL (b. 1983)
1,791,300
10
443,000
*
9
MI Qiaoming (b. 1986)
1,773,500
1
1,773,500
*
10
Julie CURTISS (b. 1982)
1,530,000
9
423,000
*
11
Michael ARMITAGE (b. 1984)
1,520,000
1
1,520,000
*
12
Toyin Ojih ODUTOLA (b. 1985)
1,255,500
8
597,900
*
13
Jordan CASTEEL (b. 1989)
956,300
3
393,800
*
14
Alex ISRAEL (b. 1982)
954,900
5
598,800
*
15
Nina CHANEL ABNEY (b. 1982)
829,500
9
285,300
16
Daniel ARSHAM (b. 1980)
752,000
69
295,500
*
17
ABOUDIA (b. 1983)
713,400
30
78,700
*
18
Rodel TAPAYA-GARCIA (b. 1980)
665,500
15
380,800
*
19
CHEN Cai (b. 1983)
632,700
4
316,500
*
20
Adam PENDLETON (b. 1984)
610,300
7
262,900
© Artprice.com © AMMA
*New Auction Record
Some come from prestigious art schools, like Tschabalala SELF (1990) who trained in Yale, others, like Aboudia Abdoulaye DIARRASSOUBA (1983), are perfect autodidacts. The Japanese artist Ayako ROKKAKU (1982) has not yet joined a big gallery, while the Chinese painter HAO Liang (1983) has already gained the support of Larry Gagosian. The works of Shara HUGHES (1981) can only be acquired through Sotheby's, Christie's, Phillips or Bonhams, while those of Rodel TAPAYA-GARCIA (1980) are still traded in auction rooms in the Philippines.
Lastly, it's the market segment which generates the biggest surprises: the first painting sold at auction by the young Kenyan painter Michael Armitage, The Conservationists (2015), estimated $50,000 – 70,000, fetched no less than $1,520,000 at Sotheby's on 15 November 2019 in New York, a level that sets the bar very high for his next auction appearances.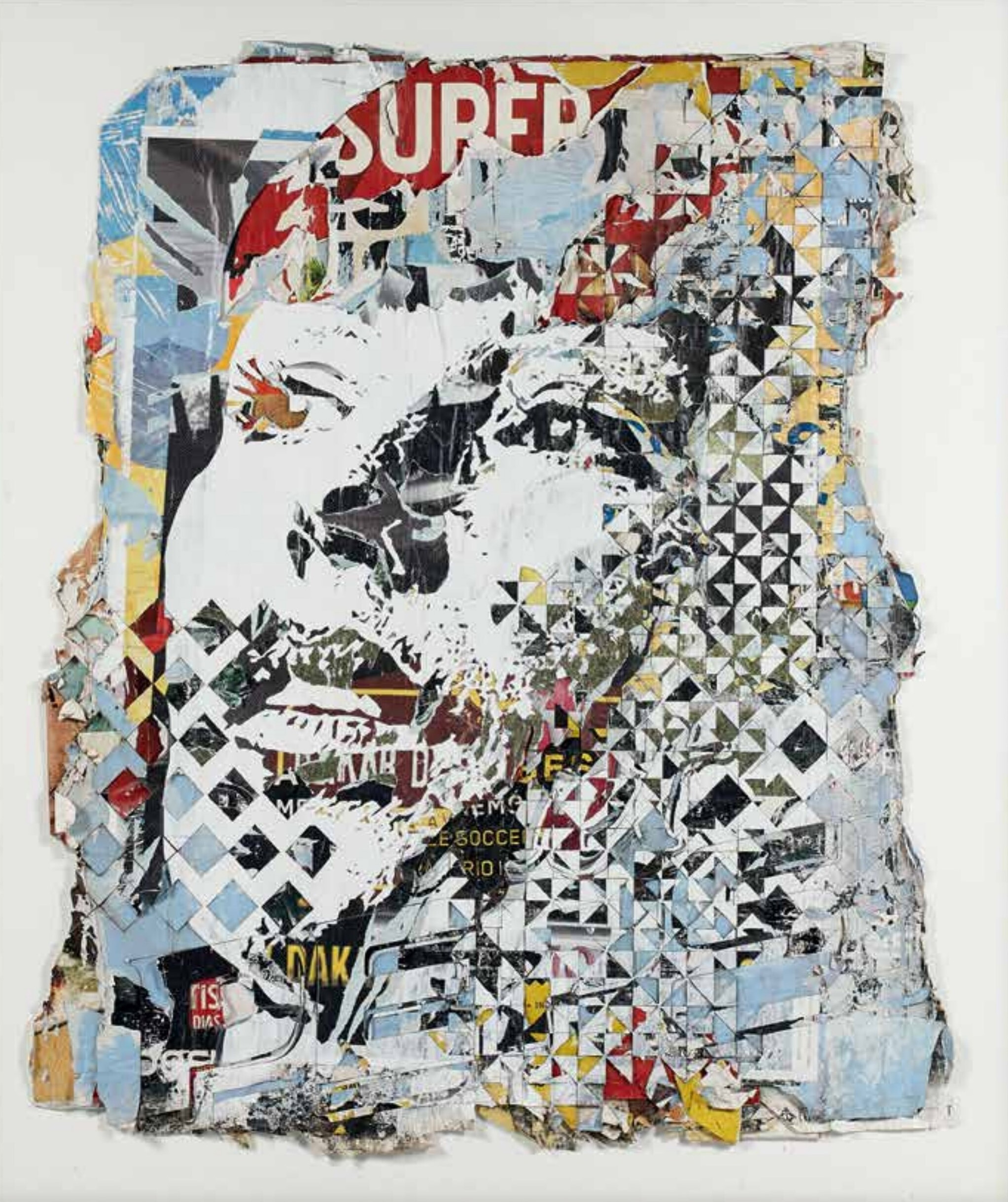 Vhils – Overload #6 (2013)
$60,450 – 5 November 2019 – Artcurial, Paris
Table of contents
Contemporary Art, beyond Europe and the United States