2021, an exceptional vintage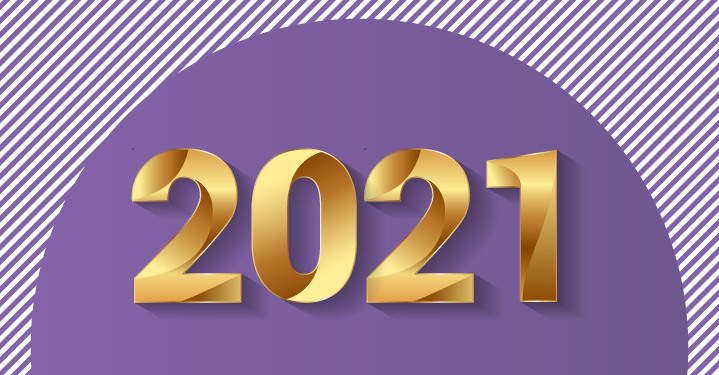 The Contemporary Art segment (artists born after 1945) posted a historic performance in H1 2021, up 50% vs. H1 2019. Meanwhile neither the Modern segment (-8%) nor the Post-War segment (-4%) managed to regain their pre-crisis levels of intensity.
Contemporary Art now accounts for 23% of total global Fine Art auction turnover, compared with 3% twenty years back. With more than $300 million to his name in six months (twice as much as Andy Warhol), Jean-Michel Basquiat alone accounted for 4.3% of the global Art auction Market, all periods of creation combined!
Top 10 artists (all periods combined) by auction turnover (H1 2021)
Artist
Auction turnover
1
Pablo PICASSO (Modern)
$352,168,683
2
Jean-Michel BASQUIAT (Contemporary)
$303,537,107
3
Andy WARHOL (Post-War)
$149,981,873
4
Claude MONET (19th century)
$131,637,860
5
BANKSY (Contemporary)
$123,327,879
6
ZAO Wou-Ki (Modern)
$114,518,014
7
Gerhard RICHTER (Post-War)
$97,919,863
8
Sandro BOTTICELLI (Old Master)
$94,206,366
9
Yoshitomo NARA (Contemporary)
$85,937,346
10
ZHANG Daqian (Modern)
$82,295,354
© artprice.com
The recovery was all the more robust for being based on a record number of transactions: 51,616 contemporary works were auctioned in six months, an increase of 32% compared with H1 2019 (i.e. before the health crisis), which was already one of the busiest buying periods ever recorded.
Turnover since 2000/2001

→ After the slowdowns caused by the health crisis last year, a recovery was to be expected; but it was much stronger than anticipated. Global turnover from auction sales of Contemporary Art more than doubled (+117%), setting a new record for auction history!
Semestrial turnover since 2000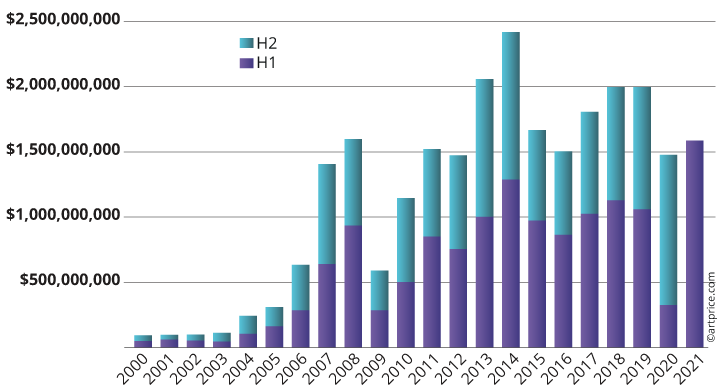 → In a single half-year period, the global total from auction sales of Contemporary Art exceeded the total for full-year 2020. This historically high half-year performance ($1.58 billion) illustrates the tremendous resilience of the Art Market and also reflects its enrichment with the development of digital sales and the advent of new buyers recently won over by Contemporary Art. The acceleration was particularly strong in the United States ($592 million in H1 2021), Hong Kong ($435 million) and Germany ($21.7 million). The three countries have just posted their best-ever semesters in the Contemporary Art auction segment.
Table of contents
2021, an exceptional vintage