Inflation!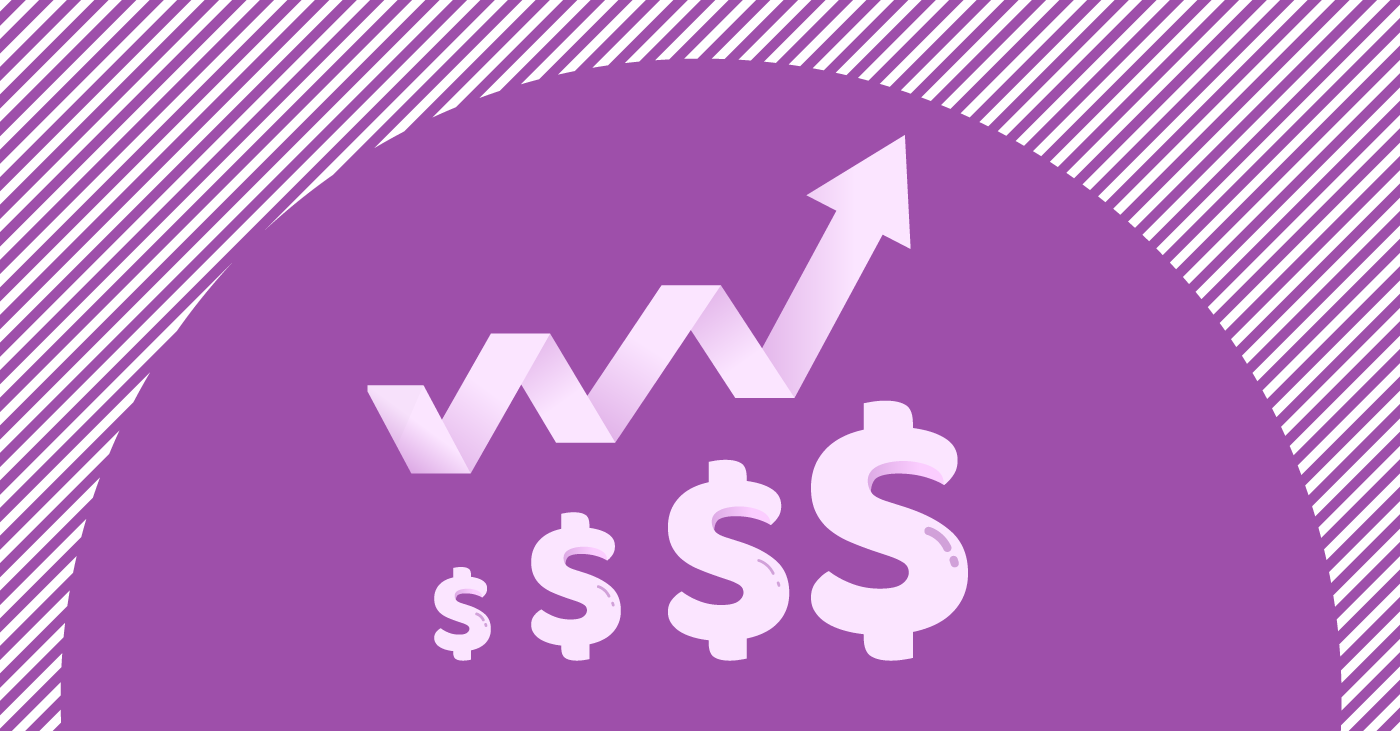 The Art Market's semestriel or annual auction turnover performances no longer have anything in common with those seen at the start of the millennium.
Twenty years ago, no work had ever reached $100 million at auction, a price threshold that has now been exceeded eighteen times, including seven times for works dating from the second half of the 20th century (by Andy Warhol, Francis Bacon, Alberto Giacometti and, the youngest, Jean-Michel BASQUIAT).
In the late 1990s, Basquiat was the only artist under 40 (he died before reaching that age) to have fetched over one million at auction with a single work. Today, his best works are no longer worth $1 million, but rather 30, 40, 50 and up to over $100 million dollars as the Basquiat "myth" has grown stronger over time.
But… who are the Basquiats and Warhols of tomorrow? The Art Market's appetite for new artists certainly bears witness to this quest for the stars of tomorrow. Major collectors and dealers want to "bet" on works that will be listed in a few years or decades in the pantheon of the most coveted and highly rated artistic productions on the planet. The result has been a dizzying acceleration in prices for certain young artists who collector's hope will be recognized as those who have best captured the current zeitgeist.
If we look at the evolution of the Top 5 auction results hammered for artists under 40, we see that the price level has not just climbed, it has literally exploded. In 2000, the ranking peaked at just $732,000 for a work by Jean-Michel Basquiat. Today, thirty-somethings are valued at three or even six million dollars a canvas – Flora Yukhnovich, $3.6 million and Matthew Wong, $5.9 million – amounts that were inconceivable twenty years ago, or even four or five years ago.
"Chip-wise, the sight of a Dana Schutz's 2017 painting Elevator selling at Christie's for a record $6.5m, more than double the high estimate, beating a single bid of $6.1m for a 1962 hand-painted Andy Warhol Campbell's Soup Can, marked a telling shift from blue to red. Back in 2014, the classic Warhol had sold at auction for $7.4m."
("Blue-chip artists move over, here come the red chips", The Art market Newspaper, Scott Reyburn, January 8, 2021).
Artists under 40: Top 5 auction results in H1 2022
Artist
Work
Price
Date
Auction House
1
Matthew WONG (1984-2019)
The Night Watcher (2018)
$5,897,150
19 May. 2022
Sotheby's, New York
2
Matthew WONG (1984-2019)
Green room (2017)
$5,340,000
10 May. 2022
Christie's, New York
3
Avery SINGER (b. 1987)
Happening (2014)
$5,253,000
19 May. 2022
Sotheby's, New York
4
Christina QUARLES (b. 1985)
Night Fell Upon Us Up On Us (2019)
$4,527,000
19 May. 2022
Sotheby's, New York
5
Flora YUKHNOVICH (b. 1990)
Warm, Wet 'N' Wild (2020)
$3,601,641
2 Mar. 2022
Sotheby's, London
© artprice.com
Artists under 40: Top 5 auction results in H1 2000
Artist
Work
Price
Date
Auction House
1
Jean-Michel BASQUIAT (1960-1988)
Glenn (1985)
$732,000
16 May. 2000
Christie's, New York
2
Jean-Michel BASQUIAT (1960-1988)
Peter and the Wolf (1985)
$662,500
18 May. 2000
Phillips, New York
3
Jean-Michel BASQUIAT (1960-1988)
Eroica I (1988)
$643,750
17 May. 2000
Sotheby's, New York
4
Damien HIRST (b. 1965)
Out of Sight, Out of Mind (1991)
$552,500
18 May. 2000
Phillips, New York
5
Jean-Michel BASQUIAT (1960-1988)
Carbon – Oxygen (1984)
$500,750
17 May. 2000
Sotheby's, New York
© artprice.com
→ Between 2000 and 2022, the average price of the Top 5 results was multiplied by nine, rising from $618,000 to $4.9 million! Moreover, the ranking has diversified since the best works by four artists fetched several million – Matthew Wong, Avery Singer, Christina Quarles and Flora Yukhnovich – whereas only two – Jean-Michel Basquiat and Damien Hirst – managed to obtain prices above $500,000 in 2000.
Top 3 artists under 40 (living and dead) in H1 2022, ranking by best result.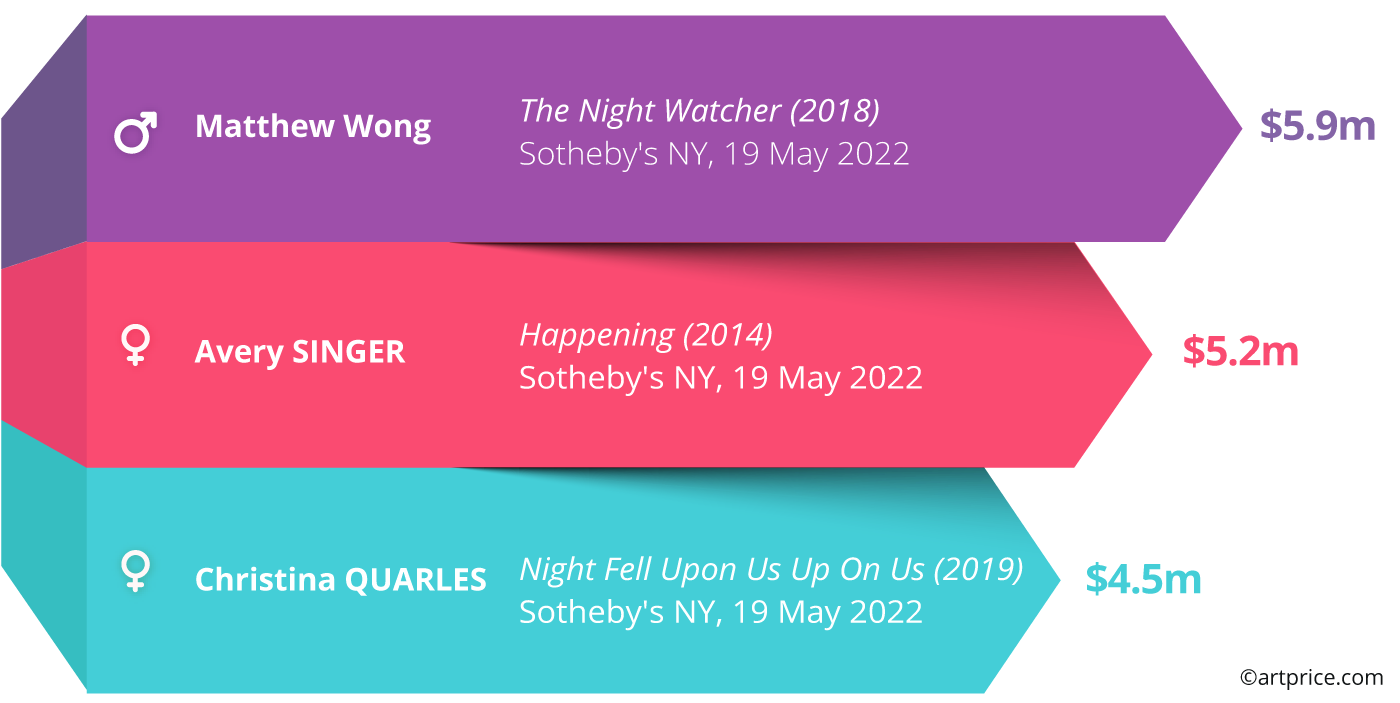 Matthew Wong: the rarest and most successful artist of the new generation
Matthew WONG was immediately propelled into the top one hundred most successful artists in the world, all periods combined, based on their annual auction turnover. Over the first six months of 2022, his works generated $21 million (including an auction record of $5.9 million for « The Night Watcher »), which represents no less than 10% of the total H1 2022 auction turnover generated by ultra-contemporary art worldwide.
Matthew Wong tragically passed away in 2019 at the age of 35, he has since been described as "one of the most talented painters of his generation" by The New York Times. Collectors also appear to have elected him as the most desirable Contemporary painter of the moment. As soon as his work was offered at auction in 2020 (a few months after his death), eight of his paintings exceeded one million dollars in one year as collectors raced to obtain works that were rapidly becoming increasingly rare. By extolling Matthew Wong, the market seems to be reconnecting with the myth of the 'cursed genius', a myth that was believed to be put to rest since Basquiat's untimely death.
In H1 2022, Matthew Wong alone accounted for 10% of ultra-contemporary art sales.
Wong dominated the Top 10 artists under 40 who together account for half of the $200.9 million turnover hammered in H1 2022. Interestingly, he is one of the few men in a ranking that contains seven female artists! The next chapter ("Female artists and digital art: the market gets invested in social/societal issues") starts with the names of the women artists who are bringing fresh energy into the auction market in 2022.