The growing place of young artists on the auction market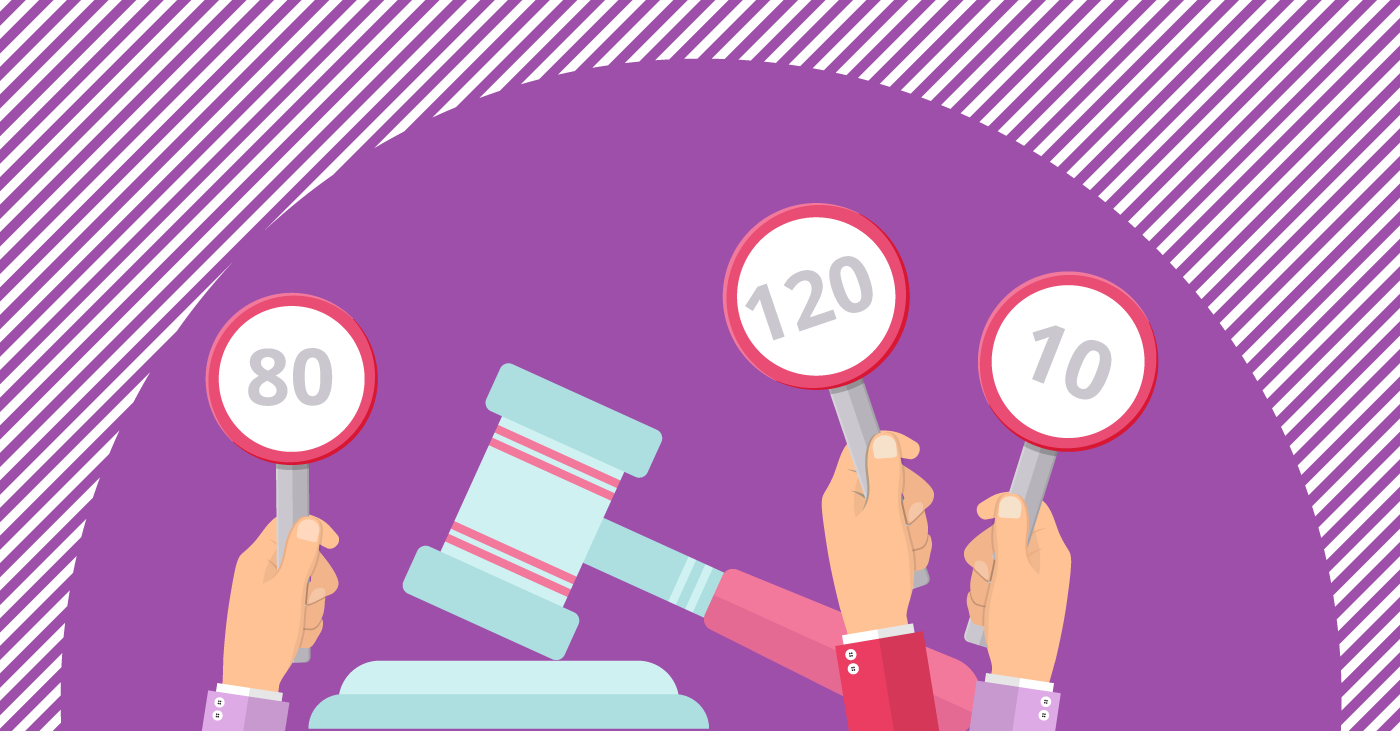 In a tragicomic play written by Pierre Corneille, one of his characters says "I'm young, it's true; but for well-born souls, value is not a question of age".
That famous line may have been written almost 400 years ago, but it hasn't aged a bit and is today more than ever relevant in the current art market, which is increasingly focused on 'young' artists.
The origin of this phenomenon – visible since the very early 2000s, but recently accelerating – seems to date back to the gasps of surprise when a sculpture by Jeff KOONS (then 46 years old) called Mickael Jackson and Bubbles《迈克尔·杰克逊和鲍比》fetched $5.6 million at (Sotheby's) in 2001. At that time, that was a totally exorbitant price for a mid-career artist. Yes… Jeff Koons was in the headlines, but twenty years ago no-one imagined that a living artist could reach such a sum.
It could be argued that this exceptional result, at the very beginning of the new millennium, set the scene for uninhibited valuations of ultra-contemporary creations at price levels traditionally reserved for highly established and recognised artists. In the following years, the major auction houses offered increasingly fresh works by increasingly young artists. In fact, since the sale of Mickael Jackson and Bubbles by Koons, the number of artists under 40 whose work has been presented in an auction sale has quintupled and the turnover from artists in this sub-segment is now twenty-six times greater!
Masterpieces by "blue-chip" artists – Basquiat, Warhol, Banksy, Condo, etc. – have reached stratospheric amounts and collectors are now daring to venture beyond the 'sure' values, and indulge in aggressive bidding for the cheaper creations of promising young artists, some of whom are very young indeed! In January 2021, art journalist Scott Reyburn coined the adjective "red-chips" to designate this new generation that has imposed itself at the forefront of the international art market (The Art Newspaper).
The competition is so intense in auction rooms that the total turnover from artists under 40 reached an all-time high of $200.9 million (H1 2022), or 2.7% of the global Fine Art auction turnover. Never before have artists in this age group been in so much demand.
Relative weight of artists under 40 on the auction market since 2002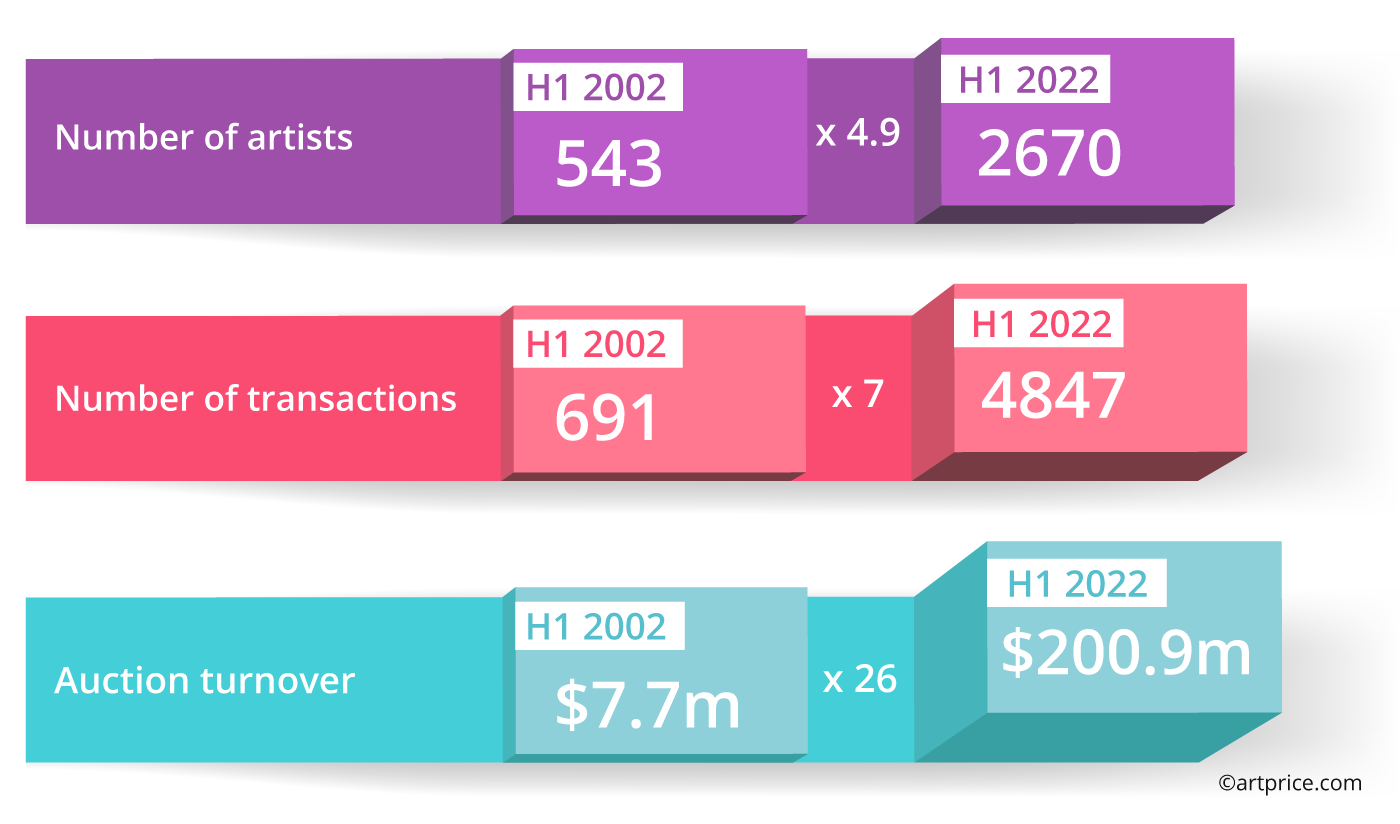 → If we take the global art auction market as a whole, over the last twenty years, demand for ultra-contemporary art (i.e. works made by artists under the age of 40) has soared with the number of transactions multiplying by seven and the number of young signatures offered increasing by a factor of five, from 543 to 2,670, an increase which has just pushed the turnover total attributable to U-C art to an absolute record of $200.9 million for the first six months of 2022.
Artists under 40: Collective auction turnover since 2000


→ In short, the under 40s are increasingly driving the Art Market: they now represent 16% of the proceeds from Contemporary art sales (artists born after 1945) and 2.7% of the total Fine Art auction market (all periods combined), compared with just 0.5% twenty years ago. This rapid growth reflects an overall increase in demand, but also, and above all, the extreme prices that some young artists are now fetching. In fact, the twenty best-performing artists under 40 at auction generated 70% of the U-C segments' global turnover, from just 20% of the U-C lots sold (i.e. $140 million out of the $200.9 million hammered in H1 2022).
Half-yearly evolution of the turnover share generated by under-40 artists on the Fine Art auction market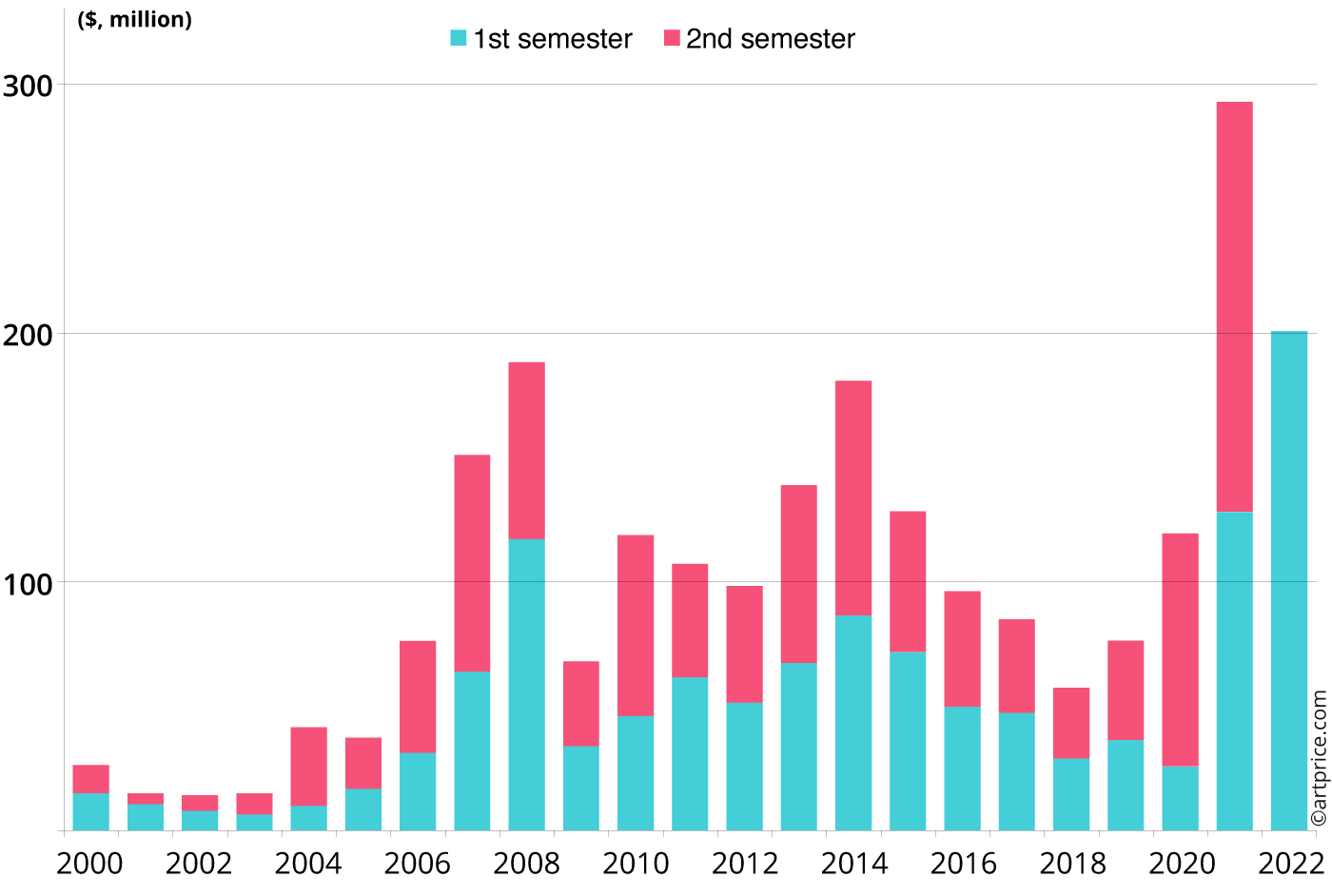 The auction turnover data for artists under 40 shows four peaks: $188 million in 2008, essentially based on works by Banksy (34 at the time), Cecily Brown (39), Jenny Saville (38), and I Nyoman Masriadi (35), with auctions between $1 million and $2 million. Then in 2014 ($180.8m), which owed a lot to Dan Colen (then 35), Adrian Ghenie (37), Tauba Auerbach (33), Joe Bradley (39), and Aili Jia (35) with results between $1.5 million and $3 million. In 2021 the total reached $293 million driven by higher price levels, between $2 million and $5 million for works by Matthew Wong (died at 35), Avery Singer (34 in 2021), Amoako Boafo (37) , Flora Yukhnovich (31), Fewocious (18), Toyin Ojih Odutola (36) and Loie Hollowel (38). And lastly, the first half of 2022, which has set a new record, beating the annual results of 2008 and 2014 in just six months.
Table of contents
The growing place of young artists on the auction market