NFTs: a technology that appeals to young people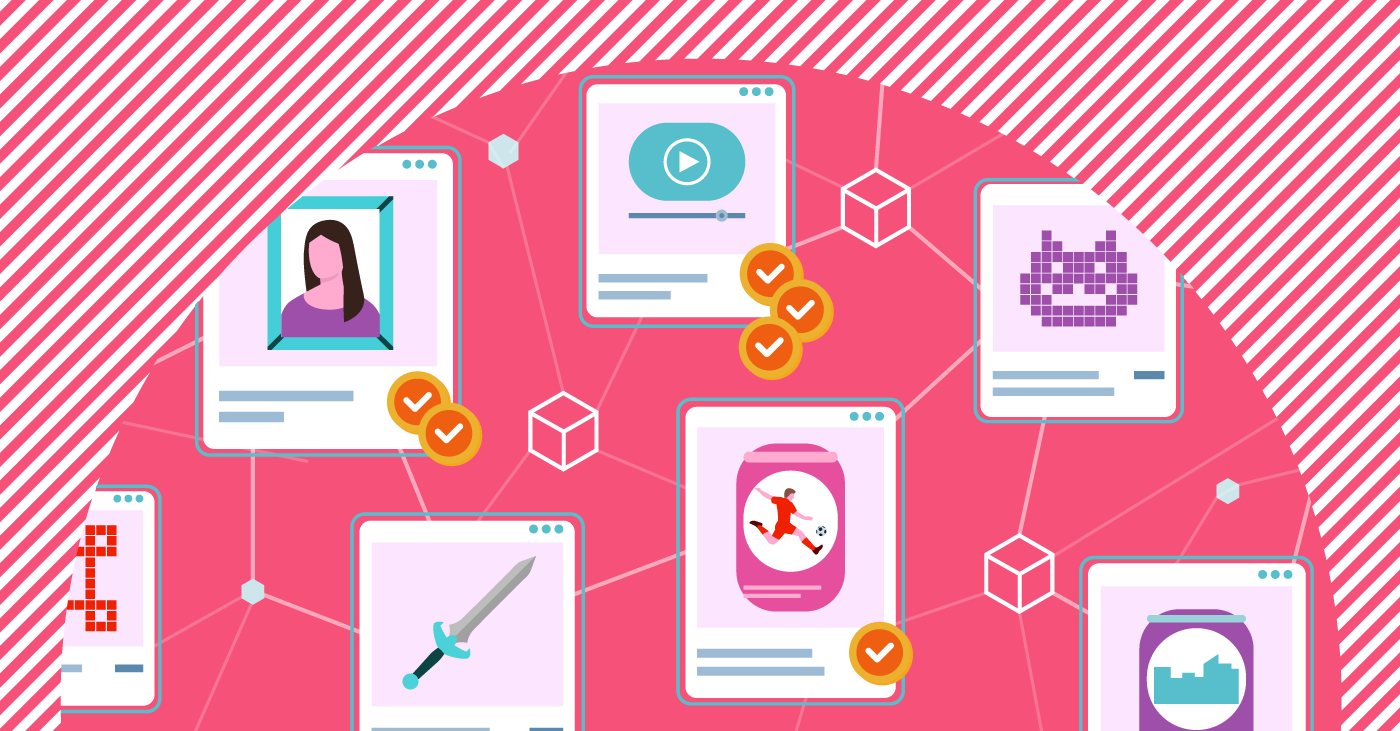 Propelled into mainstream headlines in March 2021 with the first public auction of an NFT by Beeple (just in his forties at the time), NFTs (Non-Fungible Tokens) have revolutionized the art world by promoting the emergence of a new type of work with new collectors and a new currency (among other aspects…).
Last year, the very first NFT sold in the history of public auctions fetched over $69 million (Beeple's Everydays: The first 5000 Days) against a starting price of just $100. At the time, BEEPLE was relatively unknown to the art world… no gallery, no museum exhibition; "only" several million followers on Instagram and the support of Christie's, one of the oldest and most honorable auction houses on the planet. That initial result was followed by an unprecedented media focus on NFTs that lasted several months and the new medium was suddenly generating astonishing new auction records that were as numerous as they were unexpected.
However, the current situation is very different from last year: of the 277 NFTs put up for auction in H1 2022, 65% sold for an average price of $47,000, whereas the sold rate for the 225 NFTs offered for sale in the year-earlier period showed a much better 86% success with an average price of around $520,000!
It seems natural that the NFT market should enter a period of calm after the powerful wave caused by its intrusion into the world of regulated auctions just a year ago. But the heavy under-performance in 2022 can mainly be explained by the high volatility of crypto-currencies, starting with that of Ether, which has seen its value halve since the start of the year, reinforcing the mistrust of traditional collectors vis-à-vis this disruptive market.
In the first half of 2022, the best NFT result was $1.38 million for Living Architecture: Casa Batlló (2022) by Refik ANADOL, whereas in the previous half-year period (H2 2021), Beeple's Human One (2021) sold for just under $29 million at Christie's.
Artists under 40: Top 20 art NFTs at auction (H1 2022)
Artist
Work
Price
Date
Auction House
1
Refik ANADOL (b. 1985)
Living Architecture: Casa Batlló (2022)
$1,380,000
10 May 2022
Christie's, New York
2
Robbie BARRAT (b. 1999)
AI Generated Nude Portrait #7 Frame #64 (2018)
$841,317
2 Mar 2022
Sotheby's, London
3
IX SHELLS (b. 1990)
Beyond Recognition/Beyond Recognition (2022)
$189,000
25 Apr 2022
Sotheby's, New York
4
Refik ANADOL (b. 1985)
Melting Memories – Early Engram (2017)
$100,800
28 Jun 2022
Christie's, New York
5
MAD DOG JONES (b. 1985)
Silly Simon's Psilocybin
$75,600
28 Jun 2022
Christie's, New York
6
SIX N FIVE (b. 1985)
Curiosity
$63,000
28 Jun 2022
Christie's, New York
7
Jake FRIED (b. 1984)
Baby Eyes
$63,000
28 Jun 2022
Christie's, New York
8
Maxim ZHESTKOV (b. 1985)
Points of View
$52,920
28 Jun 2022
Christie's, New York
9
Sofia CRESPO (b. 1991)
[Transmutation_of_species] (2022)
$52,920
25 Apr 2022
Sotheby's, New York
10
DANGIUZ (b. 1995)
Enchanter
$44,100
28 Jun 2022
Christie's, New York
11
Andres REISINGER (b. 1990)
A Space in Time
$32,760
28 Jun 2022
Christie's, New York
12
Justin AVERSANO (b. 1992)
Ten of Swords (2022)
$30,240
28 Jun 2022
Christie's, New York
13
TOOMUCHLAG (b. 1988)
Dream Machine
$30,240
28 Jun 2022
Christie's, New York
14
Anna RIDLER (b. 1985)
Anno oxypetalum (2022)
$27,720
25 Apr 2022
Sotheby's, New York
15
Archan NAIR (b. 1982)
Precipice
$22,680
28 Jun 2022
Christie's, New York
16
WLOP (b. 1987)
HaiQin (2020)
$21,420
28 Jun 2022
Christie's, New York
17
Victor MOSQUERA (b. 1989)
Currents
$17,640
28 Jun 2022
Christie's, New York
18
Léo CAILLARD (b. 1985)
Love 3.0 (2022)
$17,149
10 Mar 2022
FauveParis, Paris
19
Maciej KUCIARA (b. 1984)
Close Your Eyes
$16,380
28 Jun 2022
Christie's, New York
20
EXONEMO (b. 1996)
Web Safe Cups #000000-#FFFFFF (2022)
$16,188
12 Mar 2022
SBI Art, Tokyo
 © artprice.com
Artists under 40: annual evolution of Fine Art and NFT auctions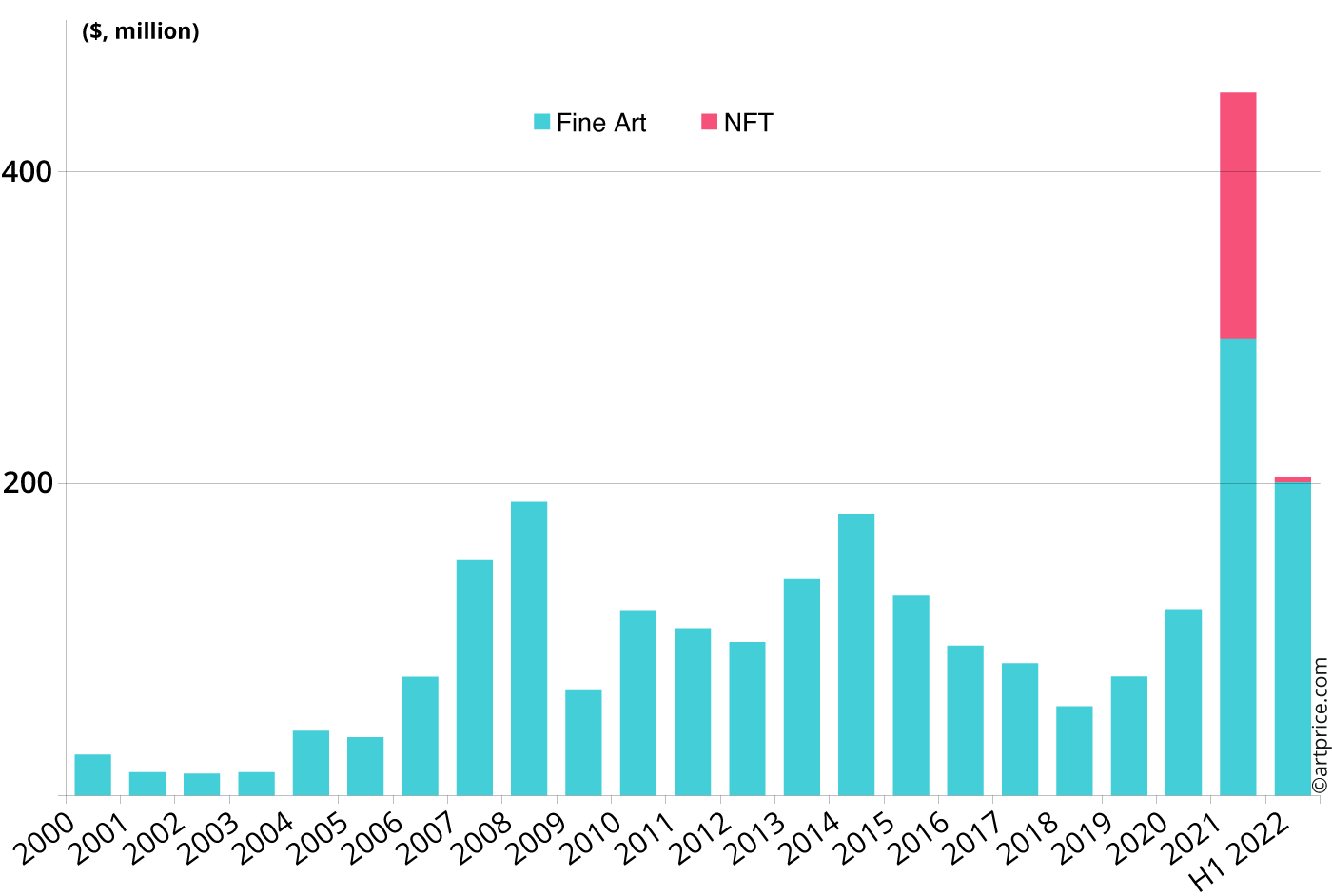 "Two art markets now coexist: one organic, the other disruptive. The first places itself in tradition, that of Art History with its codes, its museums, its galleries, its fairs, its biennials, etc. The second embraces a world in full recomposition, which challenges History via movements like #metoo or #blacklivesmatter, and faces the many challenges that await it, both political, climatic, health and technological," thierry Ehrmann
Artists in the new NFT niche acquire popularity outside the art world's traditional circuits. They generally engage in collaborations outside the art world and far from artistic institutions. They use crypto-art platforms like "Super Rare" to meet their audiences with complete autonomy, allowing a rapid economic return on their digital works.
This is a radical change insofar as these artists no longer have to rely on traditional art galleries to do their intermediation work. That said, auction houses can play an essential role in developing their notoriety and formalizing their price levels. Presentation at a regulated sale organized by a prestigious operator like Christie's, Sotheby's or Phillips is a form of test and a path to recognition… if the auction is successful.
Christie's has thus substantially contributed to the launch of FEWOCIOUS (real name Victor Langlois and just 19 years old) who sold his first NFTs aged 17. The young artist also questions gender identity, a subject popular with collectors and museums today. In June last year, five NFTs accompanied by physical works by Fewocious generated $2.1 million in a Christie's sale dedicated to the artist. In October, Sotheby's exceeded this amount with a single lot ($2.85 million obtained for a "modern diptych" consisting of a physical work and its NFT Nice to meet you, I'm Mr. MiSUNDERSTOOD (2021)).
Considered by some as a crypto-art genius, Fewocious apparently made his first sale in March 2020 for the amount of $90 to an inspired New York collector advising him to move towards digital art. Rapidly becoming highly productive (numerous drops and collaborations) and ultra-popular, Fewocious was then revealed by Christie's on the traditional art market.
Without really foreseeing it, Christie's also played a decisive role in the rise of Robbie BARRAT (22 years old) to second place in the best NFT results for the under 40s (H1 2022). Indeed, during a congress organized by the auction house in 2018, the artist, still a student at the Amsterdam school of Fine Arts, offered several hundred NFTs to the delegates present. Most of them, not really knowing what an NFT was at the time, threw away or lost the coupon giving access to their digital token. Having become rarities, these NFTs are snapped up today for several hundred thousand dollars! One of them, AI Generated Nude Portrait #7 Frame #64 (2018), fetched $841,000 at Sotheby's in London on 2 March 2022.
The most highly rated crypto-artists are on the fringes of the traditional circuit. Their popularity owes nothing to art galleries, but regulated auction houses offer them a new form of legitimation.
Top 10 auction results for artists under 40 (at the time of the result), including for art NFTs.
Artist
Work
Price
1
BEEPLE (b.1981)
Everydays: The first 5000 Days (2021)
$69,346,250
2
BEEPLE (b.1981)
Human One (2021)
$28,985,000
3
LARVA LABS (b.2005)
9 Cryptopunks: 2, 532, 58, 30, 635, 602, 768, 603 and 757
$16,962,500
4
LARVA LABS (b.2005)
CryptoPunk 7523 (2017)
$11,754,000
5
Adrian GHENIE (b.1977)
Nickelodeon (2008)
$9,054,022
6
Urs FISCHER (b.1973)
Untitled (Lamp-Bear) (2005-2006)
$6,802,500
7
Matthew WONG (1984-2019)
The Night Watcher (2018)
$5,897,150
8
Raqib SHAW (b.1974)
Garden of earthly Delights III (2003)
$5,520,465
9
Matthew WONG (1984-2019)
Green Room (2017)
$5,340,000
10
Avery SINGER (b.1987)
Happening (2014)
$5,253,000
© artprice.com
As we mentioned earlier, the first time "young" artists began to attract high auction bids was at the end of the 1990s, but if we look at our market data we see that half of the historical records for artists under 40 (age at time of result) have been hammered in the last two years, i.e. between the beginning of 2020 and the summer of 2022, At the top of the list: Beeple and Larva Labs reflect the excitement linked to the arrival of NFTs at auction.
Top 3 artists born after 2000 ranked by H1 2022 auction turnover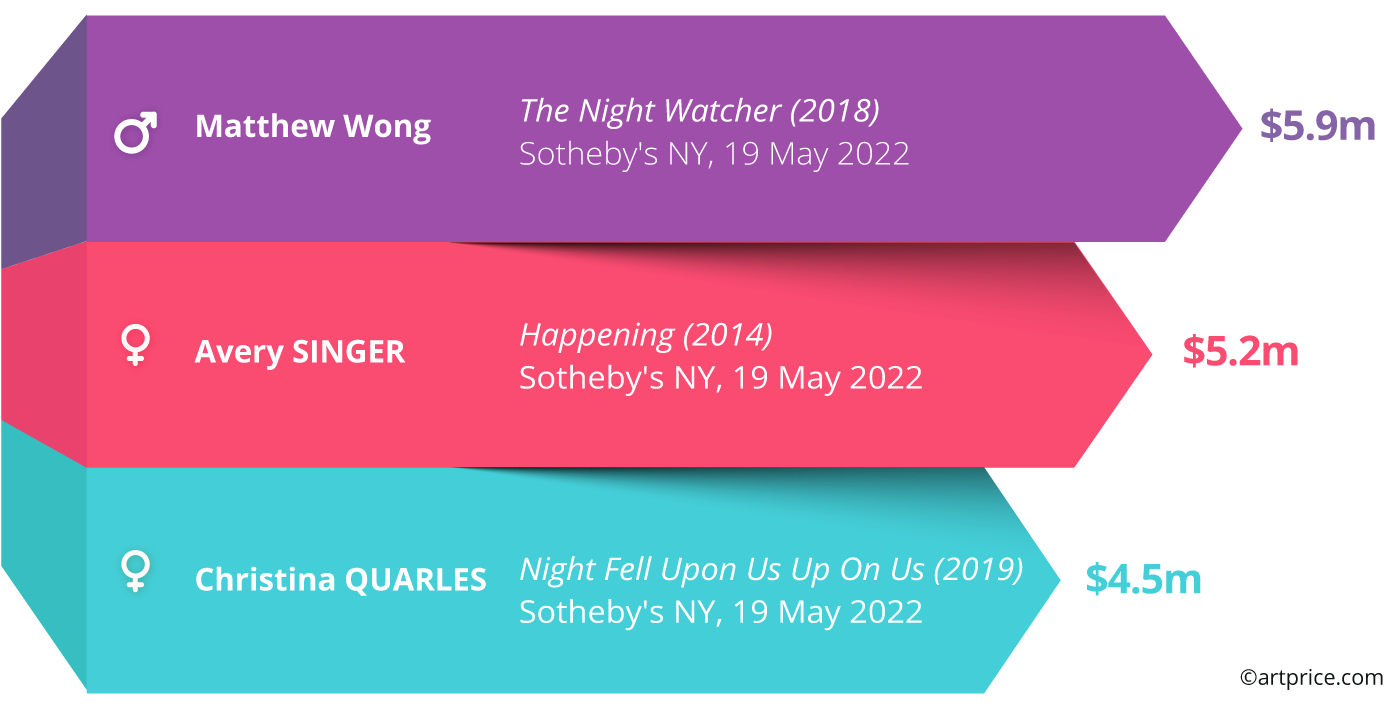 → Millennials entering the regulated auction market can quickly achieve astonishing results, as proved by Defaced, now aged 22, the youngest artist ever offered at auction by Sotheby's. Defaced, who masters NFT technology, and Sophia, the first robot-humanoid on the Art Market, arrive at the right time to a market more than ever in search of novelty.
Sophia (AI created in 2015)
SOPHIA was created, or rather "implemented" seven years ago, after being developed over several years by Hanson Robotics in Hong Kong. Behind this her name is an ultra-efficient robot equipped with an artificial intelligence that has already allowed it to create collaborative works with several "flesh & blood" artists. An NFT (accompanied by a digital print) created by this highly publicized 'humanoid robot' sold for $433,000, a surprisingly high price that was partly due to the charitable context of the auction in which it was offered (organized to help Ukraine in its war effort).
Andres Valencia (born in 2011)
While Phillips has long been known for its commitment to young artists, it has recently extended its lower age limits to below the age of majority! On June 26th, 2022 at one of its Hong Kong sales, Phillips offered a work by a young talent Andres VALENCIA, just 11 years old, alongside creations by Kaws, Banksy and Anish Kapoor. Entitled Ms. Cube, the mixed technique work created by the young prodigy reached $160,510, three times its high estimate. A few months earlier, the youngster attracted lots of media attention after selling all his paintings presented at Art Palm Beach. The young virtuoso is currently working with the Chase Contemporary gallery.
Defaced (born in 2000)
Like many other digital artists, DEFACED started his career in graphic design. In March 2022, Sotheby's auctioned a colorful mixed-media work  by the young artist, accompanied by an NFT. The combination appears to have seduced traditional collectors and technophiles already familiar with his work. The physical and digital lot sold for nearly $37,000 in London.
Table of contents
NFTs: a technology that appeals to young people