Editorial by thierry Ehrmann
CEO and founder of Artprice by Artmarket.com
The Contemporary Art Market has entered an essential and long-awaited phase of adjustment. The question is no longer whether works by Jeff Koons, Damien Hirst or Christopher Wool are important – they have proved that beyond doubt – but rather how to readjust their prices to those commanded by the Old and Modern grand masters of Art History and to those fetched by the new generations of artists on the global art market.
The Contemporary Art Market has experienced exceptional growth in the 21st century. From a total of $103 million in 2000/2001, the segment generated $2.3 billion in 2022/2023, i.e. 22 times more. The 12-month period that this report looks at (1 July 2022 – 30 June 2023), posted the 4th best-ever historical performance in terms of auction turnover, and the highest transaction volume ever recorded with more than 123,000 Contemporary art lots sold at auction around the world. In short, the Contemporary art market has evermore lots on offer, by evermore artists, and they are being acquired by evermore collectors.
Moreover, Contemporary creation is being produced and consumed by an increasingly diverse range of artists and art buyers in an ever-wider range of styles and techniques. The young stars of today's market include artists from Africa, Asia and Eastern Europe. The gradual opening of the art market to women artists has once again been underscored by the auction performances of Cecily Brown, Ayako Rokkaku and Njideka Akunyili Crosby. Collectors no longer neglect the Street Art movement, nor that of Digital Art – a brand new market that is growing in depth via NFTs. New names are shining on the international stage: Dmitri Cherniak, Tyler Hobbs, Kjetil Golid, 0xDEAFBEEF and Josh PIERCE (whose work ornates the cover of this report).
Faced with a whole host of political, economic and ecological challenges, the Contemporary art market has demonstrated remarkable resilience. Not only are the pillars of this market perfectly solid – Jean-Michel Basquiat and Takashi Murakami for example – but sales in this segment are more frequent than ever and are often driven by works in the Ultra-Contemporary segment (by artists under 40 years old) which is posting an unprecedented global dynamic, with buyers from New York, London, Hong Kong, but also from Paris, Cape Town, Seoul, Singapore, and many other places.
In this 27th Annual Report, Artprice by Artmarket.com presents and analyzes a Contemporary and Ultra-Contemporary Art Market whose activity is more intense than ever.
The price index for Contemporary Art versus the Artprice Global Index (base 100 in January 1998)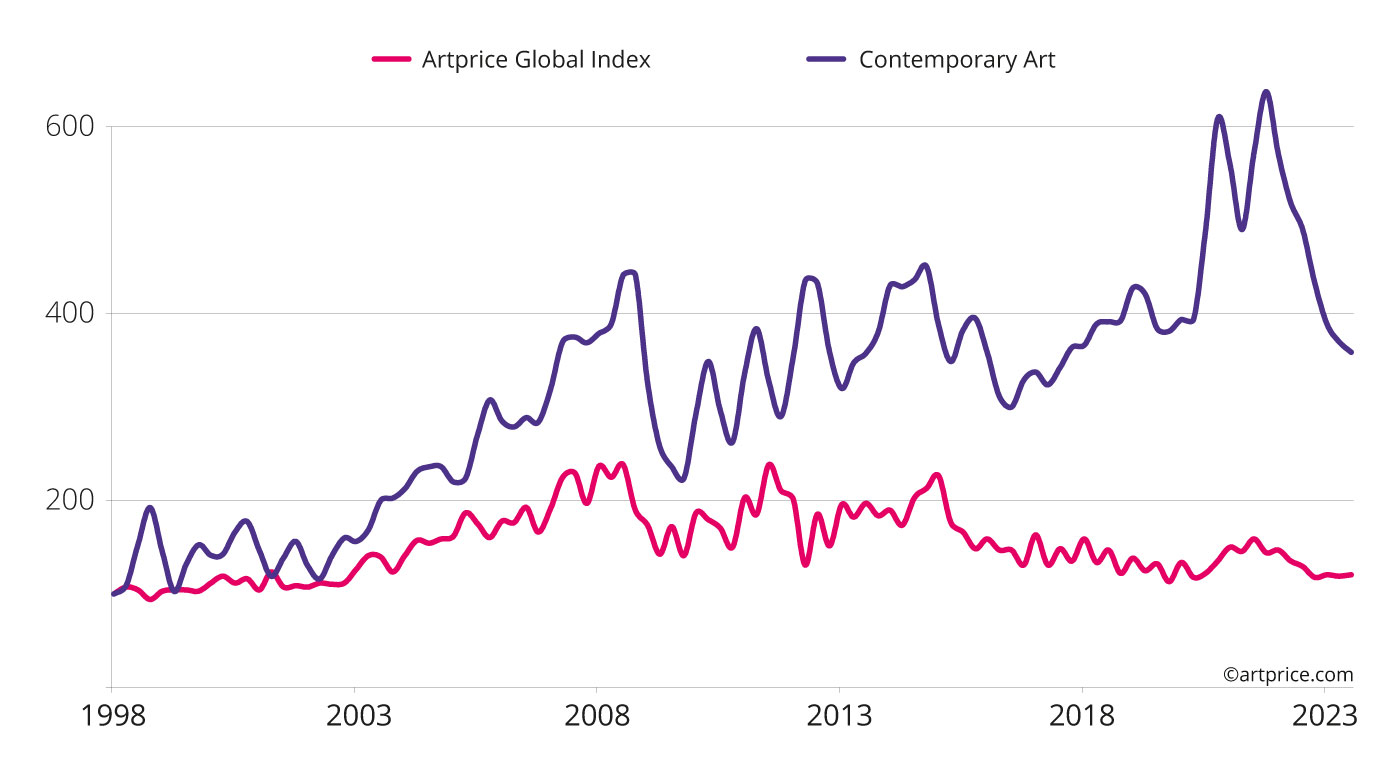 Table of contents
Editorial by thierry Ehrmann