Art from around the world
Nationalities most represented in the Top 500 (2016)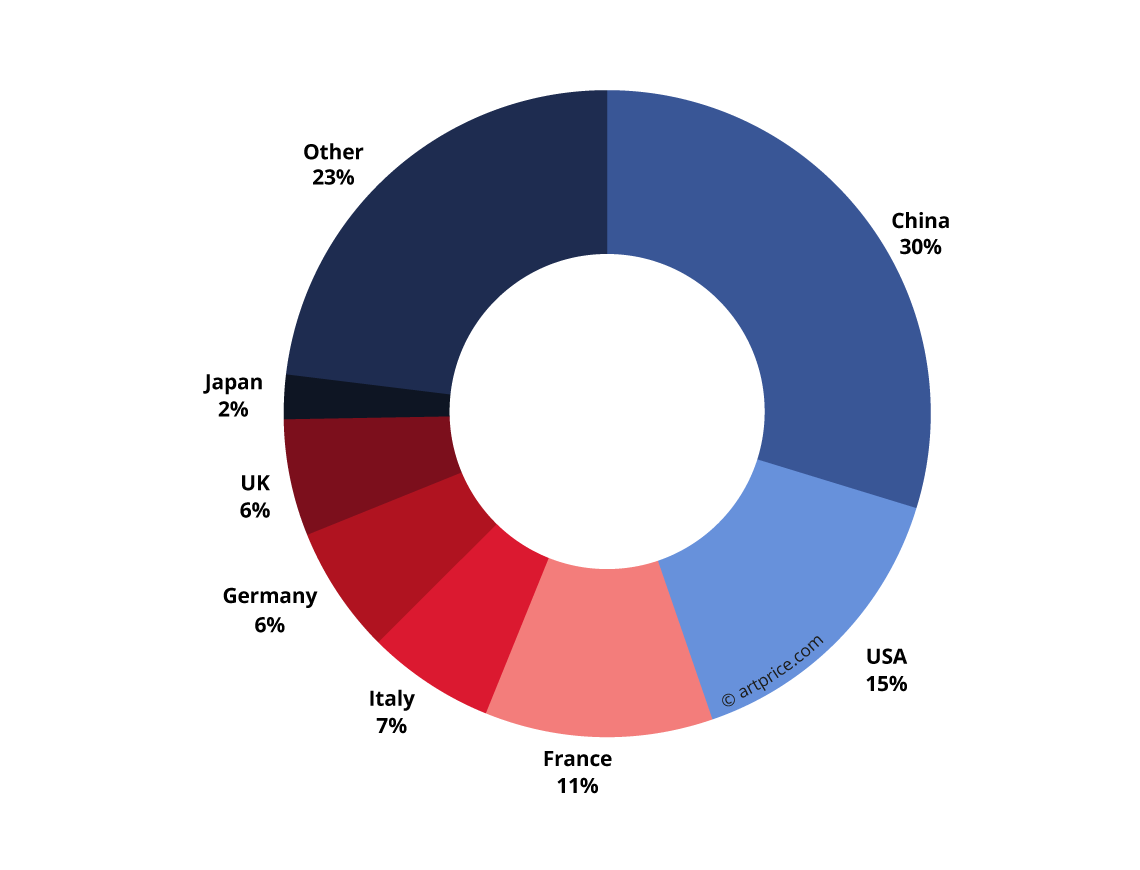 Franco-Chinese references
The Western art market has expressed a distinct taste for works by artists like Zao Wou-ki, Chu Teh-Chun, Ai Weiwei, Zeng Fanzhi, Qi Baishi, Lin Fengmian, Zhang Daqian, Lee Man Fong, San Yu and Walasse Ting. These are in fact the ten most sought-after Chinese artists in auction rooms outside China and most of them lived in Paris in the second half of the 20th century when the French capital enjoyed unprecedented creative vitality and strong appeal to foreign artists, such as Zao Wou-ki, Chu Teh-Chun, San Yu and Walasse Ting. Some were recognized during their lifetimes, like Zao Wou-Ki, others were rediscovered recently after leading discreet lives like Tang Haiwen. These signatures have given French auction houses the opportunity to include a number of pure abstract masterpieces in their catalogues. In 2016, a work by Zao Wou-ki (12.10.1970) generated a new million-plus result in France ($1.2 million at Sotheby's Paris, 6 December 2016), the only 7-digit result recorded outside Asia during the year. A veritable 'spearhead' of Chinese and French markets alike, Zao's price index has increased by +886% since 2000. In his wake, the market for Chu Teh-Chun has shown exceptional vitality in China and the rest of the world. His price have rocketed: $100 invested in 2000 would be worth an average $1,665 today. Although the French capital has already generated several million-plus results for Chu Teh-Chun, his finest works, when not sold in Asia, are often sold in London or New York. His latest auction record of $11.8 million was set on 26 November 2016 for his Vertige neigeux (snowy vertigo) at Christie's Hong Kong.
Tastes in art differ in France, London or New York, especially regarding Chinese art. While Anglo-Saxon collectors focus primarily on the new stars of Contemporary Chinese art, French collectors are more interested in Postwar Chinese artists, particularly those who came to France to study, create or teach. Compared with the price solidity of the 20th century Franco-Chinese artists in Western markets, the new stars of Contemporary Chinese art have had much less stable records since their prices rocketed less than a decade ago. In 2011 Zhang Xiaogang's canvas Bloodline: Big Family No.1 fetched $8.4 million at Sotheby's in Hong Kong (3 October 2011); in 2016, the same work sold in New York for $4.9 million, generating a capital loss of $3.5 million.
Japanese artists on the global market
The major Japanese artists of the 20th and 21st centuries have shown remarkable market vitality all around the global art market. While most of the million+ results for Japanese artists like Tsuguharu Foujita, Kazuo Shiraga, Yoshitomo Nara and Yayoi Kusama are hammered in Hong Kong, the phenomenal rise in their prices also reflects a demand that has strong roots in the West. One third of Yayoi Kusama's annual auction turnover comes from the United States; more than a third of Shiraga Kazuo's market is generated in the UK; a quarter of Foujita's is American and 80% of Tetsumi Kudo's is French and British.
Top 10 Japanese artists (2016)
| | Artist | Revenue ($) | Auctioned lots | Top price ($) |
| --- | --- | --- | --- | --- |
| 1 | Yayoi KUSAMA (b. 1929) | 64,986,443 | 512 | 2,539,936 |
| 2 | Yoshitomo NARA (b. 1959) | 29,903,701 | 202 | 3,103,911 |
| 3 | Kazuo SHIRAGA (1924-2008) | 27,356,088 | 90 | 2,684,192 |
| 4 | Tsuguharu FOUJITA (1886-1968) | 21,387,733 | 504 | 5,082,600 |
| 5 | Takashi MURAKAMI (b. 1962) | 9,989,765 | 388 | 2,014,432 |
| 6 | Atsuko TANAKA (1932-2005) | 7,391,741 | 42 | 1,322,514 |
| 7 | Sadamasa MOTONAGA (1922-2011) | 4,470,626 | 162 | 629,520 |
| 8 | Toshimitsu IMAI (1928-2002) | 3,790,530 | 141 | 474,720 |
| 9 | Shozo SHIMAMOTO (1928-2013) | 3,503,853 | 53 | 333,560 |
| 10 | Hiroshi SUGIMOTO (b. 1948) | 3,397,476 | 124 | 389,170 |
© artprice.com
Tetsumi Kudo's auction record of approximately $225,000 was hammered at Sotheby's Paris on 7 December 2016 for a 1973 Untitled sculpture. Between London, Paris and New York, Kudo's prices have found new momentum over the past two years with six works fetching over $100,000 for the first time. A renewal of interest in Kudo's « New Ecology » has also been expressed in New York with the Andrea Rosen Gallery organising a solo show for the artist (October – November 2016) and in Germany with a retrospective at the Fridericianum in Kassel (25 October 2016 – 1 January 2017). Paris also generated Kazuo Shiraga's current auction record (in 2014) and his prices have been climbing fast since a major retrospective at the New York Guggenheim Museum entitled Gutai: Splendid Playground (15 February – 8 May 2013). His large gestural canvases fetch several million dollars in Paris, New York, Hong Kong and Munich. In 2016, eleven of his works sold above a million dollars at auctions in Asia, the USA, the UK and France and his French market matched his Hong Kong market.
New York also generated new world records for Jiro Takamatsu and Takeo Yamaguchi as well as a new million+ result for Yoshitomo Nara's Wish World Peace that fetched approximately $2.9 million on 17 November 2016 at Sotheby's. In Asia, Nara's work elicited no less than six auction records during the year. The rush to acquire his creations has generated a number of profitable resales: on 28 May 2016 his canvas Banging the Drum adorned the cover of Christie's sale in Hong Kong where it fetched $1.164 million. The work was previously acquired in October 2014 in London for nearly $770,000. Plus 51% in just two years is a good investment by any standards.
Foujita's annual auction turnover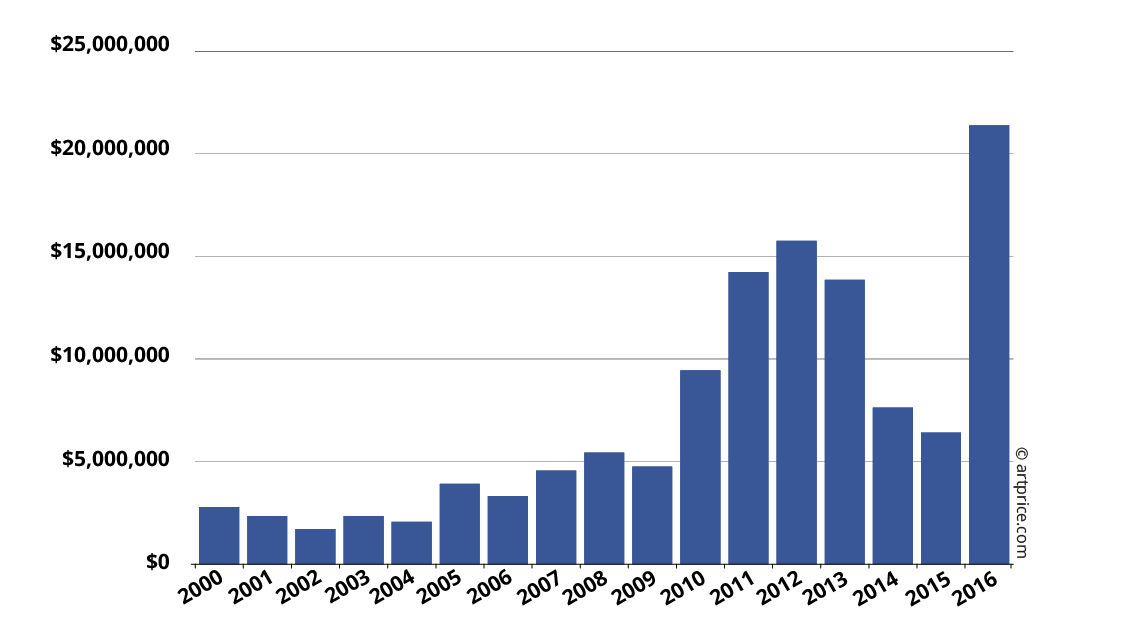 Another strong performance in Japanese art came from Tsuguharu Foujita. After several years of absence from the market (his last wife, Kimiyo, having blocked any reproduction or exhibition of her late husband's work), his market has rebounded, revitalized by the 130th anniversary of his birth that was celebrated in both France and Japan. He is now solidly collected in the West (almost 40% of 2016 turnover) and in Asia, where his Nu au chat fetched a new auction record above $5 million on 3 April 2016 (Sotheby's, Hong Kong). The canvas was purchased by Shanghai's Long Museum. This subtle and majestic work had already caused an auction sensation in 2014 when it fetched $1.9 million. However, despite this outstanding new record, Foujita is not currently the strongest Japanese artist in market terms. That title goes to Yayoi Kusama, 23rd in the global ranking (with $64.9 million), whose best result of the year 2016 perfectly illustrates her extraordinary ascension: Cloud Considering, a canvas that sold for $85,000 in 2008 during an auction organized by a company called The Market in Tokyo, fetched $2.5 million on 28 May 2016 at Christie's in Hong Kong… an additional $2.4 million in less than 10 years! That's the Kusama effect…. Her prices have literally exploded, and her price index shows a +720% increase since 2000.
Other Japanese artists reached new highs this year including Toshimitsu Imai with a new record of $474,720 (Temps Modernes, Sotheby's Hong Kong, 3 April 2016), Sadamasa Motonaga for whom demand has never been so strong and whose prices have been rising for two years, and Atsuko Tanaka who has just generated two first results above the million line (one in Hong Kong, the other in Tokyo).
The rise of Latin American artists
Latin American Art (from Argentina, Cuba, Brazil, Mexico and Chile) is a high potential segment of the market driven by an increasingly international demand with specialised sales now firmly integrated into auctioneers' calendars. In this field, Phillips today represents a serious competitor for auction majors Christie's and Sotheby's. In May 2016, Phillips announced a +305% increase in its turnover from Latin American art since 2009. In addition to major artists like Wifredo Lam, Rufino Tamayo, Felix Gonzalez-Torres, Leonora Carrington and Jesús Rafael Soto, 2016 saw high-level bids directed at works by the Mexican post-Minimalist Gabriel Orozco, the Colombian Olga de Amaral, the Brazilians Hélio Oiticica (with a major US retrospective at the Carnegie Museum from 1 October 2016 to 2 January 2017), Cildo Meireles (first Brazilian artist to enjoy a retrospective at the London Tate in 2008) and Mira Schendel who scored a new record of $970,000 for an untitled work on 16 November 2016 at Phillips. Uruguayan Pablo Atchugarry and Argentinian Guillermo David Kuitca were also crowned with new records. Cuban artists also enjoyed the positive environment: Manuel Mendive more than doubled his annual turnover in two years while there were new records for Esterio Segura, Mariano Rodríguez, Carlos Enríquez Gómez and the 100 year-old artist Carmen Herrera who has enjoyed phenomenal price growth. Indeed, the art market's belated awakening to Herrera's work was very sudden: her annual turnover has risen from less than $10,000 to nearly $1.2 million in just two years!
A selection of new records for Latin American artists
© artprice.com
In 2016, the top results in the Latin American segment rewarded the usual signatures: Rufino Tamayo, whose Sandías fetched $2.16 million at Christie's New York while his Sandías y naranja fetched $2.29 million at Sotheby's New York, as well as Wifredo Lam with two new million+ auction results, and, above all, Frida Kahlo, an iconic figure whose myth is still very much alive. Despite being the rarest signature in Mexican art (only 24 of her paintings have been sold in 30 years), no fewer than five Kahlo works were sold in 2016 including Dos desnudos en el bosque (La tierra misma) (25 x 30.5 cm) that fetched a new record of $8 million at Christie's New York (12 May 2016). Six months after this record, an unexpected Frida Kahlo work came on the market: Niña con collar, rediscovered during the summer of 2016 after decades on the wall of a California house (apparently Diego Rivera himself gave it to a woman who helped Frida in her studio in 1955). The unexpected painting sold for over $1.8 million at Sotheby's within its estimated range. Such rediscoveries prove that the market is still very responsive to works by important signatures and that it has the potential to generate lots of new surprises in the coming years.
Table of contents
Art from around the world