General synopsis. Contemporary Art's market performance
Stimulated by a sensational record of $110.5 million in May 2017, the Contemporary art Market has just ended a third consecutive semester of growth. The principal drivers of this growth are ever-stronger demand for works by the stars of Contemporary art and a proliferation of supply in a particularly favorable economic context.
All indicators are positive
For the first time since the 2008 financial crisis, the Contemporary art Market's four main health indicators are all positive for the last 12 months (end-June 2017 to end-June 2018):
The global auction turnover rose +19%, reaching $1.9 billion
The volume of transactions grew +17% with 66,850 Contemporary lots sold
The global unsold rate remained stable at 39%
The price index of Contemporary art increased by +18.5%
The almost identical increase in the Market's three main indicators – all three very close to +18% – suggests a rapid, but perfectly balanced, growth of Contemporary art auction sales. Thus, in the past year we have witnessed an almost uniform progression of the market in terms of prices, lots sold and auction turnover.
Contemporary Art Auction Market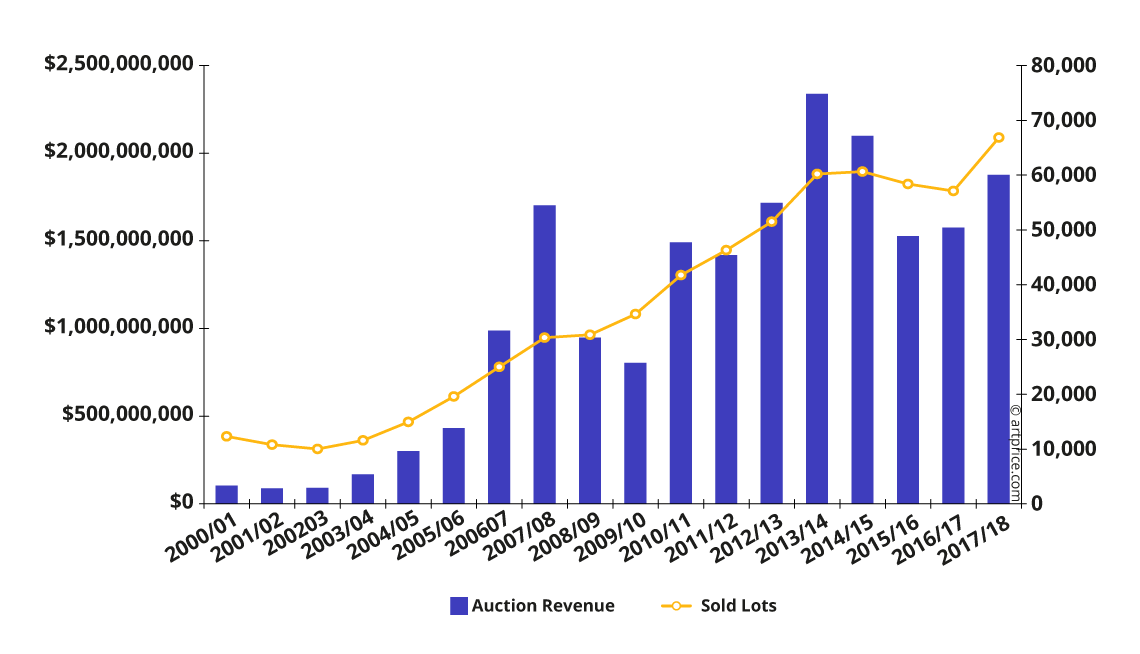 Much more stable growth
The 66,850 transactions recorded over the 12-month period around the world reflect an unprecedented level of activity on the global Contemporary art Market. The number of auction transactions has increased 5.5x since 2000/2001 while the segment's total auction turnover has risen +1,744% from $103 million to $1.9 billion. The average price of a successfully auctioned Contemporary artwork has risen from $8,400 at the turn of the 21st century to $28,000 today, after peaking at $38,800 in 2013/2014.
Five years ago the Contemporary art Market was in overheat mode. Collectors were paying unprecedented amounts for works by a whole new generation of artists, including Oscar MURILLO, Lucien SMITH, Christian ROSA, Tauba AUERBACH and Parker ITO. However, since then, all these artists have struggled to maintain the price levels they reached so quickly. Many of Contemporary art's established stars also enjoyed spectacular auction records in 2013/2014 (especially in New York and Hong Kong) that are substantially higher than the prices they have generated since then: Jeff Koons ($58.4 million), Zheng Fanzhi ($23.3 million), Zhang Xiaogang ($12 million), Wade GUYTON ($6 million), Rosemarie TROCKEL ($5 million), etc.
Annual Auction Turnover for Jeff Koons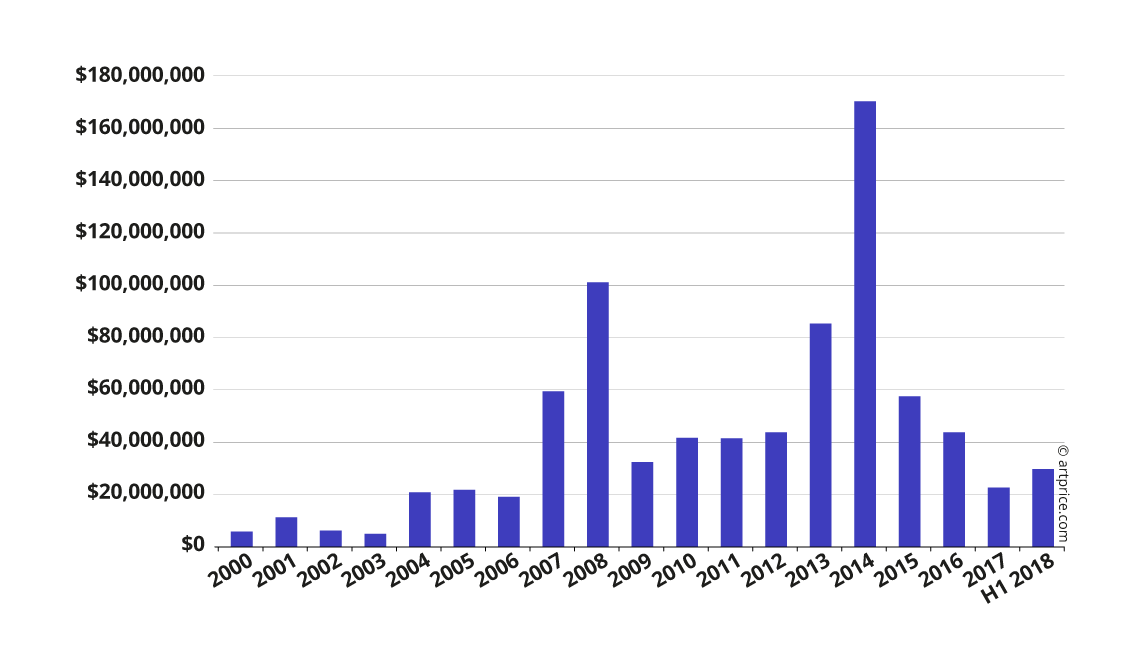 The subsequent restructuring of the Contemporary art Market lasted roughly three years and has given the market a much stronger foundation. Prices are definitely rising again, but so too is supply, providing a more relevant choice of works. At 39%, the perfectly stable unsold rate guarantees a balanced market. The fact that Jeff Koons posted his best result since 2014 (and the 3rd best of year) is a clear sign that the Market has returned to growth and that collectors' confidence is at an optimum level.
Contemporary Art's new place in the Art Market
Contemporary art represents 14% of the total number of Fine Art auction transactions around the world, generating 12% of the world's Fine Art auction turnover. Its share is now larger than both the Old Masters and the 19th Century art segments, both in terms of turnover and transactions. However, Contemporary art is still a long way behind Post-war art and Modern art, which together account for 68% of the overall value of the Art Market.
Auction turnover distribution per Creation period (2017/2018)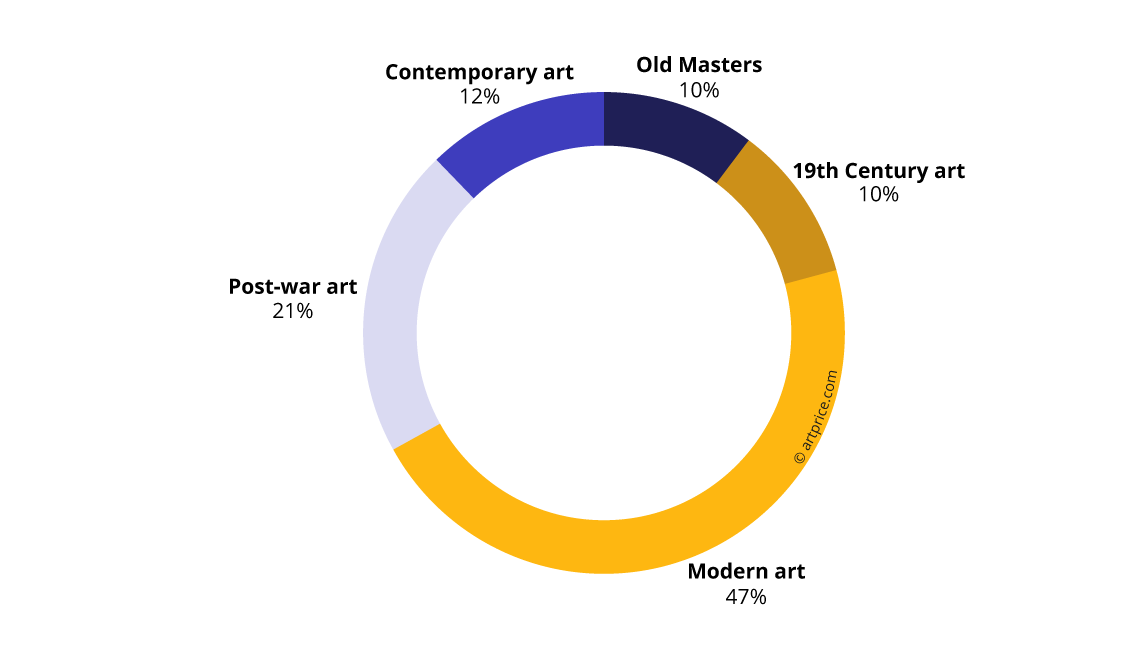 The Contemporary art Market also enjoys an increasingly diversified offer with 20,335 artists born after 1945 having registered at least one auction result over the last 12 months. This is almost five times more than in 2000/2001 (4,100 Contemporary artists) and 18% more than in 2013/2014.
The majority of artists (53%) have only one transaction in the 2017/2018 period, like the Indonesian Saputra HANDIWIRMAN, represented by the ARNDT gallery, who sold only one painting this year at auction, although it reached the excellent price of $318,600. On the other hand, several Contemporary artists post a particularly high number of auction results for the last 12 months:
The markets of the most auctioned artists usually include a large number of affordable works. Every year a number of small paintings by Robert Combas are offered for under $5,000 and polaroids by Nobuyoshi ARAKI are still sold for less than $1,000.
Overall, the price structure of the Contemporary art segment is increasingly resembling that of the rest of the Art Market. Ninety percent of Contemporary artworks sold below $22,400 (including buyer's fees) and works sold above the $100,000 threshold represent just 3% of transactions.
Contemporary Art Market Structure (2017-2018)
Percentage of lots
auctioned less than
100%
$45,315,000
99%
$382,006
98%
$163,445
97%
$100,726
96%
$71,084
95%
$53,233
90%
$22,400
80%
$8,053
70%
$3,922
60%
$2,151
50%
$1,242
40%
$762
30%
$477
20%
$289
10%
$149
© Artprice.com
Concentration of the high-end market
London, New York, Beijing and Hong Kong alone account for 82% of total worldwide sales of Contemporary art, from just 17% of the segment's total lots sold. This concentration is slightly higher than for the rest of the Fine Art Market (78% of total sales turnover is generated in these four cities from 14% of the lots sold). The Contemporary art Market is therefore relatively confined to these major capitals, at least in terms of value. New York only turned over 3,300 Contemporary artworks, representing 28% of the total number sold in the USA, but accounting for 95% of US turnover on the Contemporary art segment. By comparison, nearly 10% of US Contemporary lots change hands in Dallas, but the city generates less than 1% of the segment's US turnover.
Paris (5,000 lots sold) and London (4,200) both realise more transactions than New York, but the Big Apple is clearly still the main capital of the high-end market. No less than 40% of the Top 100 results on the global Contemporary art Market were hammered in New York, including the top three. London, however, is not far behind with 34 works fetching above the $2.5 million threshold in the last 12 months. The British capital remains the primary marketplace for artworks by leading European artists (including Peter Doig, Rudolf Stingel and Antony Gormley) but it also competes with New York for the most fashionable signatures of American Contemporary art with a significant proportion of works by Jean-Michel Basquiat, Mark Bradford and even George Condo being exchanged through London's auction houses.
The fact that lots of major galleries are present in both New York and London (Sadie Coles, Simon Lee, Pace, Marian Goodman, etc.) undoubtedly consolidates the relationship between the two major Anglo-Saxon powers and allows the rapid promotion of in-vogue artists across the Atlantic. It also generates a very significant industrial synergy simply by doubling the size of their markets, which, in turn, allows much faster price evolutions for the artists supported by these galleries.
The exponential growth in the all-time record price for a Contemporary artwork (driven essentially by five artists) cannot be understood without recognizing New York's (and to a lesser extent London's) domination of the International Contemporary art Market. In May 2017, the Japanese collector Yusaku Maezawa paid $110.5 million for Jean-Michel Basquiat's Untitled (1984), a canvas coveted by collectors around the world. And it was, of course, New York's capacity to attract buyers and have them compete with each other that resulted in that eye-watering auction record.
Highest Prices Recorded for Contemporary Artworks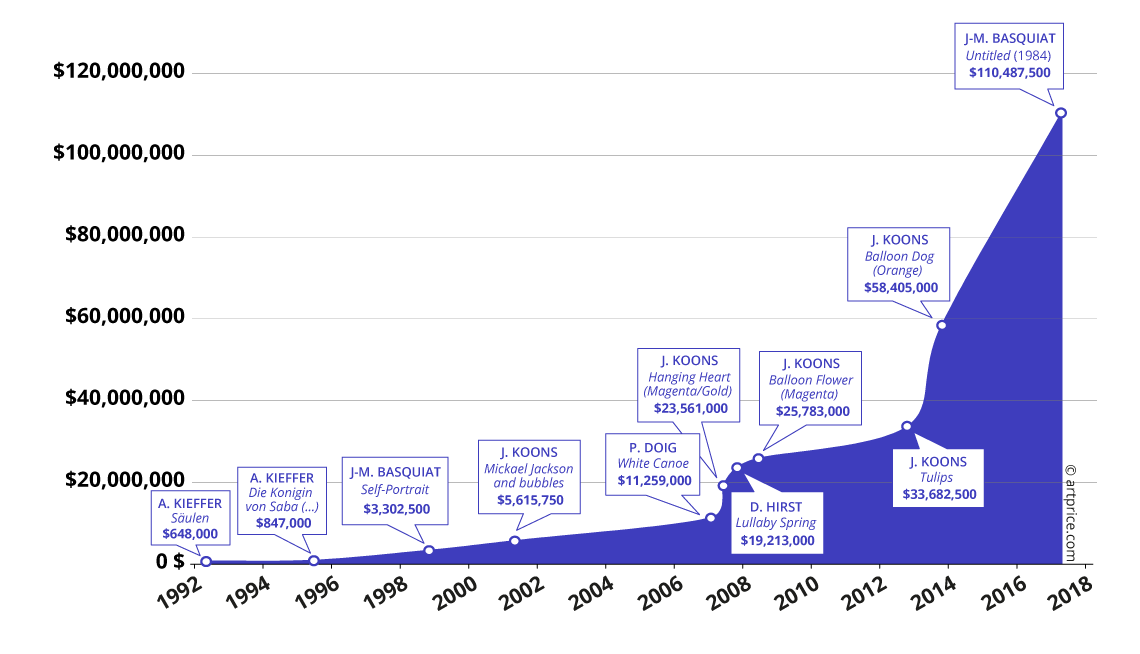 Several cities, including Paris, would obviously like to take part in the new global structure of the high-end Contemporary art Market alongside London and New York. But it seems that Hong Kong has the best chances, thanks to its geographical position and its much more advantageous legislative framework. France, too close to the United Kingdom, does not really give access to a new or distinct market or 'other' collectors. Hong Kong, on the other hand, is an extraordinary gateway to a huge continent. It is a bridge between Asia and the West, and it has connections not only to China but also to India and all of South-East Asia. New York, London and Hong Kong are therefore ideally placed to reach all of the world's major collectors, and, as many galleries have understood, to exploit the synergetic potential of the American, European and Asian markets.
This explains, for example, why the Anglo-Saxon auction house Phillips has decided to develop its activity in Hong Kong rather than in Paris or Beijing. The world's #3 seller of Contemporary art generated 7% of its turnover in Hong Kong in the first half of 2018. In the three sales it has held there this year, Phillips has mixed the best of Asian and Western Contemporary art hammering remarkable results for ZHANG Xiaogang, George Condo, FANG Lijun, Yoshitomo Nara, Takashi Murakami, Kaws, Christine Ay Tjoe and Jean-Michel Basquiat.
Contemporary Art Revenue Trends at Phillips auction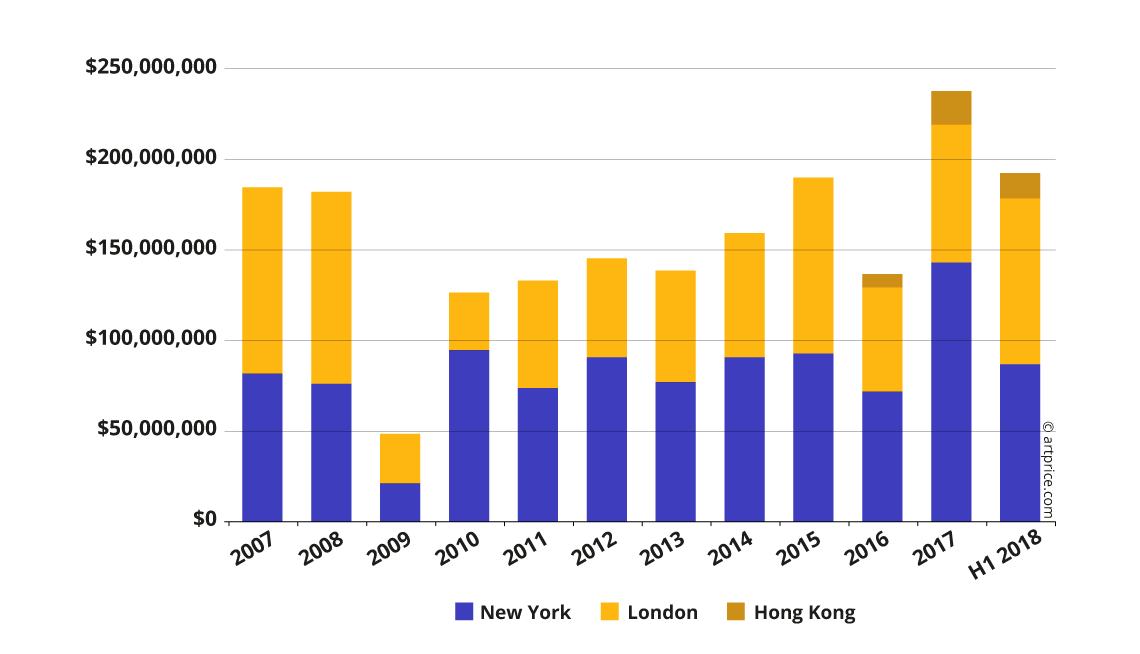 The three main Anglo-American auction houses continue to dominate the Contemporary art Market worldwide: Sotheby's (28% of global turnover), Christie's (26%) and Phillips (15%). The latter however generated the best result of the year when Jean-Michel Basquiat's Flexible (1984) fetched $45 million on 17 May 2018 in New York, a result that proves beyond any doubt that Phillips has become an unavoidable player at the high-end of the Contemporary art Market.
Once again, the world's top 10 auction houses for Contemporary art include six Chinese auction houses, and, once again, the leading Chinese auction operator in this segment of the market was China Guardian. It managed to beat its rival Poly Auction (present in Beijing and Hong Kong) thanks notably to a spectacular sale on 19 June 2018 that generated more than $40 million from just 29 lots sold. The session was marked by three paintings by Chen Yifei that brought in nearly $7 million as well as two new auction records: $6.7 million for Zhou Chunya's Chinese tone (山石图) (1992) and $3.8 million for Ai Xuan's Aspirant (有志者) (1980).
Ranking of Auction Houses by Contemporary Art Turnover (2017/2018)
Auction House
Turnover
Sold lots
Highest result
1
Sotheby's
$533,709,547
2,443
$30,711,000
2
Christie's
$480,510,215
3,001
$22,812,500
3
Phillips
$290,408,446
1,895
$45,315,000
4
China Guardian
$108,017,151
669
$22,640,280
5
Poly International Auction Co.,Ltd
$74,744,711
690
$4,437,459
6
Beijing Council
$33,943,228
212
$3,304,709
7
RomBon Auction
$16,632,601
462
$718,985
8
Council Shanghai
$16,482,640
115
$8,826,036
9
Hangzhou Jiashi
$16,134,691
31
$5,751,438
10
Beijing Hanhai Art
$13,208,466
637
$1,183,322
11
Seoul Auction
$11,044,370
157
$3,331,097
12
Artcurial
$10,418,102
791
$552,772
13
Ravenel International
$8,346,666
140
$1,504,752
14
Bonhams
$7,933,315
637
$550,571
15
Beijing Huachen
$7,921,581
130
$2,088,216
16
Mainichi Auction
$7,191,513
1,301
$721,422
17
Zhong Cheng Auctions
$6,953,902
135
$1,249,747
18
Xiling Yinshe Auction
$6,473,963
193
$847,550
19
Grisebach
$5,978,695
246
$1,009,928
20
Joe Jubilee Beijing
$5,425,734
44
$633,960
21
SBI Art
$5,269,302
567
$577,218
22
Dorotheum
$5,067,786
337
$508,249
23
Ketterer Kunst
$4,952,890
137
$780,147
24
K-Auction
$4,859,824
130
$796,720
25
Heritage Auctions
$4,408,149
1,015
$200,000
© Artprice.com
Domination of the USA, the UK and China
The US remains, unsurprisingly, the world's strongest Contemporary art marketplace, but New York's hegemony has somewhat weakened this year. The American art market focused more on Modern art (notably with the sale of the Rockefeller collection in May 2018) and was of course marked by the historic record generated by Leonardo da Vinci's Salvator Mundi in November 2017. As a result, the USA's turnover on Contemporary art shows a -16% contraction compared with the previous year. Having generated $705 million in 2016/2017 (44% of global turnover on Contemporary art), the total for the 2017/2018 period amounted to just $612 million (32% of global turnover).
On the other hand, the United Kingdom ($545 million) and mainland China ($298 million) both posted excellent turnover totals, up 55% and 15% respectively. London has made an impressive return to the high-end market with 86 Contemporary results above the $1 million threshold versus 53 the previous year.
Geographical distribution of Turnover (2017/2018)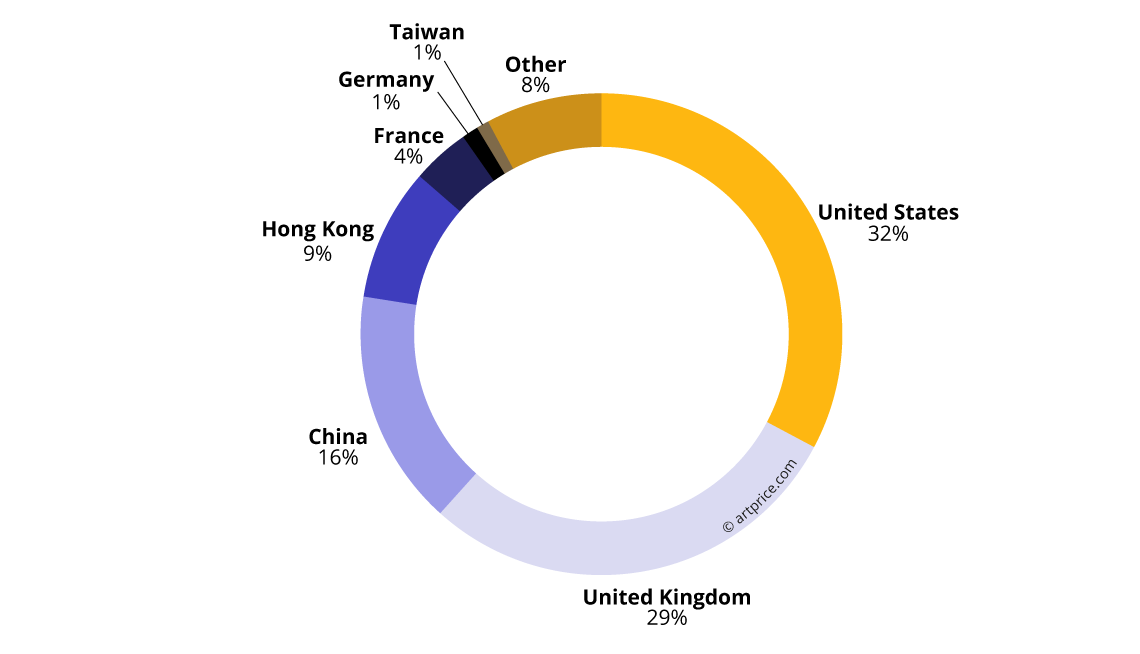 In the 12 months to end-June 2018, the share of the global Contemporary art Market generated by Greater China (i.e. including Hong Kong and Taiwan) stabilized at 26% with a turnover total of $480 million. CHEN Yifei was the best performing Chinese artist with a turnover of $47 million for the period, better than ZHANG Xiaogang ($22.5 million) and ZENG Fanzhi ($20.3 million), whose sales have somewhat slowed in recent years. Chen Yifei's 1993 painting Warm spring in the jade pavilion (玉堂春暖), already sold three times at auction, clearly illustrates the sharp increase in the value of his works: $215,000 in 1993, $1.4 million in 2006 and then $22.6 million on 19 December 2017 at China Guardian in Beijing. This last result sets a major new auction record for this painter who died in 2005 aged only 59. Hyper-realist painting is currently very popular in China, with Chen Yifei (5th in Artprice's global ranking of Contemporary artists by auction revenue for the period in question) but also WANG Yidong (88th), YANG Feiyun (330th) and XU Qingfeng (403rd).
On a smaller scale, the French market posted a remarkable performance with sales of Contemporary art up +81% during the 12-month period to $71 million. The bulk of this total was generated by the sale of Jean-François and Marie-Aline Prat's collection on 20 and 21 October 2017 at Christie's in Paris. The sale brought in $46.6 million with 172 Contemporary artworks sold over two days and a top price of $17.7 million for Jim Crow (吉姆‧克劳) (1986) by Jean-Michel Basquiat.
In the rest of Europe, Germany (+40%), Italy (+31%) and Belgium (+27%) consolidated their 5th, 7th and 10th places respectively on the global Contemporary art Market. The results included an excellent $401,000 for Anthony Gormley's Gut V (2002) at Blindarte in Naples on 29 November 2017; a top price of $685,000 at Louiza Auktion in Brussels for Richard Orlinski's Wild carved Bear on 24 March 2018, and, most notably, a result of $1 million for Anselm Kiefer at Grisebach on 1 June 2018 in Berlin, for his Für Velimir Chlebnikow (2004/2005).
Elsewhere, several countries contributed to the market's growth around the globe:
Japan: +22%
Australia: +15%
South Korea: +15%
South Africa: +25%
Top 20 Contemporary Art Turnover by Country (2017/2018)
Turnover
Sold lots
Highest result
1
United States
$612,822,603
11,481
$45,315,000
2
United Kingdom
$544,651,235
8,683
$21,594,014
3
China
$480,508,317
5,694
$22,640,280
4
France
$71,189,028
7,542
$17,680,936
5
Germany
$22,306,780
3,319
$1,009,928
6
Japan
$14,041,933
2,066
$721,422
7
Italy
$12,761,068
3,675
$400,963
8
Australia
$10,497,898
2,420
$595,704
9
Netherlands
$8,165,285
1,302
$888,930
10
Belgium
$8,111,389
1,796
$684,431
11
South Korea
$7,933,976
221
$796,720
12
Austria
$7,667,872
646
$508,249
13
South Africa
$6,125,481
1,494
$384,261
14
India
$6,115,436
326
$1,131,482
15
Philippines
$5,296,947
485
$314,760
16
New Zealand
$5,086,652
1,267
$219,268
17
Poland
$5,064,021
3,018
$99,801
18
Turkey
$4,603,456
575
$164,696
19
Switzerland
$4,601,564
897
$345,999
20
Denmark
$3,686,852
372
$375,327
© Artprice.com
Investing in Contemporary Art
Along with Post-war art, Contemporary art is the only creative period that – as a whole – generates a good return on investment in the long term.
In the five years preceding the 2008 financial crisis, the entire Art Market experienced substantial growth. Prices in the two most recent periods (Contemporary art and Post-war art) rose more rapidly than in the other segments. Driven by highly optimistic financial markets and the globalisation of the Art Market (with the integration of China), the prices of artists like Damien Hirst, Richard Prince or YUE Minjun literally exploded.
Artprice Price Index by period of creation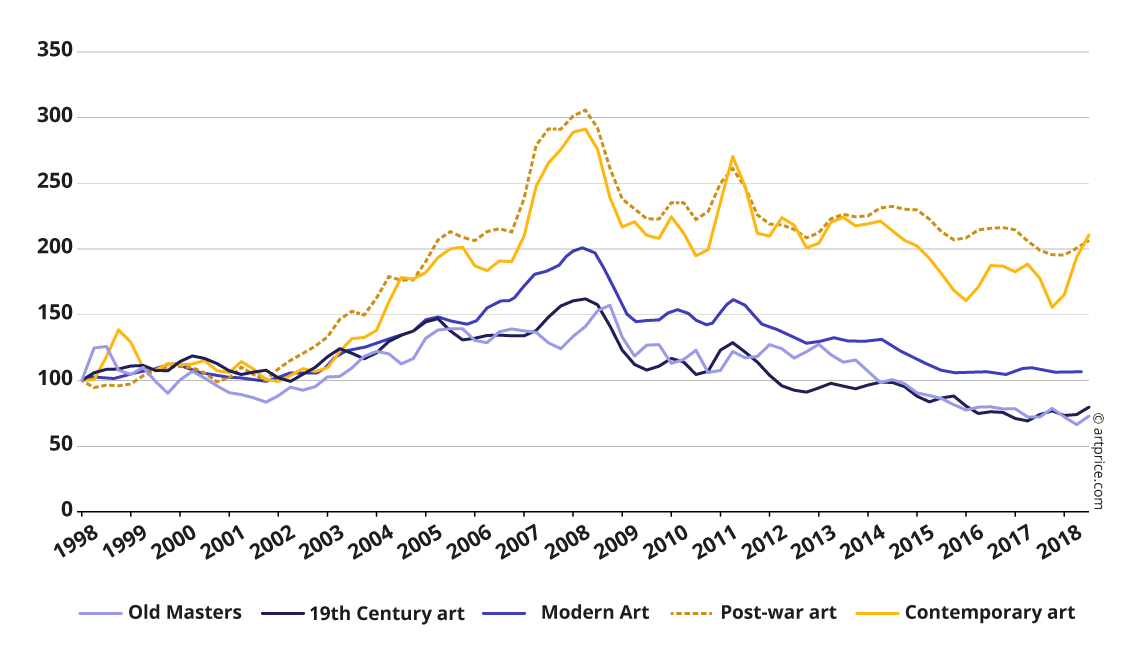 Contracting by -25% during the financial crisis, Contemporary Art prices have subsequently struggled to maintain their levels in recent years. Usually closely correlated, as of 2015 we began to see a divergence between the price indices for Contemporary and Post-war art for the first time since the beginning of the 21st century.
Over the last nine months, Contemporary Art has entered a new period of prosperity, proving that new creations have become the Art Market's principal locomotive.
Top 5 Fastest Capital gains (<2 years) for Contemporary Artworks
1st sale
2nd sale
Artist
Artwork
Price
Sale
Price
Sale
Raymond PETTIBON (1957)
Untitled (Set Sail…) (1999)
$13,602
30 May 2015 Lempertz Cologne
$21,503
21 Nov 2017 Sotheby's London
George CONDO (1957)
Untitled (1986)
$15,601
12 Apr 2017 Sotheby's London
$24,853
11 Apr 2018 Sotheby's London
Vik MUNIZ (1961)
Bloody Marilyn (2001)
$83,305
12 Feb 2016 Christie's London
$104,052
2 Dec 2017 Ravenel Taipei
KAWS (1974)
Pressure Parade (2011)
$125,000
12 May 2016 Sotheby's New York
$421,724
27 Jun 2018 Phillips London
Sean SCULLY (1945)
Grey Red (2012)
$850,402
5 Oct 2016 Phillips London
$1,587,366
8 Mar 2018 Phillips London
© Artprice.com
The volatility of Contemporary Art makes the period particularly interesting from a financial perspective. The last 12 months have seen Contemporary creation generate even better returns than Post-war art. The ten best value accretions recorded during the period highlight the long-term financial performance of investments in Contemporary Art. Artists whose works began to be auctioned in the 1990s and early 2000s are now returning to public sales and fetching spectacular prices. Richard Prince's Monochromatic Jokes perfectly illustrate the immense financial potential of Contemporary Art. Acquired for $38,125 in May 2000 at Sotheby's in New York, the painting All I've heard (1988) sold for over $2.5 million in November 2017. For the seller, that's a return of +6,550% in just over 17 years, or an average annual ROI of +28%.
Top 10 Capital gains for Contemporary Artworks
1st sale
2nd sale
Artist
Artwork
Price
Sale
Price
Sale
Wolfgang TILLMANS (1968)
Doing Well (2001)
$4,439
29 Jun 2005 Artcurial Paris
$71,456
17 Apr 2018 Christie's London
Peter DOIG (1959)
Untitled (1991)
$8,150
8 Feb 2002 Sotheby's London
$246,218
5 Oct 2017 Phillips London
Glenn LIGON (1960)
Untitled (I remember the very day) (1991)
$10,200
15 Nov 2000 Sotheby's New York
$190,261
26 Jun 2018 Phillips London
Barbara KRUGER (1945)
We Are Public Enemy Number One (1984)
$10,925
18 May 1999 Christie's New York
$287,390
27 Jun 2018 Sotheby's London
Richard PRINCE (1949)
All I've Heard (1988)
$38,125
18 May 2000 Sotheby's New York
$2,532,500
16 Nov 2017 Christie's New York
Yoshitomo NARA (1959)
Fuck the Rotten World!(2002)
$46,875
11 May 2011 Sotheby's New York
$550,505
1 Apr 2018 Sotheby's Hong Kong
Keith HARING (1958-1990)
Healing Hand (1988)
$60,500
23 Feb 1994 Christie's New York
$1,635,000
17 May 2018 Sotheby's New York
Grayson PERRY (1960)
I Want To Be An Artist (1996)
$65,984
5 Feb 2004 Sotheby's London
$825,783
7 Oct 2017 Christie's London
Jean-Michel BASQUIAT (1960-1988)
Jim Crow (1986)
$136,367
3 Dec 1992 Christie's London
$17,680,936
20 Oct 2017 Christie's Paris
Mark TANSEY (1949)
Source of the Loue (1988)
$233,000
2 May 1988 Sotheby's New York
$7,453,600
16 May 2018 Sotheby's New York
© Artprice.com
The dynamism of the Contemporary Art Market also relies heavily on the immense value created by the major international galleries. Artists like Mark Bradford, George Condo or Hurvin Anderson are now considered 'mature' artists and their best works, created over the last 15 years, are progressively appearing on auction podiums. Christopher Wool's Untitled (2007) sold for the first time at auction ten years after being acquired from Luhring Augustine in New York. It fetched $14.5 million!
However, Contemporary Art's price volatility is not without risk for collectors. The Market's enthusiasm between 2013 and 2015 for certain very young American artists has had serious negative consequences for buyers who allowed themselves to be seduced back then.
Top 10 Capital losses for Contemporary Artworks
1st sale
2nd sale
Artist
Artwork
Price
Sale
Price
Sale
Ugo RONDINONE (1964)
I don't live here anymore (2000)
$12,000
6 Jun 2005 Phillips de Pury & Company New York
$1,598
11 Apr 2018 Phillips London
BLEK LE RAT (1951)
Man Who Walks Through Walls (2007)
$26,238
5 Feb 2008 Bonhams London
$6,401
21 Nov 2017 Bonhams Hong Kong
Parker ITO (1986)
Inkjet Painting #6 (2013)
$46,895
1 Jul 2014 Sotheby's London
$4,800
1 Oct 2017 Sotheby's Hong Kong
Jacob KASSAY (1984)
Untitled (2010)
$104,500
8 Nov 2011 Phillips de Pury & Company New York
$10,000
28 Sep 2017 Christie's New York
Subodh GUPTA (1964)
Untitled (2005)
$466,980
30 Nov 2008 Christie's Hong Kong
$75,000
1 Mar 2018 Christie's New York
© Artprice.com
The financial returns on Contemporary Art today show this segment is one of the best alternatives to traditional financial investments. On a sample of nearly 1,000 Contemporary works acquired at auction and subsequently re-sold at auction during the last 12 months, the average annual yield is +8.1%. However, of these 1,000 resales, 40% dropped in value, underscoring the fact that collection diversification is paramount for optimal financial security. By investing $100,000 in a work by Jacob Kassay and another $100,000 in a work by George Condo (two of the Market's most volatile artists), the unrealised value of your portfolio, based on the general price indices for these two artists, would still be $500,000 today (Jacob Kassay's prices have collapsed whereas Condo's have rocketed).
It is interesting to note that the average holding period for a work of Contemporary Art (i.e. between its acquisition at an auction and its sale at another auction) is only nine years.
And for those not seen at auction for 20 years, more often than not they have changed hands either through a gallery or an art consultant. Jean-Michel Basquiat's Jim Crow and Mark Tansey's Source of the Loue were both unseen at auction for more than 25 years and both acquired by their last owners through private sales (according to the respective sales catalogues).
Contemporary Artwork Artprice Index vs. S&P500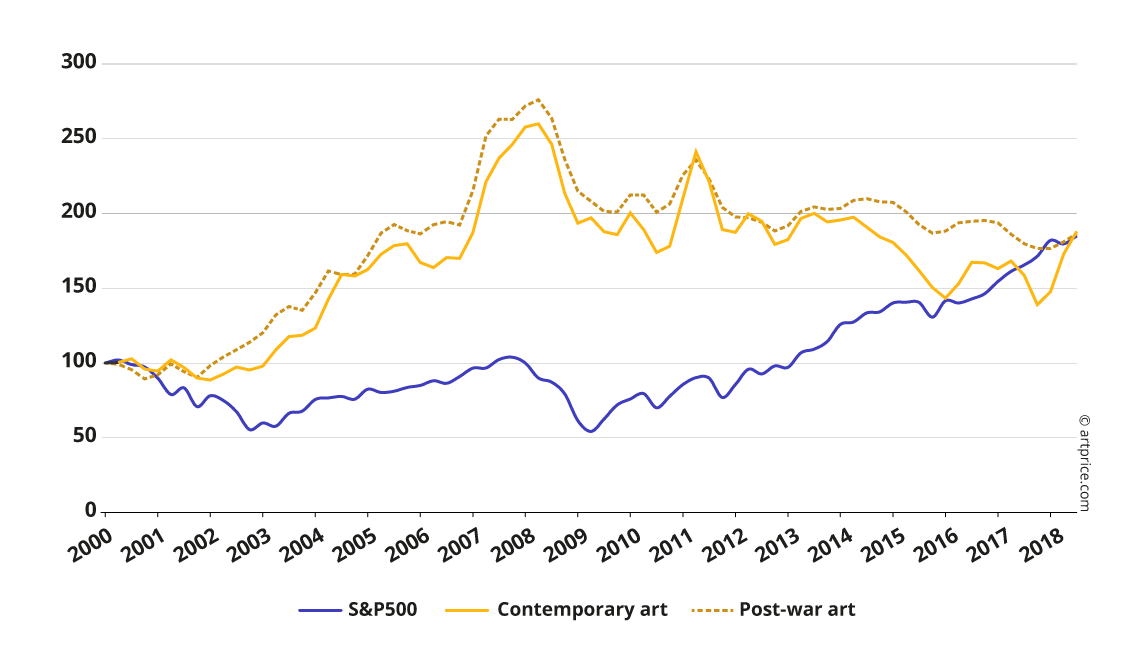 The Contemporary Art Market's power and dynamism is also a function of the rapid growth in the number of transactions. To satisfy an ever-growing demand, works are circulating at an increasing pace and, above all, the market is continuously fuelled with new works. In contrast, the other creative periods suffer a progressive contraction of prices as the major pieces gradually disappear from the market to join museum collections, with an inevitable negative impact on the segments' overall quality.
The recent rebound of +27% in the Contemporary Art Price Index for H1 2018 has put the Contemporary Art segment back in line with the long-term evolution of the stock market. Since January 2000, the price index for Contemporary Art as a whole has increased +88%, compared with +85% for the S&P 500. Over 18 years, the two indices have posted roughly equivalent gains of +3.5% per year, on average. However, the very different curves of these two indices suggest that the Contemporary Art Market has little correlation to financial markets. So… Contemporary creation not only performs as well as US equities, it also provides an opportunity for an alternative investment to diversify your portfolio.
Table of contents
General synopsis. Contemporary Art's market performance