Artists' prices
Stunning annual turnover totals… dazzling price increases … Who are the most sought-after artists in the Contemporary Art Market, and how is international demand behaving?
The Contemporary Art Market is a perfect playground for investors. The wealthiest pay top whack for works by artists (usually American) whose prices inflate at a phenomenal pace, generating capital gains measured in hundreds of thousands of dollars, or even millions.
The most sought-after artists are, among others, Jean-Michel Basquiat, Christopher Wool, Mark Bradford and Richard Prince. With no less than 20 of the year's 100 best results to his name, Basquiat remains the Contemporary Market's primary economic pillar. Several Chinese artists have also performed remarkably well, driven by a domestic market motivated by competition with the American Art Market. The year's 100 best results for Contemporary Art contain twenty results for Chinese artists with CHEN Yifei result of $22.6 million at the top of the list. Apart from the results generated by a handful of major British artists like Cecily Brown, Antony Gormley, Peter Doig and Damien Hirst, and the German artists Thomas SCHÜTTE and Albert OEHLEN and the Italian Rudolf STINGEL, European artists are under-represented in this ranking. Since he moved to New York, Stingel is better supported by US buyers than by his compatriots.
Today, the financial power of the Contemporary Art Market is focused on a relatively small elite of artists in a much larger pool: 89% of the segment's global turnover is generated by its 500 most successful artists in an overall pool of 20,335 Contemporary artists who sold at least one work via auction between end-June 2017 and end-June 2018. The leading trio – Basquiat, Doig and Stingel – alone accounted for 22% of the segment's global turnover, compared with 27% for the previous year's podium of Basquiat, Doig and Wool.
Top artists contribution to the Auction Turnover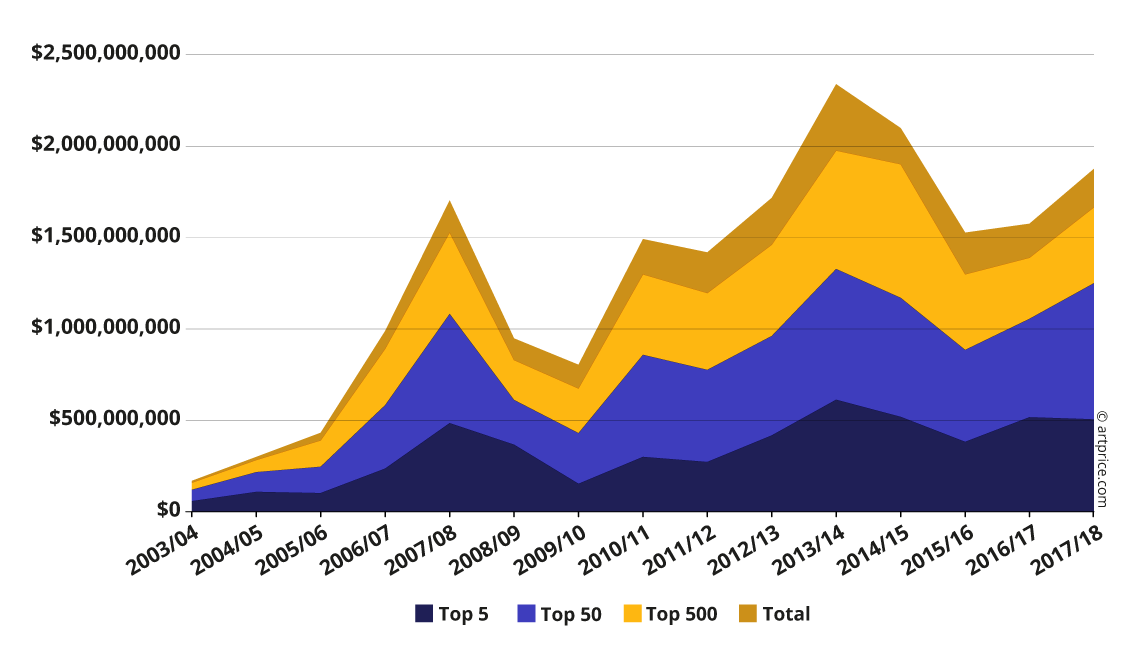 The podium
Unsurprisingly, the year's best result rewarded a work by Jean-Michel BASQUIAT, that fetched more than $45 million (Flexible) at Phillips in New York on 17 May 2018). A year earlier, another Basquiat crossed the $100 million threshold, the first-ever 8-digit result for a Contemporary artwork. Fetching $110.5 million, the 1982 Untitled《无题》 painting was acquired for $20,900 in 1984, which means its value multiplied by 5,300 times in 33 years. As the prices of Basquiat's paintings have rocketed, so have the prices of his drawings: +2,000% in 20 years. When the artist died in 1988, his best works were still available below the $100,000 threshold… and his prices were already on a steep ascent. For $100,000 today you will only get a small drawing, usually in felt-tip pen, devoid of the expressive colour that adds so much to his work.
With an index up +1,880% since 2000 and an annual turnover this past year of $256 million, Basquiat remains the absolute leader of the Contemporary Art Market. Peter DOIG is in second place ($100.9 million) with 6 of the year's top 100 results. The price inflation on Doig's works is comparable to Basquiat's. The British artist has a bullish index of +2,200% over 18 years: $100 invested in the year 2000 in one of his works is worth an average of $2,300 today. This spectacular rise has been perfectly illustrated by the repeat sales of one of his best-known works, The Architect's Home In the Ravine (山涧间的建筑师小屋), which has been to auction five times.
Succesive sales of 'The Architect's Home In the Ravine' by Peter Doig
The dates of the successive sales of The Architect 's Home in the Ravine show an acceleration of the exchanges, with each transaction adding several million dollars to the work's value.
Rudolf STINGEL is the third artist on Contemporary Art's Top-3 podium with an annual auction turnover of $52.3 million, similar to last year's figure. However his price index shows the most explosive inflation of the top three: a staggering +12,550% since 2001. A highly prolific artist, born in Italy in 1956, Rudolf Stingel has been supported by François Pinault at the Palazzo Grassi since its inauguration in 2006. Honoured by a retrospective at the Whitney Museum in 2007, his prices began to rocket with a first million-plus result (a 1989 Untitled) of $1.2 million at Christie's New York on 13 November of the same year, followed by another 48 million-plus auction results over the last 11 years.
Price Index Trends for Basquiat, Doig & Stingel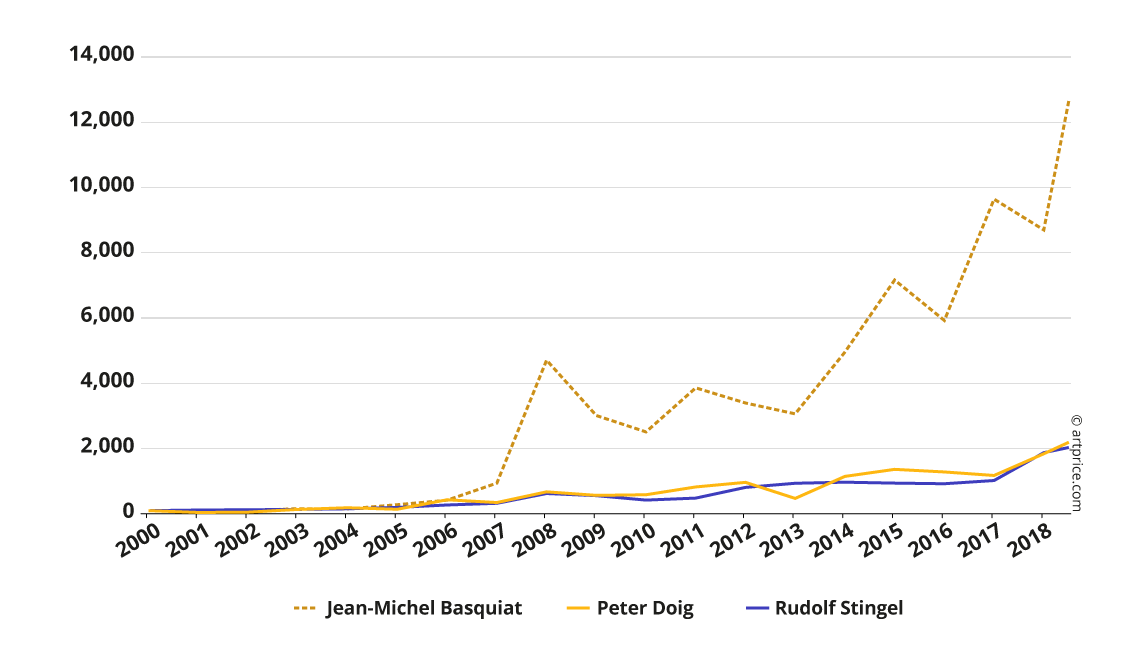 Confirmed trends
The auction results over the 2017/2018 period confirm several previously noted trends, including the rapid emergence of artists recently discovered on Anglo-Saxon markets and the rise in demand for Street Art, the fashionability of which does not seem to be fading.
Sought-after by wealthy collectors as well as by younger buyers of popular icons, the headliners of Street Art dominate the market in terms of lots sold. The works of Shepard FAIREY, BANKSY, Keith HARING and KAWS (1974) are experiencing unprecedented commercial success. These four iconic Street artists rank among the Top 5 most frequently sold Contemporary artists in the world.
First on the list, Shepard Shepard FAIREY has prompted such enthusiasm that his auction volume has doubled in one year (675 vs. 343 lots the previous year). Of that number, 90% are prints not exceeding $1,000, a particularly attractive price threshold for the French market, which consumes the bulk of his works (78% in France; 7% in the United States). Indeed, Street Art has become a buoyant niche market in France, driven by specialised sales organized by several auction houses including Artcurial, Tajan, Aguttes and Leclere.
Demand is also up sharply for the high-media-profile British artist BANKSY with over 500 lots sold (+71% vs. the previous year). His market is also mainly prints (74% of lots) and his work receives mass distribution in a price range as attractive as Shepard Fairey's.
Top 20 Contemporary Artists by number of sold lots (2017/2018)
The commercial popularity of the Skully products created by KAWS, aka Brian Donnelly, is also rising. Sales of these products rose +142% last year, pushing the artist up five steps in the ranking. Paying no attention to any boundaries that might exist between art and mass commerce, Kaws produces both monumental sculptures and limited-edition "Art-Toys" (from 500 to 1,000 copies) in the same art-for-the-masses spirit as the Factory of Kaikai Kiki of Japanese artist Takashi MURAKAMI, the third best-selling artist by transactions this past year with 457 lots sold. Kaws' pirate skull is not only a fashion phenomenon (capsule collections with major luxury brands, derivative products such as T-shirts or sneakers, collaborations with singers like Kanye West and Pharrell Williams), it's also a market phenomenon, especially since Pharrell Williams introduced him to the gallerist Emmanuel Perrotin. The price progression on Kaws' art has been remarkable and ultra-rapid. Absent from the secondary market 10 years ago, Kaws now has an auction record of $1.2 million for a canvas presented with a high estimate of $350,000 (Keep Moving) at Phillips in London on 9 March 2018. His eight best results were all hammered between summer 2017 and summer 2018 in London, Hong Kong and New York.
Annual Auction Turnover for Kaws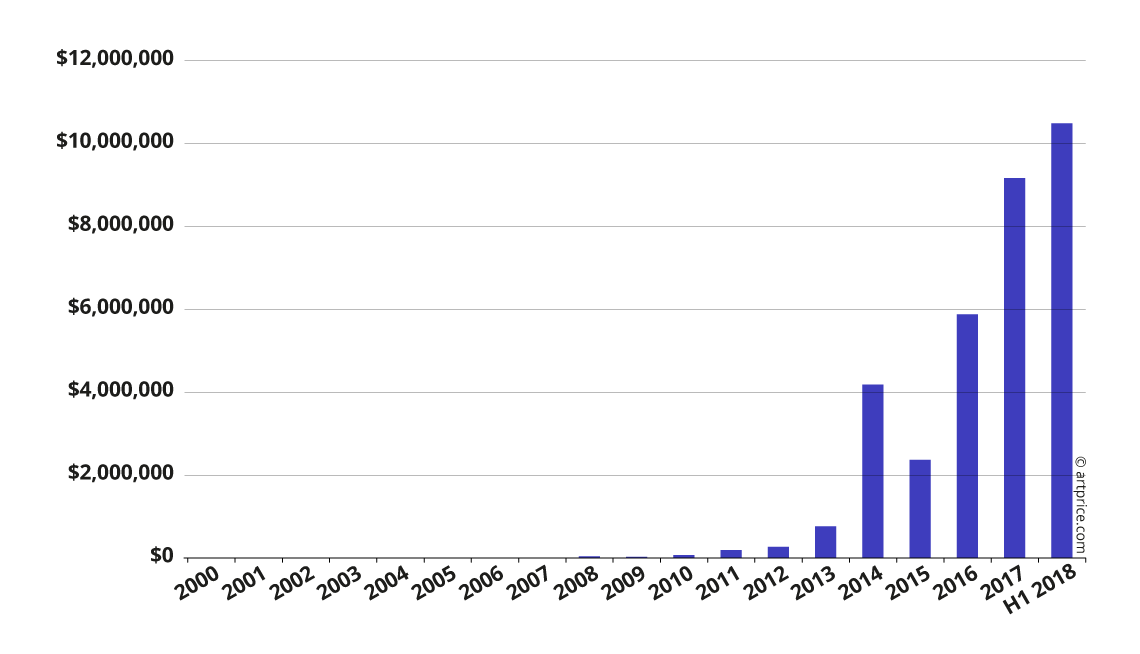 A number of other artists in the Top 500 posted outstanding auction performances and/or impressive new records. The year produced superb results for a diverse range of artists including George CONDO, Cecily BROWN and Mark BRADFORD in the painting medium and for Robert GOBER, Antony GORMLEY and Franz WEST in the sculpture medium.
Remarkable price progressions in painting
George CONDO's auction performance is one of the most spectacular of the year. His $49 million annual turnover gave him 4th place in the world, behind Basquiat, Doig and Stingel, when he was 19th in the same ranking last year, with a turnover of $13 million.
This performance has been driven by several major spotlight events: Phillips organized a major exhibition last year (George Condo: The Way I Think, 11 March – 25 June 2017) and put a Condo painting on the cover of the catalogue for its prestigious New York sale in February 2018. Sotheby's pursued the momentum in March, opening a Condo / Picasso exhibition on the sidelines of Art Basel in Hong Kong (Face-Off: Picasso / Condo, 16-31 March 2018). Announced as "the meeting of two geniuses", the show has substantially enhanced Condo's popularity in Hong Kong, where his initial results were already good. In November 2017, his painting Young Girl with Blue Dress (藍裙女子) doubled its high estimate in Hong Kong to fetch $1.5 million at Phillips. Since then, nearly all of his results have been spectacular with eight above the million-dollar line, including one in Hong Kong.
George Condo has four results in the year's top 100 successful bids, including a new record at $6.1 million, more than double the estimate provided on 17 May by Christie's in New York. Titled Nude and Forms, the painting is a direct tribute to Pablo Picasso's cubist style and it was a highlight of the Hong Kong exhibition in March.
Although he emerged on the New York scene at the same time as Jean-Michel Basquiat (who persuaded him to move to New York), Condo's prices did not evolve at the same pace as those of his friend. His first million-plus result was hammered just ten years ago, i.e. twenty years after Basquiat's first 7-digit result. On 15 May 2008, his Tumbling Heads sold for $1 million at Phillips de Pury & Company in New York, a record that triggered a meteoric rise in prices, with a price index up +2,100% since 2000.
Price Index Trends for George Condo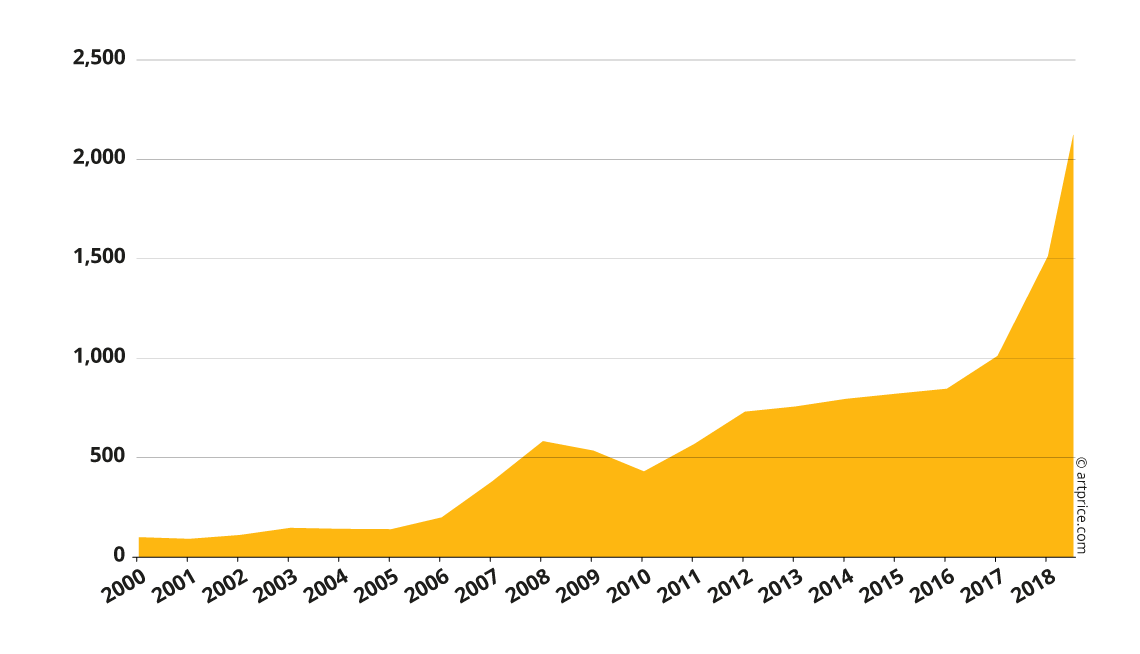 Works by Cecily BROWN generated more than $27 million over the past year, $20 million more than the previous year. The artist is enjoying fast-growing demand that has taken her from 23rd to 14th place in the global ranking. In just one year, her auction record has added $4 million giving her a new record at $6.7 million for Suddenly Last Summer on 16 May (Sotheby's New York). Brown's visceral paintings are sometimes worth more than Condo's 'neo-cubist' works.
The ascension is even more spectacular for the American artist Mark BRADFORD whose annual turnover rose from $16 million to $40.1 million earning him 9th place in the global ranking just behind Jeff KOONS ($40.7 million). Bradford broke new ground with three new records in 2018, including a record close to $12 million for a large canvas sold at Phillips in London (Helter Skelter I, 8 March 2018). After his sensational exhibition at the American Pavilion of the Venice Biennale last year, Bradford has confirmed he is one of the most sought-after and successful living artists.
We have also seen a remarkable jump in the market for works by Mark TANSEY, a jump that has propelled the American artists from 162nd to 24th position (from $861,000 to $15 million). After a sharp slowdown in 2017, Tansey's market regained momentum in 2017/2018 with a new record hammered in New York. In 1988 his Source of the Loue sold for $190,000 at a Sotheby's charity sale. In 2003 it was bought in against a low estimate of $600,000. However, on 16 May 2018, the same work fetched $7.4 million at
Remarkable price progressions in sculpture
It's also been a great year for Antony GORMLEY who nudges past Takashi MURAKAMI in the turnover ranking with $19.4 million compared with just $5.5 million the previous year. Gormley now has a new record at $6.9 million hammered at Christie's in London on 6 October 2017 for an 8.5 metre wingspan version of his immensely famous Angel of the North sculpture. The work in question, A Case for an Angel I (天使 I), is an iconic piece of Contemporary sculpture because its subject is the same as that of England's largest sculpture (erected at Gateshead, Angel of the North weighs 200 tons and measures 20 metres by 54 metres) that earned Gormley the Order of the British Empire for services rendered to sculpture. Indeed, in view of its importance, A Case for an Angel I could have reached a few million more, but its size might have discouraged certain bidders…
The new record for a sculpture by Robert GOBER is also a historic result. $7.2 million for an emblematic work from the early 1990s. The artist's auction record has doubled in 10 years. The current ascension started in 2014, the year of a retrospective at the MoMA that boosted his prices. Gober takes 39th place in our global ranking by auction turnover with a total of $7.4 million for the period under scrutiny.
Annual Auction Turnover for Franz West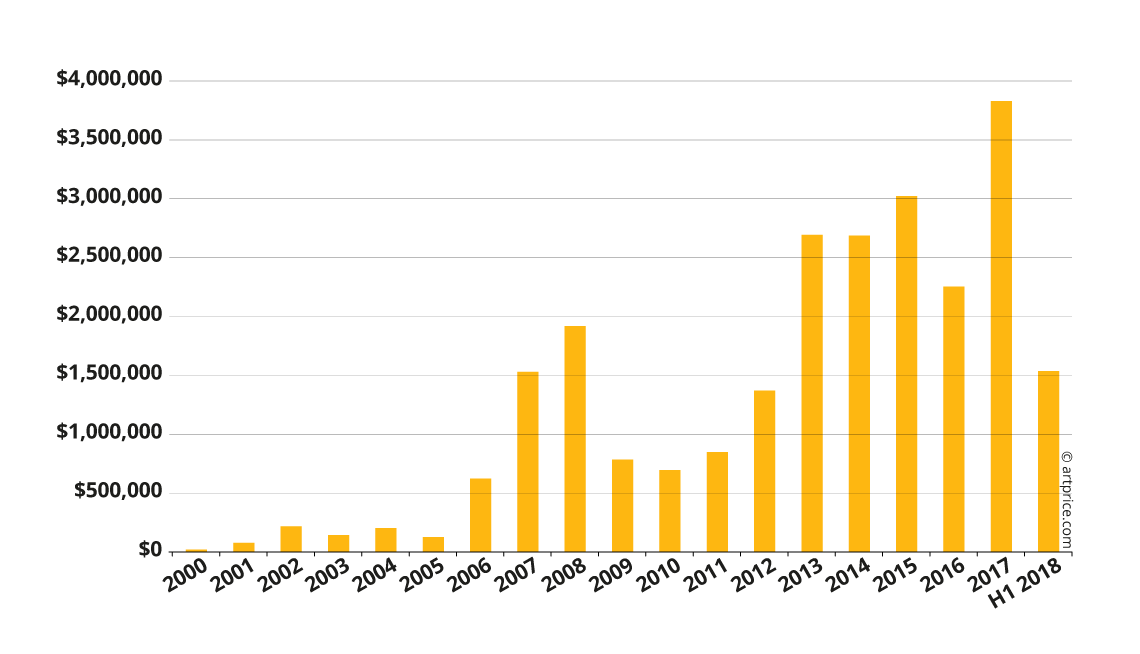 The market of the Austrian artist Franz WEST has been particularly dynamic since he was awarded a Golden Lion for Lifetime Achievement at the Venice Biennale (2011) shortly before his death in 2012. The level of demand that triggered a new record for the artist in May 2017 was confirmed this year with a sale of an important sculpture, Sisyphos IX that fetched $855,000 on 16 May 2018 at Sotheby's New York. Tributes to his work are multiplying. After an exhibition in the Swiss branch of the Gagosian (22 September – 16 December 2017), a retrospective opened at the Georges Pompidou Center in Paris (12 September – 10 December 2018) that will then move to London's Tate Modern in 2019.
The year's best result for a work of Contemporary sculpture was generated by Jeff KOONS' Play-Doh that fetched $22.8 million. The piece was originally acquired from the Gagosian Gallery in 2005. Constructed in polychromed aluminum and measuring 3 metres tall, Play-Doh represents a pile of modeling clay. In the 2017/2018 period, Jeff Koons' art generated an annual turnover of $40.7 million maintaining Koons within the global Top 10 (at 8th place). Nevertheless, this total represents a substantial drop compared with past performances. Three years ago, Koons' annual sales turnover was $93.8 million, from a much lower number of lots sold (83 in 2014/2015 compared to 149 in 2017/2018). Nowadays, Jeff Koons' market is largely dominated by prints and objects (80% of lots sold), and his major sculptures have suffered a significant value depreciation. For example, his giant stainless steel lobster, which fetched $6.8 million on 10 May 2016, was hammered down at $5.4 million on 17 May 2018… a clear drop in enthusiasm that left the seller $1.4 million worse off.
Price Index Trends for Jeff Koons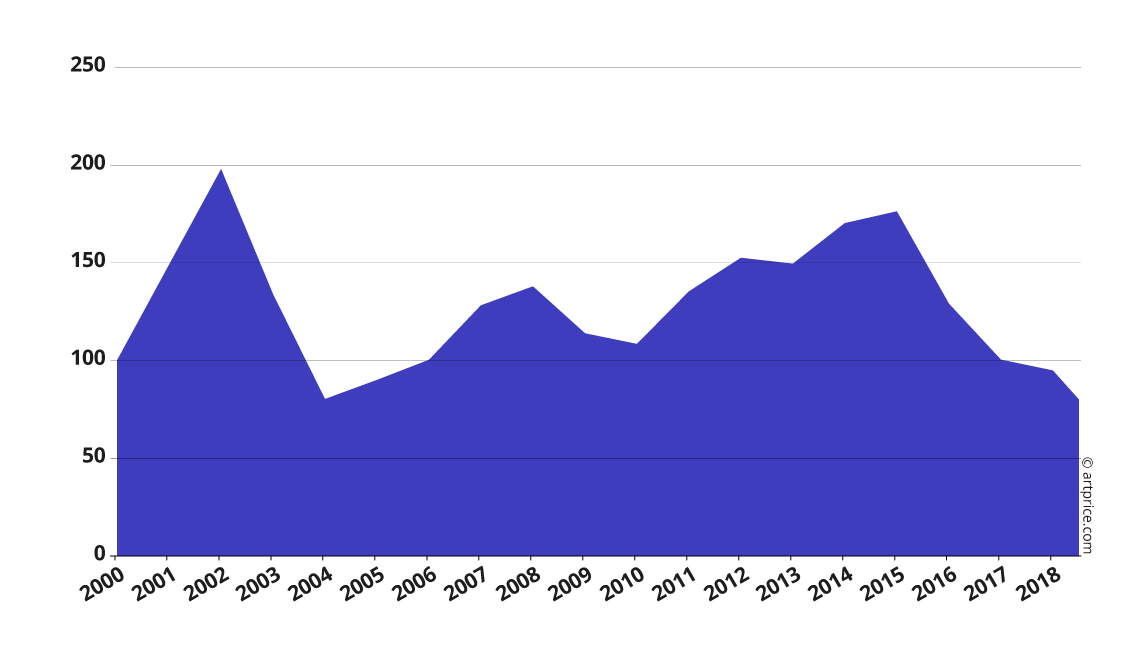 In short… along with his glib and profane style, his inconsistent annual turnovers, the dilution of his market with multiples, a couple of stinging polemics (the bouquet of tulips offered to France… an alleged delivery failure to collector Steven Tananbaum), Jeff Koons has become a controversial figure, and his prices have suffered accordingly. However, he is not the only one. Several star signatures underperformed last year, for a variety of reasons.
Momentum losses
Like Jeff Koons, Damien HIRST is one of those star signatures that triggered fervent bidding in the mid-2000s. Back then, their works became very expensive very quickly, but their markets have since slowed considerably. Now that the euphoria has subsided, Damien Hirst's price index has clearly dropped. Today we are looking at a -84% drop compared with the the peak reached in 2008. Although Christie's sold a sheep preserved in formol, Away from the Flock (迷途的羔羊), for $4.4 million on 17 May this year and Sotheby's sold one of his Butterflies paintings, Loving You, for $1.3 million on 7 March, Damien Hirst's work generated only two million-plus results over the 12-month period, compared to 65 in 2008.
From one year to the next, the auction stats for some of the most expensive artists can fluctuate enormously. Annual turnovers sometimes drops to half or even a third for artists whose news has gone off the boil, or whose records have not been renewed for lack of important works, or, more rarely, for reasons relating to buyer disenchantment.
Top 10 Decreasing Auction Revenue (2017/18 vs. 2016/17)
The Romanian artist Adrian GHENIE dropped from 11th to 30th place. After an ultra-fast price ascension in 2016 and 2017, his price index has stabilized, but his annual turnover has suffered a severe -60% drop versus the previous year ($11 million vs. over $28 million). This contraction is mainly due to buyer exigency given the high price of his works. While bidders are willing to pay well beyond the high estimate for an iconic canvas (e.g. Elvis that sold for $519,000 against a high estimate of $350,000 on 17 May 2018 at Phillips), they are not showing much interest in canvases considered minor or overestimated (five paintings failed to sell). In short, buyers are feeling cautious about Adrian Ghenie.
After a breath-taking year (2016/2017), driven by an unprecedented record of $16.7 million for his Untitled (S III Released to France Face 43.14) on 17 May 2017 at Christie's, the American abstract artist Mark GROTJAHN dropped from 5th to 35th place in the global ranking, with an annual turnover down -75%.
On 6 October 2018, one of his less important works Untitled (White Butterfly) generated his best result of the year at $1.8 million at Christie's London. Five years earlier, on 26 June 2013, the same painting had fetched $541,000 at Sotheby's in London (Untitled (White Butterfly)). The work therefore tripled in value in five years, suggesting there is no disaffection for this major artist whose price index is posting a +570% increase since his auction debut in 2006.
Like Grotjahn, the Chinese artist AI Weiwei has dropped 30 places with an annual turnover almost halved (-48%). However, his important works, bar one, all found buyers. The sharp contraction of his turnover is due to the shortage of major works in circulation. This past year, Ai Weiwei's essential presence on the international artistic stage manifested itself in ways that were more militant than commercial, such as the creation of a documentary entitled Human Flow that focuses on the 65 million refugees around the world and that took one year to complete. In the second half of 2018, Ai Weiwei will be back in 'art news' with a series of three exhibitions in California: one at the Jeffrey Deitch gallery in Hollywood (Zodiac, 29 September 2018 – 5 January 2019), another at the UTA Artist Space in Beverly Hills (starting 4 October 2018) and a third at the Marciano Foundation (Life Cycle, 28 September – 3 March 2019).
Annual Auction Turnover for Ai Weiwei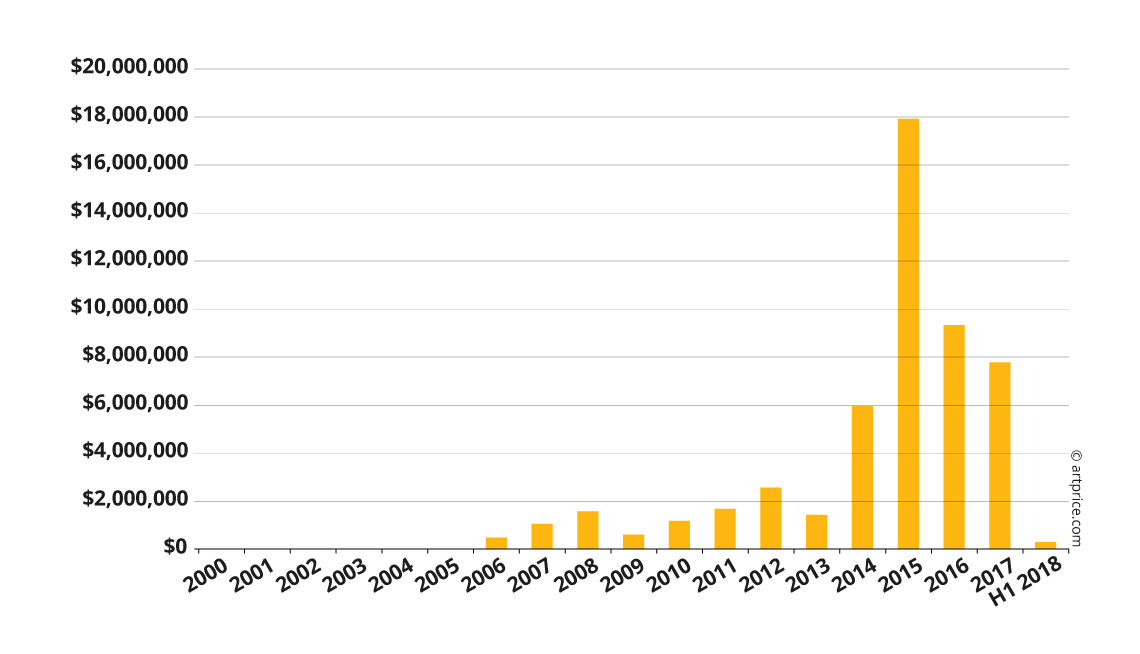 Our ranking of artists with the sharpest turnover declines contains a number of Chinese artists. In addition to Ai Weiwei (the most international of all), eight Chinese artists are among the 20 worst performances of the year. Half of them have little or no presence on the international market (SHI Guoliang, LIN Yongsong, LIU Dan, LUO Zhongli). Their markets rely exclusively on Chinese domestic demand and their prices have not been confirmed in the West.
Recent history tells us that the consolidation of an artist's prices is based in part on the strength of international demand, which in turn, depends on a repeated presence at the mainstream fairs and a good level of exposure in important museums. However, the most decisive factor is probably the influence-power of the gallery that supports the artist. The case of the American artist Jonas WOOD clearly illustrates this point. His prices rocketed after a first exhibition at the Gagosian in London in 2015. This past year, the same powerful 'market-maker' gallery exhibited his prints in New York (5 April – 25 May 2018) coinciding with the prestige Contemporary Art sales. Wood's auction prices immediately shot up again, with a new record set by Christie's on 18 May for his Maritime Hotel Pot with Aloe that fetched $2.3 million against an estimate of $550,000 – $750,000. There can be no doubt that the Gagosian's clients rushed into the artist's market. Likewise for Laura OWENS who started a collaboration with the Gavin Brown gallery five years ago. Her prices immediately increased and her works began to fetch more than $100,000 in 2014, then over $300,000 in 2016 and since 2017, year of her exhibition at the Whitney Museum, more than $1 million (Untitled, $1.8 million against an estimate of $200,000 – $300,000 on 16 November 2017 at Sotheby's New York).
On the high-end segment of the Contemporary Art, the market is not just focused on a relatively small number of artists, it also relies on a relatively small number of influential players.